No. 4 Cavaliers Deliver Opening Statement
(photo by Johnnie Izquierdo / Naismith Memorial Basketball Hall of Fame)
By Jeff White (jwhite@virginia.edu)
VirginiaSports.com
For the University of Virginia men's basketball team, nearly nine months have passed since the end of the abbreviated 2019-20 season, and with the COVID-19 pandemic ongoing, it's been a challenging stretch dominated by masks, testing, protocols, online classes and social distancing.
The Cavaliers might have wondered at times if they'd ever play another game. Their long wait ended Wednesday afternoon, however, and they turned in a dominant performance at the Bubbleville event in Uncasville, Connecticut.
In a matchup that wasn't set until Tuesday night, No. 4 UVA shot 51.7 percent from 3-point range and 55.6 percent overall against Towson. The result was an 89-54 win over the Tigers, who are expected to be one of the Colonial Athletic Association's top teams.
"Virginia was terrific," Towson head coach Pat Skerry said. "We were not very good, but obviously they had a lot to do with that … This was kind of like getting thrown in the water with the sharks right away."
The Wahoos, like their counterparts around the country, had endured a preseason unlike any other, and they headed to Connecticut on Monday unsure if the games at Mohegan Sun Arena would proceed as scheduled.
They did not. Maine, which UVA was supposed to play Wednesday, was a late scratch, and Towson was an 11th-hour addition to Bubbleville.
In the end, though, the Hoos were able to launch their 2020-21 season, and for that they're thankful. As head coach Tony Bennett likes to remind his players, playing beats the alternative.
"We were very hopeful for this day, and we'll remain hopeful that these days will continue," Bennett said on a Zoom call Wednesday after the game.
Since they returned to Grounds in July, UVA's players have, because of COVID-19 concerns, spent most of their time with each other, "and I think it drew us closer, because there's a lot of new faces, and we lost a couple really good pieces from last year," senior forward Sam Hauser said Wednesday. "So I think building that chemistry early was big for us, and it showed today, and I hope it shows the rest of the year."
Dating back to last season, the victory was the ninth in a row for the Hoos, who finished 2019-20 with a 23-7 record. Scoring was often a challenge for those Cavaliers, who averaged only 57 points per game and surpassed 75 points only once, in a 78-65 win over Boston College.
Bennett's latest group is constructed differently. Against the Tigers, seven Cavaliers made at least one 3-pointer.
"I think they've got a lot more shooting than they've had," Skerry said, and that's in large part because of Hauser and Trey Murphy III.
Each made his UVA debut Wednesday.  The 6-8 Hauser's was expected. He sat out last season after transferring to Virginia from Marquette. But Murphy, a 6-9 junior who transferred from Rice to UVA after the 2019-20 school year, didn't learn until this week that he'd be able to play this season.
Murphy, who's from Durham, North Carolina, originally planned to sit out this season. He decided to apply for immediate eligibility, however, and the NCAA granted his request Tuesday. Bennett pulled Murphy aside that evening to give him the good news.
"When he told me I just started smiling from ear to ear," Murphy said Wednesday. "You couldn't really see it, because I had my mask on, but me and Coach Bennett, we had a nice [conversation]. And then I walked back into the room, and I feel like the team had a little bit of an idea, because they saw Coach Bennett smiling and they saw me smiling through my mask. I was really happy."
The Hoos are happy to have him. In 17 minutes off the bench Wednesday, Murphy hit 6 of 8 shots from long range and finished with a game-high 21 points. His lone two-point field goal was a dunk on which he was fouled with 8:53 left, and he added the free throw.
Murphy's marksmanship might have been a revelation to fans unfamiliar with his résumé, but he made 139 treys in his two seasons at Rice.
"I've been able to shoot the ball for a very long time in my life, so it doesn't really shock me," he said. "I've just got to stay consistent with my mechanics."
Like Murphy, Hauser was 7 for 9 from the floor against Towson (0-1). He was 3 for 3 from beyond the arc and finished with 19 points, a game-high eight rebounds and three assists in 26 minutes. He scored 17 points in the first half to help the Hoos take a 42-19 lead into the break.
"I'm in a little different situation than Trey," Hauser said. "All of last year I was chomping at the bit to get back on the court and play with these guys. It's a relief to be back out there playing with my new teammates. There was a lot of emotions running through my head, yesterday and this morning before the game, but I'm just excited that we're able to play, and I hope everything works out so we can play Friday again."
In a game that ESPN will televise, UVA is scheduled to meet San Francisco (0-1) at 11:30 a.m. Friday in Uncasville.
"You're just grateful for the chance to play," Bennett said. "The game is the game."
With no fans in the stands, the atmosphere is different, and "of course there's things you miss," Bennett said. "But there's just something about competition, when the scoreboard is on and the officials are out there, that you appreciate."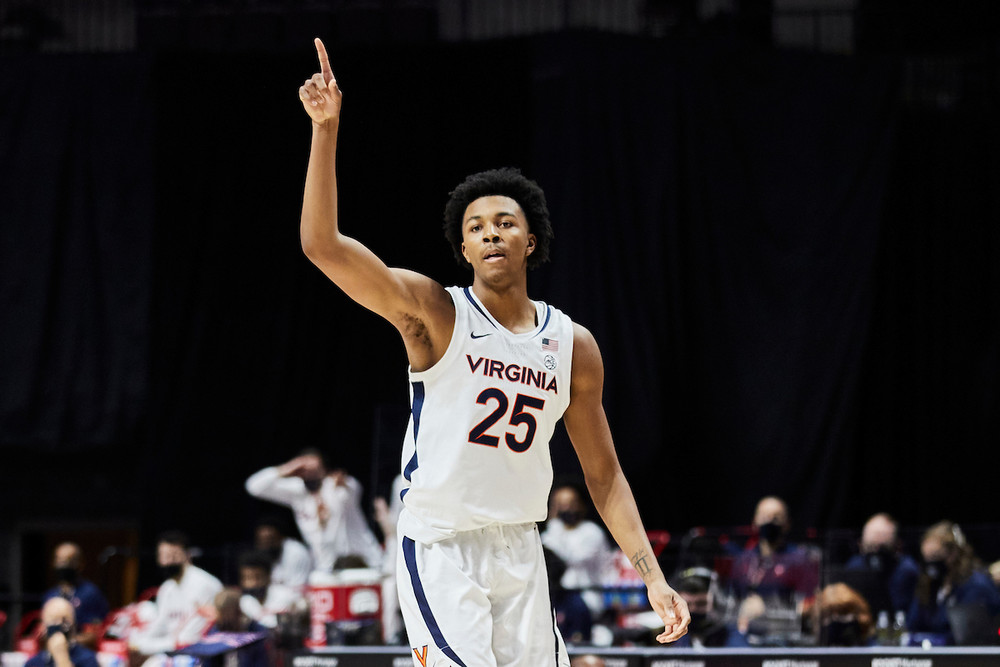 Against Towson, Bennett started Hauser, fifth-year senior Jay Huff, junior Kihei Clark and sophomores Casey Morsell and Justin McKoy. For the 6-8 McKoy, who played in only 14 games last season, it was his first start as a Cavalier, and he contributed two points, three assists and five rebounds in 22 minutes.
"I think we have versatility, as you can see, and we can go a lot of different ways," Bennett said. "Justin is very competitive and he plays real hard and he's practiced well. He's improved. Very good offensive rebounder. Plays continuous, and I just liked that bigger, more physical lineup to start. I could have gone a number of ways, but I like what he has brought, and he's had had a good fall and early part of the preseason."
The 7-1 Huff showed off his shooting range, hitting 2 of 3 attempts from beyond the arc. He finished with 14 points, four rebounds and three blocked shots. Clark added seven points and three assists, and Morsell chipped in five points, four rebounds, two assists and two steals.
In an efficient showing, junior swingman Kody Stattmann scored eight points (on 4-for-5 shooting) in 12 minutes off the bench.
UVA's traveling party included 17 players, and each of them got in the game Tuesday. Not only did Hauser and Murphy make their first appearances as Cavaliers, but so did freshmen Reece Beekman, Jabri Abdur-Rham, Carson McCorkle and Malachi Poindexter.
"This is my 12th year at Virginia, and whenever you see guys, the first time they're wearing the Virginia uniform and they get to play in a game, that's really special," Bennett said. "So I really enjoyed that part of it."
He also enjoyed his team's shooting. In 2018-19, when the Cavaliers captured the program's first NCAA title, they shot 39.5 percent from 3-point range. Their accuracy from beyond the arc dipped to 30.3 percent last season.
The Hoos won't always shoot as well as they did against Towson, of course, and they'll continue to pride themselves on their rugged Pack Line defense. But they have more viable perimeter options this season.
"When we have at times five guys on the floor that can stretch it, it opens up the court and hopefully gives us some driving opportunities," Bennett said.
Hauser said: "It's exciting to see. It doesn't always happen like that, but today everyone was hitting, it seemed like. Hopefully we can carry that over into Friday and our upcoming games."
To receive Jeff White's articles by email, click here and subscribe.