By Jeff White (jwhite@virginia.edu)
VirginiaSports.com
CHARLOTTESVILLE –– He'd seen plenty of UVA men's basketball games at John Paul Jones Arena. Until Tuesday, however, Kadin Shedrick had never played in one.
In his JPJ debut, Shedrick showed why the Cavaliers' coaching staff is so high on his potential. The 6-11 redshirt freshman contributed 12 points and a game-high eight rebounds in 18 minutes off the bench to help No. 15 Virginia defeat Saint Francis (Pa.) 76-51 on Tuesday.
Had there been a typical crowd at JPJ, Shedrick would have received a loud ovation when he checked out with 6:25 to play. But with the COVID-19 pandemic ongoing, attendance was limited to family members of the Cavaliers (2-1) and the Red Flash (1-2).
"It's different," UVA head coach Tony Bennett said on a Zoom call after the game. "It's so different. I think we've made this place so special and so alive, so now it has to be about [what's] between the lines and bringing energy and bringing execution. And there's familiarity because you practice in here, but as far as the crowd [providing a] homecourt advantage, no more."
Four players scored in double figures for UVA: redshirt seniors Jay Huff (13 points) and Sam Hauser (11), junior Trey Murphy III (10) and Shedrick, whose 12 points were a career high. Shedrick hit 5 of 6 shots from the floor.
Huff said Shedrick has made strides in "his mid-range jump shot and his 3-point shooting as well. I know we haven't seen much of it yet, but he's improved dramatically in that area. Then also I saw a lot of fight in him today, and that's something that we've seen a lot in practice recently, too. He's just been getting a lot of offensive rebounds. His long arms help a lot with that, so he's going to be a big piece moving forward."
It's impossible, Bennett said, to miss Shedrick: "his length, his dimensions. He's long and he's very active, and he's continuous. He plays hard on the glass and he's working. He's still learning."
After the pandemic cut short the 2019-20 season, the University switched to online classes in mid-March, and Shedrick went home to Raleigh, North Carolina. Knee problems, however, kept him from training as much as he had hoped, and he hadn't made many physical gains by the time he returned to Charlottesville in July.
Shedrick experienced another setback once the fall semester started, contracting mononucleosis in early October.
"I had it the whole month of October," said Shedrick, who lost 25 pounds, dropping from 223 to 198. He's back to about 215 pounds and hopes to regain the rest of the weight he lost by the end of the month.
The illness "was very frustrating for me," Shedrick said. "Mono definitely had me pretty down, and I knew when I came back I would just have to push even harder to try and earn what I wanted to get. And so that's what I did. I worked with [strength and conditioning coach] Mike Curtis and I made sure I ate a lot, got plenty of sleep, and got back to health, and [head athletic trainer] Ethan Saliba also helped me a ton with that, too."
That Shedrick didn't have a more productive offseason was unfortunate, Bennett said, "but he's getting opportunities now, and I think he gives us a dimension that was good, and I was really pleased with his effort and his output tonight."
In terms of his skills, Shedrick said, "I feel 100 percent. In terms of my stamina, it might be down a little bit still. I get winded a lot faster than I used to, I think, but it will come back in time."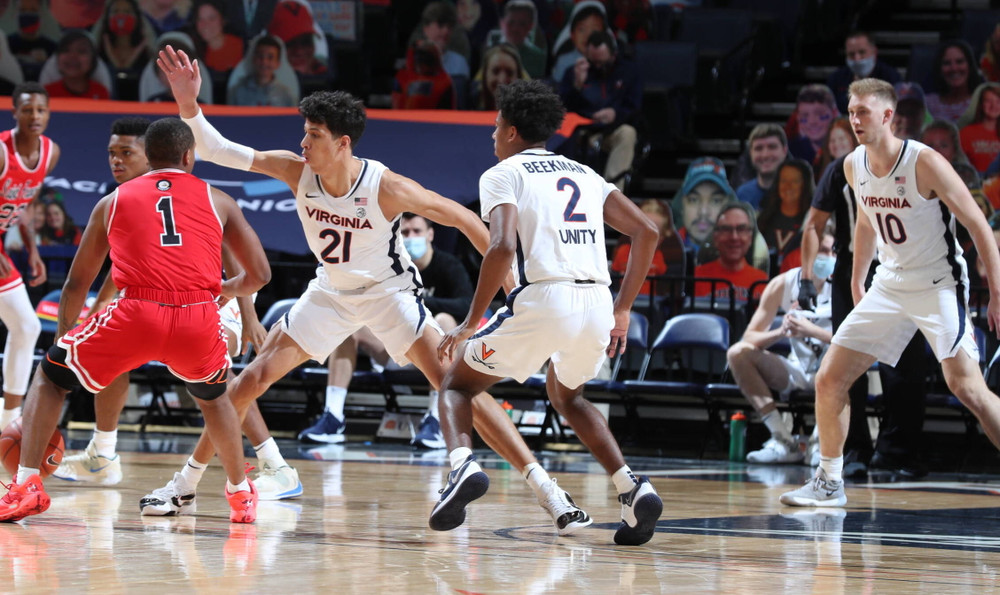 The game was the Wahoos' first since their 61-60 loss to unranked San Francisco at the Bubbleville event in Uncasville, Connecticut. Against Saint Francis, Huff, Hauser and sophomore Justin McKoy remained in the starting lineup. But Bennett went with freshman Reece Beekman instead of junior Kihei Clark, who started every game last season, and senior Tomas Woldetensae instead of sophomore Casey Morsell.
About five minutes into the game, though, a second five––Shedrick, Clark, Morsell, Murphy and junior Kody Stattmann––replaced the starters. This is one of the deepest teams Bennett has had in his 12 seasons at UVA, and he's still exploring his many options.
"You just keep trying to find what the best rotations are," he said. "Sometimes it has to do with matchups, and sometimes it's how guys are playing and performing based on that. But there is quality depth, and you saw that, and we need some guys to emerge."
Virginia took control immediately Tuesday. The Hoos led 19-4 at the 12:00 mark of the first half and 35-12 at the 4:00 mark. At the break it was 45-13.
Guard Ramiir Dixon-Conover led Saint Francis with 21 points in its season-opening upset of Pitt. He was out with an injury Tuesday, however, and without him the Red Flash didn't have nearly enough firepower to stay with the Cavaliers.
"So that was a big blow to them, and I'm always realistic," Bennett said. "But we played really good basketball defensively and offensively in the first half, and we got on the glass … So I think that was a step in the right direction, in the first half. Second half, not so much."
Saint Francis outscored Virginia 38-31 after intermission. As was the case against San Francisco, Bennett said, the Cavaliers "weren't persistent enough defensively" in the second half.
"This team has to continue to find the ability to battle and keep being better and better as the competition goes up," Bennett said.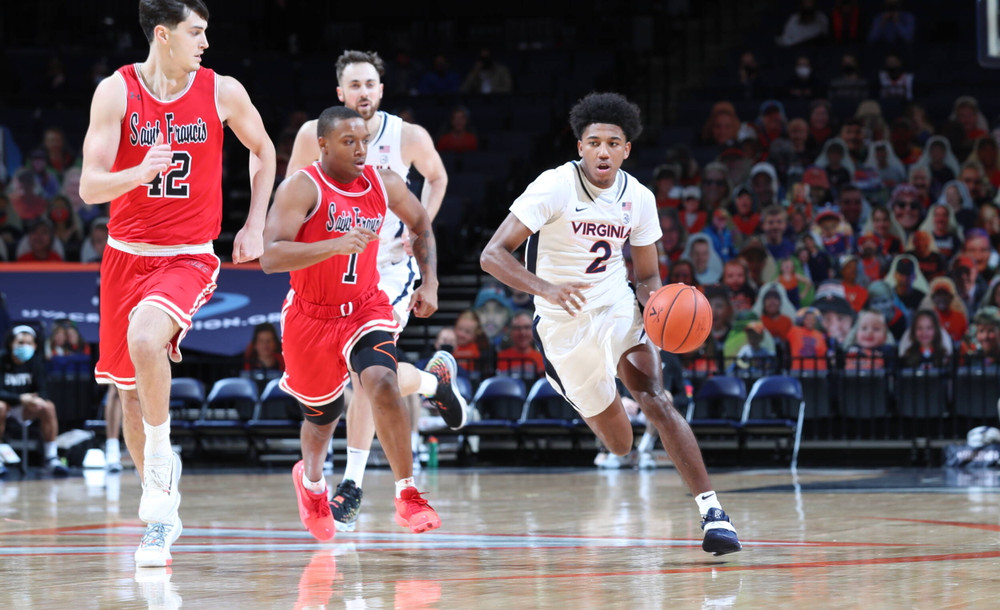 COOL, CALM, COLLECTED: Beekman sparkled in the loss to San Francisco, and in his first start as a Cavalier he had four assists, three steals, two points and two rebounds in 22 minutes against Saint Francis.
"He just has a poise and understanding and looks good," Bennett said.
The 6-3 Beekman is from Baton Rouge, Louisiana, where he helped Scotlandville Magnet High win four consecutive Division I state titles. His teammates at Scotlandville included Jonathan Horton, who's now a first-year linebacker in the UVA football program.
Like other point guards Bennett has coached at Virginia, London Perrantes and Ty Jerome among them, Beekman rarely appears to get sped up on the court.
"He's smooth," Bennett said. "He's controlled. He's deceptive. Good hand quickness with his athleticism. And I think as he continues to physically mature strength-wise and improve his shot, he'll just keep getting better and better. Some guys just have it. It's the it, the feel thing. And so far he's shown that. That's what we liked about him when we recruited him."
Huff said: "Reece has really impressed a lot of people, and I think one thing that people overlook is his defense. His on-ball defense has been spectacular. He's also got some long arms to block shots that I don't always expect a guard to block, so I've been impressed with that.
"He's been great. He's learned very quickly what he has to do, and it's been really great to see out of a first-year, because a program like this is hard to be a first-year in, and I think he's handled it really well."
SOUND BITES: The Cavaliers stretched their winning streak in home openers to 24 games. Among the postgame comments Tuesday evening:
* Bennett on his rotations: "I kind of did the hockey shifts. Shout out to the [NHL champion] Tampa Bay Lightning." (The Lightning's head coach, Jon Cooper, drew inspiration from the way Bennett's team rebounded from a heartbreaking 2017-18 finale to win the NCAA title a year later.)
* Bennett on his message to the team after the San Francisco loss: "We've got work to do. Be sound, be tough, and we went to work to the best of our abilities the last couple days."
* Huff on the Cavaliers' depth: "I don't think I've ever been on a team with this many [quality] players. That's really cool because we get to see a lot of guys, a lot of combinations. We just get to see how different guys work. Learning to play with everybody is something that we're going to have to figure out, and I think we're learning how to do that. We have a really young team. We have a lot of young guys that haven't necessarily been here as long as an old man like me."
* Huff, who took only two shots against San Francisco, on his assertiveness against Saint Francis: "I think in some ways that's just what our offense does sometimes. Some guys get more shots than others, depending on how the other team is guarding it. Today they didn't necessarily cover the middle very well when we would drive, and that led to a lot of open layups for guys like me and Justin and Kadin.  That's just how our offense works. You can't cover everybody in our offense, which is a really great problem to have, honestly."
* Shedrick: "I feel like the rotation we're running right now has helped me a lot in terms of my stamina, because I'm not going to be out there for extensive periods of time, like eight minutes, 10 minutes. That's just not going to happen."
UP NEXT: UVA will host the Kent State Golden Flashes at 6 p.m. Friday. The game will air on ACC Network.
This will be the second meeting between these programs. The first, on Dec. 4, 1974, produced a 58-40 victory for the Hoos, who were playing their second game under head coach Terry Holland.
This was supposed to be Kent State's third game of the season. Each of the first two, however, was called off because of COVID-19 issues. The Flashes are now scheduled to open at home against Point Park (0-1) on Wednesday night.
To receive Jeff White's articles by email, click here and subscribe.