By Jeff White (jwhite@virginia.edu)
VirginiaSports.com
CHARLOTTESVILLE –– By the time Christmas arrived, the University of Virginia men's basketball team was to have tested itself against perennial powers Florida, Michigan State and Villanova in non-conference play.
For reasons related to the COVID-19 pandemic, none of those games was played. But with the recent addition of Gonzaga to their schedule, the Cavaliers have a high-profile game to look forward to before their Dec. 30 ACC opener.
"We're excited for the challenge," redshirt freshman Kadin Shedrick said Tuesday afternoon after Virginia dispatched William & Mary 76-40 at John Paul Jones Arena.
At 4 p.m. (ET) Saturday, No. 16 UVA (4-1) takes on top-ranked Gonzaga (6-0) at Dickies Arena in Fort Worth, Texas. CBS will televise the first meeting between these programs since 2007.
"I think it'll be cool to get a marquee game in before the conference play starts," Shedrick said. "We're all really looking forward to it."
Against W&M (2-3), 6-8 junior Trey Murphy III, in his first start as a Cavalier, scored a game-high 15 points. A transfer from Rice who was granted immediate eligibility this season, Murphy acknowledged that it was frustrating to have UVA's games against elite non-conference opponents called off.
"But it's something I can't control," Murphy said. "Things that you can't control, you can't have a negative reaction to it. And so I just had to move on, because I just know we're going to get our opportunity, and I'm looking forward to that on Saturday."
After the 11th-hour cancellation of its ACC/Big Ten Challenge clash with Michigan State, which was to have been played Dec. 9 at JPJ, Virginia wasn't allowed to practice for 10 days. That resulted in the cancellation of UVA's game with Villanova, which was scheduled for this past Saturday night in New York City.
Once their quarantine period ended, the Cavaliers returned to the court and shifted their focus to William & Mary. The game was the Hoos' first since a Dec. 4 win over Kent State at JPJ.
"It was difficult at first to come in after 10 days," Shedrick said, "but it was a lot easier than I thought it would be. It felt like we hadn't missed that much."
The Wahoos never allowed the Tribe to get into a rhythm Tuesday. W&M didn't reach double figures until the 2:59 mark of the first half, when Luke Loewe's three-point play cut UVA's lead to 26-12.
"I think guys were really thankful and grateful, we talked about that, to come back and practice and play," head coach Tony Bennett said.
Fifth-year senior Sam Hauser, the Cavaliers' leading scorer this season, didn't attempt a shot until more than 16 minutes had passed Tuesday, but his teammates supplied plenty of firepower. Virginia led 36-12 at the break and 54-27 midway through the second half.
That the Tribe grabbed 14 offensive rebounds displeased Bennett, but he generally liked what he saw from his team.
"I think our guys came out focused and ready and looked fairly sharp," Bennett said. "They're probably going to say, 'See, Coach, practice is overrated. We can rest for 10 days and [then play well].' But they came out ready, knocked down some shots, and I thought we played fairly alert defensively."
For the Hoos to knock off the Bulldogs in Fort Worth, Bennett knows, more will be required. Gonzaga already has beaten Kansas, Auburn, West Virginia and Iowa this season. In the latest Associated Press poll, Kansas is No. 3, Iowa is No. 4, and WVU is No. 7.
"I think you're going to have to be better in every area," Bennett said. "Not saying we were poor [against W&M], but it's just the reality of that. I look at that 14 offensive rebounds, you have to have a level of urgency like you haven't had this year in terms of being back and set and then getting to shooters and everything. You've got to take care of the ball, but you don't back down. So you run your stuff hard and you go against them."
In 14 minutes off the bench Tuesday, Shedrick totaled 10 points and a team-high seven rebounds. Hauser and another fifth-year senior, 7-1 Jay Huff, added nine points each, and junior point guard Kihei Clark finished with six points, four assists, two rebounds and two steals.
Reserve guards Casey Morsell and Reece Beekman scored six points each, and Beekman, a freshman from Baton Rouge, La., also had four assists in his 15 minutes.
"I think that quarantine really put a little bit of hunger in us," Murphy said, "and we were all just so eager to play … I think we really just missed each other a lot and we were all just happy to play with each other again. And so we were really excited to play again. That's what this team is built on: just playing with each other and playing with a lot of chemistry."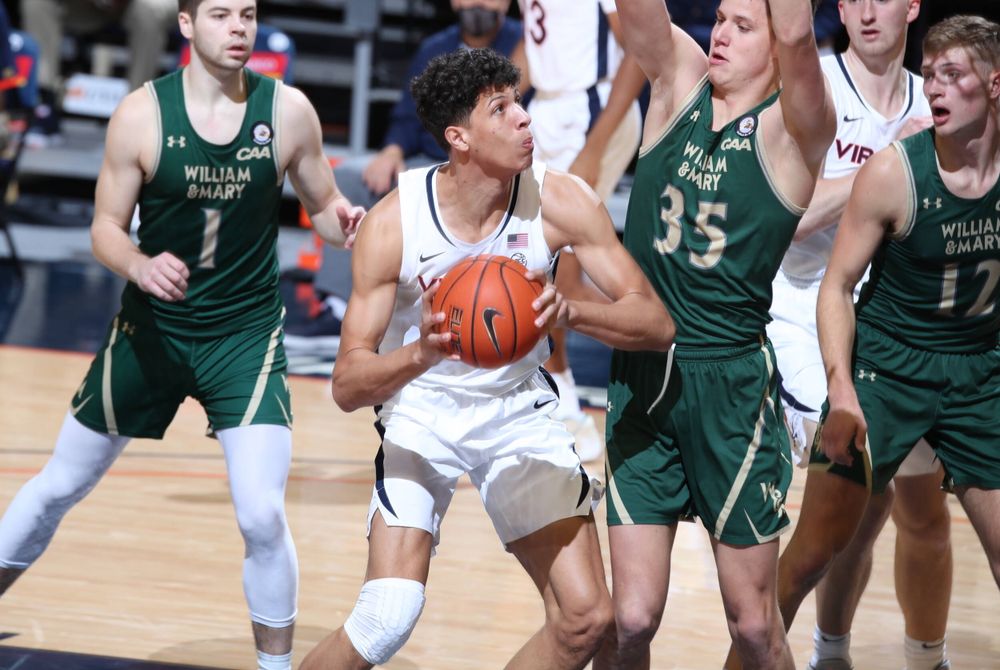 SOUND BITES: The victory was UVA's 12th straight over William & Mary, which competes in the Colonial Athletic Association. Among the postgame comments:
* Bennett on Murphy's performance: "I thought he looked sharp and was ready to play and had the kind of energy and focus, if you want to use that word, that we need from him always."
* Shedrick on the Zags: "They're a very good team, a very talented team, deserving of that No. 1 ranking, and we're excited for the challenge. They shot very good against Iowa, so we're going to have to really make sure we lock in on that, and their bigs are also very good."
* Shedrick on returning to practice after a long break: "We got a good amount of conditioning in while we were in quarantine, so I was able to stay in good shape. Actually, we got back for the first practice and somehow I felt like I was in better shape than I was before the quarantine, so that was good. It felt good to go out there today. I don't really remember the last time we played, so it really felt good to be out there."
* Bennett on senior swingman Tomas Woldetensae, who started for the third straight game Tuesday: "He's a great team player, and he's got very good feel. That's his strength, and just his experience … He's hard on himself, because I know he feels like, 'I haven't been shooting it the way I want,' but he just understands what it takes. Even when he's not playing, he's great. You can hear him behind the bench, and I just like his maturity level."
* Bennett on the disappointment of not getting to play Michigan State or Villanova this month: "Whatever blow you're dealt, you take it and then you move forward, and that's what we did."
* Tribe head coach Dane Fischer on the Cavaliers: "The biggest thing is that they're so disciplined. They don't give up anything easy, or very, very rarely do. The hardest thing for us to simulate in addition to that is the length and athleticism they have. We did it in practice, and it didn't look like the way we played today. It's a real challenge to prepare for them, and they really executed at a high level today."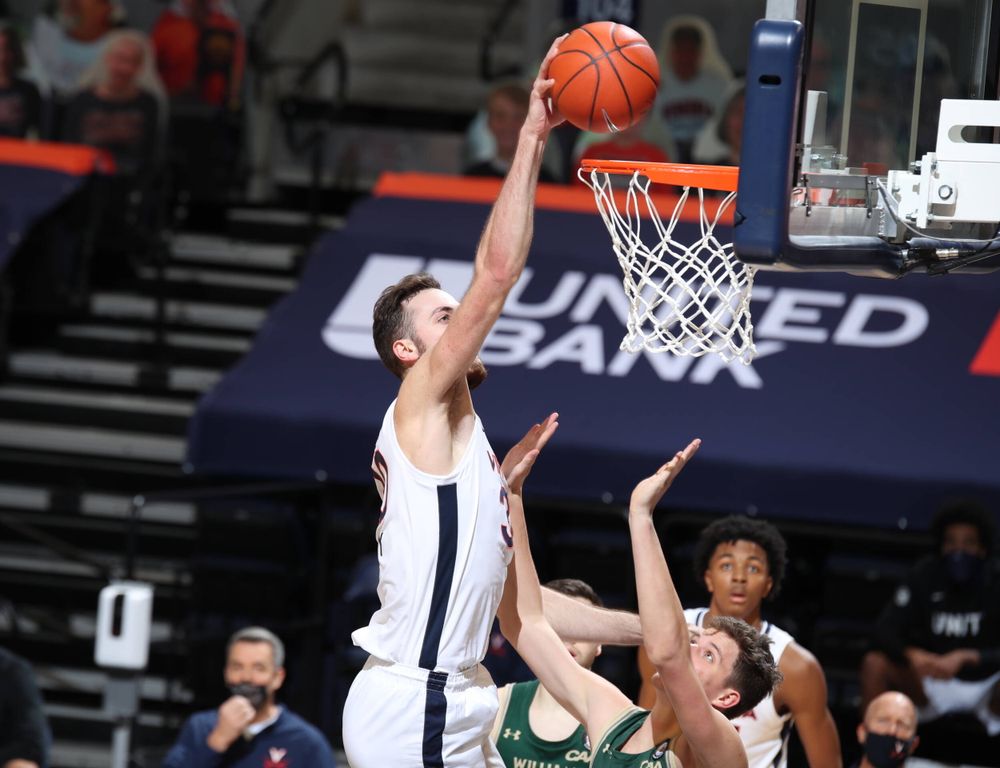 RIVALRY RENEWED: In each of his three seasons as Washington State's head coach, Bennett faced Gonzaga, and his teams went 2-1 in those games. (The schools' campuses are about 75 miles apart.) Now, in his 12th season at UVA, Bennett will finally face the Zags again.
"When you play a team as talented and as explosive as Gonzaga, I don't know what prepares you for that," said Bennett, who guided the Hoos to the NCAA title in 2018-19 "I know how good they are and I know what we'll have to do at a very high level to be in a game like that and make it competitive and hopefully be successful."
Virginia is 1-2 all-time against Gonzaga. Their first meeting was on March 16, 2001, in Memphis, Tenn., where the Zags edged head coach Pete Gillen's Cavaliers 86-85 in the NCAA tournament's first round.
In Spokane, Wash., Gonzaga defeated UVA, then coached by Bennett's predecessor, Dave Leitao, 80-69 on Dec. 17, 2005.
The Hoos finally broke through against the Zags on Jan. 3, 2007. At JPJ, Sean Singletary scored 37 points, Mamadi Diane added 22 and J.R. Reynolds chipped in 15 to lead UVA to a 108-87 victory.
To receive Jeff White's articles by email, click here and subscribe.