By Jeff White (jwhite@virginia.edu)
VirginiaSports.com
With 15 seconds to play, Gonzaga reserve guard Dominick Harris grabbed an offensive rebound Saturday. He dribbled the basketball out to the wing and let the remaining seconds  tick off the clock at Dickies Arena in Fort Worth, Texas.
The top-ranked Bulldogs didn't need any more points. They'd already scored 98, the second-most Virginia has allowed in 12 seasons under head coach Tony Bennett.
"We were overwhelmed, and they took it to us," junior point guard Kihei Clark said.
Bennett said: "We didn't have a place in that game today. We didn't."
For a UVA program built on rugged man-to-man defense, this loss will sting for some time. The final was 98-75. The Zags (7-0) shot 60.3 percent from the floor against No. 16 UVA (4-2). They're the only opponent to shoot better than 59 percent during Bennett's tenure with the Cavaliers.
"I know Gonzaga's great, but we made them look even better than great tonight, and that was discouraging," Bennett said. "But this is now where you say, 'All right, will we grow from it? Will we stay unified and come ready the next time?' "
For the Zags, this was their fourth victory over a top-20 opponent this season. (Gonzaga also has defeated Kansas, Iowa and West Virginia, which are ranked Nos. 3, 4 and 7, respectively, in the latest Associated Press poll.)
Virginia, meanwhile, had dates with perennial powers Florida, Michigan State and Villanova canceled for reasons related to the COVID-19 pandemic. This game, an 11th-hour addition to the schedule, was the Wahoos' first test against an opponent of Gonzaga's caliber.
"This was important, but painful," said Bennett, whose record with the Cavaliers is 281-98. "I wish it wasn't as poor of a showing as it was, but you sometimes have to be able to know: Who are we? Where are we really at?"
Virginia struggled at both ends of the court. The Cavaliers turned the ball over on each of their first three possessions, and Gonzaga bolted a 7-0 lead. UVA scored the final seven points of the first half but still trailed 44-31, in no small part because of its sloppiness with the ball.
The Wahoos turned the ball over nine times in the first 20 minutes, and the Zags turned those mistakes into 19 points. Virginia finished with a season-high 15 turnovers, six of them by Clark.
The Zags are the best team UVA has faced this year "by far," Bennett said, "and appear to be well-deserving of that ranking. It's hard enough to stop them when your defense is back and set, they've got too many actions and skilled guys, and we were fractured in that way, but when you give them points off turnovers … that puts you in a big hole.
"They really exposed some things that we have to go to work on and just try to shore up. That was discouraging, for sure. You start with ball security on the offensive end and then you play from there. They hurt us in the areas we've tried to work hard on: transition defense, making them shoot contested shots, and taking care of the ball."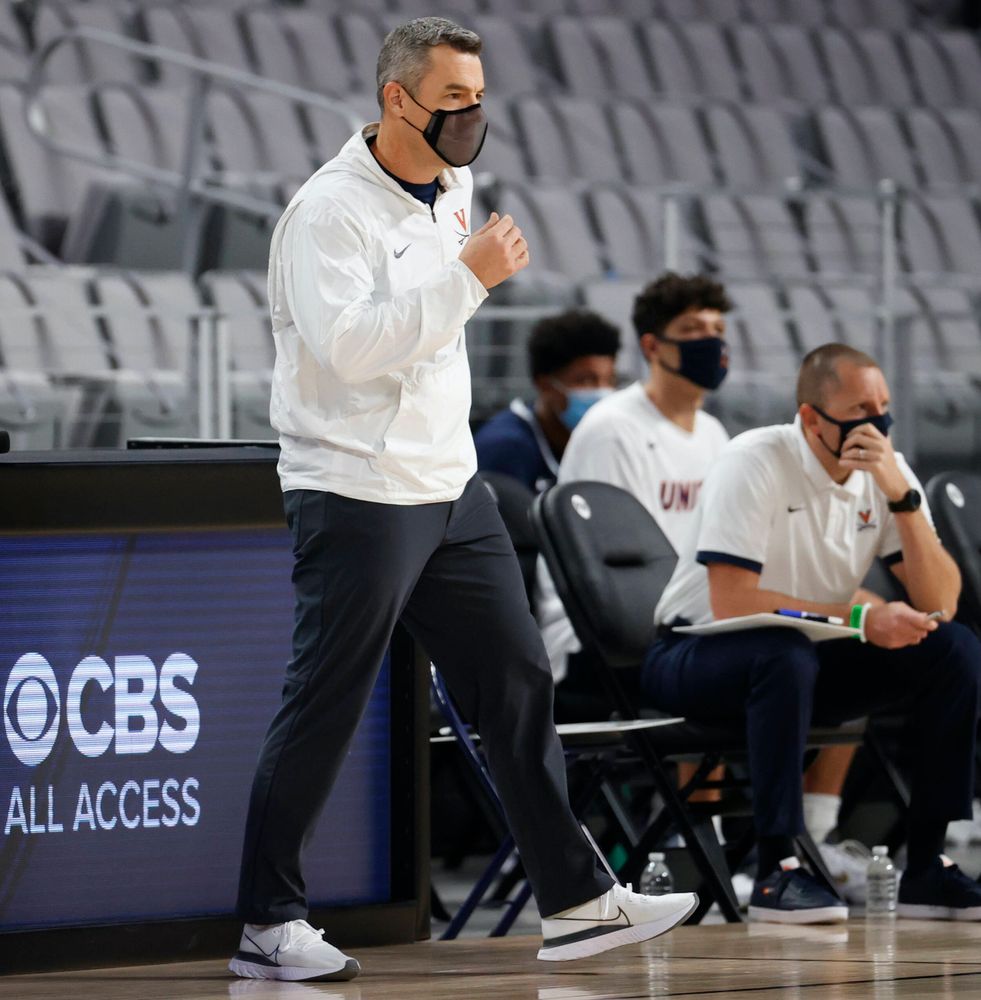 Two players accounted for nearly two-thirds of Gonzaga's scoring: senior swingman Corey Kispert and sophomore center Drew Timme. The 6-7 Kispert tied the Zags' record by hitting nine 3-pointers (out of 13 attempts) and finished with 32 points. The 6-10 Timme, who's from Richardson, Texas, about 45 miles from Fort Worth, had 29 points, eight rebounds, three assists, one blocked shot and one steal.
Gonzaga's freshman phenom, 6-4 guard Jalen Suggs, scored only eight points, but he added seven boards, a game-high six assists and a game-high four steals.
"They're a really good offensive team with really good action, and that's [evident]," Bennett said, "but we helped them out more than we needed to."
The 5-9 Clark led the Cavaliers with 19 points, and junior forward Trey Murphy III contributed 15 points in 27 minutes off the bench. Fifth-year senior forward Sam Hauser (10 points) also scored in double figures for Virginia, but he missed 8 of 11 shots from the floor, including all four of his 3-point attempts.
Bennett's record against the Zags as a head coach fell to 2-2. He was 2-1 against Gonzaga during his three seasons at Washington State, which he left in 2009 to come to UVA.
As painful as the loss might be, Bennett said, the Cavaliers needed to play in a game of this magnitude. "You can't hide forever," he said. "You've got to know. Look, we've got some warts. We've got to go to work on those."
For some of his players, the game "was a bit overwhelming," Bennett said. How the Hoos respond to this adversity will determine what kind of season they have. "This is about us coming together and fighting together for being as good as we can be," he said.
Bennett guided the Hoos to the NCAA title in 2018-19, so the bar has been set high in his program.
"You always have a choice: You can kind of stay the same, which won't be good enough, or you can improve, or you can even go the other direction," Bennett said. "There's no guarantees. It's what you do with a reality check or being exposed like that.
"I hope we'll get better. We're still shuffling a little bit with personnel and things like that … We must improve. If not it'll be a very hard year, and that's reality."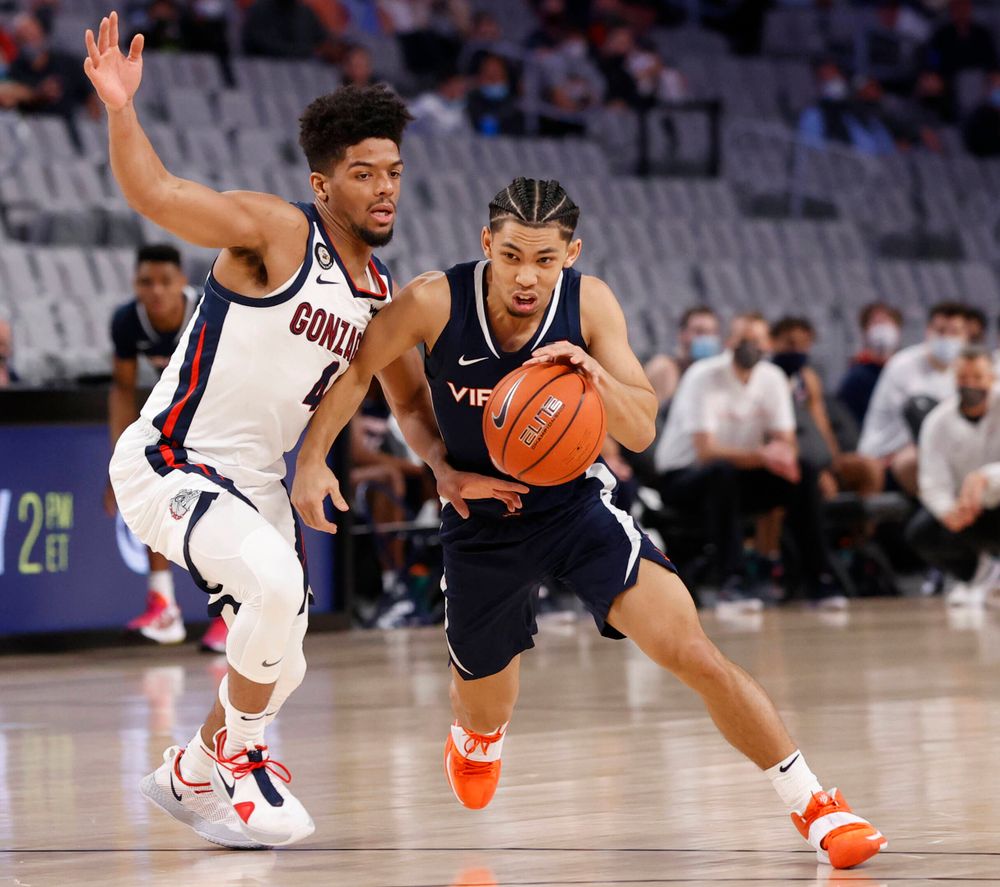 SOUND BITES: UVA fell to 1-31 all-time against top-ranked opponents. Among the postgame comments in Fort Worth:
* Bennett on his team's defense: "We haven't guarded well this year yet, and that's something we got to just keep trying to do. We lost a lot in the defensive side of things [from Virginia's 2019-20 team], and that's a place we've got to shore up and keep getting better."
* More Bennett on defense: "It's a mindset. Defense is so much about your heart and your mind. And, yes, there's know-how, there's feel to an extent, but you have to decide as a collective group: We're going to fight and die trying, so to speak, on possessions. It's going to matter that much."
* Clark on his performance: "You're not going to win if your point guard and your leader has [six turnovers]. I don't think I played that well. I had 19 points, but the six turnovers is no good. I think that cancels out my offensive game."
* Bennett on the Zags: "They're so potent offensively … They're so well-coached. They have such talent. Our lack of athleticism at times showed. They have such athletic guys, and they're veterans in all spots, I think, except for Suggs, who's a McDonald's All-American."
* Gonzaga head coach Mark Few on Kispert: "He's as good a shooter as I've ever coached, and like I said, nobody's worked as hard as Corey has at mastering his craft, and yet he's incredibly unselfish."
UP NEXT: UVA opens ACC play Wednesday night against Notre Dame (3-4, 0-1) at Purcell Pavilion in South Bend, Ind. The 6 p.m. game will air on ACC Network.
The Cavaliers lead the series 14-2 and have won four straight over the Fighting Irish. In the teams' most recent meeting, UVA edged Notre Dame 50-49 in overtime at John Paul Jones Arena last season.
"We can't hang our heads too much," Clark said. "We play a good team in Notre Dame, and we get ready for our conference. The ACC is one of the best in the country. We watch the film, we learn from it, and we come ready to play against Notre Dame."
To receive Jeff White's articles by email, click here and subscribe.