By Jeff White (jwhite@virginia.edu)
VirginiaSports.com
CHARLOTTESVILLE –– Andres Pedroso knew he was taking a strong team to the ITA Kickoff Weekend in Columbus, Ohio. Whether the rest of the college tennis world knew that as well, he's not sure.
"I don't know what people thought of our team prior to that weekend," said Pedroso, head coach of the University of Virginia men's program. "I feel like we were maybe a little under the radar."
If so, that's no longer the case. With three freshmen in their lineup, the third-seeded Cavaliers won the four-team regional. UVA defeated No. 2 seeded Iowa 4-0 and top-seeded Ohio State 4-2 last weekend to secure one of the eight berths in next month's ITA Men's National Team Indoor Championship in Champaign, Ill.
"I thought we had a chance to win," Pedroso said. "Luckily, I was right."
As proud as Pedroso is of his team's performance in Columbus, he's realistic. "It's just one weekend, and we easily could have lost that match against Ohio State. If we lose one or two points, we lose that match. That's the way the margins are at that level. I always tell the guys: Don't believe the result, because it's always a matter of one or two points. Just keep working." 
Like other teams that compete in the spring, Virginia was unable to finish its 2020 season. The Cavaliers were 11-4 overall and 2-1 in ACC play when the COVID-19 pandemic shut down college sports last March.
"I think we had a top-25 team last year," Pedroso said.
His latest team has a higher ceiling. The Wahoos returned their top players from 2020, including Carl Soderlund, Ryan Goetz, Gianni Ross, William Woodall and Matthew Lord, and added four talented freshmen: Jeffrey von der Schulenburg (Zurich, Switzerland), Inaki Montes de la Torre (Pamplona, Spain), Chris Rodesch (Angelsberg, Luxembourg), and Alexander Kiefer (The Woodlands, Texas).
Von der Schulenburg was the highest-rated recruit of the four, but Rodesch was performing at an elite level, too, until an illness sidelined him. "He contracted an auto-immune disease that kept him out of the sport for about five months, and so he went completely off the radar," Pedroso said. "But we knew he was good, because when we saw him when he was healthy. If people were paying attention when he was healthy, they could see that this guy had major upside.
"Inaki Montes is very under the radar, but [assistant coach Scott Brown] and I watched him play in Spain, and within an hour we knew the guy was really good. And then you have Alex Kiefer, a blue-chip American recruit, who hasn't played yet [this season], but he's also very good. I think this class is something to be excited about."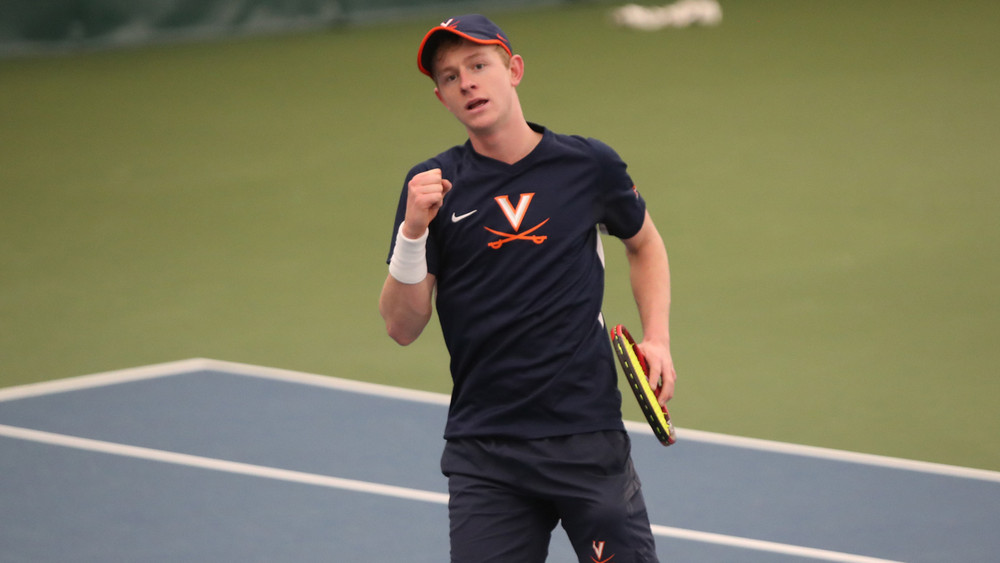 The same is true for the team, which rose from No. 22 to No. 8 in the latest national rankings. The first-years aren't the only reason the Cavaliers are ascending, said Pedroso, who pointed to the offseason strides made by his veterans: Soderlund, Goetz, Ross, Woodall, Lord, Ammar Alhaqbani, Jefferson Dockter, RJ Fresen, Spencer Bozsik, Ethan Moszkowski and Jerome Romualdez.
"As isolated as they were and the sacrifices they needed to make, everybody really worked hard through the pandemic," Pedroso said. "They had to be outside and they had to be socially distanced, but everybody did their part to stay in shape, and luckily tennis is a socially distanced sport.
"Our guys took advantage of it. They were really down when the season got canceled. But they kept fine-tuning their games and fine-tuning their bodies and staying productive, and they arranged Zoom calls on their own, which consisted of really productive conversations."
Moreover, Pedroso said, it's an exceptionally tight-knit team. "Everyone gets along really well," he said. "Upperclassmen, across the board, have done a phenomenal job of teaching our first-years the culture. They really have taken these first-years under their wing and shown them how we've done things, on and off the court."
The addition of the first-year class has meant that several players who in seasons past were regularly in the lineup are now not on the court on game day. Pedroso cited two reasons why he's confidence that dynamic won't hinder his team's progress.
"A lot of the guys on our team have aspirations to play professional tennis after school, and they know how hard the tour is," Pedroso said. "They cherish the fact that out on the practice court they've got a lot of guys that are going to be very competitive with them, or beat them. It's a great training environment. Yes, it means that it's tougher to make the starting lineup, but it comes with a lot of benefits.
"I always talk about how Monday through Thursday a lot of times is just as important as Friday, Saturday, Sunday, because what you do on the practice court is everything. If you do a great job on the practice court, chances are you're going to see your tennis come out the way you want it to in matches.
"The other piece of is that these guys have really bought into a culture of being unselfish and putting the team first. They understand that the more you give to the team, the more the team gives back. And that's tough for tennis players to really understand at the start, because it's an individual sport. You're kind of brought up to be very self-consumed in a lot of ways, because you're the only one out there. But these guys have really done a good job of understanding that reality of life: that it takes a village to be successful."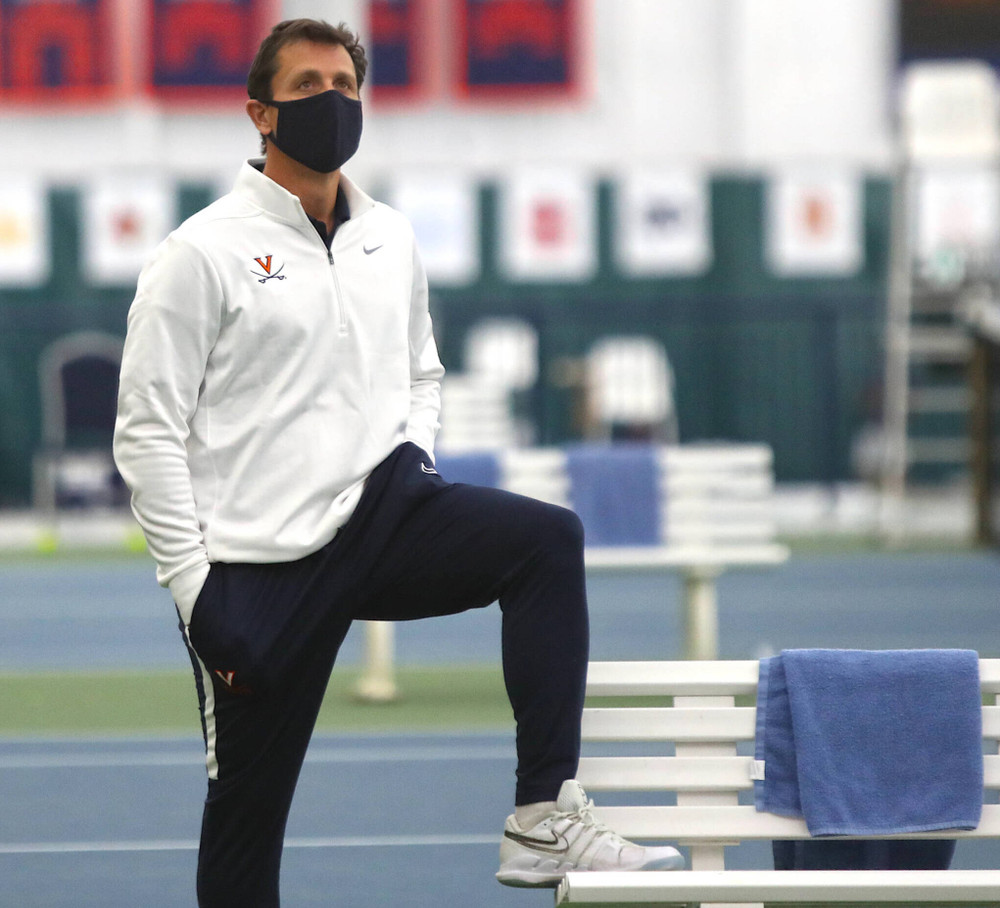 In selecting the lineup for matches, Pedroso said, he relies heavily on "my gut and my feel. No. 1, I'm going to pick the guys who I think are going to compete the hardest. If a guy's striking the ball well and he looks good out there, but I don't feel like he's got the  grit that it's going to take to compete at the highest level, I'm probably not going to play him.
"It's about who's competing the best and who I think is playing the best at the time, and that's very fluid. And when you have as many guys as we have that are capable of playing in our lineup, maybe the stakes are a little higher in practice now. But I think that's healthy, and I think that's the way the tour is, I think that's the way life is, any job you have."
The Cavaliers' captains are Soderlund, a graduate student who plays No. 1 singles, and Bozsik, a senior from Charlottesville who has yet to play in a match this season. Like the other players on the sideline, though, Bozsik was fully invested in the matches in Columbus.
"One of the things I'm most proud of this from the weekend is the guys that didn't compete, how they acted and how they supported their teammates," Pedroso said. "They were unbelievable. Whatever we needed them to do, a lot of times they were coming up with it themselves, and they were as excited during the match as the guys that were playing. But that's a culture that's been built for years and years. That's not me. That's just Virginia tennis."
Next up for UVA is a Saturday match with Old Dominion (0-2). The teams will meet at 11 a.m. at the Boar's Head Sports Club. With the pandemic ongoing, attendance at the Cavaliers' home indoor matches is limited to family members of student-athletes and coaches.
To receive Jeff White's articles by email, click here and subscribe.