By Jeff White (jwhite@virginia.edu)
VirginiaSports.com
They arrived in Blacksburg as the ACC's first-place team. The Virginia Cavaliers left town in the same position, but this was not a Saturday night they will remember fondly.
Against No. 20 Virginia Tech, the state's other ACC team, No. 8 UVA unraveled after building a 10-point lead in the second half. Tech outscored the Cavaliers 21-4 over the final 7:21 to capture a 65-51 victory at Cassell Coliseum.
That stretch included a 19-0 run for Tech (13-3, 7-2), which ended Virginia's 15-game winning streak in ACC play.
"They are a good team and they showed it," said UVA head coach Tony Bennett, whose record against the Hokies dropped to 16-7. "They took it to us."
For the Wahoos (11-3, 7-1), the loss was their first since Dec. 26, when top-ranked Gonzaga blew them out in Fort Worth, Texas. This game wasn't as one-sided, but little went right for the Hoos over the final 15 minutes.
After 7-1 Jay Huff scored inside to stretch Virginia's lead to 39-29 with 15:26 left, the Hokies launched their comeback. As their execution improved, UVA's declined. The Hokies shot 70 percent from 3-point range and 60.9 percent overall in the second half.
Virginia, by contrast, shot 23.1 percent from beyond the arc and 29.6 overall after intermission. The 51 points were a season low for UVA.
"Credit to them," Bennett said of the Hokies. "They defended hard. They ran their offense purposefully and hard … I thought we lacked assertiveness offensively with our cuts, assertiveness driving, trying to score, and then defensively kind of laid down, and that's not going to get it done.
"Finesse does not work in this league and we look very finesse-y today, if that's a word."
The Hokies are in their second season under head coach Mike Young, who previously oversaw the program at Wofford. Keve Aluma followed Young from Wofford to Blacksburg, and for that the Hokies are immensely thankful.
A 6-9 redshirt junior, Aluma overwhelmed the Cavaliers inside Saturday night. He finished with a career-high 29 points and also had a game-high 10 rebounds, plus four assists and one blocked shot. Along the way, he got UVA centers Huff and Francisco Caffaro in foul trouble.
"He had a heck of a game," Huff said. "Hats off to him. We hope we play him again and have a different result."
Bennett said Aluma has "great footwork and fakes. And then when he hit a couple of 3s, which he's capable of [doing] but hadn't in ACC play, that put some pressure on us."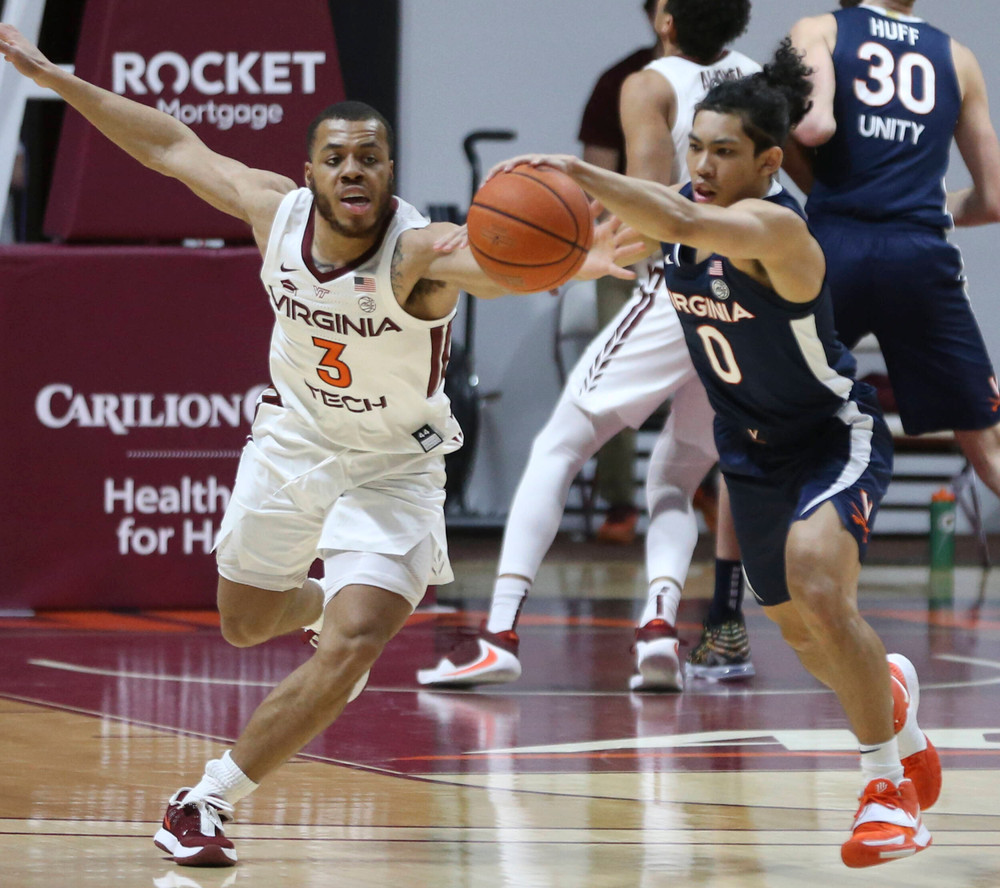 The Hokies played without their second-leading scorer, Tyrece Radford, who's dealing with legal issues, but they didn't need him Saturday night.
"They're missing a really good player, and I get that," Bennett said, "but what happens is, it opens up a little more space for Aluma to go to work and do things. So they adjusted well. It doesn't mean they don't miss [Radford], but it put pressure on us."
Among the telling stats in this one: free throws. Tech was 12 for 14 for the line. UVA was 3 for 4, and two of those foul shots came with 11 seconds left.
"When we drove we kind of jumped away," Bennett said, "and we didn't get the ball [inside] for hard posts …. We're not a huge draw-a-foul, get-to-the-line [team], but again there needed to be a little more assertiveness in maybe trying to touch the post, or hard drives with some finishes, but that wasn't the case."
Huff said the Cavaliers will take painful lessons from the loss.
"There were just a lot of things that we didn't do right," he said. "A lot of it was on defense. I take a lot of responsibility for that. There was a lot of missed assignments, some stuff that we needed to do better, obviously. That was really it. We just didn't show up tonight the way that we needed to."
COMMONWEALTH CLASH: The Cavaliers came in having won four straight and seven of the previous nine games in the series. That didn't faze the Hokies.
"I give Coach Young credit," Bennett said, "because their team is scrappy and physical and they've improved, you can see that, with the addition of Aluma and [other players.]"
Bennett acknowledged that his team had some excellent stretches, but "you just can't have big gaps where you're not getting stops or being assertive enough. It was too easy for them to post up, do things, and then make plays. We just weren't right, and, boy, let that be a lesson, because you can't survive that."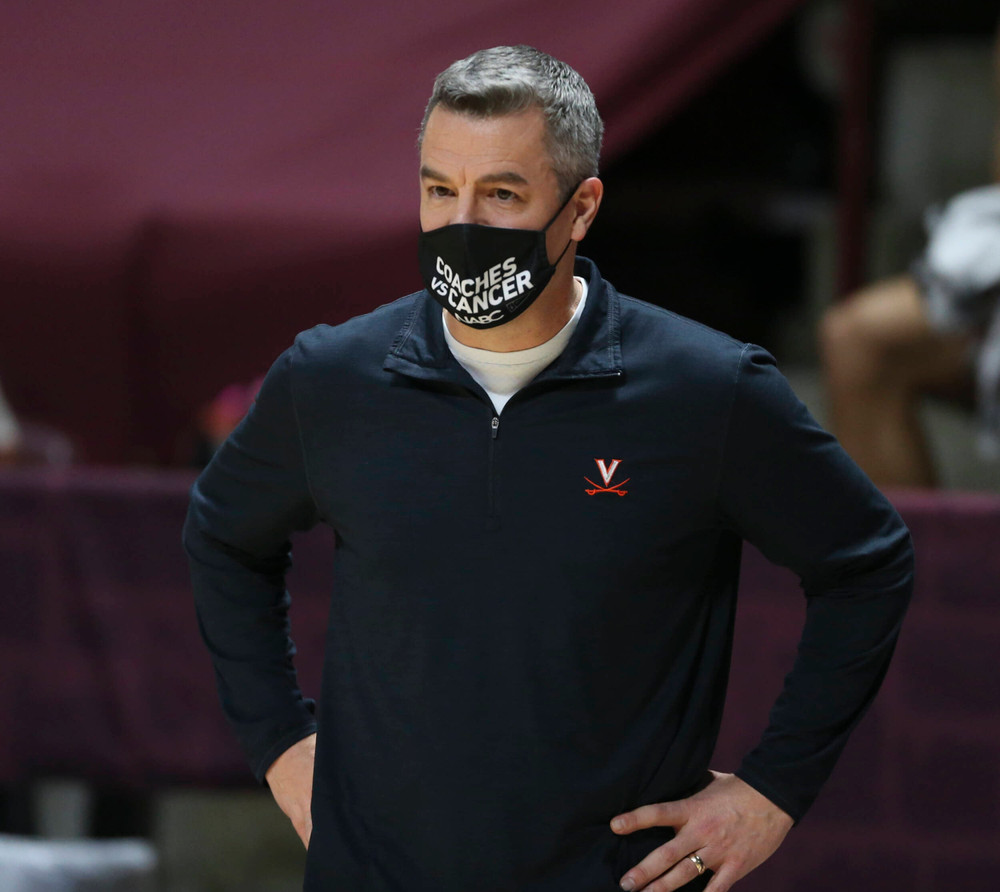 SOUND BITES: The Hoos had won seven consecutive game since the loss to Gonzaga. Among the postgame comments Saturday night:
* Bennett: "I'm not saying we scored enough points, but you can't guard like that [in the second half] and fall apart and expect to beat a team a good team like Virginia Tech."
* Bennett: "We needed to be more assertive and run aggressively and embrace that. That's how the game is gonna be, so then you've got to figure out how to cut harder, screen harder, move harder, and you can't expect to just be able to go where you want, and that's where I think we needed to be more assertive in all areas [offensively], and then of course defensively."
* Huff: "Tonight in a lot of ways we probably took a step back, but I don't think that's because we don't know what we're doing. We know what we did wrong; we just need to correct a few things."
LATE SHOW: The Cavaliers (11-3, 7-1) have two 9 p.m. games left on their regular-season schedule. The first comes Wednesday against NC State in Raleigh. The game will air on ACC Network.
Before focusing on UVA, Wolfpack (7-5, 3-4) plays Syracuse (9-5, 3-4) at the Carrier Dome at 6 p.m. Sunday.
UVA and NC State were scheduled to meet Jan. 20 at John Paul Jones Arena, but that game was postponed because of COVID-19 issues in the Pack's program.
NC State had lost eight straight to the Hoos before ending that streak with a two-point win at JPJ last January. The Pack is in its fourth season under head coach Kevin Keatts.
To receive Jeff White's articles by email, click here and subscribe.