By Jeff White (jwhite@virginia.edu)
VirginiaSports.com
Of the 1,200 fans inside McCamish Pavilion, the large majority were rooting for Georgia Tech, and they hooted and hollered Wednesday night when, with about 11 minutes left, University of Virginia guard Kihei Clark launched a 3-point attempt that missed everything.
UVA head coach Tony Bennett reacted differently. He's had Clark for three seasons, the first of which ended with an NCAA title for the Cavaliers, and he has immense faith in the 5-foot-9 junior from Los Angeles.
"I said, 'Good shot,' " Bennett told reporters after this ACC game in Atlanta. "And he kept shooting 'em, and made 'em. Those of us who've watched him know he's got that heart inside and he's kind of fearless. And we needed it."
At the time of Clark's airball, Virginia trailed 37-36. In the final eight minutes, he scored eight points to help the ninth-ranked Cavaliers pull away for a 57-49 victory over the Yellow Jackets, who had won 11 straight on their home court since losing there to Bennett's team in January 2020.
Clark, who scored all 14 of his points in the second half, finished with a game-high six assists and had only one turnover. His four 3-pointers matched his career high.
His coaches and teammates "stayed in my corner through the whole game," Clark said, "and just told me to keep shooting with confidence. So I made some shots, and it feels good to pull that one out."
This was the second game between these teams in less than three weeks. In the first, fifth-year seniors Sam Hauser and Jay Huff combined for 40 points to help Virginia rally for a 64-62 win at John Paul Jones Arena.
In the rematch, the Yellow Jackets (9-7, 5-5) blanketed Hauser and Huff, daring other UVA players to beat them.
"It wasn't like a triangle-and-two," Bennett said, "but they were not going to leave those guys [open]."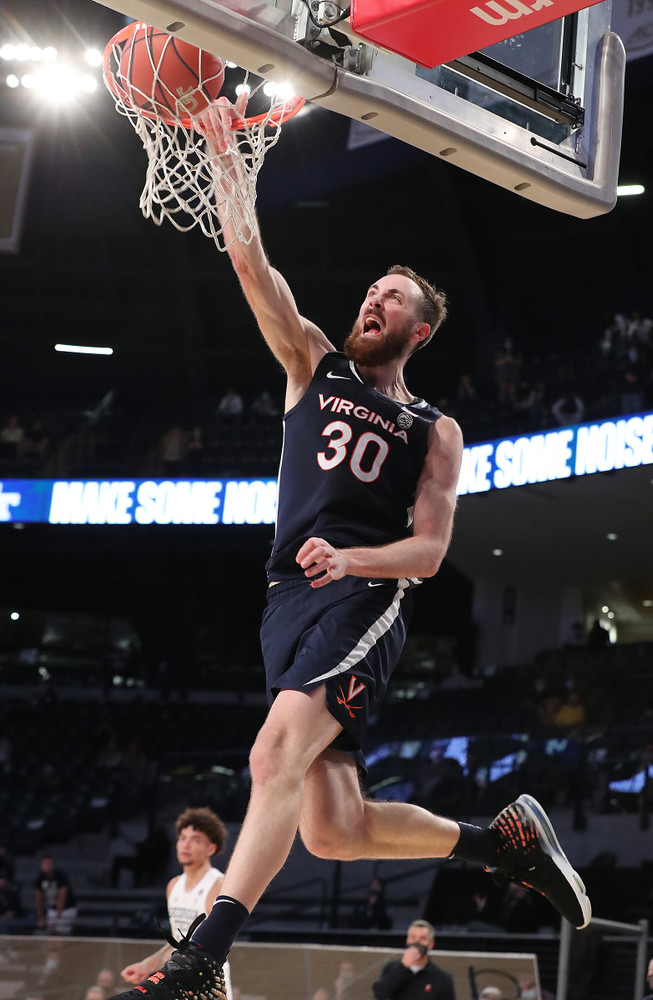 After scoring a season-low 20 first-half points, in part because they turned the ball over 10 times, the Cavaliers (14-3, 10-1) went into the break trailing by six Wednesday night. Hauser took two shots in the first 20 minutes; Huff took one.
"They purposefully took Sam and Jay out of it," Bennett said, "and other guys had to step up and make some plays."
In his halftime remarks, Bennett said later, "I kind of just tried to wind our guys up … I said, 'Throw caution to the wind. Be sound, but be aggressive. You gotta go make some plays. You gotta get into the paint. Kihei, shoot it. If they go under the screen, let it ride and shoot it.' And he did that, and I thought he played terrific."
Junior forward Trey Murphy III sparkled for the Wahoos, too. A transfer from Rice, he scored Virginia's first seven points and finished with a team-high 18. It helped, Murphy said, that Georgia Tech allowed fans in the arena. For most of the season, Virginia has been playing in near-empty venues.
"I loved the energy in there," Murphy said, "and I feel like road games are the best, because you've got people going against you, you have a little bit more adversity. It was a great atmosphere in there."
After opening the second half with nine straight points, UVA promptly gave up a 6-0 run. With eight minutes left, the Jackets led by four, but the third of Clark's four treys made it a one-point game, and he put the Hoos ahead for good with a jumper at the 5:25 mark.
Clark's final 3-pointer made it 48-44 with 4:36 remaining. The Cavaliers then all but sealed the victory with a 7-2 run capped by a thunderous dunk by the 7-foot-1 Huff, who'd hustled to collect an offensive rebound after a Hauser miss.
Huff finished with six points, nine rebounds and a game-high four blocked shots, one of which kept the Jackets from taking an eight-point lead into halftime.
"I really thought he covered for us and was so active rim-protecting today," Bennett said, "and we needed all that."
Huff, at 13.2 ppg, is the Cavaliers' second-leading scorer this season. The 6-foot-8 Hauser leads the team at 14.9 ppg. He scored only eight points Wednesday, but Hauser grabbed a game-high 10 rebounds and had five assists.
His fifth-year seniors "screened, they moved, they got on the glass, they made the next pass," Bennett said. "That's the sign of a really good player, when they say, 'OK, I might not get as many touches or shots [because of] how they're guarding me, but I'm going to keep moving and finding [teammates].' "
Huff had only one assist, but it was a pivotal one. After the Jackets switched to a 1-3-1 zone late in the game, Huff spotted Murphy open in the left corner. Murphy's second 3-pointer make it 51-45 with 4:02 left.
"That was a big play," Bennett said, and it helped the Hoos secure a big win.
"I thought our toughness showed tonight," Clark said, "definitely down the stretch in the second half."
Bennett said: "We had to outlast 'em. We just stayed in there, stayed in there, stayed in there, and then all of the sudden got some great looks and great stops that were required."
UP NEXT: UVA (14-3, 10-1) is scheduled to meet North Carolina (12-6, 7-4) on Saturday at John Paul Jones Arena. ESPN will televise the 6 p.m. game.
UNC hasn't played since defeating Duke 91-87 last weekend. Carolina's game against Miami, scheduled for Monday night, was postponed after officials from each school "mutually concluded the game could not move forward," the ACC announced that afternoon.
The Cavaliers have won six straight over the Tar Heels. In the teams' most recent meeting, on Feb. 15, 2020 in Chapel Hill, N.C., UVA rallied for a 64-62 win on a last-second 3-pointer by Tomas Woldetensae.
SOUND BITES: For the Hoos, the victory over Georgia Tech was their eighth straight in a series they lead 45-40. Among the postgame comments Wednesday night:
* Bennett on Huff: "He was right tonight, and I was proud of him."
* Murphy on his message to Clark: "When we went in at halftime, everybody was talking, and I talked to Kihei as well. I told him, 'Look, if they're going at you like that, shoot the ball. We've been working all summer and offseason, as well as the preseason, on your jump shot.' And he was knocking it down very consistently. So l had confidence in Kihei, and we had to make sure that he knew that."
* Bennett, who was displeased with the Cavaliers' defense Saturday in a win over Pitt, on their performance at that end of the floor against the Jackets: "It was better. It had to be. They're such a good 3-point shooting team, and they spread you out."
* Bennett, smiling, on a first-half sequence involving Woldetensae: "Tomas checks in the game and he's got his necklace on, and I hear one of our guys on our bench say, 'Hey, Tomas, your necklace.' And it's an inbounds play, and he's sitting there trying to get his necklace off. They run the play and his guy goes to the corner and hits a 3. I about lost it. I was thinking, if we lose by three because we're trying to get our dang gold chain off, then we've got some issues."
* Clark on UVA's 10 first-half turnovers: "I think that's why we were down early. I think if we limit those mistakes, we don't put ourselves in too big of a hole."
* Clark on Hauser: "He's just a leader on the floor, someone we need on the floor at all times, and I thought he did a good job today."
* Murphy on UVA's position atop the ACC standings: "It's nice, but it's in the past as well, and we gotta keep moving on to these next games and keep winning games."
To receive Jeff White's articles by email, click here and subscribe.