By Jeff White (jwhite@virginia.edu)
VirginiaSports.com
CHARLOTTESVILLE –– When Virginia's starters checked out of the game Saturday night, they received a warm round of applause from the smattering of fans inside John Paul Jones Arena, where COVID-19 measures remain in effect.
Under normal circumstances, the ovation would have been thunderous. But in the ninth-ranked Cavaliers' latest win over ACC rival North Carolina, the energy provided by a sellout crowd at JPJ wasn't needed.
With a 21-2 run, UVA took control of this nationally televised game early and wasn't seriously threatened thereafter in a 60-48 victory. For the Wahoos (15-3, 11-1), who lead the ACC, the victory was their seventh straight over the Tar Heels (12-7, 7-5).
Much of the credit for Virginia's recent dominance of the Heels, fifth-year senior Jay Huff said, goes to its "transition defense. That's something we work on a lot in practice. [Transition offense is] kind of their thing, and they do a really good job of it. So we always have to prepare a little extra for a team like that. Props to them for the way they play. Luckily we were able to stop that for the most part."
Carolina loves to run and came in averaging 74.1 points per game. UNC didn't hit the 40-point mark until 5:05 remained in the game. Against the Cavaliers' trademark Pack Line defense, the Heels were 2 for 16 from 3-point range and 20 of 58 (34.5 percent) overall.
"That's always the goal, to make the opponent earn a quality shot," UVA head coach Tony Bennett said. "It's got to be contested, and the majority of them were. We won the majority of the possessions."
With players such as 6-11 Day'Ron Sharpe, 6-11 Walker Kessler, 6-10 Armando Bacot and 6-10 Garrison Brooks, UNC has a towering front line. But none of those post players—or any of their teammates, for that matter––scored in double figures. Not since 1966 had that happened for the Heels, who finished with a season low in points Saturday night.
Midway through the first half, UVA led 21-4.
"I definitely say it started on our defensive end," said UVA freshman guard Reece Beekman, who finished eight rebounds and seven assists, both career highs. "When we're playing great defense, I feel like our offense is much better … When a couple of shots go in, we get more energy and that leads to defense too. It all comes back to the defensive department."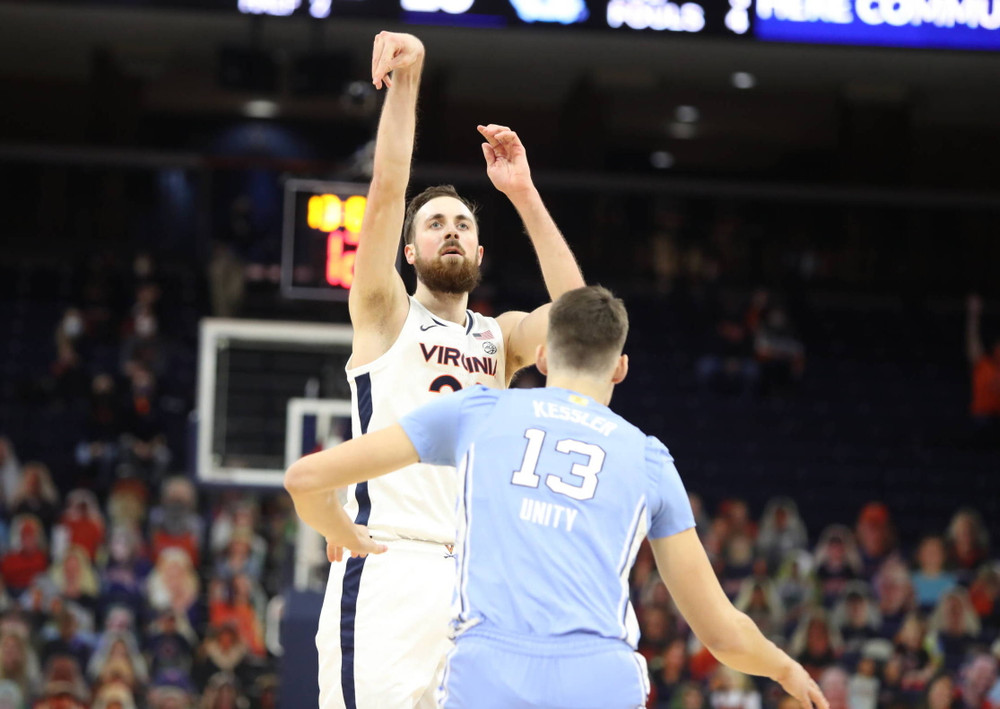 The game offered more proof of the progress the 7-1 Huff and 6-8 Sam Hauser, another fifth-year senior, have made at that end of the floor. They've always been gifted offensively, but opponents regularly exposed their defensive flaws early in the season. Those breakdowns are becoming less common.
The Heels, with their size, "kind of demand you to stand in there and be physical if you want to have any kind of success against them," Bennett said. "And so that's why I liked what Jay and Sam did. I thought they were physical. And then even the guys that didn't play a lot, that came in, they moved hard, they worked hard, and we were locked in."
With Huff and Hauser leading the way, the Cavaliers employed the post trap, a staple of their defense, effectively against UNC's big men.
UVA's fifth-year seniors hurt the Heels at both ends of the floor. Huff finished with 18 points, 12 rebounds and four blocked shots, all game highs. The 12 boards matched with career high.
"I thought Jay had a really nice game for us," Bennett said.
Hauser, a transfer from Marquette, scored 17 points and added five rebounds, two assists and one steal. Junior forward Trey Murphy III, a transfer from Rice, contributed 12 points to join Huff and Hauser in double figures.
"I thought a number of guys were solid," Bennett said.
Huff has been foul-prone at times this season, but he was called for only personal Saturday night. His father had told him that the Heels' "plan was to get me in foul trouble," Huff said, "which is understandable, because I've had some games this year where that's been a problem. Luckily, we were able to avoid that and then in the second half, I was able to go block a couple more shots that I might have tried not to foul on in the first half."
For Huff, who's from Durham, N.C., wins over the Tar Heels are especially satisfying. He grew up rooting for UNC's arch-rival, Duke.
"No offense again to [the Heels]," Huff said. "It was more just a cultural thing, almost, as a Duke fan … When you see that Carolina blue, it's kind of a little bit of added motivation."
RIGHT BACK AT IT: In the second of three straight ESPN appearances for the Cavaliers, they play No. 17 Florida State (11-3, 7-2) at the Donald L. Tucker Center in Tallahassee at 7 p.m. Monday.
"It's just a quick turnaround," Huff said. "Hop on the bus, hop on the plane. We'll kind of figure it out as we go. We don't have as much time to prepare on the court, but a lot of it's just going to be film and strategy discussions."
In its first game since Jan. 13, FSU defeated Wake Forest in overtime Saturday afternoon in Tallahassee. The Seminoles have won 23 straight conference home games, the second-longest such streak in ACC history.
Bennett is 9-9 against Florida State as Virginia's head coach. In the teams' most recent meeting, on Jan. 28, 2020, the Cavaliers defeated the Seminoles 61-56 at JPJ.
UVA plays at Duke (8-8, 6-6) next Saturday night. ESPN will televise the 8 o'clock game.
"It's a good test for us and for myself just to see where we're at," Beekman said of this three-game stretch, "and to get better playing against great teams."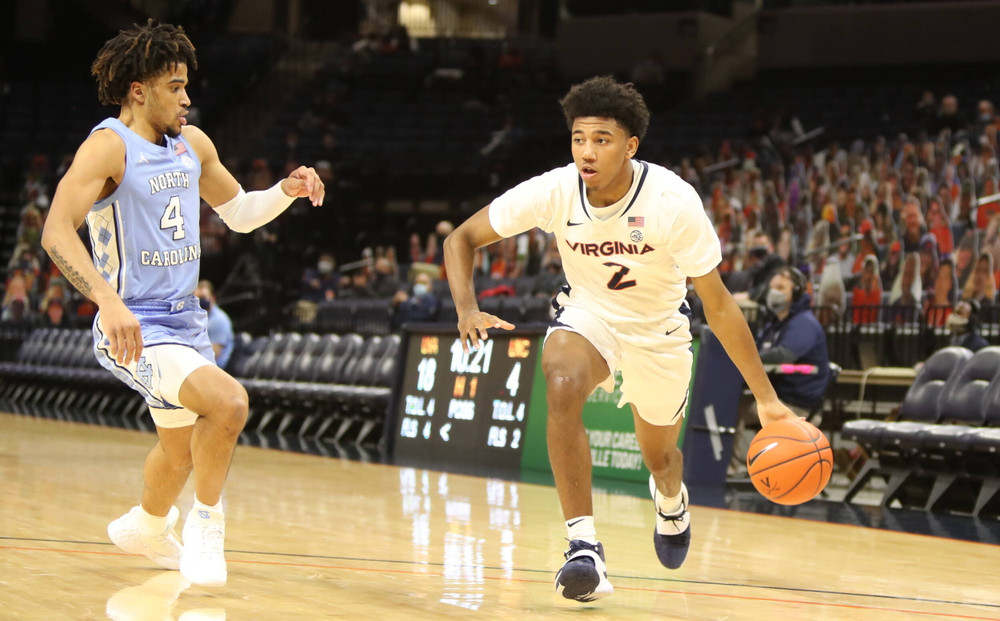 SOUND BITES: UVA is assured of finishing with at least 11 conference wins for a school-record ninth straight season. Among the postgame comments Saturday night:
* Bennett on facing the Tar Heels: "It's always a battle of imposing your will or systems against them, so I liked how we had a level of patience and movement offensively. That helped us, and then we didn't give up too many easy [baskets]. A couple at the rim, but not too many."
* UNC head coach Roy Williams: "You've got to be able to make shots to have some success against [UVA]. If you're not making shots, it's a long, long night. "
* Bennett on his team's marksmanship (10 for 22) from beyond the 3-point arc: "We stretched them with our 3s, because they're big and we had to move them and do what we needed to do."
* Huff on the Cavaliers' emphasis on defense: "I think the longer you're in the program, the more you appreciate it. There's something satisfying about holding a team that scores a lot of points to very few points, and just the way we get back in transition is really what does that for us."
* Bennett on Beekman's board work: "In games like this, you need your guards to really come back and rebound, and I thought he did a good job with that."
* Bennett on senior swingman Tomas Woldetensae, who played 19 minutes off the bench: "He's really playing within himself. He's trying to find the open guys, taking the rhythm shots when they're there, making some passes and with soundness. He's got a natural flair or feel for the game, and so when he can bring it with some soundness that really, really helps."
* Beekman on his first college season: "I started off OK, but I feel like each game it's getting better and better, just learning from everybody on the team, from Jay Huff to Kihei [Clark] to Sam. Just learning and taking what they know, because they have that experience that's helping me … I know it takes time. The transition is big coming from a high school to college, an ACC team, it's a big difference, but I feel like I'm adjusting well."
To receive Jeff White's articles by email, click here and subscribe.