By Jeff White (jwhite@virginia.edu)
VirginiaSports.com
Florida State head coach Leonard Hamilton's teams are typically tall, deep, athletic and talented, and his latest is no different. When the Seminoles are playing at a high level, they can overwhelm an opponent that isn't locked in, as Virginia was reminded Monday night in Tallahassee, Fla.
No. 16 FSU floored the No. 7 Cavaliers with a 14-0 run in the first half and a 17-0 run in the second. In a game witnessed by an ESPN audience and a crowd of 2,950 at the Donald L. Tucker Center, the final was 81-60.
"Hats off to Florida State," UVA head coach Tony Bennett. "They're that good when they're playing like this, and they were inspired."
For the Seminoles (12-3, 8-2), it was their 24th consecutive ACC home victory, the second-longest such streak in league history. For the Wahoos (15-4, 11-2), it was their most one-sided ACC loss in nearly four years.
"We approach every game with the same mentality: It's gonna be a fight," senior swingman Tomas Woldetensae said. "Today, they just won."
Bennett said: "Florida State was really good tonight, you could see it, but what I'm frustrated with, and the tape will of course always reveal more, is that we didn't do the things that were in our control at a high-enough level. We always talk about how you may not win, but you've to eliminate losing and be an A in transition defense and defensive rebounding and positioning, and we weren't that. We were at times a B, and then at times we were a D."
This is the 12th season at UVA for Bennett, who came into this game with a 9-9 record against the Seminoles. In each of those 18 meetings, the Hoos had held FSU to fewer than 70 points, but they broke down repeatedly on defense Monday night.
Against UVA, which was allowing an average of 58.8 points per game, the fewest in the ACC, the Noles shot 13 for 24 from beyond the arc and 29 of 58 overall.
"If you want a chance to beat a team of this caliber, or that is playing at this level in this setting, you can't be sometimes really good defensively. You've got to be all the time good in the areas that you have control over," Bennett said.
"We can't control if they can make a big-time shot or an acrobatic play, but we can control if our defense is set, if we've active on the ball, if we're in position and not committing some lapse of judgments, and I think that was the part that we have to look into and say, 'How good can we be? How good do we want to be?' And that to me was the disappointing part, because we were there for a while and then all of a sudden it went away that quickly, whether it was a breakdown or not."
Three minutes into the game, the Cavaliers led 6-2. For the next 17 minutes, though, they did few things well, and Florida State led 45-25 at the break. Not since giving up 48 to Tennessee on Dec. 30, 2013, had the Hoos allowed so many points in the first half.
"They were more aggressive," Woldetensae said of the Noles. "They were more energetic than us."
Behind junior point guard Kihei Clark, the Cavaliers made things interesting for a while after intermission. Clark scored 10 of his 12 points in the first five minutes of the second half, and when junior forward Trey Murphy III hit a 3-pointer with 14:22 remaining, the Seminoles' lead was suddenly only seven. FSU responded with a 3-pointer, but Clark answered with a jumper that made it 51-43 with 13:35 left.
From there, however, it was all Florida State. By the time Woldetensae's third (and final) trey ended the Noles' 17-0 run, only 7:27 remained and Virginia's four-game winning streak was effectively over.
"It's just [about] trying to grow from it and learn from it," Bennett said. "I did like how we got it back, but then every time we had a breakdown, they'd bang a 3 or they'd get down the floor [in transition]."
This was the lone regular-season meeting between UVA and FSU, the only ACC teams with fewer than three conference losses. As painful as the experience was for the Cavaliers, Bennett believes they can benefit from it. He pointed to his program's pillar of thankfulness.
"Be thankful for what adversity teaches you, and are you wise enough and thankful enough to apply it?" Bennett said.
The Hoos will take Tuesday off to "recharge," Bennett said, "and then hopefully you come back guns a-blazing with your tenacity, your approach and your focus. We're getting down to the end, and you don't want to leave anything on the table, and that's what we've got to do moving forward."
Murphy finished with 13 points to lead four UVA players in double figures. Clark and Woldetensae scored 12 each, and fifth-year senior forward Sam Hauser added 11. On a night when 7-1 Jay Huff scored only four points, the Cavaliers shot a respectable 46.8 percent from the floor, but they committed 13 turnovers that FSU turned into 21 points.
Of UVA's four losses, three have been by double-digit margins to ranked opponents: Gonzaga, Virginia Tech and, now, Florida State.
The key against high-caliber foes is how "you hang in there and battle and be tough-minded," Bennett said, "and I think it goes to the things you have control over. We've said that before. We're not the most physically imposing team, but we have to do physically imposing things that matter."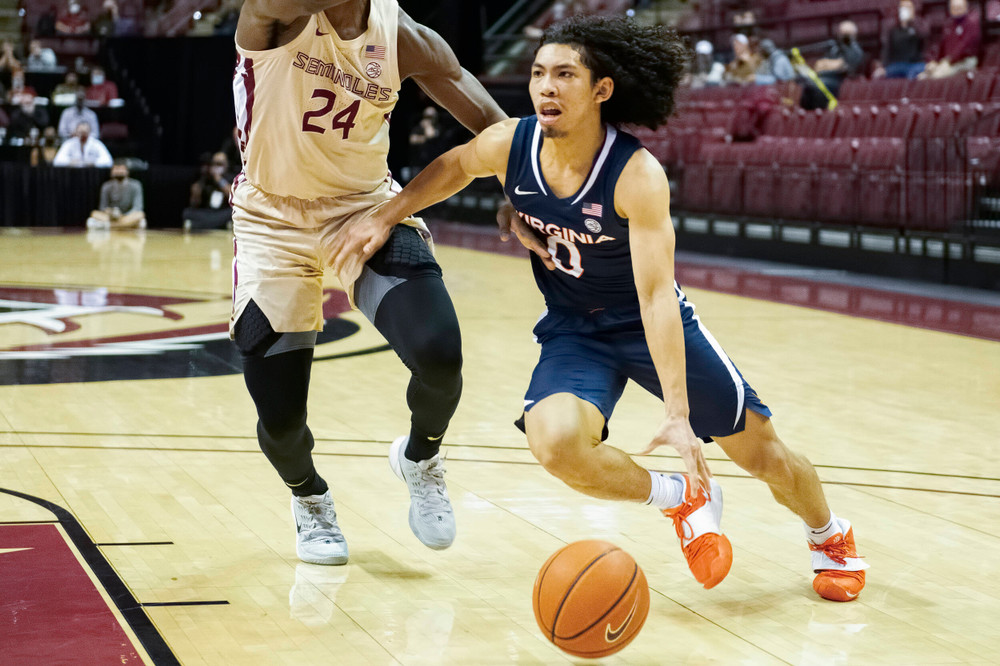 UP NEXT: In its third straight appearance on ESPN, Virginia visits Cameron Indoor Stadium on Saturday for an 8 p.m. game against Duke (8-8, 6-6).
In the teams' only meeting last season, the Cavaliers edged the Blue Devils 52-50 at John Paul Jones Arena. Huff led the Hoos with 15 points, 10 blocked shots, nine rebounds and two steals.
Duke plays Wednesday night at Wake Forest (6-9, 3-9).
UVA's most recent victory at Cameron Indoor Stadium came on Jan. 27, 2018.
SOUND BITES: Virginia falls to 26-27 all-time against Florida State. Among the postgame comments Monday night:
* Bennett on the Seminoles' depth: "They bring in waves of guys."
* Bennett on UVA's turnovers: "Everything is concerning, but you look at it and say, 'OK, address it and get better.' You can't reinvent the wheel. We just got to keep tightening the bolts and be as hungry as we can and as ready as we can for our next game. We play Duke next, and they're a team that really pressures and is athletic as well."
* Woldetensae on Clark: "He pretty much took the entire team [on] his back and tried to push it through."
* Woldetensae: "There's always value in a loss. You learn from a loss. You improve from a loss more than you would improve with a win."
* Bennett on freshman guard Reece Beekman, who went 0 for 4 from the floor and didn't score in his 30 minutes: "These are learning experiences for Reece and our young guys. In this setting you have to be aggressive, you have to sometimes take a shot when it's there and touch the paint and try to finish. It wasn't just him. He's been really good as a first-year, but those are areas that that I think he'll continue to grow from, and we want to empower him to do it and have the freedom to but make good decisions."
* FSU coach Leonard Hamilton: "We got a tremendous amount of energy from everyone who came in the game. I thought that allowed us to play at a very, very high level for the entire game."
To receive Jeff White's articles by email, click here and subscribe.