By Jeff White (jwhite@vrginia.edu)
VirginiaSports.com
Victories at Cameron Indoor Stadium are hard to come by for visiting basketball teams, but Duke has been uncharacteristically vulnerable at home during the pandemic, in part because of the absence of fans in its famed arena.
When the final horn sounded Saturday night, however, the unranked Blue Devils were the ones celebrating in Durham, N.C., not the No. 7 Virginia Cavaliers.
UVA, efficient offensively for most of the game, went scoreless in the final three minutes and, with a 66-65 loss to Duke, dropped into second place in the ACC behind No. 16 Florida State (13-3, 9-2).
"It's a tough one," said fifth-year senior Jay Huff, who led the Wahoos with 20 points, 12 rebounds and two blocked shots. "It's one of those that could have gone either way. If we can make a few plays, or they don't make a few plays, it's definitely our game. We've been in that situation before. It happens. I think we'll be better off for it."
With 3:10 to play, Huff hit both ends of a one-and-one to push the Cavaliers' lead to 65-62. Virginia had four more possessions. None was productive.
"It comes down a lot of times to making plays late," UVA head coach Tony Bennett said. "They hit some contested, well-guarded shots, and we didn't, down the stretch. We hit some earlier."
On the game's final sequence, after Duke's DJ Steward missed the front end of a one-and-one with 9.6 seconds left, Virginia point guard Kihei Clark dribbled quickly into the frontcourt, only to momentarily lose the ball near the top of the key. The 5-9 junior recovered and, with time running out, put up a 3-point attempt over the outstretched arms of 6-9 Matthew Hurt. The shot was short, and the 7-1 Huff's putback dunk came after the horn.
On the Cavaliers' penultimate possession, 6-8 forward Sam Hauser had missed a contested 3-point attempt from the right corner. After an offensive rebound by Huff, Clark missed a jumper, and a scramble for the ball followed. UVA guard Casey Morsell appeared to gain possession and signaled for a timeout with 11.5 seconds to play, but the officials ruled that Duke's Jordan Goldwire had forced a jump ball. The possession arrow pointed the Blue Devils' way.
"We gotta be more sharp on offense, just execute better," said Hauser, a fifth-year senior who finished with 19 points, eight rebounds and three assists. "At the end of the day, I think that's what it came down to."
The Cavaliers (15-5, 11-3) have lost consecutive games for the first time this season, their 12th under Bennett. Still, their performance against Duke (10-8, 8-6) bore little resemblance to their lackluster effort Monday night in a 81-60 loss to Florida State in Tallahassee.
"We just played harder, played with more passion and togetherness," Hauser said. "But we just had a few breakdowns at costly times that kind of cost us this game."
Florida State "knocked us out," Bennett said. Against Duke, the Cavaliers "improved a little bit," Bennett said, "but not enough to be successful. Close, but not quite."
Hauser (15.1 ppg) leads Virginia in scoring this season, and Huff (13.3 ppg) is second. Third is junior forward Trey Murphy III (11.2 ppg). Murphy, a transfer from Rice who like Huff grew up in Durham, took only two shots Saturday night, both in the first half. He made them both.
"We tried to move him and get some screens, and then we tried to use him to screen at times and flash and slip," Bennett said. "but that's something he's got to keep adding to his game. We got to keep trying to figure out ways to get him shots."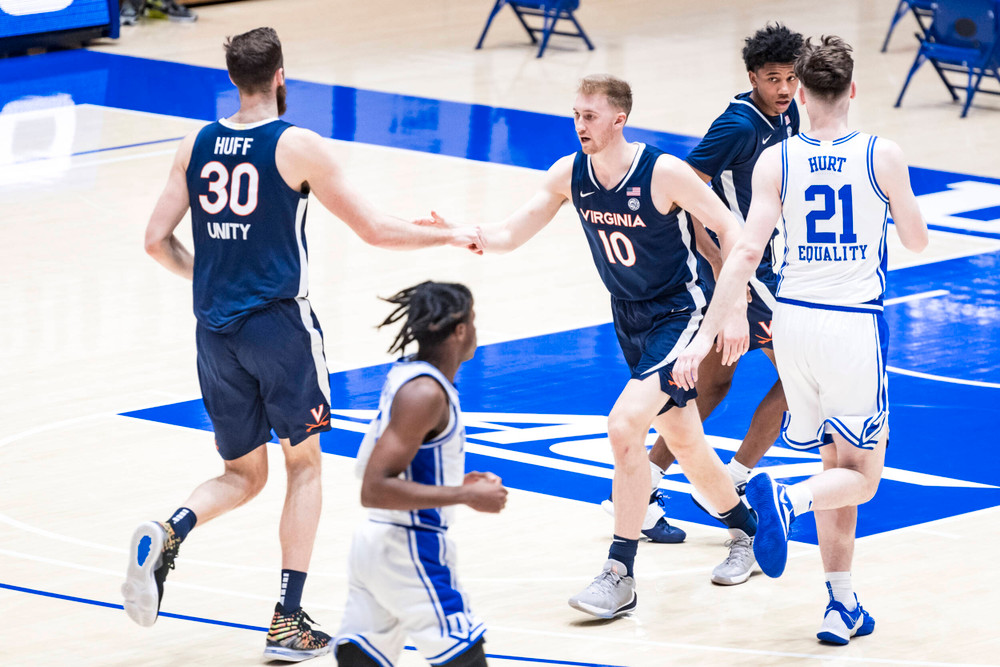 The Hoos, seeking their first win at Cameron Indoor Stadium since Jan. 27, 2018, played without senior swingman Tomas Woldetensae, a gifted shooter who was sidelined by contact tracing. Even short-handed, though, Virginia shot 50 percent from the floor (and 45.5 percent from 3-point range).
Of greater concern to Bennett was his team's defense, especially in the first half. The Blue Devils shot 56 percent from the floor (58.3 percent from beyond the arc) to take a 39-36 lead into intermission. Led by Hurt (8 for 13), Duke shot 51 percent for the game.
"We haven't been real sound defensively this year," Bennett said.
Duke was credited with 14 fast-break points, an exceptionally large total for a team facing Virginia. For a program that prides itself on its transition defense, those breakdowns were costly.
"The 14 transition points, that's concerning, and I'll look again on film to see where they were, but we'll keep working on that," Bennett said. "You won't beat good teams if you're allowing a lot of transition points, I know that."
Neither team could pull away Saturday night. The game was tied seven times in the second half: at 42-42, 45-45, 49-49, 51-51, 56-56, 58-58 and, finally, 60-60.
"It's sad that fans were not at this game," Duke head coach Mike Krzyzewski said. "This was an epic game. This was a great basketball game tonight."
This was not one of Virginia's more balanced showings on offense. Huff (9 for 15), Clark (5 for 15) and Hauser (7 for 11) accounted for 41 of the Cavaliers' 52 field-goal attempts. Reece Beekman, a freshman who started alongside Clark in the backcourt, missed his only shot. Morsell was 3 for 8 and scored seven points in 26 minutes off the bench.
After Duke freshman Jaemyn Brakefield's reverse layup made it 66-65 with 1:58 left, Morsell missed a pullup jumper at the other end.
"I think that was an OK shot," Bennett said. "[Duke defenders] just were skin-tight. I'll look at the film, but I wish we could have gotten a couple better looks and cleaned up some of the turnovers or the blocked shots [late in the game]. Sometimes it's drawing and kicking and making the decision, but to not score the last few minutes was tough."
Hurt hit 5 of 8 shots from beyond the arc and finished with a game-high 22 points.
"Hurt is a special shooter, you could see," Bennett said. "He's Larry Bird-like in terms of where he puts the ball behind his head. You think you're there and yet you can't quite get to it."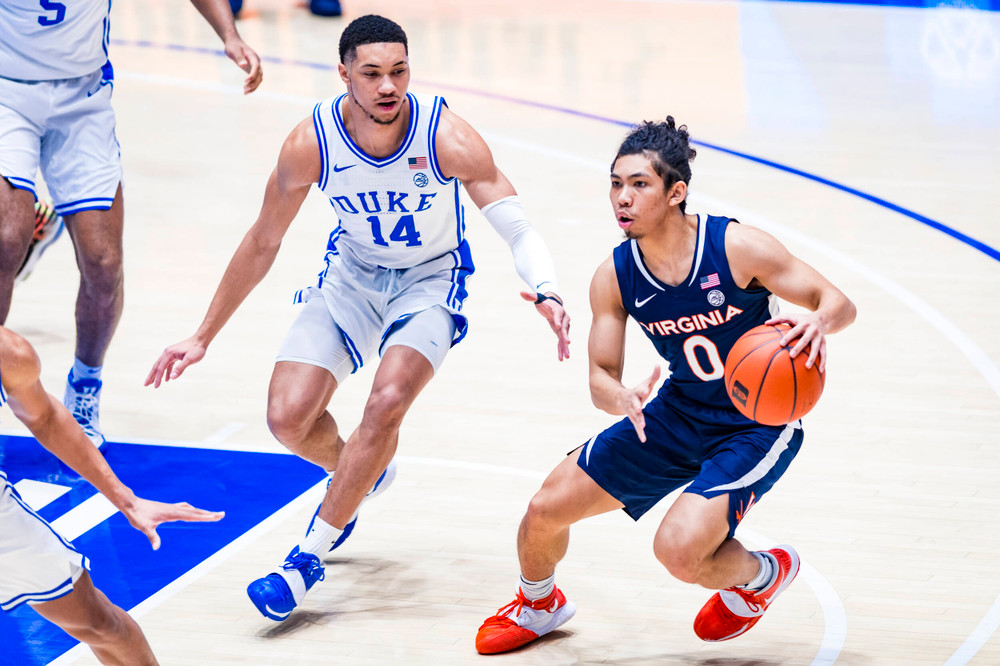 BACK HOME: The Cavaliers have three regular-season games left, and the next two are at John Paul Jones Arena. UVA hosts NC State (10-9, 6-8) on Wednesday (6:30 p.m. on ACC Network) and Miami (7-13, 3-12) next Monday night.
Virginia has won nine of its past 10 games against NC State. In the teams' most recent meeting, UVA prevailed 64-57 at PNC Arena on Feb. 3.
The Hoos have won 15 straight at JPJ.
SOUND BITES: This marked the fifth time in the past seven UVA-Duke games that the final margin was one or two points. Among the postgame comments Saturday night:
* Bennett on his team's defensive intensity in the second half: "That has to be there the moment that ball tips … I think it was pretty easy for them to score on us in the first half."
* Bennett: "It's always valuable to be in tight games, but plays have to be made, and we've got to keep trying to work to get the right kind of shots and keep getting stops down the stretch."
* Hauser on the loss: "You gotta learn from it. You gotta to grow from it. Obviously, we'll watch some film on it and see where we broke down or had some breakdowns. We just gotta stay together. It happens. You're not gonna win every game. You just gotta stay together, fight through this and, like Coach Bennett says, dust yourself off. That's the beauty of basketball: You get to come back at it."
* Huff: "It's just a few plays here and there. That is what it is. I think that we know what we have to do, and we know small things we have to tighten up. It's not anything major. Obviously, the Florida State game was major. I feel like we needed to do a lot differently after that game, and this game was just a few minor tweaks here and there, and we'd have been good. But it is what it is. It's basketball. [Duke] played a heck of a game."
* Hauser on Hurt: "He's a great player and he's played well all year. You can see he can really shoot it, and he's definitely a matchup nightmare for some teams, and he was hitting his shots tonight and he made some tough ones. Credit to him, he played well."
* Hurt on Hauser's 3-point attempt in the final minute: "Whatever shot he was shooting, it felt like it was going in tonight. I just tried to make it tough on him because he's capable of hitting that shot. I just tried to make it a tough shot for him, and luckily it went out."
To receive Jeff White's articles by email, click here and subscribe.