By Jeff White (jwhite@virginia.edu)
VirginiaSports.com
CHARLOTTESVILLE –– In ACC men's basketball, the postseason starts in two weeks, and teams want to be gaining momentum at this time of the year.
The Virginia Cavaliers need a jump-start. After winning 15 of its first 18 games, UVA has dropped three in a row. The 15th-ranked Wahoos' latest setback came Wednesday night at John Paul Jones Arena, where NC State trailed for only 42 seconds in its 68-61 win.
For the Cavaliers (15-6, 11-4), who defeated NC State 64-57 in Raleigh on Feb. 3, the loss was their first in more than a year at JPJ, where they had won 15 straight. They'll play two more regular-season games before heading to the ACC tournament in Greensboro, N.C.
"It was by no means a happy locker room, but we've been in bad situations before," said UVA's Jay Huff, a fifth-year senior finished with 19 points, 11 rebounds, five blocked shots and three steals. "We'll be all right. Obviously, we're frustrated, but we're all trying to figure out what we can do better, figure out the few things we need to fix."
Virginia has won several close games this season, but its slump is a "reality check," head coach Tony Bennett said Wednesday night. UVA lost 81-60 at No. 11 Florida State on Feb. 15 and 66-65 at Duke on Saturday night.
"If you don't play sound, good basketball, you'll get beat in this league," Bennett said, "and we're certainly finding that to be the truth."
With six minutes left in the first half Wednesday night, UVA trailed 24-10. The Cavaliers eventually woke up, and their halftime deficit was only six. Back-to-back 3-pointers by fifth-year senior Sam Hauser tied the game early in the second half, and with 14:31 to play Huff's two free throws gave Virginia its first lead, at 35-33.
It proved fleeting. Nine seconds later, State's Jericole Hellems went 1 for 2 from the line to make it 35-34. On the Wolfpack's next possession, Braxton Beverly's 3-pointer made it 37-35 with 13:39 remaining, and the Cavaliers never regained the lead.
The breakdowns that hurt the Hoos early "started to come back and creep back into the game in the second half," Hauser said. "I think that's what led to North Carolina State getting back in the lead. Obviously, you can't get in a hole like that from the start, though, regardless of whether shots are going in or not. We've got to be better on defense."
The recent increase in COVID-19 cases in the UVA community prompted University officials to tighten the attendance policy at JPJ for this game. No fans were admitted, not even the family members of players and coaches.
With only 250 fans allowed in the stands, UVA home games have not been raucous affairs this season, but the atmosphere was even more subdued Wednesday night.
"We needed more noise from you guys," Bennett told media members during his postgame Zoom call.
Bennett, who's in his 12th season at Virginia, was smiling when he said that, but this has not been a happy stretch for his program. Defensive lapses have plagued the Cavaliers all season, and the Wolfpack (11-9, 7-8) scored 30 points in the paint Wednesday night.
The Hoos' offense, led by Hauser, Huff and junior Trey Murphy III, has carried them in many games, but "how does this team play when the shots are not going in?" Bennett said. "We haven't become gritty enough or tough enough to lean on our defense to hold us in there. We did it a couple times this year, but not consistently enough, and [the Wolfpack] started going at us. You look at the points in the paint and those things, and that was discouraging."
In a team meeting early in the season, Bennett told reporters Wednesday night, "I drew a line and I said, 'This is what you think your maximum effort is, and you're trying to get to it, but there's a line above it, and you've got to somehow get to that, because you're leaving too much on the floor.'
"And it's hard. It's hard to be good down the stretch. Teams are starting to play better, and we've kind of hit a little lull here obviously. So now we have to regroup."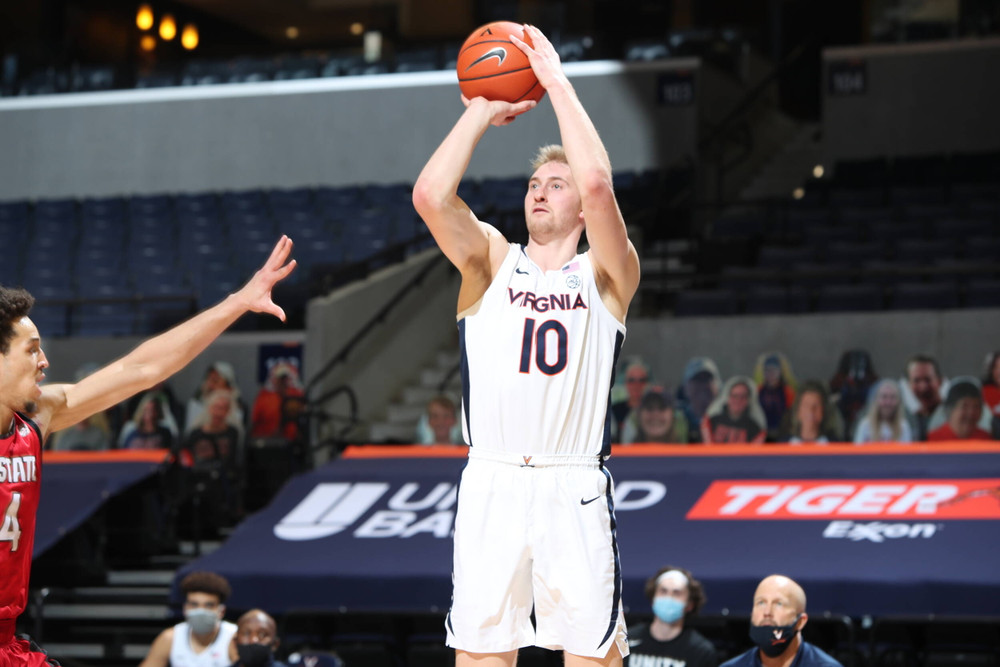 After State stretched its second-half lead to 10 points on a dunk by DJ Funderburk with 5:49 to play, the Cavaliers fought back. A Huff trey cut the Pack's lead to 51-46 with 4:18 left. Funderburk answered with a three-point play, but Hauser followed with the third of his five 3-pointers.
Virginia dug in on defense, and State's offense broke down. With the shot clock nearing zero, 6-foot-3 Cam Hayes put up a desperation 3-pointer from well beyond the top of key. His shot cleared the outstretched hand of the 7-foot-1 Huff and banked in to make it 57-49 with 3:07 remaining.
"We played good defense," Hauser said. "They made a tough shot. Hats off to them. There's not much you can do about that one. It's just one of those things."
Hauser led all scorers with 21 points. Junior point guard Kihei Clark finished with 11 points to join Hauser and Huff in double figures. That was about it offensively for the Cavaliers, who shot 37 percent from the floor.
Offense comes and goes, Bennett said, but "defensively you can't allow the lapses that we have. And that's been kind of a thing all year. We've talked about it, but there's things that are in our control that we're letting slip, and unless we fix those it'll be tough to win."
For the season, the 6-foot-9 Murphy (10.8 ppg) is Virginia's third-leading scorer, but he had four points against Duke and two against NC State.
"Trey has to keep improving when [defenders] climb into him," Bennett said. "He's very good when he has space."
For the second straight game, Virginia played without 6-foot-5 senior Tomas Woldetensae, who's out due to contact tracing. Woldetensae is shooting 44.4 percent from 3-point range, and the Cavaliers sorely miss his outside touch. Bennett said he's hopeful Woldetensae will be cleared before the team's next game.
"Tom will be a welcome addition," Bennett said, "and some scoring on the perimeter would help if he could knock down some shots."
On a night when State was the more physical team, Bennett applauded the work of two of his frontcourt reserves: 6-foot-8 sophomore Justin McKoy and 7-foot redshirt sophomore Francisco Caffaro.
"I thought they battled hard," Bennett said.
NO EXCUSES: Since returning to Grounds in July, the Cavaliers have followed strict protocols during the pandemic, and the experience has been emotionally draining for everyone associated with Bennett's program. But Virginia is not unique in that regard among college basketball teams.
"Everyone's in the same boat," Bennett said. "It is what it is, as they say. Everybody's going through that same thing, and you want to try to figure out ways [to win anyway]."
The key, Hauser said, is "to try to not let that affect you as much as you can. And I think our team has done a good job of it thus far, and we just have to continue with it."
Huff said: "We're all tired. Obviously, it's frustrating, especially with the rising [COVID-19] numbers in the UVA community. We can't have fans here. But obviously that's not an excuse, because we play in empty arenas all the time, and we play in practice all the time when it's empty. No excuses by any means."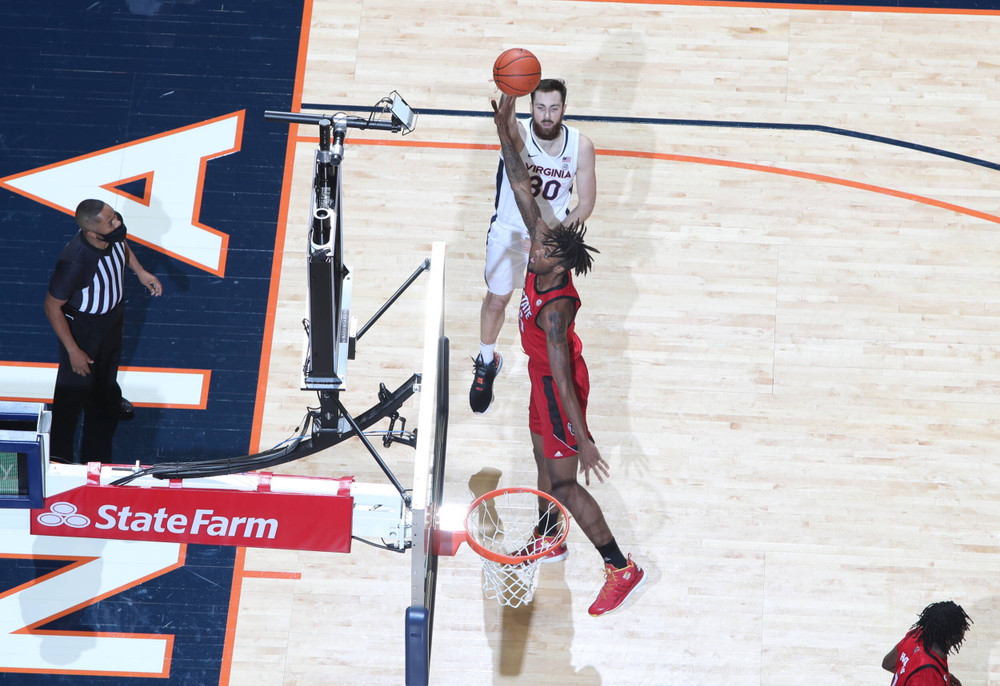 UP NEXT: For the first time since early last month, UVA has a Saturday off. The Cavaliers return to action Monday, when they host Miami (7-14, 3-13) in their JPJ finale.
The game, originally scheduled for 9 p.m., now as a 6 p.m. start and will air on ACC Network. UVA's senior players and managers will be honored before the game.
The Hurricanes, whose head coach is former UVA assistant Jim Larranaga, lost to Florida State on Wednesday night.
UVA has won three straight over Miami. The series is tied 4-4.
SOUND BITES: The loss was only the Cavaliers' second in their past 11 games with the Wolfpack. Among the postgame comments Wednesday night:
* Bennett on his message to his team: "This is tough. Reality check. You're going to have to get to earn it. You got to go earn it, and you're going to get people's best shot. We know that."
* Hauser on where the Cavaliers must improve: "Not only physically, but I think mentally we've got we have to sharpen up and get more tough. I think we've had some of the same type of lapses happen throughout the year in our losses, and they seem to keep coming up and repeating themselves. We do have to get physically tougher, but I think a lot of it starts with the mental side, and we've just got to keep working at it."
* Hauser: "Losing three games is never fun, but it comes with the game of basketball. You can't win 'em all, but you can learn from all of the losses. So obviously like Coach said, don't hang your head, because we still have a lot of basketball to be played, and we've just got to keep working at it, keep getting better and stay confident in ourselves."
* Hauser: "We've shown we can play really good defense. It's just a matter of our consistency on that end. I think in every game that we've lost we've had really good stretches of defense, but then there's also been stretches where our mental lapses [hurt] or physical toughness is lacking."
To receive Jeff White's articles by email, click here and subscribe.