By Jeff White (jwhite@virginia.edu)
VirginiaSports.com
CHARLOTTESVILLE –– For his seniors' final home game, Tony Bennett wished they could have enjoyed the full John Paul Jones Arena experience, complete with sellout crowd and deafening applause.
Alas, concerns about COVID-19 continue to limit attendance at sporting events, and the crowd at JPJ was restricted mostly to the families of team members Monday night.
At least Jay Huff, Tomas Woldetensae and Austin Katstra can say they've played in front of raucous home crowds during their University of Virginia basketball careers. Not so Sam Hauser, who sat out last season after transferring from Marquette to UVA.
"We've worked so hard to establish this atmosphere," said Bennett, who's in his 12th season as the Cavaliers' head coach. "We had a real good record this year at home, but it's different. It's this way for everyone, but this place has become special for all of us, and I missed that.
"I so wish Sam Hauser could have experienced that … This crowd at times wills us to play harder, and it just kind of motivates you. It shouldn't always be that way, but I'll tell you, they've done that for us time and time again. That part's missing, but especially on Senior Day. That's my biggest regret of this season. It's just not the same but as the saying goes, it is what it is."
A fifth-year senior who, like several others in the UVA program, grew up in Stevens Point, Wis., Hauser made the most of his JPJ finale. He finished with a game-high 18 points and added six rebounds and two blocked shots to lead No. 21 Virginia to a 62-51 victory over ACC foe Miami at JPJ.
Not only did the Wahoos (16-6, 12-4) end a three-game losing streak, they clinched a double-bye and top-four seed in the ACC tournament.
"To be honest, fans or no fans, we got a win tonight," Hauser said. "My family was here to see me play. We played well as a team. I couldn't ask for much more. It would be great if the fans would be here, to get the full experience, but it is what it is. We can't control that, but I'm just glad we were able to get on the winning side of things finally. Hopefully we can take a step here."
Recognized in a pregame Senior Night ceremony that included video tributes were student-managers Carter Furr and Matt Palumbo and four players: Huff, Hauser, Woldetensae and Katstra. Huff has been at UVA for five years and Katstra for four. Like Hauser, Woldetensae transferred to Virginia after the 2018-19 school year, but because he came from a junior college he was immediately eligible.
"I sat down with the team [Sunday night] and shared how much Jay meant to me, his growth, and his contributions to his program," Bennett said. "The same for Austin and and Tomas and Sam."
All except Hauser have "experienced what this atmosphere [at JPJ] is like, and you wish it was a little different their last year," Bennett said, "but they're such fine young men and well-adjusted that they'll be fine."
The loss was the sixth straight for Miami (7-16, 3-15), the ACC's last-place team. Virginia led by 11 at halftime, but this never became the blowout many expected. the Hoos saw their lead shrink to six with three minutes to play before responding with a 7-0 run that included a driving layup by freshman guard Reece Beekman and a 3-pointer by Hauser, who was 4 for 9 from beyond the arc.
The Hurricanes "haven't been on the winning side of many games, but they've been really competitive," Hauser said. "So we knew we had our hands full. They're a good team with a lot of talent. When the game got close, I think that's when we really came together and showed some resilience and toughness, which we hadn't in the last few games. I think it was a good stepping stone for our team, and hopefully we can just keep getting better going into [the regular-season finale] Saturday."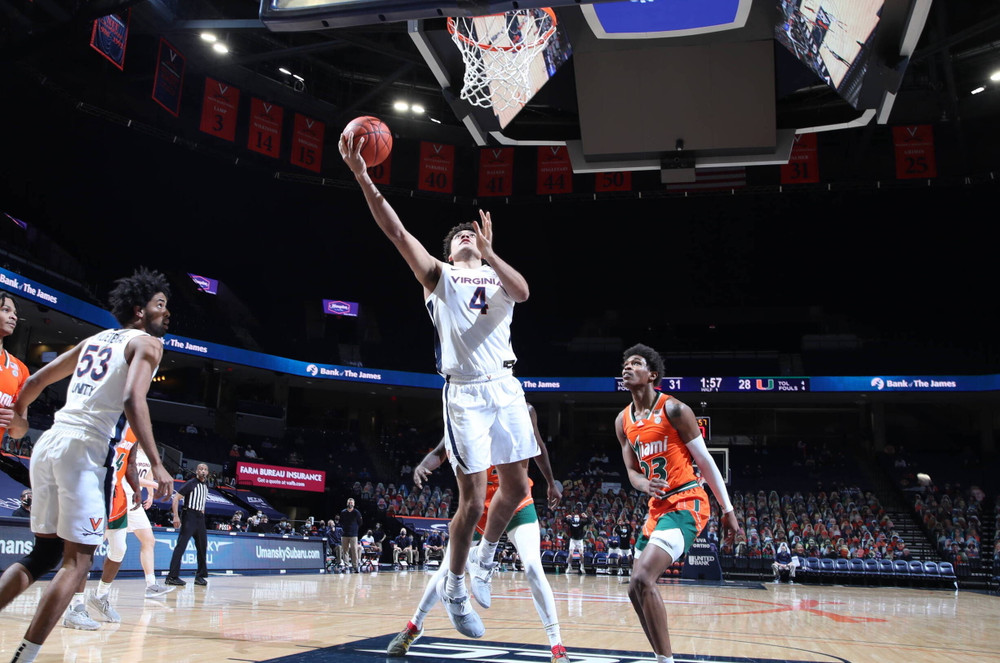 The 7-foot-1 Huff led Virginia with seven rebounds, but this was not one of his better games. He made only 2 of 10 shots from the floor. Junior point guard Kihei Clark wasn't especially sharp, either, and Bennett didn't hesitate to call on reserves.
On this night, led by sophomore forward Justin McKoy, the Cavaliers' bench delivered, outscoring the Canes' reserves 20-2. The 6-foot-8 McKoy contributed eight points, six boards and two steals in 20 minutes.
"I love his heart and his energy," Bennett said.
McKoy started the Cavaliers' first four games this season, but he's been a reserve since then. In five games he hasn't played at all, "but his work ethic and his effort has never wavered," Bennett said. "He injected offensive rebounding, a couple buckets, and just toughness and effort that was so lacking. And so it was really important. That's what this team needs, and he brought that."
His role, McKoy said, is to supply energy and effort. "I know I've been through a lot this season and I was unhappy with some of the results I was getting, but at the same time these coaches told me to stay ready, and to stay positive. Believing in them wholeheartedly, I think, was a big part of that."
Miami guard Isaiah Wong came in as the ACC's third-leading scorer (17.8 ppg). He made only 3 of 13 shots against UVA and finished with 10 points.
"I thought Reece's length bothered him at times," Bennett said.
Trey Murphy III was another standout for the Cavaliers. For the season, Murphy (10.8 ppg) is the team's third-leading scorer, but in his previous two games he'd totaled all of six points. Against Miami, however, the 6-foot-9 junior was more assertive offensively, and he finished with 12 points. Murphy also had six rebounds, two assists and a game-high three steals.
"Every team plays you differently, so you have to account for that," Bennett said. "There were a few more opportunities for him tonight, the way they were playing him. But I liked some things he did defensively, I thought that was important. He grabbed some rebounds, he used his length, and then he got as aggressive as he could [on offense], using the drive a little more … He definitely asserted himself more, and I think you could see that in his preparation and even in his eyes. I look at guys' eyes. I look at their body posture. You see things, and I sensed that in him."
Hauser, Huff and Woldetensae, who'd missed the previous two games due to contact tracing, started on Senior Night. Katstra, a third-generation UVA men's basketball player, entered the game with 27 seconds left.
Bennett and his staff were hoping Katstra would get a shot off in his final game at JPJ, but sophomore guard Chase Coleman closed out the scoring for the Hoos, converting a layup with 15.4 seconds left.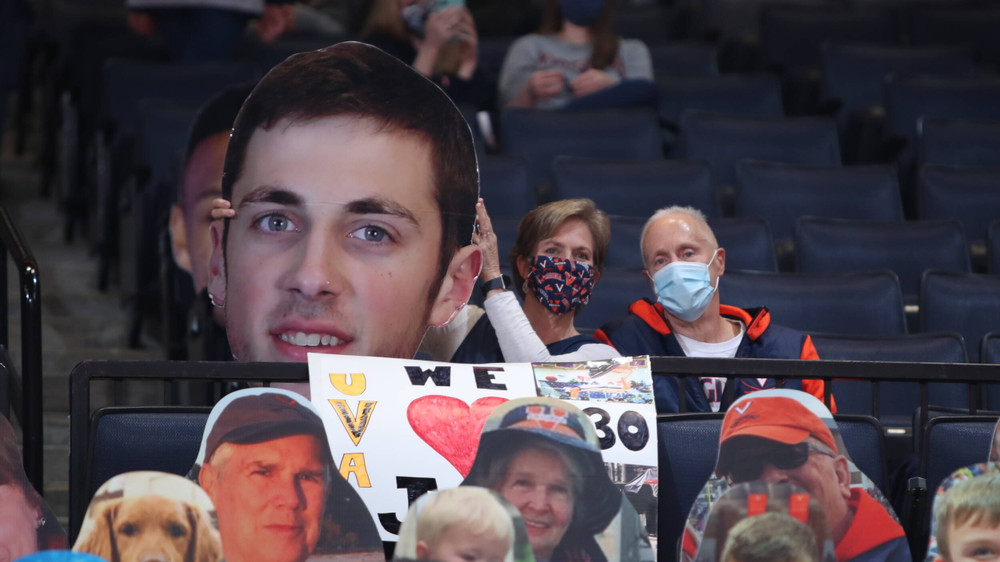 AND THEN THERE WAS ONE: UVA closes the regular season Saturday against Louisville at the KFC Yum! Center. The game will be shown on ESPN or ESPN2 at 4 p.m.
The Cardinals (13-5, 8-4) play No. 22 Virginia Tech (15-5, 9-4) in Blacksburg on Wednesday night.
UVA is 16-5 all-time against Louisville. This will be the teams' first meeting since the 2019-20 regular-season finale, which Virginia won 57-54 at JPJ.
The season was then shut down, because of the COVID-19 pandemic, before either team played in the ACC tournament.
SOUND BITES: In recording their fourth straight win over Miami, the Cavaliers improved to 10-2 under Bennett on Senior Night. Among the postgame comments Monday:
* Hauser: "It's been a blessing to come and play for Coach Bennett, and I know he feels the same way about coaching me. I couldn't have asked for much more, outside of having fans in the stands, but overall it's been a great year. This place has been a blessing to me, and this coaching stuff has been a blessing to me, so I'm really happy that I'm here and able to get a degree from Virginia. There are definitely going to be some great memories that I'll hold on forever."
* Bennett on Hauser: "You talk about becoming a fan favorite, I think the crowd [at JPJ] would have appreciated [Sam], because this is a knowledgeable fan base … I think the fans missed out on a cool experience for themselves to watch him. He is a guy that plays the game the right way, and he's playing some good basketball heading down the stretch."
* Bennett on the contributions of UVA's reserves: "We needed it … I thought it was important that those guys did that.  We've been playing five guys such heavy minutes, and tonight to be able to go to our bench, when [the starters weren't] as sharp as they needed to be, was very important."
* McKoy: "Whatever the coaches need, whatever role they want me to fill, I'm willing to fill it. I want to be part of a winning team, and I want to help this team win as much as I can."
* McKoy on the enthusiasm with which he plays: "The game is very serious, but at the same time I don't think you can play just frowning all the time. I like to smile. I still like to play hard and work hard, but my smile is not a reflection of [passiveness]. I just play with joy."
* McKoy on his conversation with Huff at the end of the game: "I told him that even though it wasn't his greatest game statistically that he's had this season, and it was Senior Night, I told him that we have a lot more to accomplish, and we're going to need him. And he came back and responded that he doesn't care as long as we got the win, and he was proud of the night that I had and he was waiting for this for me. It was really cool to hear. That's my guy. I love him."
To receive Jeff White's articles by email, click here and subscribe.