By Jeff White (jwhite@virginia.edu)
VirginiaSports.com
He's savored all the ACC championships his teams have won during his 12 seasons as head men's basketball coach at the University of Virginia. The Cavaliers' latest title, though, stands out, Tony Bennett acknowledged Saturday evening at the KFC Yum! Center in Louisville, Ky.
The COVID-19 pandemic has made this a season unlike any other in college hoops history, and UVA has faced its share of adversity. None of it stopped the Wahoos, who capped the regular season Saturday with a 68-58 win over Louisville in the arena where, in 2019, they secured Sweet Sixteen and Elite Eight victories en route to the program's first NCAA title.
With the win over the Cardinals, Virginia clinched its fifth ACC regular-season title in the past eight seasons. The Hoos (17-6, 13-4) are seeded No. 1 in the ACC tournament, which they've won twice under Bennett. Virginia earned a double bye and will play No. 8 seed Syracuse or No. 9 seed NC State in the noon quarterfinal Thursday.
"I'm so grateful, I really am, because it's been a unique year, to say the least," Bennett said on his postgame Zoom call. "We'll remember it always, and we'll put a mask on the ACC trophy, for sure."
A huge fan of the Rocky movies, Bennett told his players before the game that he "took this job at Virginia to hopefully have chances at title fights … We talked about what a title fight meant, and being able to live with the results win or lose, but lay it on the line and don't yield."
Had No. 11 Florida State not stumbled earlier in the day, the Cavaliers would be seeded No. 2 in the ACC tournament. But the Seminoles lost 83-73 at Notre Dame, creating an opportunity for Virginia.
The Hoos did not squander it. Never mind that 4,812 fans, by far the most UVA has played in front of this season, were allowed in the arena, almost all of them pulling for the home team. Despite making only three 3-pointers, Cavaliers never trailed against the Cards (13-6, 8-5).
"We had our eye on the [Seminoles], knowing that if they lost and we won, we would win [the regular-season title]," Virginia forward Sam Hauser said after scoring a game-high 24 points. "And when they ended up actually losing, we couldn't have a blind eye to it. We knew what was at stake, and I think that gave us even more motivation for this game. At the start of the year this was one of our goals. Check the box off, but we got a lot more to do, for sure. But it's definitely great to get this championship and be a part of this program."
A transfer from Marquette, where he played his first three seasons, the 6-foot-8 Hauser had to sit out 2019-20 at Virginia under NCAA rules. His 24 points were his high as a Cavalier.
"He put us for stretches on his back and was terrific," said Bennett, who's 12-2 against Louisville as UVA's head coach.
For the season, Hauser leads the Cavaliers in scoring (15.8 ppg). He's second in rebounds (6.8 per game), and third in assists (1.7 per game). He's shooting 44.4 percent from 3-point range.
"He embodies the stuff that some of our great players have had, and our great people," Bennett said, "and I just couldn't be more excited and thankful for him being here and then getting to taste [the championship], and then continue on."
Against Louisville, Hauser was 9 for 14 from the floor.
"I thought four or five of his makes were the kind that you can do nothing about," Cardinals head coach Chris Mack said. "There is just nothing you can do. It doesn't matter who was on him, they were all over him. He shot the ball on a high arc. He is one of the better players and shooters in the league. He has gotten so much better than he was when he was at Marquette."
"I'm so grateful, I really am, because it's been a unique year, to say the least. We'll remember it always, and we'll put a mask on the ACC trophy, for sure." -- Tony Bennett
Also in scoring in double figures were Virginia were junior forward Trey Murphy III, a transfer from Rice, and 7-foot-1 Jay Huff, who like Hauser is a fifth-year senior. Murphy finished with 17 points, and Huff added 10 points.
In terms of scoring, Hauser, Huff and Murphy have been the Cavaliers' Big Three for most of the season. One of the decisive stretches Saturday, however, came with Hauser and Huff on the bench.
With 9:39 left and Virginia leading by only four, Hauser picked up his third foul. Bennett sat Hauser and Huff and went with a lineup consisting of Murphy, senior swingman Tomas Woldetensae, junior guard Kihei Clark, sophomore forward Justin McKoy and freshman guard Reece Beekman.
On paper, that quintet looked less than imposing offensively, but it stretched the Hoos' lead to 13. Not long after checking in, Woldetensae was fouled on a 3-point attempt from the right corner. He made all three free throws to push UVA's lead to 54-47 with 8:47 to play.
"A pivotal moment," Bennett said, and Murphy, McKoy and Beekman also scored before Hauser re-entered with 4:44 remaining.
"Those guys played their butts off," Hauser said. "On the defensive end, they were phenomenal, and they were making really good plays on offense. I think that's what really sealed us the game, that stretch when those guys were in. Hats off to them. They played awesome tonight, and we really needed everyone, because it was a hard-fought battle against a really good team."
Hauser led the Cavaliers with eight rebounds, and Huff, Murphy and McKoy pulled down six apiece. Huff also had a game-high four blocked shots and now ranks second all-time at UVA, behind Ralph Sampson.
For the 6-foot-8 McKoy, the six rebounds matched his career high.
"Really, it's just guys staying ready," Murphy said. "Justin gave us really good minutes. He came in and rebounded the ball really well offensively and defensively. We were just very connected the entire time, and it was the next-man-up mentality when people were in foul trouble. I'm super proud of everybody."
The Cards, after shooting 27.6 percent from the floor in the first half, heated up after intermission but finished at 36.8 percent. Louisville guard Carlik Jones, a graduate transfer from Radford University, came in averaging 17.6 points per game.
He scored six Saturday. With Clark and Beekman hounding him, Jones went 2 for 15 from the floor.
"I thought they took that challenge," Bennett said of his starting guards.
The same could be said for his team. After leading the ACC for much of the regular season, Virginia lost three straight games last month to drop into second place. First came a one-sided loss at Florida State, then a one-point loss at Duke, and finally a seven-point loss to NC State at John Paul Jones Arena.
The Cavaliers ended the skid Monday night with a 62-51 win over Miami at JPJ, then took another step forward against Louisville.
"I think the three-game losing streak taught us a lot about ourselves," Hauser said, "and it pointed out areas that we really needed to improve on. I think the last two games we've hit on those really well, and we've come together as a team. No one's hung their head. We stayed working in practice, and look where it got us."
Murphy said: "I feel like in two of those games, Duke and NC State, we were just a few plays away from coming away with a victory, and it just didn't happen. And so I feel like really now we're going on a good path, and we have a lot momentum going into the tournament time."
Bennett noted, as he has all season, that "the margin is so razor thin this year in this league with us. If you just are sound and tough and you get some performances like we did [Saturday] you can beat anybody. And if you're not right … you can be beaten when you're not sharp. We did the job the right way tonight."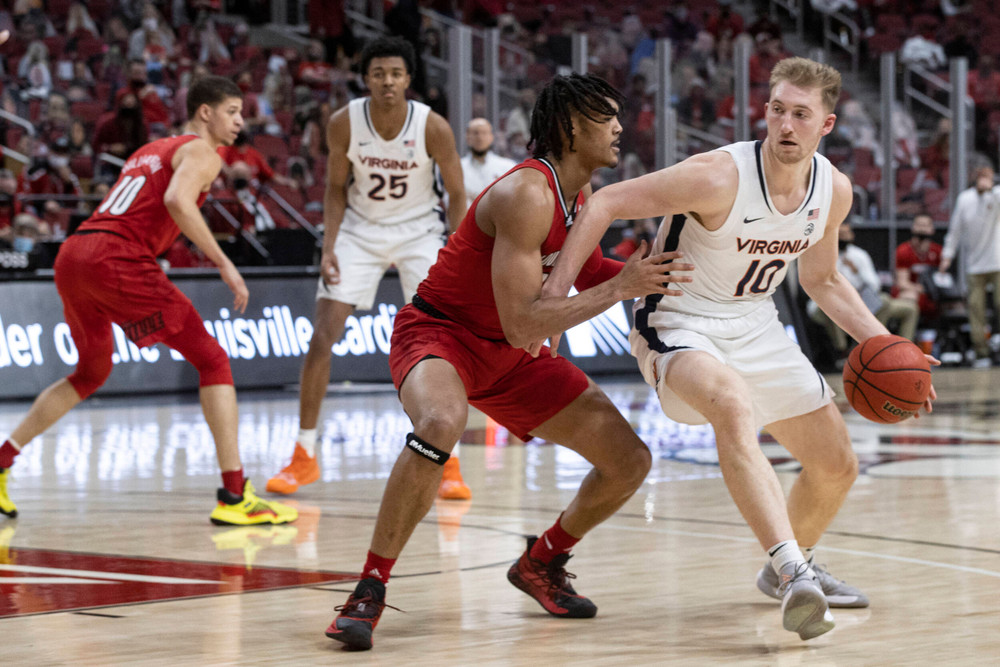 SOUND BITES: Virginia improved to 17-5 all-time against Louisville. Among the postgame comments:
* Hauser: "I've never been a part of a championship team [in college] until now, so for me this is a first. I'm just excited that we got it."
* Hauser on the loss to the Seminoles last month: "They exposed us, for sure. And when that happens, you have to work on it and learn from it and get better, and I think we've put the time in in practice, and it's been showing. They definitely did a good job against us, and I think after that game we refocused. Even after the other two games we lost, we just had a different focus to us in practice and determination to get better, so I think that's shown the last couple of games."
* Murphy: "This is exactly what I came here for, and I wanted to play against the best competition and win championships at the highest level. And so I'm super excited, super proud of my guys, super proud of the coaching staff."
* Murphy on his return to form after totaling six points in back-to-back games last month: "I feel like I was just thinking I need to be more aggressive because if I'm not aggressive, it's going to be a lot harder for us to win."
* Murphy, smiling, on his mother's pointed criticism of his play during his two-game slump: "I was like, 'Oh, no, I can't have that happen, so I gotta pick this up.' I think that fired me up in order to make some more plays and put the ball in the basket."
* Murphy on UVA's defense against Jones: "He's a tremendous scorer and has had a great college career. And so it was really a team effort. It wasn't just one individual person, and I'm really proud of our guys for stepping in and really trying to control and contain him, because that's definitely a tall task."
* Bennett on Hauser's season: "That was an MVP-type performance, in my opinion, what Sam did in this league, and you know I think he and Jay are probably in the running for [ACC Player of the Year]. And so I hope they can both get it and share it."
* Louisville head coach Chris Mack: "Playing Virginia can be frustrating, because they are so solid."
To receive Jeff White's articles by email, click here and subscribe.