By Jeff White (jwhite@virginia.edu)
VirginiaSports.com
CHARLOTTESVILLE –– At the start of the 2020-21 school year, Jay Huff wasn't sure there would even be a college basketball season, so he's taken nothing for granted as the Virginia Cavaliers have progressed through their schedule. A 7-foot-1 fifth-year senior, Huff hasn't forgotten what happened last March.
On the day when UVA, which had closed the 2019-20 regular season with eight straight victories, was scheduled to play its first game in last year's ACC tournament at the Greensboro (N.C.) Coliseum, concerns about COVID-19 shut down college sports. Months of uncertainty followed. Even now, a year into the pandemic, teams must follow strict protocols.
"Honestly, this season was kind of just the cherry on top," Huff told reporters on a Zoom call Monday, "because I was nervous we wouldn't have it. So I'm glad that we've been able to make it this far."
At the start of every season, the Wahoos' first major goal is to win the ACC's regular-season title. They checked that box Saturday in Louisville, Ky. The Hoos are now pursuing their next goal: an ACC tournament championship, which would be their third in Tony Bennett's 12 seasons as their head coach.
Top-seeded UVA (17-6) earned a double bye in the tournament, which starts Tuesday in Greensboro. Virginia will play No. 8 seed Syracuse or No. 9 seed NC State in the noon quarterfinal Thursday.
As a boy, Huff attended ACC tournaments at the Greensboro Coliseum with his father. That his final ACC tournament as a college player will be in that arena adds to Huff's excitement level, and having grown up in Durham, N.C., he knows all about the conference's history in Greensboro.
It's a different story with Sam Hauser, the Cavaliers' other fifth-year senior. Hauser, who's from Stevens Point, Wis., transferred to UVA from Marquette after the 2018-19 school year and sat out the abbreviated 2019-20 season.
Asked Monday if he had any childhood memories of watching the ACC tournament, Hauser smiled. "To be honest, not really," he said. "I'm a new face to this area of the world."
Still, Hauser said, "I'm just excited. Conference tournament time is some of the best times of the year, and obviously being March, anything can happen."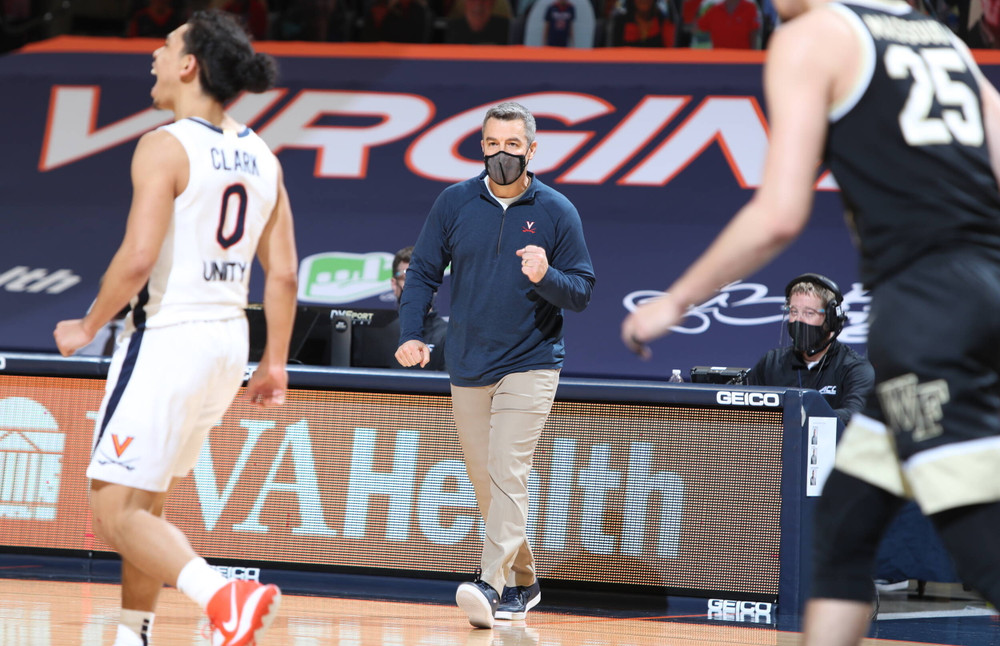 The ACC announced its 2020-21 award-winners Monday, and Hauser, a 6-foot-8 forward, was named to the all-conference first team. Huff made the All-ACC second team and the conference's all-defensive team. Junior point guard Kihei Clark earned All-ACC honorable mention.
Hauser enters the postseason in fine form. He scored 24 points, his high as a Cavalier, in a 68-58 win over Louisville on Saturday at the KFC Yum! Center.
"I'm so proud of Sam and what he did for us to win that game, to win the conference championship, to put us in stretches on his back in a dominant performance," Bennett said.
For the season, Hauser leads the team in scoring (15.8 ppg). He's second in rebounds (6.8 per game), and third in assists (1.7 per game). He's shooting 44.4 percent from 3-point range and 87.5 percent from the line.
The ACC Player of the Year award went to Georgia Tech's Moses Wright. Not to take anything from Wright, Bennett said Monday, but Hauser was also deserving.
Hauser, for his part, said he gave little thought to postseason honors.
"I think Moses Wright deserved the award," Hauser said. "He's been playing really well as of late. He's been playing well all year, actually, so he deserves it. I just try to do what I can to help us win, and if that meant me being the player of the year, then that's what came with it. But it didn't. I'm OK. We won the conference. I'll take that."
At Marquette, Hauser made the All-Big East second team in 2018-19. For Huff, who redshirted in 2016-17, this is his first all-conference selection. He played in 12 games in 2017-18 and in 34 in 2018-19, when the Cavaliers won the NCAA title. He didn't start his first college season until last season.
Bennett applauded the patience Huff has shown at UVA. Huff's career arc has been reminiscent of that of former Virginia standout Devon Hall, who also became an all-conference player as a fifth-year senior.
"You saw [Huff] get better and better," Bennett said, "and he worked at it. I think it's a great message to people: Wait. Be patient. There's certain situations where it's not great and you move on, I get all that. But I'm just grateful that he worked hard and he stayed the course. He always showed the flashes, and now he's gotten more consistent with his offensive skillset. He's become a shot-blocker, he's continued to improve defensively.
"I've challenged him, I've pushed him, and I'm happy for Jay. As they say, don't grow weary in doing good, because in due time you'll reap a harvest … It's a good verse."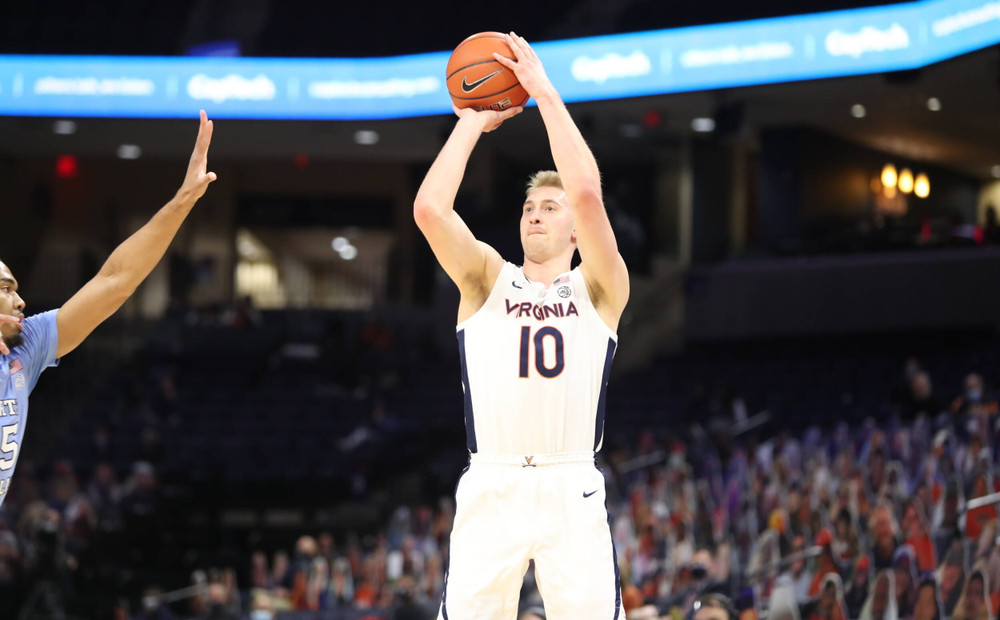 Virginia, a lock for the NCAA tournament, is entering a new, more precarious phase of the season. The Cavaliers are guaranteed only two more games: one in Greensboro and one in the NCAAs. They'll have to earn additional opportunities to play.
"It's pretty simple," Huff said. "It's win or go home, so you've got to bring your A-game and kind of have that understanding like this could be it."
Clark said: "You've got to eliminate your mistakes and play to your strengths, and take care of the ball. In March, everybody's playing their best basketball, so you've got to be at your best and just try not to have those self-inflicted errors."
Most teams in the ACC, Virginia included, experienced at least one issue with COVID-19 during the regular season. Some had many problems, and as a result not every team played the same number of ACC games.
One team played 19 conference games. Three played 18. Three, including UVA (13-4), played 17, and four played 16. One played 15 and three played only 13.
His final college season has not been exactly "what I wanted it to be," Huff said, "because what I would love to do is be able to go out to eat with my family after the game, but that's not exactly doable these days. Aside from all of that I think it's shaping up [well], with this team and the way that we've been playing. I'm proud of the guys for persevering through it and doing a pretty darn good job of avoiding a lot of the issues that have plagued some teams."
After practicing Tuesday afternoon at John Paul Jones Arena, the Cavaliers will bus to Greensboro. Bennett remembers well what happened there last March, and to be headed back is "sobering or surreal in a way," he said.
"Now it's [about] preparing for the next game, but there's a feeling of gratefulness for what just transpired with the season, all that took place, all the ups and downs and the people that had to come together to do it. There was lot of controversy. Should we be playing? When? How? But here we are. We've made it through a regular season, and now it's in the postseason, and hopefully we'll continue on."
To receive Jeff White's articles by email, click here and subscribe.