By Jeff White (jwhite@virginia.edu)
VirginiaSports.com
This was Sam Hauser's first postseason game as a Virginia Cavalier, but he's watched countless hours of college basketball. He knows magical moments occur regularly this time of year.
"That's what March is," Hauser said on a Zoom call from the Greensboro (N.C.) Coliseum. "I think once you hit March in tournament time, you never know what can happen."
The improbable happened Thursday afternoon in the first ACC tournament quarterfinal. Against No. 8 seed Syracuse, four players scored in double figures for the top-seeded Cavaliers, led by Hauser (21 points), but none of them hit the game's biggest shot. That distinction belonged to freshman guard Reece Beekman.
With time running out and the score tied at 69-69, junior guard Kihei Clark, probing the middle of Syracuse's 2-3 zone defense, spotted Beekman open on the right wing.
For the game, Beekman was 0 for 3 from 3-point range. For the season, he was 8 for 34 from beyond the arc. But he didn't hesitate, and his trey dropped through as time expired to lift UVA to a 72-69 victory.
A wild celebration followed during which his teammates swarmed over No. 2, whose game-winning 3-pointer was the second of this ACC tournament. Notre Dame's Trey Wertz had the first Tuesday against Wake Forest.
"It was just crazy that it happened [twice] in the same tournament," Beekman said.
That his mother was in the stands made the moment even sweeter for Beekman, who played on four state championship teams at Scotlandville Magnet High in Baton Rouge, La.
"That was my first-ever walk-off game winner," he said, "so just hitting one of those for my team, it meant a lot. It was a whole lot of excitement, just a lot of energy that just came over me, and a lot of joy."
The emotions on the Syracuse bench, naturally, were different.
"Beekman is the one we want to shoot it there," Orange head coach Jim Boeheim said. "We don't want to give anybody a shot, but he's the one guy we would want to shoot it. He hasn't made a 3, he's not a good 3-point shooter. But that's the way it goes. He knocked it down, and that's to his credit."
Beekman, who finished 1 for 6 from the floor, had little time to ponder the importance of his shot before putting it up, and that helped. What helped more, though, was "knowing that my teammates believed in me," he said. "They kept saying the whole game, 'Keep shooting, keep playmaking, just be yourself.' "
UVA (18-6), which is seeking its fourth ACC tournament title, advances to meet No. 4 seed Georgia Tech (16-8) in the 6:30 p.m. semifinal Friday in Greensboro. The Yellow Jackets edged No. 13 seed Miami 70-66 in the second quarterfinal Thursday.
"This is a big tournament for us and a big step for our team," Beekman said, "so we've just got to take each game one at a time and just try to get ready for the next one. Each game is going to be a dogfight for the rest of the season, so we've just got to be prepared, just be ready to play basketball."
Virginia swept its two regular-season meetings with Georgia Tech, winning 64-62 in Charlottesville and 57-49 in Atlanta.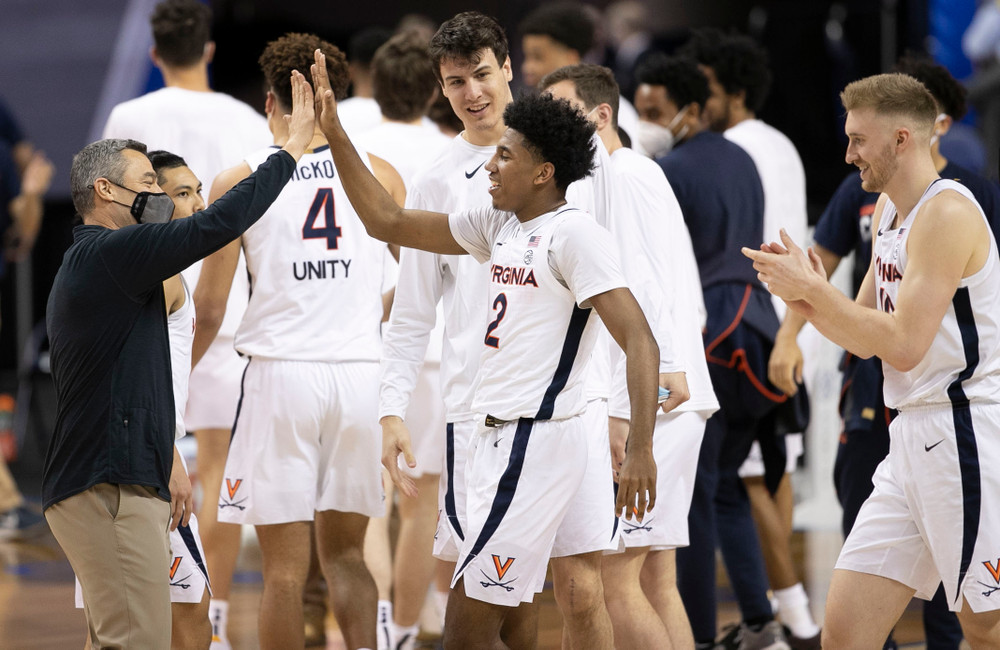 For Syracuse, which dropped to 16-9, what's sure to be an anxious waiting period began when Beekman's 3-pointer went in. The Orange won't know until Sunday night if it's headed to the NCAA tournament.
"There's no doubt in my mind, and I don't think anybody's mind that follows the sport and knows what they're doing," Boeheim said. "I think we've proven we're a good team and certainly belong in the tournament."
This game bore little resemblance to the one played Jan. 25 in Charlottesville. On a night when Hauser hit seven 3-pointers, the Wahoos blew past the Orange, 81-58, at John Paul Jones Arena.
Syracuse swingman Buddy Boeheim, a 6-6 junior, was 1 for 8 from long range at JPJ, but he's an exceptional shooter who found the mark early and often in the rematch.
Boeheim, who scored 27 points Wednesday in the Orange's win over No. 9 seed NC State, was even hotter Thursday. He hit 10 of 17 shots from the floor, including 5 of 8 from beyond the arc, and finished with a game-high 31 points.
"You couldn't ask anything more out of a player than what he gave us today," Jim Boeheim said of his son.
Syracuse had its offense humming early and led 37-26 with 6:03 left in the first half. By intermission, however, the Cavaliers had cut their deficit to three, and in the second half they sank eight treys.
Hauser, a 6-foot-8 transfer from Marquette, made two of them. Junior forward Trey Murphy III, a 6-foot-9 transfer from Rice, hit three 3-pointers in the second half, including back-to-back daggers late in the game.
Murphy finished with 15 points. Jay Huff, a 7-foot-1 fifth-year senior, contributed 13 points, a game-high 12 rebounds, a game-high four blocked shots and two assists, and the 5-foot-9 Clark totaled 10 points and a game-high six assists.
Early in the game, Hauser said, the Orange "tried to run us off the 3-point line a little bit. I think they did a good job of it. But we stayed with it, and shots started falling towards the end of the game. That's why you stick with it, you stay resilient, and we made enough shots tonight to end up on top."
With 2:06 to play, Hauser's midrange jumper put the Hoos ahead 67-61, and they seemed to be in control. But Syracuse battled back with full-court pressure that rattled Virginia.
Boeheim made both ends of a one-and-one with 1:10 remaining to cut UVA's lead to 69-67. The Cavaliers' next possession ended with a shot-clock violation, and Boeheim converted both ends of another one-and-one to make it 69-69 with 28.6 seconds to play.
The Orange had a foul to give and used it with 9.6 seconds left. Clark and Beekman took it from there.
"We survived," Bennett said.
The 6-foot-3 Beekman scored only three points, but he had four assists, three rebounds and two steals in his 31 minutes.
"I thought he got more aggressive––maybe not so much shooting, but attacking a little more––in the second half," Bennett said, "and he was playing pretty good defense at times, which we had to have."
In his first college season, Beekman has started 19 games. He's averaging a modest 4.7 points per game, but he leads the team in steals, with 29, and he's second in assists, with 72. He's shooting only 25.7 percent from 3-point range, but his teammates' faith in Beekman hasn't wavered.
"Every time he's open we're telling him to shoot," Hauser said. "If they're not going in, we're still going to tell him to shoot if he's open, because we have that much confidence in him. If he keeps shooting they're eventually going to fall.
"He stuck with it. He knew he had to shoot it. He was open. He shot it in rhythm. He's one of those kids that just keeps coming back. If he gets knocked down, he keeps getting up. I'm happy for Reece and happy we're moving on."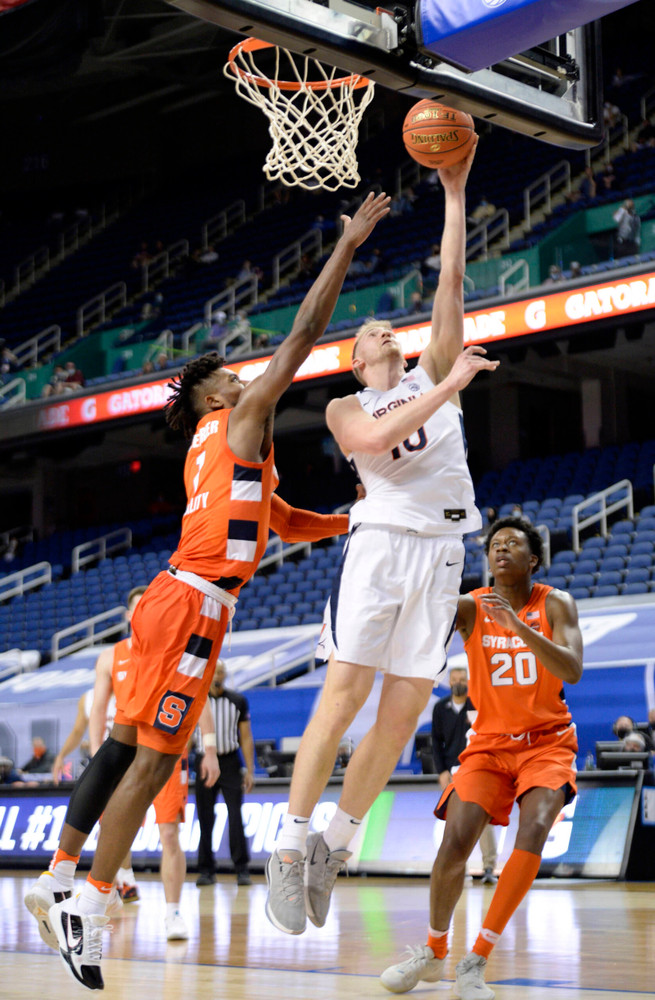 SOUND BITES: This marks the 10th straight season Virginia has won at least 18 games. Among the comments after UVA improved to 10-6 all-time against Syracuse:
* Bennett on Beekman, whose brother, Bryce, a Washington State football player, died last year: "He's been through so much, and I'm just overjoyed for him and, of course, the team. But there's some special meaning for him and his mom being here and all that."
* Hauser on Bennett's postgame message to the team: "He's happy we got the win. Obviously, we've got to clean up our rebounding and some transition defense, little things like that. We'll watch the film tonight, we'll learn from it and move on, because we've got a game tomorrow."
* Bennett on the contributions of upperclassmen Hauser, Clark, Huff and Murphy: "Our veteran players, the guys who have the experience, I thought stepped up and did some important things as the game wore on."
* Hauser on the news that Duke, which was to have played Florida State in the quarterfinals Thursday night, was out of the tournament because of COVID-19 issues: "You never wish that upon anyone."
* Beekman on his mindset after missing his first five field-goal attempts: "Just keep going and keep staying confident. You can't hit every shot, so I just had to play through the mistakes that I made, the turnovers that I had:"
* Beekman on his mother's presence at the tournament: "She tries to be at every game I have. I know she works a lot, so just her being here meant a lot to me, because she's supported me through and through since the beginning."
* Bennett on his team's resilience: "We had to make some plays down the stretch offensively and defensively, and, again, you just keep plugging. You keep being steady. And just like an example of Reece shooting that shot. OK, he got a wide-open shot, he knocked it down. Trey kept shooting, Sam kept shooting, we kept battling."
To receive Jeff White's articles by email, click here and subscribe.