By Jeff White (jwhite@virginia.edu)
VirginiaSports.com
CHARLOTTESVILLE –– When the 2020 season abruptly ended last spring, cut short by the COVID-19 pandemic, the University of Virginia men's tennis team was ranked No. 35 nationally.
The Cavaliers elevated the program this year, starting the season at No. 22 and climbing steadily in the rankings. They swept the ACC regular-season and tournament titles and earned the No. 5 seed in the 64-team NCAA tournament. Two more victories followed, but the round of 16 brought a matchup with Pac-12 tournament champion Southern California, which had started the season ranked No. 1.
USC has long been Virginia's nemesis in the NCAA tournament, and that was the case again Monday at the USTA National Campus in Orlando, Fla. The 12th-seeded Trojans to secure a 4-2 victory that ended UVA's 17-match winning streak.
Freshman Inaki Montes and senior Gianni Ross collected victories at Nos. 4 and 6 singles for the Wahoos (23-3), respectively, and graduate student Carl Soderlund was ahead at No. 1 when the Trojans (23-6) clinched the match.
"USC just played a little better," said Andres Pedroso, UVA's director of tennis and head coach of the men's team. "They won a couple more deuce points, and they competed really well, and we're used to that when we play USC."
Even after the Trojans won the doubles point, Pedroso said, he liked his team's chances.
"I felt good with our matchups, and I felt like the whole team was composed and we were ready to fight," he said. "I just think USC played a little better than us today, and that's how it goes. There were just a couple spots where we didn't play close to our best tennis, and that's how it happens. You don't really have control over how well you play. You just have control over how hard you fight, and I thought we fought on every single court. I think every guy left it out there."
The Cavaliers' goal when they arrived in Florida was to head home with the program's fifth NCAA title. That won't happen, but Pedroso said he's emphasizing with the positives with his players.
"I tell them that I'm super proud of them, I tell them that they had a great year, I tell them that that match came down to a couple points here and there, so don't believe the result," Pedroso said. "They just got to keep doing what they're doing off the court, on the court. I'm proud of them. I love these guys, and they did everything they could. We were fully prepared, we were ready for battle, and the Trojans just played a little better today."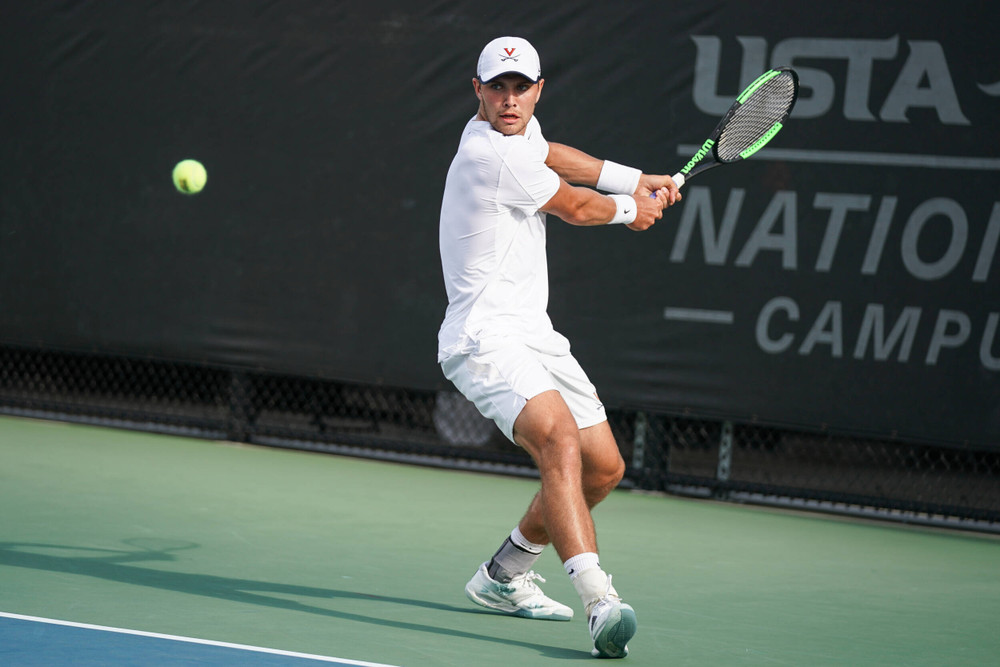 If the Cavaliers were unheralded at the start of the season, that changed in late January with their performance at the four-team ITA Kickoff Weekend in Columbus, Ohio. With three freshmen in their lineup, the third-seeded Hoos knocked off second-seeded Iowa 4-0 and top-seeded Ohio State 4-2 to claim a berth in the ITA Men's National Team Indoor Championship in Champaign, Ill.
For Ohio State, that was only its second home defeat since 2003.
From its starting lineup, UVA will lose Soderlund and Ross, who won the final 10 matches of his college career. The Cavaliers' other seniors were Ammar Alhaqbani, Spencer Bozsik, Jefferson Dockter, Matthew Lord, Ethan Moszkowski and Jerome Romualdez.
"Our fifth-years and our fourth-years have been amazing for this program," Pedroso said. "They've enhanced the culture, they have instilled the culture in the young guys, they've taught the culture, they've lived it, and they love UVA. They love our program and they represent everything that's right about the UVA student-athlete.
"I can't say enough about Carl Soderlund. I'm not shocked that the guy, at the end of the match, was fighting like crazy, and he finished his college career in the right way, just fighting like he always has. He's a great competitor, and he's always going to be remembered at UVA for the way he played on the court and the way he lived his life off the court."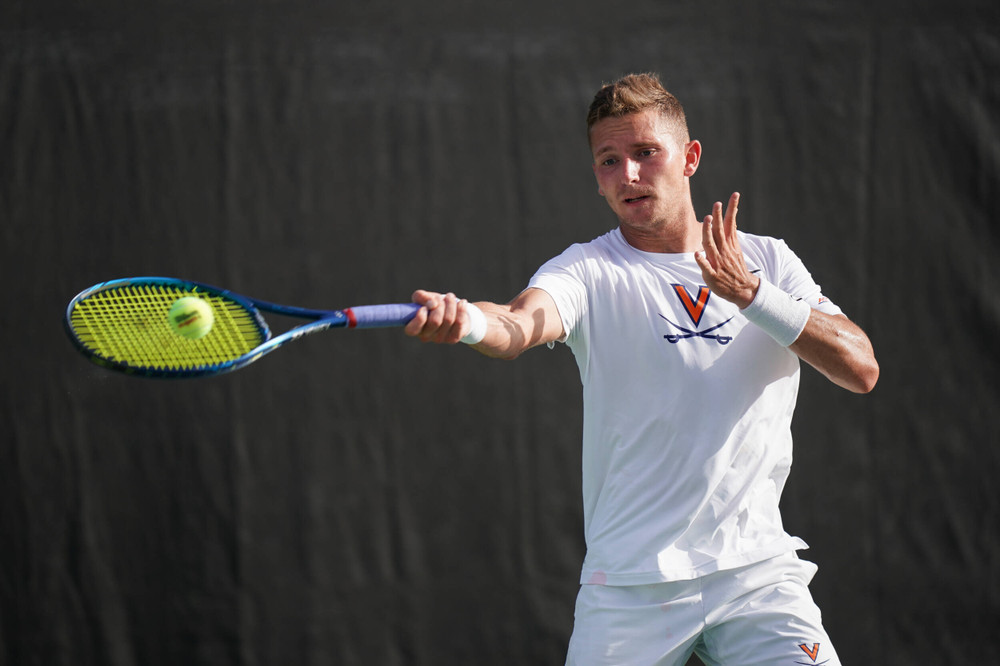 Virginia's returning players will include junior Ryan Goetz and freshmen Jeffrey von der Schulenburg, Chris Rodesch, Alexander Kiefer and Montes. Joining them will be two talented transfers: Bar Botzer from Wake Forest and Jackson Allen from Minnesota.
Botzer, who's entering a two-year program at the Darden School of Business, helped Wake Forest win the NCAA team title in 2018. In his three seasons with the Demon Deacons, he posted a 94-21 record in singles.
Allen, who'll leave Minnesota with two degrees, is enrolling in a master's program in the McIntire School of Business. He played No. 1 singles for the Golden Gophers this year.
At UVA, von der Schulenburg went 16-6, Montes went 18-4, Goetz went 17-6, Rodesch went 15-7, and Kiefer went 4-4 in singles this year.
"I think the future is bright," said Pedroso, who's in his fourth year as head coach. "We've got guys that love tennis, guys that work super hard, guys that are best friends, and guys that take care of their schoolwork, so the future's definitely bright for Virginia tennis. We've just got to hang in there, we've got to keep our heads up high, we've had a great season. We start thinking about next year pretty soon. I'm very, very optimistic and positive about this group, and I think we gained a lot of experience this year."
To receive Jeff White's articles by email, click here and subscribe.