By Jeff White (jwhite@virginia.edu)
VirginiaSports.com
CHARLOTTESVILLE –– In swimming, the U.S. Olympic Trials stand alone.
Typically held every four years, the meet is "by far the most pressure-packed, intense, emotional competition in the world," said Todd DeSorbo, head coach of the University of Virginia's swimming and diving teams.
"Nothing compares. NCAA championships isn't even close," DeSorbo said. "The Olympics isn't even close. I think that's why the U.S. does so well at the Olympics, because of the pressure cooker of our Olympic Trials."
Swimmers call it the Meet of Tears, said Paige Madden, "because you're either crying happy tears or you're crying sad tears because you didn't perform to your expectations, and there's just so much pressure involved with that. It's crazy intense."
The COVID-19 pandemic forced the Olympic Trials that were originally scheduled for 2020 to be postponed until this year. The meet concluded Sunday at the CHI Health Center in Omaha, Neb., and Madden was one of five swimmers with ties to the UVA program to make the U.S. team, along with Alex Walsh, Kate Douglass, Emma Weyant and Catie DeLoof.
Did she cry tears of joy in Omaha?
"I did," Madden said, laughing.
The swimming competition at the Olympic Games will start July 24 in Tokyo. Madden will compete in two events: the 400-meter freestyle and the 4×200 freestyle relay. Walsh and Douglass will swim in the 200 individual medley, and Weyant made the U.S. team in the 400 IM. DeLoof, a former University of Michigan standout who trains at UVA's Aquatic and Fitness Center, is on the 4×100 freestyle relay team.
Each exceeded expectations in Omaha. Heading into the meet, DeSorbo said, none of the five was seeded to make the U.S. team.
"For all of them to qualify, it literally was the perfect storm," DeSorbo said. "Are there races that you wish maybe people would have swum a little faster, or could they have swum a little faster? For sure. I think every competition you feel like that. But at the end of the day, for all of them to qualify like they did, that's the ultimate goal."
DeSorbo, who's heading into his fifth year at UVA, will be in Tokyo too. He was named one of the U.S. team's assistant coaches this week.
"Being on the U.S. Olympic Team coaching staff has always been an insane dream of mine, but it's all because of the athletes," DeSorbo said. "I just get out of their way. A lot of people are like, 'Hey, you put four people, five people on the Olympic team!' I'm like, 'I didn't put anybody on the Olympic team. They put me on the Olympic team!' I'm on staff because of what they did. I'm fortunate I got to work with those athletes."
DeSorbo laughed when recalling how anxious he was watching UVA swimmers compete in in preliminary heats early at the Olympic Trials.
"For the first probably two or three days, I felt like I wanted to throw up for them," DeSorbo said. "I can't imagine how they felt. It's just different. If you go to NCAAs, you've got a team. You've got 15 athletes, or maybe more, and if one athlete's off a little bit, you can survive and you can still compete and you can still win.
"If you go to Olympic Trials, it's nobody but you, and if you're a little off, you're done, right? There's nobody that can save you. It's really stressful. I think that's what's even more impressive about our women. It's not necessarily how fast they swam or that they made the team, but the reason they did was because they were able to keep their cool and keep their composure and make it through three rounds."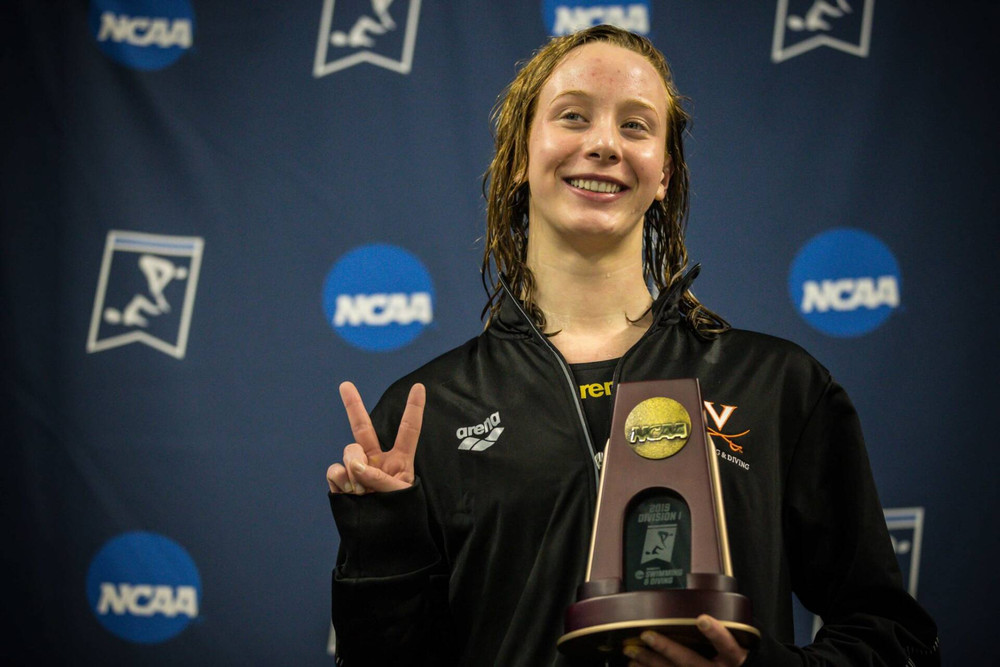 This has been a sensational year for UVA swimming & diving. On March 20, the Cavalier women won their first NCAA title. A week later, the Cavalier men, with a lineup dominated by underclassmen, placed ninth at the NCAA championships, tying for the second-best finish in program history.
At the NCAA meet in Greensboro, N.C., Madden capped her illustrious college career by collecting individual titles in the 200-yard freestyle, 500 freestyle and 1,650 freestyle and helping the Wahoos win the 800 free relay.
Douglass, a sophomore, won the 50-yard freestyle at NCAAs. Walsh, a freshman, won the 200 IM and also swam on the 800 freestyle relay team that placed first at the NCAA meet.
The NCAA meet is held at a short course (25-yard) pool. Long course pools, used at most international meets, including the Olympics, are 50 meters.
To have so many Hoos shine at the Olympic Trials "was probably the last piece of the puzzle for our program," DeSorbo said.  "Over the last couple years, the men and women both have proven that they can compete at a high level at the NCAA championships. But having an international presence, making U.S. national teams, making world championship teams, Olympic teams, it only happens every couple years.
"As a staff and as a team, this year was really the first year we had an opportunity to go through that cycle. And I think there were probably a lot of questions about whether our staff and our athletes could perform at an elite level, both short course and long course, and I think they answered that question last week."
Weyant, who's from Sarasota, Fla., did not compete for the Cavaliers in 2020-21. She enrolled at the University last summer but soon returned home because of concerns about the pandemic, DeSorbo said.
"She had a training situation down there in Florida, where no matter what happened, it wasn't going to be interrupted," DeSorbo said. "But she took classes [online during] the first semester, she was enrolled, she's part of our team. But she did opt out on the season."
When the Cavaliers were recruiting Weyant, Madden spent time with her, and they've seen each other at meets over the years. "I'm really glad that she's going on the trip," Madden said, "because that gives me a chance to get to know her better, since I graduated this year and won't be able to go to school with her. I'm really excited about that."
Weyant has four years of eligibility left at UVA. Her arrival this summer will help the Hoos make up for the loss of Madden. So will the addition of Gretchen Walsh, Alex's sister, who also competed in Omaha. The younger Walsh, who'll be a first-year at Virginia in 2021-22, placed fifth in the 50 freestyle.
"I talked to her after the meet and throughout the meet, and it's just going to provide her more motivation and get her more excited [about swimming for Virginia]," DeSorbo said.
Gretchen Walsh was disappointed not to make the U.S. team, "but she's excited for her sister," DeSorbo said. "I think they would have loved, obviously, to go together, but the fortunate thing is, they're both really young, and there'll be plenty more opportunities for them."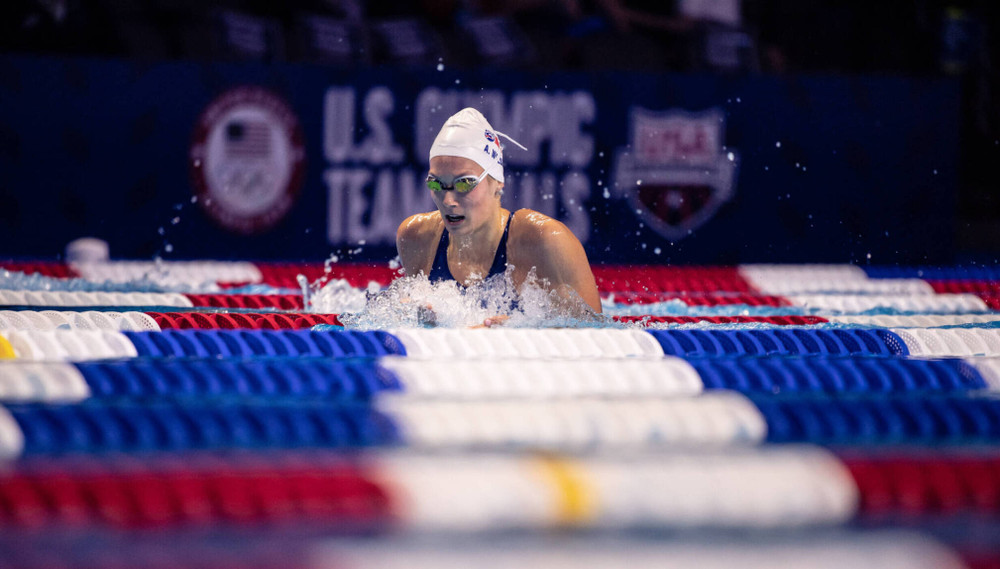 Nobody from UVA made the U.S. Olympic team on the men's side, but Sean Conway, Matt Brownstead, August Lamb and Noah Nichols, as well as incoming freshman Jack Aikins, "all performed at a really high level," DeSorbo said. "They were all going lifetime bests."
Overall, DeSorbo said, Virginia's men "are just young. They're up and coming, they're improving pretty quickly. I can see in three years, for 2024, where we will have some men contend for Olympic spots."
DeSorbo and his staff––associate head coach Tyler Fenwick and assistants Wes Foltz, Blaire Bachman and Andrew Sheaff––spent 12 days at the Olympic Trials. Omaha, of course, is also the site of the College World Series, and the coaches popped over to TD Ameritrade Park to see UVA blank Tennessee 6-0 in baseball Sunday afternoon.
"It worked out perfectly," DeSorbo said. "I was so hoping at the beginning of our competition that they would [reach the CWS] so we'd get to see them live. It was awesome."
Training camp for the U.S. Olympic swim team starts Sunday in Hawaii. From there, the team will fly to Japan next month. The schedule means DeSorbo will be off Grounds for more than a month, and he'll lean heavily on his assistants while he's gone.
"I think I'll have plenty of time to do planning and logistical type things that I might be doing over the summer normally," DeSorbo said. "Where our staff is going to have to pick up some of my slack is with recruiting, just because I'm obviously not going to be here to go visit recruits, and the difference in time zones [will be challenging for phone calls]. But they're excited and happy to pick up the slack. They've got a great story to tell. It should be pretty easy."
Madden is in Charlottesville packing up her apartment this week. Like DeSorbo, she has never been to Japan, and she's thrilled to be going with so many other Cavaliers.
"Honestly, that takes off a little bit of the pressure and makes it more fun," Madden said. "I already have that solid group to back me up going in, and then I'll also get to meet a lot of other people. But having them there with me, I couldn't be happier about it. And with all the logistics and everything, we're helping each other out with that, and helping each other out with training, so that's good. But mainly it's just having that support."
To receive Jeff White's articles by email, click here and subscribe.