By Jeff White (jwhite@virginia.edu)
VirginiaSports.com
CHARLOTTESVILLE –– With 9.8 seconds left in Game 6 of the NBA Finals, Giannis Antetokounmpo made a free throw––his 50th point of the night––to give Milwaukee a 105-98 lead over Phoenix on July 20 at Fiserv Forum. The Bucks led the series 3-2, and the Suns were about to be extinguished.
On the Bucks' bench, Mamadi Diakite flashed back to a spring night in Minneapolis some two years earlier.
"I was like, 'Wow, I'm really about to storm the court another time,' " Diakite recalled Tuesday in a phone interview. "Basically, I had another chance to run on the court, scream and celebrate the last win of the season, where we're the only team that's still standing."
The first time, of course, was on April 8, 2019, when Virginia defeated Texas Tech in overtime to win the NCAA title. Diakite was a redshirt junior on that UVA team, and in the Elite Eight he'd made perhaps the most memorable shot in program history, hitting a last-second jumper to force overtime against Purdue.
Two years later, now as an NBA rookie, the 6-foot-9 forward reveled in another championship.
"He's got the two prized possessions for a basketball player," Virginia head coach Tony Bennett said Tuesday at John Paul Jones Arena. "To win a national championship in college and then be part of an NBA world championship, man, it's so good."
For the Bucks, the title was their first since 1971, when their stars were Lew Alcindor (soon to be Kareem Abdul-Jabbar), Oscar Robertson and Bobby Dandridge. The community embraced the 2020-21 Bucks––an estimated 65,000 fans flooded the 'Deer District' outside Fiserv Forum for Game 6 of the Finals––and the players were swept up in the enthusiasm.
"It's been a blast," Diakite said. "It's been crazy. It's been awesome. It's been insane, in a good way."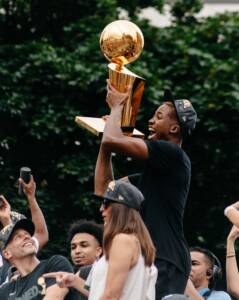 Cheering Diakite on during the NBA Finals were his former UVA teammates and coaches.
To see the Guinea native be part of another championship team "made my heart smile," Bennett said, "because in the [trophy] ceremony after the game, there's Giannis, and then there was Mamadi's big smile right behind him.
"Mamadi, he's got an energy and he lights up the room when he's in it. There's a contagious spirit to him, he's got that energy and that smile. He's just always full of life, and you can see that, and that pulls people toward him."
Diakite said the lessons he learned in his five years at UVA, from which he graduated with a degree in French, served him well in his first season as a professional.
"One hundred percent," Diakite said. "Perseverance is one of them. I call it perseverance, but Coach Bennett will call it humility, meaning you're not thinking too highly of yourself, but you know that when it comes down to fighting for yourself, you've got to defend yourself. You've got to be sure that you have some 'dog,' a slang word, in you, in the best and most respectful way possible, obviously. That mentality has been helping me to get through everything."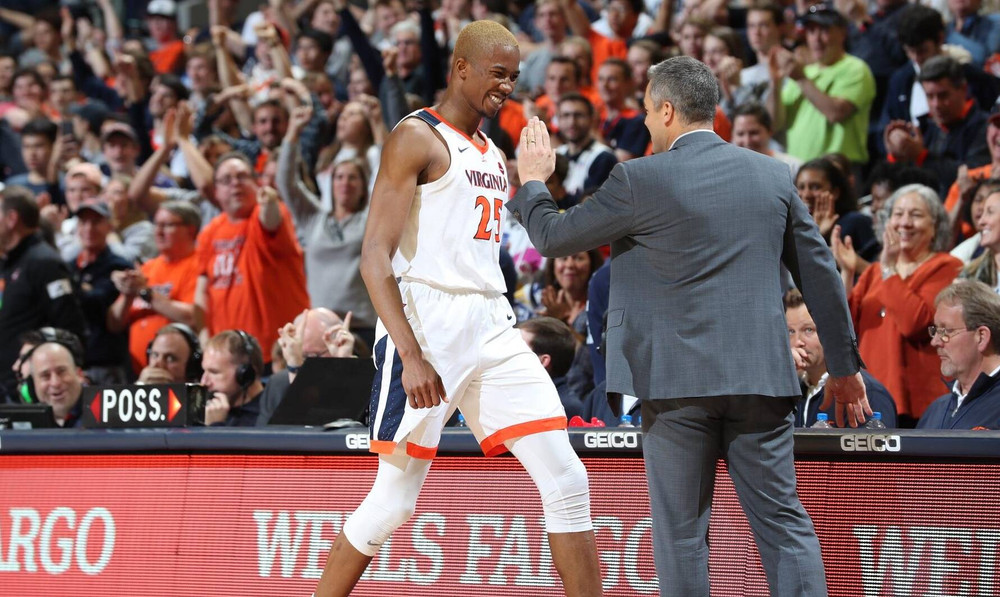 Diakite, who ranks third all-time at UVA with 156 career blocked shots, was not selected in last year's NBA draft. That stung, he admits.
"Was I disappointed? One hundred percent," Diakite said. "Was I frustrated? One hundred percent. I say this with all humility, but did I feel in some way or somewhat disrespected? Yes. But this is my thing: I will never forget about that, but that will not stop me from the goal I want to reach, and the goal is not to just be a regular NBA player who went through the NBA."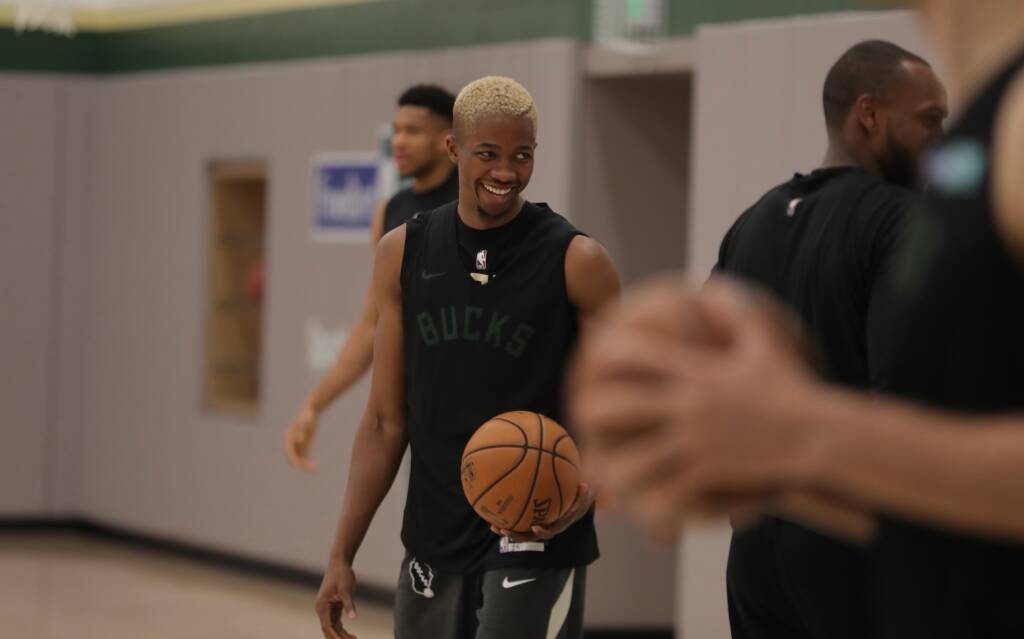 Diakite wants to become one of the league's top players, "and by the time I'm done, I want to be that main role model people want to look up to. If I can help the next generation here, and especially in my country, to be fighters, so they can reach any goals they want to reach, I'll do it. That's my goal."
Milwaukee signed Diakite to a two-way deal last fall. He spent part of the 2020-21 in the G League bubble in Florida, playing for the Lakeland Magic, and then in April the Bucks signed him to a multi-year contract.
In the G League, Diakite averaged 18.5 points, 10.3 rebounds, 2.1 blocks and 2.1 assists per game for Lakeland. A first-team All-G League selection, he also was named to the G League's All-Defensive Team and All-Rookie Team, and he finished second in voting for Rookie of the Year.
After Diakite rejoined the Bucks, Lakeland went on to win the G League championship. He's the first player to have an NCAA title, an NBA championship, and a G League crown on his résumé.
"I guess he's got the hat trick," Bennett said.
Diakite also has the distinction of being the first player from Guinea to win an NBA title.
"I'm just feeling super blessed about that," he said. "It's hitting me from all the corners, but again, the job is not done. I can't relax off only one championship. I actually believe, and you can write this down, we'll repeat, and I believe I'll be a big part of it. I hope so."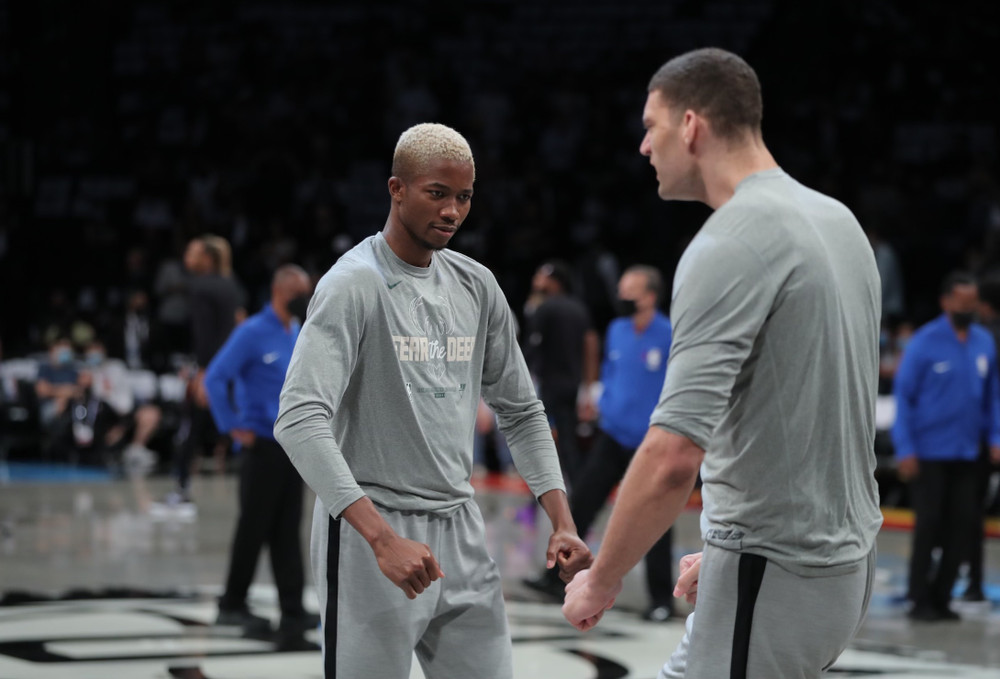 Diakite moved to the United States from Guinea in January 2014 and enrolled at Blue Ridge School, not far from Charlottesville. He didn't speak English well then, but he became fluent in the language while establishing himself as a big-time prospect on the court.
"Looking back on it, it feels like I just got here yesterday, yet so many things have been accomplished," Diakite said. "I'm still not done yet, but it's been an amazing journey, it's been a lot of blessing, it's been a learning process throughout ups and downs. There were lows and highs. I just learned that I should never give up and I should always keep fighting, and I hope I'm inspiring all the people that are seeing this."
At Blue Ridge, Diakite's head coach was former UVA player Cade Lemcke. As a senior season, Diakite led the Barons to the Virginia Independent Schools Athletic Association's Division II state title, after which he enrolled at Virginia.
My man, every chapter of your life has presented opportunities to learn & grow. Those opportunities keep turning into championships at the chapter's end…incredible! Your growth as a player and man has inspired many. More chapters to come. Keep making us all proud! @_mdiakite pic.twitter.com/BV1z2SaUol

— Cade Lemcke (@CoachCade) July 22, 2021
After redshirting in 2015-16, he made slow but steady progress as a Cavalier. In 2018-19, he started 22 games, averaged 7.5 points, 4.4 rebounds and 1.7 blocks per game, and made the NCAA tournament's All-South Regional Team.
In 2019-20, a season cut short by the COVID-19 pandemic, Diakite started all 30 games, averaged career highs of 13.7 points and 6.8 rebounds per game, and made the All-ACC second team.
"He's a great story," Bennett said. "He redshirted when he was here, and he just kept getting better and better and better. It didn't happen right away, and then he didn't get drafted, but he showed good stuff [in the G League], and then it happened."
Diakite appeared in 14 games for the Bucks this season, averaging 3.1 rebounds and 2.4 rebounds. In a game against Chicago in May, he totaled 13 points, seven rebounds, three steals, one assist and one block.
"It took a lot of work for me to get to the NBA," Diakite said. "It took me five years in college and obviously not being drafted and fighting through my way to getting so many things accomplished, such as changing my contract from a two-way to a standard NBA contract. But aside from that, there's definitely a big difference between college and NBA. The physicality is insane. But also the quickness is different."
His athleticism helped him adjust to the speed of the NBA game, as did the mentorship of the Bucks' veterans, including Antetokounmpo, Brook Lopez, Jrue Holiday, Khris Middleton and Bobby Portis.
"It's been competitive every day," Diakite said, "and one thing I also learned is that it's a business. You've got to come in the building every day ready to fight. You don't want to lose your way. You can lose your job in one day, based on your performance."
He's become close with Antetokounmpo, a two-time NBA MVP whom Diakite tries to emulate.
"He's had a big impact," Diakite said. "Off the court, the way you carry yourself. On the court, the way you approach the game, and the level of focus it takes to be able to really impact the game in such a way that's amazing. The level of focus it takes for that is unbelievable."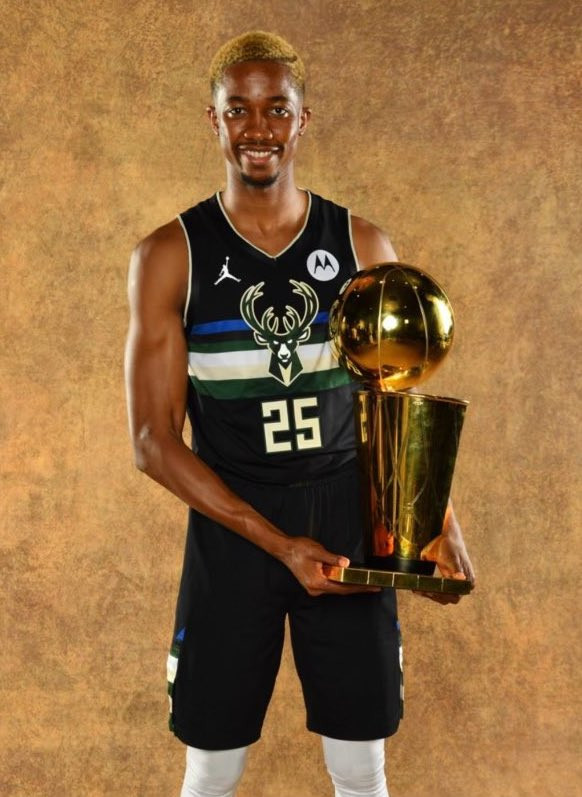 The NBA draft is Thursday night, and UVA forward Trey Murphy III is projected to be chosen in the first round. Another Cavalier, Sam Hauser, could go in the second round, and the Wisconsin native worked out for the Bucks this week.
"He congratulated me," Diakite said. "We caught up a little bit and we talked a little bit about last season and what he has ahead of him."
In the G League bubble, Diakite saw his former UVA teammate Ty Jerome, who spent most of the season with the Oklahoma City Thunder. Diakite also, at various times, crossed paths with most of the other former Cavaliers in the NBA.
"I saw Joe [Harris]," Diakite said. "I saw Malcolm [Brogdon]. I saw De'Andre [Hunter]. I saw Mike Scott. I saw Anthony Gill. I think that was all, but it was amazing catching up with them and asking them questions about their transition from college to the pro level."
After a short break highlighted by the Bucks' championship parade through the streets of Milwaukee, Diakite returned to the gym. He'll be playing next month for the Bucks' entry in the NBA summer league in Las Vegas, and training camp for 2021-22 starts in late September.
He's thrilled about the way his rookie season ended, but Diakite isn't satisified. He wants to have a significant role on the court for the Bucks.
"The story is far from over yet," Diakite said. "I still have more to write. Next will be the summer league obviously, but I'm soaking everything in right now, thinking about it. I'm thankful for everything that has happened, but I'm also working hard, because many people don't have this type of opportunity."
Bennett said: "I would never count Mamadi out, because now he's got a contract and now he's got an opportunity, and he's got the tools athletically and just the know-how of playing against [the NBA's best]. He'll just keep getting stronger and better."
To receive Jeff White's articles by email, click here and subscribe.