By Jeff White (jwhite@virginia.edu)
VirginiaSports.com
CHARLOTTESVILLE –– A couple of weeks into his first semester at the University of Virginia, Marques Hagans awoke on a Tuesday knowing he had a physics quiz later that morning. He was a little anxious about the test, but upon reaching his classroom Hagans learned, to his surprise, that the class had been canceled.
No explanation was given, but when Hagans, a first-year quarterback on the UVA football team, walked into Newcomb Hall, he came upon a scene he still remembers two decades later.
"I saw everybody crying," Hagans, now the Cavaliers' wide receivers coach, said this week, "and then I saw the TV and I saw the towers."
It was Sept. 11, 2001, a day stamped in United States history. At 8:46 a.m., a hijacked commercial airplane loaded with 20,000 gallons of jet fuel crashed into the north tower of the World Trade Center in New York City. Seventeen minutes later, another hijacked jet crashed into the south tower.
More devastation followed. At 9:45 a.m., a third hijacked plane struck the Pentagon in Washington, D.C., and at 10:10 a.m., a fourth jet, after an on-board battle between passengers and hijackers, crashed into a field near Shanksville, Pa.
In all, nearly 3,000 people were killed in the terrorist attacks.
"It's a day that sticks in memory, for lots of reasons," Al Groh said this week.
The 2001 season was Groh's first as head football coach at UVA, his alma mater. He was in his McCue Center office, Groh recalled, when a colleague "came in and said, 'You gotta turn on the television and see what's happening.' This was fairly early in the morning, probably quickly after all this started showing up on TV. So as I saw where it was and what was happening I had a sense of what was going on."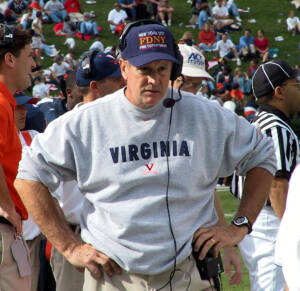 The Cavaliers, whose record was 1-1, were scheduled to host Penn State at Scott Stadium two days later, and "certainly any time ESPN is broadcasting a Thursday night game, particularly if it's on your campus, the magnitude of the game takes on added importance," Craig Littlepage said this week.
Littlepage, who had been promoted to athletics director at UVA on Aug. 21, 2001, had his radio on as he drove to Scott Stadium for a game-operations meeting early on Sept. 11.
"It was five minutes before 9," Littlepage recalled, "and the local news was pre-empted by the network news out of New York saying that there was a report of a plane that had crashed into the World Trade Center, and the information was still in its infancy at the time. My first thought was that there was some sort of air traffic control problem or some sort of mechanical issue with a plane.
"I had a vision of a small private plane as opposed to a commercial airliner, but I proceeded over to the stadium, and as I walked into the room I walked by our University police chief, Paul Norris, and he whispered in my ear that a plane had been flown into the World Trade Center and that it wasn't an accident with a small private aircraft, it was a major commercial airliner, and all of a sudden it just kind of took the air out of us as we were trying to process this.
"As the meeting got started, that was the first thing that was discussed, that we didn't know what was going on but there was some sort of major incident taking place in New York City. We proceeded, as I recall, with the meeting because we still didn't have enough information to know just how dire the situation was. But by the time we got out of that meeting, we knew that it was something that had far more implications than anything else that we had ever dealt with administratively."
Back in the McCue Center, Gerry Capone, who was then UVA's associate AD for football administration, recalls coming out of a meeting on the third floor and seeing the TV on in the office of executive assistant Becky Davis.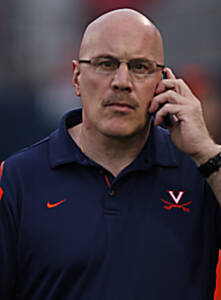 "I remember it like it was yesterday," Capone said this week. "The first plane had just flown into the building, and we all came out of the [meeting] room and into her office. Everybody was in shock."
That was true throughout the athletics department, Capone said. "People were glued to TVs."
For some staff members, the chaos in Lower Manhattan was especially agonizing. Defensive coordinator Al Golden's father worked for Cantor Fitzgerald, a financial services company in one of the towers, and "although he was not at that time going to work every day, he was going in on different days each week and had an office in there," Groh said. "And so clearly Al was very distressed about his father's potential circumstances, and it took quite a while into the course of the day for him to be able to have communication and get the word that his dad was OK."
Groh also remembers trying to determine the whereabouts of Tim Coughlin, a former UVA baseball player whose family was close to the Grohs. (Coughlin's father, Tom, is a former NFL head coach.)
"For a while there was concern amongst their family as to where Tim was," Groh said, "because he would on occasion go into the twin towers, for whatever job he had at that time. Fortunately, he wasn't in there either, but besides just concern for the city of New York, for the country, for the people and the families that were physically involved in all of that, there was some personal concern within our office for Tim and for Al's dad. So those two things tied up a lot of our thoughts and a lot of phone calls with a variety of people."
With many phone lines down in New York City, communication was difficult.
"You might think, why couldn't Al just call his dad or call his mom and find out if his mom went to work that day?" Groh said. "It took many hours for that simple phone call to actually be able to go through and for Al to get the news."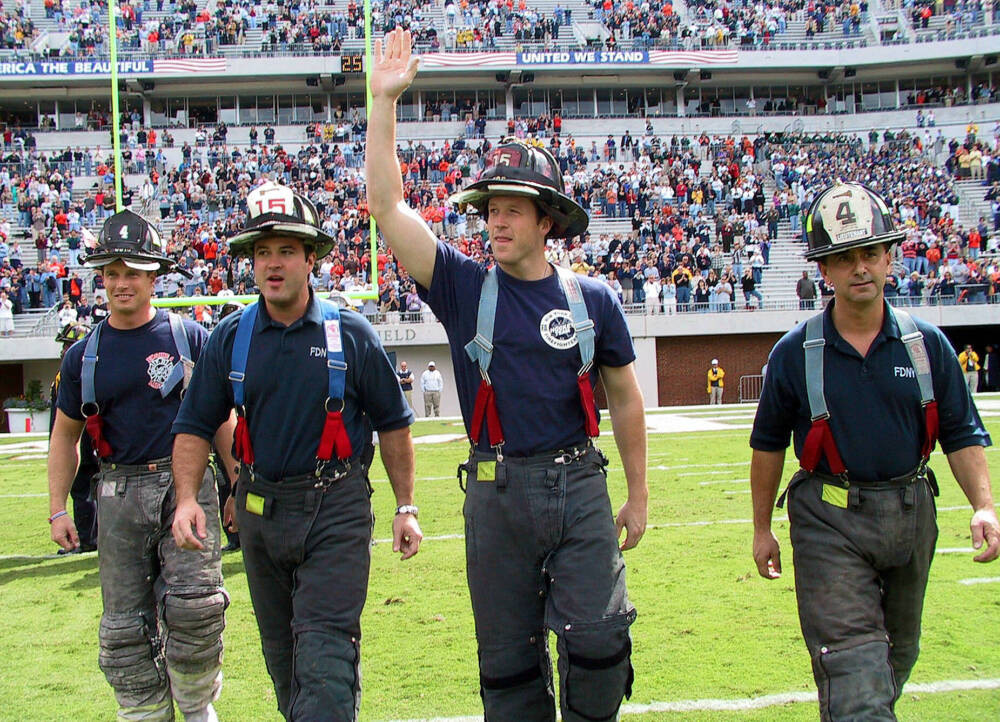 Rich Riccardi, who had played football and lacrosse at UVA, was in a building near the towers when the attacks began, Capone learned two days later.
"He was fine," Capone said, "but when the first plane hit they all evacuated, and as he was coming out of the building he could see the plane coming over the top of him to go into the second building. And he said he just put his head down and took off. He said people were jumping out of the first building, and he put his head down and started running north, which was towards the George Washington Bridge."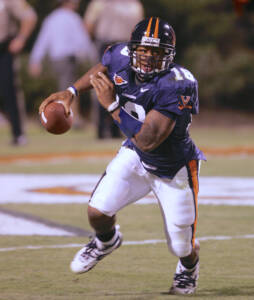 Hagans, who grew up in Hampton, said that at the time he didn't fully grasp "the magnitude of what was happening. I didn't have any family members in the towers, so I didn't really understand what was going on, as far as how many people this was affecting worldwide."
For Groh, it was different. He'd grown up on Long Island, N.Y., and had coached with the NFL's Giants and Jets. When Groh was head coach of the Jets, his family lived in Garden City, N.Y., which had one of the highest per-capita death rates in the Sept. 11 attacks.
"It was personal for every American, what happened," Groh said. "But when you had a sense that some people that you actually knew would be involved, that kind of made it personal 2.0."
Penn State's head coach, Joe Paterno, had deep roots in New York as well.
"Although in subsequent years I got to know Coach Paterno quite well, I didn't particularly know him at that point in 2001," Groh said. "But with that shared background in the areas that were being struck by the terrorists, we shared a common regard for what was going on. Coach Paterno and I were pretty early in the day on the phone about the circumstances, discussing different things, and pretty early agreeing that there were bigger things than a game on Thursday."
As the day went on, Littlepage said, UVA administrators started "trying to figure out, first of all, what to say to our staff and our coaches, and in some regards to our student-athletes, although the student-athletes were in classes and we really didn't have access to them at that time. But we had a lot of people that were just saying, 'What's going on and what can we do?' We had people that were out on the road that seemingly were going to be stranded, because all the transportation venues were being shut down. So a lot of it was just trying to gather as much information as we could to be able to put together a communications plan to the various stakeholders and constituencies, and as well to be able to determine what, if any impact, this was going to have on Thursday night."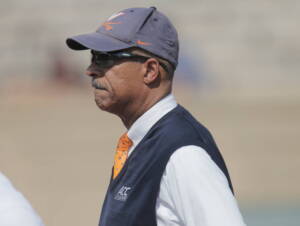 A decision was reached on Sept. 11 that the Virginia-Penn State game would not be played two nights later. UVA announced the next day that all athletic events involving its teams that weekend were being postponed and that the football game had been rescheduled for Dec. 1 at Scott Stadium.
"When you think about the impact of yesterday's events and what we experienced as a nation, playing a football game Thursday––or even this weekend––was not an option," Littlepage said in the Sept. 12 news release.
On many occasions, Groh said, he would tell his players that, as important as football was to the team, there were more important things in life, and the 9/11 attacks "certainly brought that to light and made it a reality."
College football games scheduled for the weekend of Sept. 15 were postponed. Play resumed the following week, and the Wahoos went on the road and upset No. 19 Clemson 26-24 on Sept. 22. A week later, the Hoos hosted Duke in their first home game since the terrorist attacks.
It was an emotionally charged afternoon at Scott Stadium, where a crowd of 54,653 saw the Cavaliers crush the Blue Devils 31-10. During a pregame ceremony, four representatives of the New York City Fire Department––lieutenants Jim Milone (one of Capone's cousins) and Charlie Noseworthy and firefighters Joe Gildea and Rich Amthor––were recognized.
"I remember walking them out on the field with me," Groh said, "and I still on occasion will wear my NYFD baseball cap that they gave me on that day. I already have it on my bureau, ready for this Saturday."
UVA alumnus Carl Smith sent his private jet to New York to pick up the FDNY firefighters, who were presented with a check for $250,000 at the game. Firefighters in the Charlottesville area had raised the money with "boot drives" after the Sept. 11 attacks.
"I think it resonated with everybody," Capone said of the ceremony, during which the fans gave the firefighters a standing ovation.
Littlepage agreed. He compared the atmosphere that day to the scenes at many college football games this season, with fans filling stadiums for the first time since the COVID-19 pandemic hit in March 2020.
The UVA-Duke game "was the same sort of scenario," Littlepage said, "where so many of us felt as though sports was going to play a major role in kind of the healing and the feeling of togetherness, the feeling of community, the feeling of everybody being in something together. So it was a very, very uplifting situation, just in terms of getting together, having a little bit better idea of the scope of this, and certainly paying our respects to all those people [affected by the Sept. 11 attacks] … Having the folks from New York there was certainly an uplifting situation, and being able to honor them in our stadium was something that I won't forget."
The terrorist attacks brought changes to college sports that remain in effect today. On Sept. 21, 2001, UVA announced that new security procedures would be implemented for games at Scott Stadium. No longer would fans be allowed back in after leaving the stadium during games, and backpacks, bags, carryalls and totes were prohibited.
Within the football program, there "certainly was a heightened awareness, and there was more security," Groh said. "There was certainly a lot of caution from that point on."
Groh continues to support the Tunnel to Towers Foundation, which was founded by Frank Siller to honor the memory of his brother Stephen, one of the 343 New York firefighters who died in the collapse of the World Trade Center towers. To mark the 20th anniversary of the attacks, Frank Siller is walking from the Pentagon to Shanksville to Ground Zero, a 537-mile journey that will end Saturday.
"Leading up to Saturday I will be wearing my Tunnel to Towers hat," Groh said, "and then Saturday I will be wearing my NYFD hat."
To receive Jeff White's articles by email, click here and subscribe.