Fall tennis is a time for players to hone their skills, playing in individual tournaments from September through November that creates challenges and opportunities on the court. Fall tennis is also a time for our fans to get a chance to meet the new players on the team, the first-years as the University calls them. This year, in a program first, both of the newcomers to our squad are fifth-years, a pair of battle-tested academic and athletic standout graduate students.
Jackson Allen isn't just a non-traditional incoming tennis player, he's also a unique incoming graduate student. Allen graduated in May 2020 with an undergraduate degree in accounting and entrepreneurial management and picked up a master's in finance in the spring of 2021. He's working on a second master's, this one in accounting, in a one-year program at McIntire. His tennis resumé is equally unique. He was a four-year starter at Minnesota, playing at No. 1 singles last season, who is utilizing his "COVID year" to have a fifth year of eligibility as he adds to his academic CV.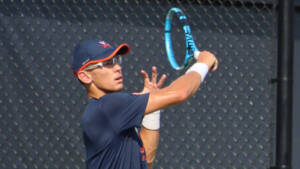 "I wanted to join a team that could compete for a national championship and also get a first-tier education. Virginia fit both of those," Allen said. "It's a whole new experience, joining a team that is at the top of the ACC and the country. So it's a new experience for me. And it's really exciting to be around a lot of really good tennis players, really good coaches and nice people."
Allen applied to UVA and knew that he would be joining the Hoos before the start of his senior season at Minnesota, a decision that would carry more significant weight than he expected. On September 10, 2020, just a few days into the school year, the University of Minnesota announced it would be dropping the men's tennis program, a decision that was finalized in October of that year. Allen wasn't the only Minnesota player moving on to a new school at the end of the 2020-21 season. All eight of his teammates would be as well.
"It was a really weird year," Allen said. "It would have been weird in a different sense if the team was still there because there would have been that elephant in the room of 'I'm leaving but I'm still here.' It wasn't weird in that sense because everybody had to find a new place to go. But it was a tough year because I loved being on Geoff Young and Urban Ljubic's team. And I loved the guys, [My decision to go to UVA] wasn't about leaving there, it was more about getting a new opportunity. [Dropping the program] was really hard for the guys on the team, who were now going to have to start over just when they finally felt like they're kind of getting a hold of things."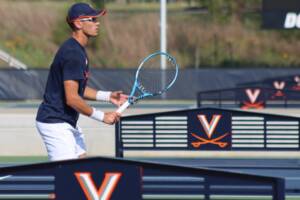 Even though they all knew the end was coming, it snuck up on the squad. Their last match together was in the quarterfinals of the Big Ten Championship, a showdown between East 2-seed Michigan and West 3-seed Minnesota with the Wolverines advancing to the semis.
"I didn't think it was going to be the last match," Allen said. "We only played conference teams last year with COVID scheduling, and the rankings were all messed up. The Big Ten usually has five or six teams that make the NCAA tournament, and I thought maybe selections would be based on the historical number of teams per conference getting in. So when we lost to Michigan, for me personally, I didn't think it was the last match. I actually was pretty confident that we were going to play another match. Some people who weren't as optimistic as I were more sad at the end of it. It was really disappointing when we were watching the NCAA Selection Show and we didn't get in."
Though the team's season came to an abrupt and unhappy ending, the stories of the Golden Gophers are all off to new and happy beginnings. According to Allen, all of the players found new schools and new beginnings, some still in the Big Ten, some in the SEC. None followed Allen to the ACC.
Allen knew that moving to Virginia would be a change. He grew up in Shakopee, Minn., just outside of Minneapolis. At Shakopee High, he won the state's high school championship as well as being the top-ranked player in the state, earning blue-chip recruit status. He chose to stay in the Gopher State to go to college, helping to lead the Golden Gophers to the NCAA Sweet 16 his freshman season.
"I love living and growing up in Minnesota," Allen said. "It's a great place to grow up and live. That's where all my family's is from and that's where my grandparents all still live and aunts and uncles and everything. My favorite thing to do is to go to the lake with my grandparents or go to my aunt's pool. I love Minnesota summers, but I can't stand the winters. For me, I don't want to be there for the next little stage of my life. I don't think the job market is the best there right now and a lot of things have happened in Minneapolis this last year."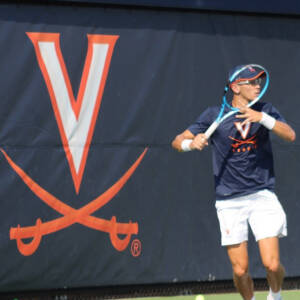 So Allen decided to make the move, first to Virginia while eyeing his next target destination of Palm Beach, Fla., where he wants to work in asset management.
"One of my grandparents is from that area," Allen said. "When COVID hit, I spent five weeks there and it kind of clicked as it could actually be a place to live instead of just vacation."
But before heading into the working world, Allen is treasuring his opportunity of a fifth year of competition, and a fifth year of academia, starting with the fall individual tournaments.
"Our team has embraced Jackson Allen the student-athlete, the competitor and the leader," said head coach Andres Pedroso. "From the minute he showed up to Charlottesville in June, he has had a positive impact on every single person in our program.  The work ethic, character, and humility that he brings to the experience are traits we are all enjoying and feeding off of, as coaches and players.  I think many of us have thanked him on several occasions, over the past four months, for choosing UVA."