By Whitelaw Reid, University Communications
Framed on a wall in the basement of his Charlottesville home is one of former University of Virginia basketball star Barry Parkhill's prized possessions: a jersey he wore in leading UVA to some of its greatest successes in the early 1970s.
There was the win over second-ranked University of South Carolina when he was a second-year student. The victory over fifth-ranked University of Maryland the next season. And then the upset in Chapel Hill of third-ranked University of North Carolina when he was a fourth-year.
While glancing at the jersey, Parkhill laughed when he thought back to his full uniform, which included "short-shorts" and a belt that came with, believe it or not, a metal buckle.
But Parkhill's tone became more serious when he reflected on the tank top that featured "VIRGINIA" across the chest.
"It was just incredibly meaningful to put that jersey on," Parkhill said.
"The pride you take in wearing a uniform, … I don't care when you wear it, you have pride wearing it. Whether it's 2021 or 1970, you feel pretty darn proud to put it on."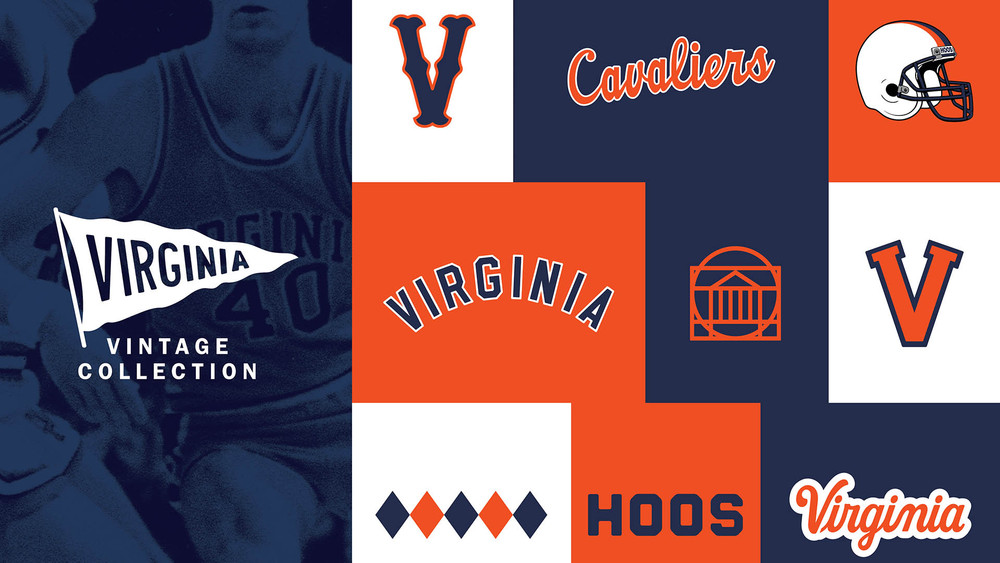 Former UVA quarterback Shawn Moore shares a similar sentiment, which is why his parents, Sarah and Harold, have been safeguarding his jersey and iconic white helmet – the one with the blue and orange stripes down the middle – in their Martinsville home for years.
"I like the old-school look that we used to portray back in the day. I loved our whole uniform," Moore said. "It was simplistic. We didn't even have our names on back of the jerseys back then."
Some of the trademarks on Parkhill's and Moore's old uniforms – along with others from UVA teams in the 1970s, '80s and '90s – are part of the inspiration for the new "Virginia Vintage Collection," now available online and at the UVA Bookstore. The collection includes those Parkhill- and Moore-era designs for apparel, but also gifts and home goods.
All of the classic logos, marks and references found in the Virginia Vintage Collection were recreated from actual artwork found on UVA uniforms, equipment, fan gear, memorabilia and elsewhere. Even Scott Stadium's endzone art from decades past, with its distinct diamond pattern, inspired one of the many throwback designs found in the collection.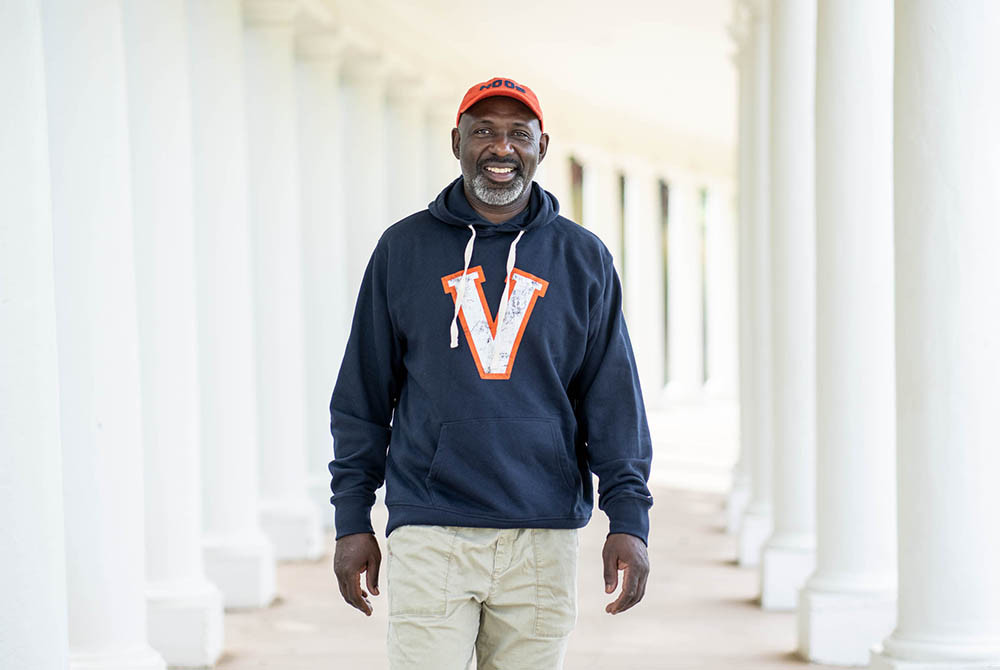 Moore, who works as associate director of development within UVA Athletics, said the atmosphere on Grounds was beyond "electric" when he helped UVA become the No. 1-ranked football team in the country in 1990.
"A lot of people, when they remember the '90 team, they remember the No. 1 ranking and how successful we were to start that season, but what I think people miss out on is that it started the year before in '89," Moore said. "We were ACC champs and 10-2 and played in our first New Year's Day bowl. That was a really good football team. I think it was easy for the '90 team to build upon that momentum that the '89 team set."
Moore completed his final season in 1990 holding 41 school, ACC and NCAA individual records. Some school records he still holds, including most total offense in a career (7,897 yards) and touchdowns responsible for in a career (83).
Moore finished fourth in voting for the 1990 Heisman Trophy, matching the highest finish ever by an ACC player at the time.
"If you combine the '88, '89 and '90 teams, there were probably 15 guys who went on to play in the NFL," Moore said. "There were a lot of great players who I was surrounded by – and great dudes. Those guys today are still some of my best friends."
And then there was former UVA head coach George Welsh.
"He was the best game-day preparation coach I ever played for or worked with," Moore said. "He was highly respected, a hall-of-famer. I wouldn't have had the level of success I had without the mentoring and coaching of Coach Welsh."
Parkhill played for head basketball coach Bill "Hoot" Gibson.
"If he had a style, it was, 'Do anything you can to try and win the game,'" Parkhill said.
Parkhill said an early-season win over Duke University during the 1970-71 season kickstarted the program's turnaround.
"More than anything, we proved we could win in the ACC – and I will take that to my grave," Parkhill said.
"We had some big wins, including some on the road. We just had a really good team. We played really well together and just proved we could win. That, more than anything, means the world to me and all the guys that I played with."
Although the Vintage collection draws its inspiration from the era, the styles are cut to current fashion, and includes clothing options for men, women and children in everything from T-shirts and outerwear to hats. The collection designers conducted a flurry of research to come up with the initial set of nine classic marks to enhance and recreate. The research included photo archives, faded game programs, library documents, old ticket stubs, trophy designs and, of course, those timeless uniforms.