By Jeff White (jwhite@virginia.edu)
VirginiaSports.com
CHARLOTTESVILLE –– The video dropped Sept. 30 on social media platforms. It showed 15 student-athletes, representing 10 teams at the University of Virginia, speaking about a subject that can have life-or-death consequences: mental health.
The student-athletes are members of the UVA chapter of Morgan's Message, an organization formed to honor the memory of former Duke women's lacrosse player Morgan Rodgers, who committed suicide in July 2019.
The aim of Morgan's Message, as stated on its website, is to try to "eliminate the stigma surrounding mental health within the student-athlete community and equalize the treatment of physical and mental health in athletics. We aim to expand the dialogue on mental health by normalizing conversations, empowering those who suffer in silence, and supporting those who feel alone."
The head of the UVA chapter, which has about 55 members, is Greer Gill, who plays on the field hockey team. Her sister Ainsley played field hockey at Duke, where she and Rodgers became friends. After Morgan's Message was founded by friends and relatives of Rodgers, Ainsley reached out to Greer about supporting the organization. Greer and her field hockey teammate Adele Iacobucci became ambassadors for Morgan's Message, and then they founded the UVA chapter last spring.
"I felt that was kind of a way to start sharing my own story with others and to open up the conversation," said Gill, who's in her fourth year at UVA. "One of my best friends is Adele, who's very passionate about mental health as well and definitely helped me when I was struggling a bit, and she also became an ambassador. Then we kind of were a team, and it was much easier to start."
UVA played Duke in field hockey on Sept. 30 at Turf Field, and Gill and her teammates wore Morgan's Message T-shirts before the game.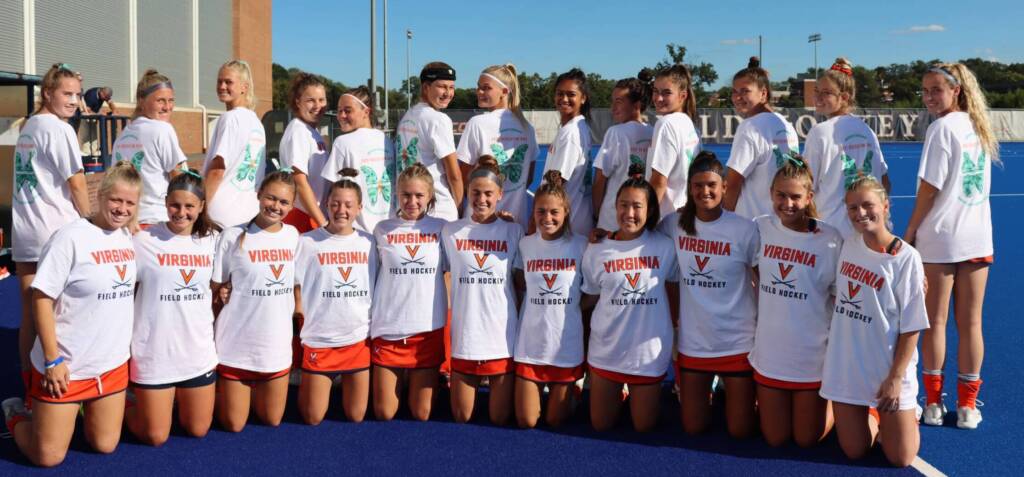 When the COVID-19 pandemic hit the United States in March 2020, the University canceled in-person classes and most activity on Grounds ceased. Gill, back home in Virginia Beach, struggled to adapt to the changes, and that took a toll on her physically as well as mentally.
After returning to Charlottesville for the start of the 2020-21 academic year, she was placed on medical hold for a few weeks before being cleared to rejoin the team.
"Thankfully, I had amazing teammates and support staff to help," Gill said, "but the time when I was on medical hold was one of the worst ever, especially because we were here with no one else, and sport was the only thing we could do, and I was forced to not do it."
The UVA athletics department has two sports psychologists: Jason Freeman and his associate, Karen Egan. Their offices are in the McCue Center, and they meet regularly with individual student-athletes, staffers and teams, sometimes proactively and other times in response to adverse situations.
By talking openly about mental health, Freeman said, Morgan's Message performs an important service. The organization has chapters at colleges and high schools around the country.
"Rather than say it's taboo to bring that up, there's a lot of literature and research that says that discussing it actually lowers the risk," Freeman said. "It de-escalates or deflates some of the energy behind the act, and it really is, I think, valuable to give room for that message. So I'm glad that Morgan's Message is an organization out there and they are recruiting chapters at various schools to have that be an institution-driven mission to de-stigmatize and raise awareness of suicide."
Freeman has seen the UVA chapter's video and said it was "incredibly rewarding to watch that, because the student-athletes live in [that world]. So as much as we support it, they live it every day in a way that I can't live with them and even their coaches can't live with them. And so for them to be able to own it and advocate for it from the trenches themselves, I think, is going to be very meaningful for a lot of people."
Many factors, including the pandemic and the rise of social media, have made this an especially challenging time for student-athletes, Freeman said.
"I won't say that there aren't other unique populations out there," he said, "but our student-athletes are a unique, vulnerable population. They are visible. It's harder to hide how you're doing as a student-athlete. There's much more surveillance of how they look, how they act, how they perform, how they measure up.
"Not only is there more surveillance, but there's more visibility, so not only is it being looked at by their coaches and their performance personnel, but it's being looked at by the general public. And we could talk about social media and the fact that so many of them are at the mercy of an anonymous crowd that has access to communicate with them in a way that could be pretty distressing."
Social media "can definitely go both ways," Gill said. "I would say that was definitely a big part for me as well. I was just scrolling and scrolling on social media throughout quarantine. And I've also tried to delete Instagram and other social media sources a few times, just because I feel like it gives such a negative [impression]. Yes, it's great to share what you're doing, but it's one little glimpse of things and it really doesn't truly show the whole picture. But it can also have an incredibly positive impact for those who use it to share their stories and don't just completely share one side of themselves, the best side of themselves, per se."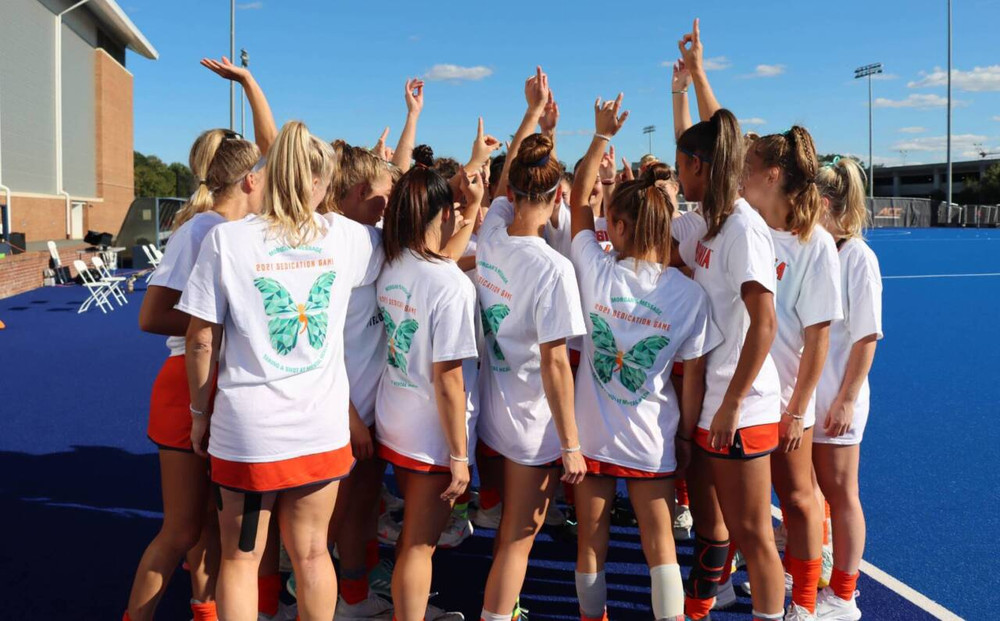 Freeman said he and Egan work to educate Virginia's coaches on mental health issues.
"Part of the role is to say, 'Here's the themes that we're seeing, this is what's happening on the front burner of college student-athlete stress,' " Freeman said, "and to give coaches warning signs to keep an eye out for, and also to give coaches some strategies for how to have those difficult conversations around tough issues. So, for example if you see somebody whose behavior you might think of as reflecting depression, how do you approach somebody? If you want to approach somebody about an eating concern or a fueling concern, how do you have that conversation?"
UVA's head men's lacrosse coach, Lars Tiffany, said he and his assistants, Kip Turner and Sean Kirwan, are much more aware of mental health than when they started working together at Brown more than a decade ago.
"It's because the need is greater," Tiffany said. "There is more stress out there. There's more pressures on student-athletes. There's tremendous value in having not only your teams as a support network, but then having the professionals so easily accessible, such as we do here at the University of Virginia, with Dr. Freeman and Dr. Egan.
"It's definitely become a topic that stays at the forefront of my brain. It never goes in the back burner like it used to.  And I know I find myself as I mature, as a coach and as a human being, becoming more empathetic and a better listener, and I give credit to the people in my life who've ensured that I understand that what is going on in this country for young people is very different from what I went through.
"The advantages that each generation has compared to older generations come with a price. It's a more difficult social media world to navigate."
The UVA chapter of Morgan's Message meets on the first Monday of every month, Gill said. "It's more so on a team-by-team basis," she said, "and so we're kind of trying to give everyone who's a member the tools to kind of figure out what they see as the best fit for their team."
In recent years, many famous athletes, including Olympic gymnast Simone Biles and NBA standout Kevin Love, have spoken publicly about their struggles with mental health.
"I think people speaking out changes the game so much," Gill said. "I think that it just shows people that it's so much more prominent than we think."
Freeman agreed. "I think there's still considerable stigma," he said, "but I think it's dramatically less than it once was. I think a lot of it does have to do with role models in professional sports or Olympic sports. We can talk about Simone Biles, and other women, like [Olympic gymnast] Aly Raisman, speaking about the mental health issues that have come from sexual violence perpetrated against them."
However, Freeman added, there "is still this sense that there's something different about mental health and physical health. And so I don't think we've won that war, but we're achieving a lot of good strides."
Athletes are conditioned to push through adversity, and that's not always the best approach, Freeman noted. "I think that's one of the things that stigmatizes mental health issues for athletes is the idea that if they acknowledge they have a mental health issue, now they're fallible, they're vulnerable, they're not invincible," he said.
Gill said she's seen an increased willingness from UVA student-athletes to talk about mental health.
"I think one of the biggest things for me is the change I've seen in male athletes," Gill said, "because females are always a little bit more emotional, a little bit more willing to share things. It's been, honestly, incredible to see, especially through Morgan's Message, the number of guys totally come clean and just be so open."
For much of her life, Gill said, mental health issues were kept in the background. No longer.
"I think it's OK to not be OK," Gill said. "Obviously, in sport you've got to push it, but not to the extent where it's unhealthy."
Freeman said he and Egan "spend a lot of time actually helping student-athletes understand that we don't do this alone. Not a single one of us does it alone. We could take some of our greatest examples of sports successes, whether it's on the coaching side or the student-athlete side, and every single one of them was able to [succeed] because they had a village behind them, to use an old concept from the '70s. It takes a village, and so asking for your village to be behind you is not a sign of weakness, it's a sign of strength."
To receive Jeff White's articles by email, click here and subscribe.