By Jeff White (jwhite@virginia.edu)
VirginiaSports.com
CHARLOTTESVILLE –– A basketball season is a marathon, Navy head coach Ed DeChellis likes to remind his players, and maintaining a sense of perspective is essential.
"It's a long, long race," DeChellis said. "Lot of stuff happens … so you just got to keep your wits about you and take one day at a time, one game at a time, that old coaching cliché."
No. 25 Virginia started that race on an inauspicious note. At John Paul Jones Arena, where they've enjoyed a tremendous home-court advantage during Tony Bennett's tenure as head coach, the Cavaliers lost 66-58 to DeChellis' Midshipmen late Tuesday night.
For UVA, which lost six of its top eight scorers from the team that won the ACC's regular-season title in 2020-21, the defeat was only its second in its 13 season-openers under Bennett. For Navy, the win was its first over a ranked opponent since 1986, when its center was future Hall of Famer David Robinson.
The Midshipmen don't have any players as talented or as tall as Robinson on their 2021-22 roster, but they're coming off a season in which they posted a 15-3 record. Nothing they encountered at JPJ fazed them.
"They were tough," Virginia guard Kihei Clark said. "They were disciplined … I thought they were a lot tougher than us. I think it was a good test for the team. Obviously, it's not the way we wanted to start, but it's a long season."
With 8:52 to play, UVA center Kadin Shedrick tipped in his own miss to make it 55-55, and the home fans thought the Midshipmen might finally be vanquished. It didn't happen. The Wahoos didn't score until again 14.2 seconds remained, when Armaan Franklin's 3-pointer cut Navy's lead to 64-58.
"I believe this will help us and we'll grow going forward with it," Bennett said. "But [Navy revealed] some weaknesses that we have that we'll keep going to work on."
For the Cavaliers, the story of the first half was their shaky defense. Led by guard Sean Yoder and John Carter Jr., Navy hit 8 of its first 10 shots from beyond the 3-point arc and led 42-35 at the break. Virginia tightened up defensively in the second half, but its offense sputtered to a halt late in the game.
The Hoos, who shot 53.8 percent from the floor in the first half, made only 7 of 25 attempts (28 percent() the rest of the way. For the game, they were 4 for 16 from long range. Clark (2 for 7) was the only Cavalier to make more than one trey.
"Navy's a good team," Bennett said. "They put a lot of pressure on us with their defense, and I think maybe they wore us down. It's always a battle, who's gonna outlast who, and I think they wore us down and outlasted us in this one."
The score remained 55-55 until the 5:20 mark, when Yoder (15 points) scored inside for the Midshipmen. The longer the game went on, the more tentative the Cavaliers grew offensively, especially after Navy switched to a zone defense. On multiple possessions, UVA players passed up open looks in crucial situations.
"I tell our guys, when you get an open shot, I don't care if you miss it," Bennett said. "If it's a good shot, you take it with confidence and then you're on to the next. You have to play that way."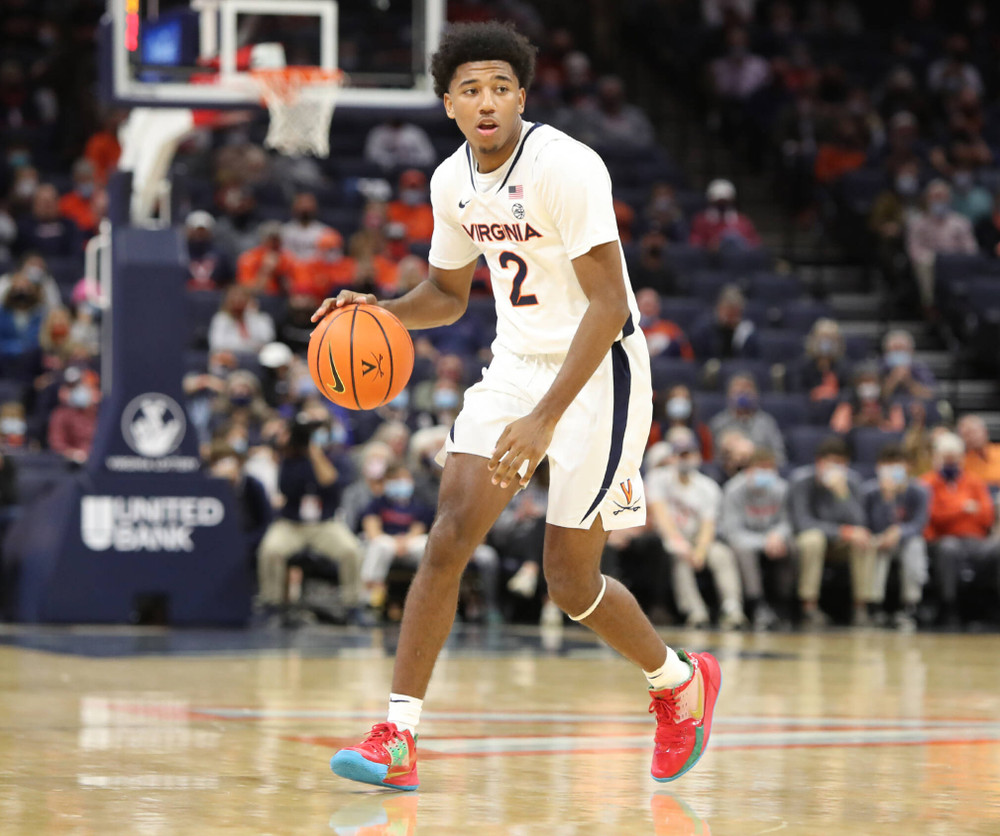 Jayden Gardner, a 6-foot-6, 246-pound transfer from East Carolina, led UVA with 18 points and 10 rebounds.
"I thought he was a beast inside," Clark said.
The 6-foot-4 Franklin's debut as a Cavalier did not go as well. A transfer from Indiana, he missed 9 of 11 shots from the floor, including 6 of 7 from long range.
"He got some pretty good looks and just had one of those nights," Bennett said. "There'll be nights he's gonna make 'em."
Sophomore guard Reece Beekman sparkled for the Hoos, totaling eight points, five rebounds, a game-high six assists, a career-best six steals and one blocked shot. Beekman had only one turnover, but his teammates weren't as careful with the ball.
Virginia finished with 14 turnovers and gave up 10 offensive rebounds. That's not a formula for success, Bennett said. "We've got to become a little tougher physically and a little more gritty mentally to last longer in these games. And that's part of the growing process that we're in."
Carter scored 16 of his game-high 19 points in the first half, and Yoder had only four points in the final 20 minutes. Had the Cavaliers been as locked in defensively early, Bennett noted, the outcome might have been different.
"Navy is a mature [team that was a] good ball club last year, they run their stuff hard, and they got whatever they want in the first half," Bennett said. "They shot lights out and sometimes we were there, sometimes we weren't, and any time we broke down they kind of took advantage.
"In the second half we started to resemble how we needed to play defensively. We were a little more aggressive, pressured the ball, got to shooters. I thought there was more urgency, not perfect … but that is how it has to be for us all 40 minutes."
UP NEXT: Virginia is back at JPJ on Friday for a 7 p.m. game against Radford (1-0).
The Highlanders, who are in their first season under head coach Darris Nichols, opened Tuesday night, too, defeating Emory & Henry 84-72 at the Dedmon Center in Radford.
UVA and Radford haven't met in men's hoops since Dec. 7, 2010. The Hoos lead the series 6-0.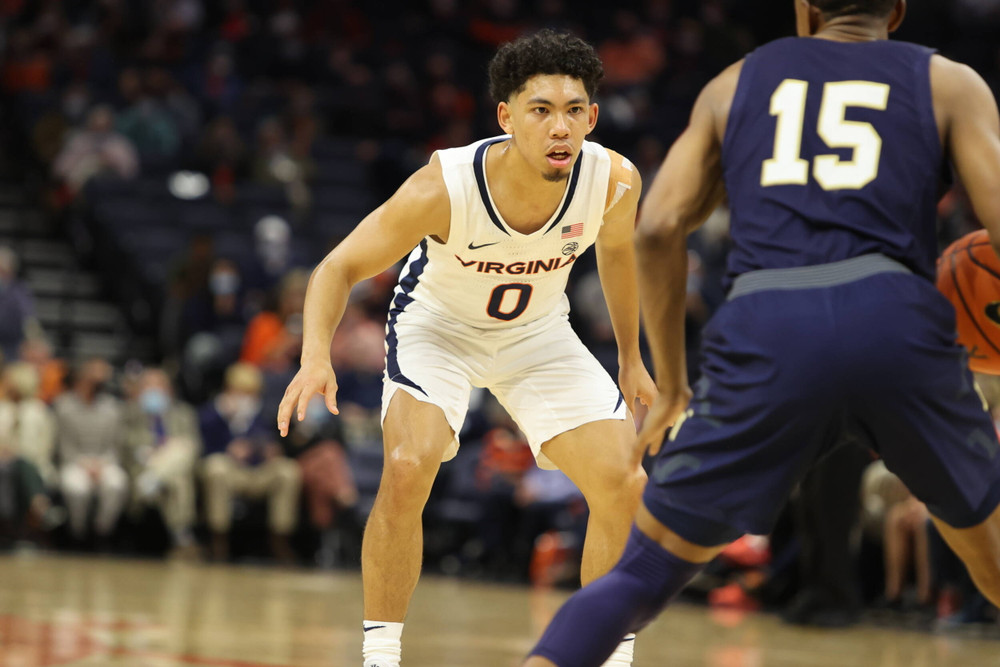 SOUND BITES: In a series that started in February 1910, the Midshipmen won the first 14 games, but they had dropped nine in a row to the Cavaliers before Tuesday night. Among the postgame comments:
* DeChellis, whose team plays at Virginia Tech on Friday and at Louisville on Monday, on the win: "I'm really, really proud of our kids. Great atmosphere here. We haven't played in front of fans in a year, like everybody else."
* Bennett on Gardner: "He made some good plays. Five turnovers is too much for him. But he's got a knack around 15 feet and in for some moves, and he did some things. And he got on the glass."
* Bennett on Beekman: "He's a gifted player, he can create for his teammates, he can kind of slash and get to the rim … Reece is going to obviously be an important player for us this year, and I thought he showed moments of some good basketball. Six steals, that is impressive when you see that. He has very quick hands. He's got an uncanny knack for tipping balls or making some plays that way."
* Beekman: "We take this as a lesson. It's our first real game as a group, just playing in front of fans again. So I just said we're gonna take this as a lesson and come back on Friday ready to work."
* DeChellis on his team's success against Virginia's trademark Pack Line defense: "You got to make shots. We shot the ball really well tonight."
* Clark on the Midshipmen: "They were just more physical. They were getting offensive boards. I thought down low they were strong with the ball and they played with up-fakes. And then I think defensively they were physical with us on our screens. They were pushing us out, denying catches."
* Clark on Franklin: "I didn't shoot it well, either. So we've all just got to stay confident, just try to try to have confidence. He knows he puts in the work. We all do … It's one game, so we just move on to the next one."
To receive Jeff White's articles by email, click here and subscribe.