By Jeff White (jwhite@virginia.edu)
VirginiaSports.com
CHARLOTTESVILLE –– As he started to answer a question at his postgame press conference Friday night, University of Virginia head coach Tony Bennett glanced up at the TV to his right and saw that No. 15 Houston was leading Rice 44-15.
"My timing is perfect," Bennett said, smiling.
UVA plays at Houston on Tuesday night in a nationally televised game that figures to seriously test Bennett's latest team. Still, the 25th-ranked Cavaliers showed in their second game that they'd corrected some of the mistakes that plagued them in their opener.
Three nights after losing to Navy, Virginia returned to John Paul Jones Arena to take on Radford. This one wasn't close. The Wahoos went ahead to stay on an Armaan Franklin 3-pointer with 13:37 left in the first half and rolled to a 73-52 victory.
"I thought tonight at the start, defensively our effort level was where it needed to be," said Bennett, whose team led 41-21 at the break.
The Hoos had more lapses in the second half, giving up eight offensive rebounds and struggling at times against Radford's press, "and I know what's coming next game," Bennett said, "but [the players] answered the challenge that we put before them, so that was a good step."
A transfer from Indiana, the 6-foot-4 Franklin was 1 for 7 from the 3-point range in Virginia's 66-58 loss to Navy, and his lone trey came with 14 seconds remaining. He was 2 for 11 overall.
"I hadn't seen him shoot that bad since I've known him, since he's been here," UVA guard Carson McCorkle said Friday night.
"I hope I don't see that that again, honestly," Franklin said. "I hope nobody sees that again."
He had no such problems against the Highlanders (1-1). Franklin, who's from Indianapolis, hit his first shot from beyond the arc and stayed hot. He made 7 of 12 shots, including 5 of 8 from long range, and finished with a game-high 21 points.
"Every shot he took tonight looked like it was going in," McCorkle said, "and that's the Armaan we know. I didn't expect anything less."
Bennett said: "That's why shooters shoot. You keep shooting and don't pass up good shots."
Franklin said he "took that Navy loss really hard, because I felt like I didn't do my job to the best of my ability, and when I don't do that I feel like I'm letting people down."
That was his debut as a Cavalier, and Franklin said he was "a little tense. I think tonight I was a lot more relaxed and played free, honestly."
A text message he received a few hours after the opener from point guard Kihei Clark, the team's most experienced player, lifted Franklin's spirits.
Clark told him to "keep my head up," Franklin said. "Everybody here knows what I can do. I put the work in. You just got to be confident believe yourself. He said if I don't believe in myself, he's always gonna believe in me. So I appreciate him for that."
Also scoring in double figures for Virginia against Radford were 6-foot-6 Jayden Gardner (18 points) and 6-foot-11 Kadin Shedrick (10 points), who was 10 for 10 from the line and blocked a career-best four shots.
Only 4 for 16 from 3-point range against Navy, UVa improved to 9 for 19 on Friday night. Five Cavaliers made at least one trey: Franklin, McCorkle, Clark, Reece Beekman and Taine Murray, a freshman from New Zealand.
Between them, McCorkle and Murray played about three minutes in the opener. They combined for 32-plus minutes Friday night.
"WIth our rotation, it's not settled yet," Bennett said, "and guys just got to keep working. I thought they both practiced the right way and then got in early [against Radford] and they did a nice job defensively, actually."
The Cavaliers improved to 7-0 all-time against Radford, which is in its first season under head coach Darris Nichols.
"It was a tale of two halves," Nichols said. "The first half, we didn't move the ball as much as we would have liked to. Their defense, they're heavy in the gaps and they're stunting and they're active. They kind of make you play like that. I wish we could have moved the ball a little better in the first half. The second half we did a better job of it."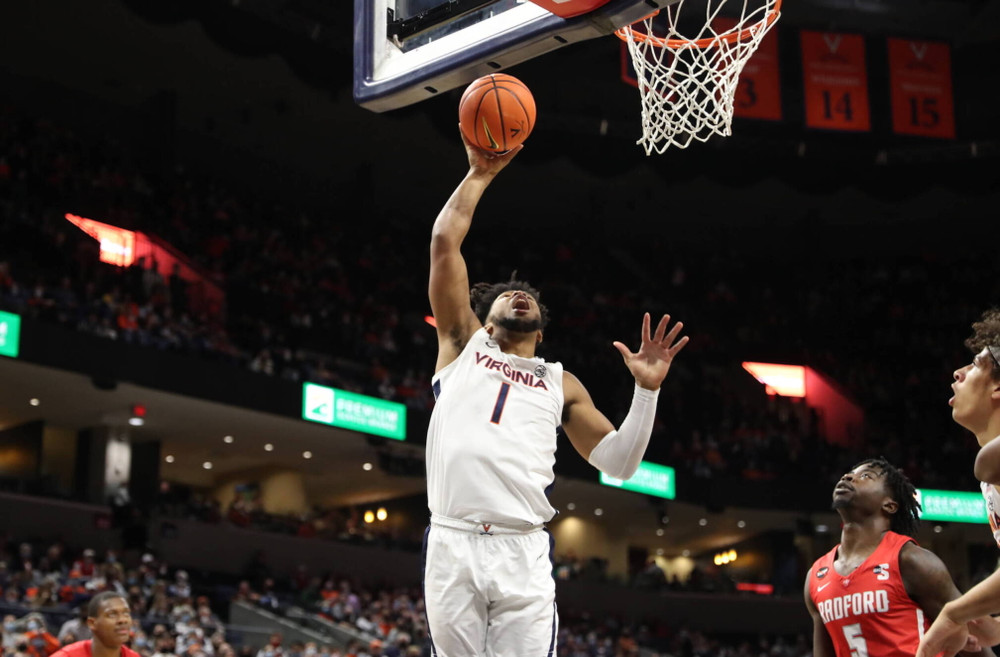 UP NEXT: The Hoos head to Houston for a marquee non-conference clash with the Cougars (2-0) at the Fertitta Center. ESPN will televise the game at 8 p.m. (Eastern) Tuesday.
The Cavaliers have split their six games with the Cougars. One of them was at the 1984 Final Four in Seattle, where Houston edged Virginia 49-47 in overtime in the NCAA semifinals.
In the teams' most recent meeting, UVA won 72-54 on Dec. 9, 1989, at University Hall.
The Cougars, whose head coach is Kelvin Sampson, are coming off a season in which they advanced to the Final Four. Houston lost in the semifinals to eventual NCAA champion Baylor.
"Coach Sampson does a terrific job," Bennett said, "and they're fierce on the offensive glass. They attack the glass, they play real hard defensively, and they challenge you in ways that you need to be challenged and grow from.
"And so we'll have to go in there and, as we say, lace him up tight and be ready to play and play our kind of game and see where we stand. This will be our first road game, and so we'll see where we're at."
Houston, which opened Tuesday with an overtime win over visiting Hofstra, routed Rice 79-46 at the Fertitta Center on Friday night.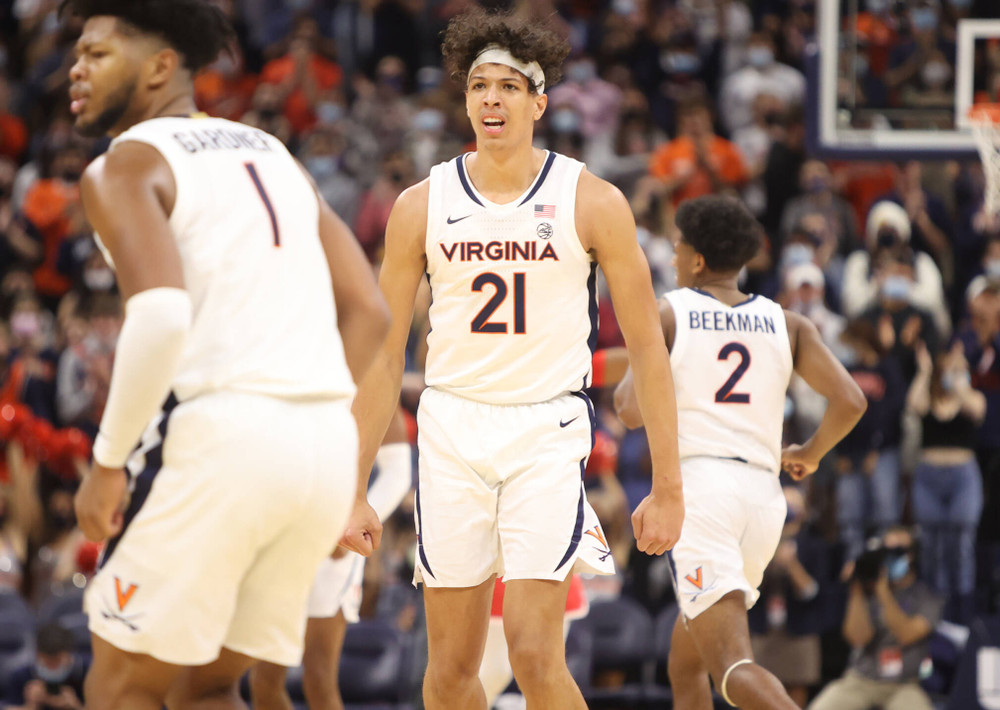 SOUND BITES: The crowd at JPJ included recruit Isaac McKneely, a high-scoring guard from West Virginia who signed with the Cavaliers on Wednesday. Among the postgame comments:
* Nichols on Franklin: "You don't want to define anybody by one game, and we saw what he was doing at Indiana, so we knew he was capable of having a big game, even though the Navy game he didn't play so well."
* Franklin on his transition to a new system: "That's what I came in for. I wanted to be thrown into the fire. There's some things that I could definitely improve on, defensively and offensively, more sureness, things like that, but I think I'm adjusting well. The guys around me who've been here, I look to them a lot for advice, and they're helping me out a lot."
* Bennett: "I thought the guys played hard against Navy. We just weren't sound in certain areas against Navy in that first half and some areas cost us, but I think they understand how hard they need to play to be competitive and be where they need to be, and I liked the effort level [against Radford]."
* Bennett: "We don't have any option but to practice hard and as well as we can. If we lose sight of that, then it's trouble, and that's my job as a coach and it's our players' job as players to lay everything  down, because there's no other option."
* Bennett on Radford's 11 offensive rebounds: "That's not the most comforting stat heading into what we're going to, but we'll have to work at it … It's a war on the glass, and that's what high-level basketball is about. It's played on the glass and, again, we're going to get a taste of that coming into the next couple practices and then obviously going to Houston."
* McCorkle on Bennett's message to him after the Navy game: "He just challenged me to have, I would say, grit. He uses the word grit a lot, passion."
* Franklin on facing Houston: "It [will show] what we're about early on and what we need to improve on going against teams that are experienced and are good teams. You can really gauge yourself against high-level competition. I think we live for that. We should live for that. We want this. We just gotta go out there and execute our game plans and fight and play as hard as we can."
To receive Jeff White's articles by email, click here and subscribe.