By Jeff White (jwhite@virginia.edu)
VirginiaSports.com
HOUSTON –– What seemed like a good idea in the spring––an early-season road test against an opponent that advanced to the Final Four last season––no longer looked as appealing to University of Virginia head coach Tony Bennett as his team's trip to this city approached.
The more he scouted the Houston Cougars, Bennett said, the more he realized "this is going to be tough. You know that. But, honestly, you've got to go through this stuff."
In front of a sellout crowd of 7,051 at the Fertitta Center and an ESPN audience, UVA never found its footing Tuesday night. No. 15 Houston scored the game's first eight points and rarely faltered in its 67-47 victory. Virginia never seriously threatened the Cougars.
"They're athletic, they're long, they have a lot of energy, and they give 100 percent," UVA center Francisco Caffaro said. "They did it all game."
Not since March 4, 2020, had the Wahoos scored fewer points in a game, and that was in a 46-44 win over ACC foe Miami.
The Hoos (1-2) struggled in every phase of the game Tuesday night. They shot only 34.9 percent from the floor and were especially inaccurate (21.1 percent) from 3-point range. The Cougars, meanwhile, shot 49 percent overall and 55 percent from beyond the arc, and they outrebounded Virginia 34-30.
What bothered Bennett most, though, was his team's carelessness with the ball, especially in the first 20 minutes. Virginia turned the ball over 12 times before halftime, and Houston (3-0) turned those mistakes into 14 points.
"We always talk about this," Bennett said, "and maybe it sounds like a broken record to our players, but before you can be competitive, you have to eliminate losing. And if you can't be sure with the ball and take care of it, it's going to be hard … They rattled us early."
The Cavaliers finished with 17 turnovers. The thrust of Bennett's postgame message to the team, swingman Kody Stattman said, was that "we need to look after the ball more. We struggled in the first half and even the second with taking care of the ball, and that led to them scoring a lot of points off our turnovers."
Those errors allowed the Cougars to pull away from Virginia, and their confidence seemed to grow with every shot they made.
"Even when we did play good defense and had a hand in their face, boom, they're hitting [3-pointers], even one off the glass," Bennett said.
The Cougars led by 13 at the break. UVA scored the first points of the second half, on two free throws by guard Armaan Franklin, but Houston responded with a 17-6 run to blow the game open.
"This was important for us to be in the setting and grow," Bennett said. "We lost [the opener] to Navy, played better against Radford, came in here and got our ears pinned back. And now we figure it out. That's all you can do."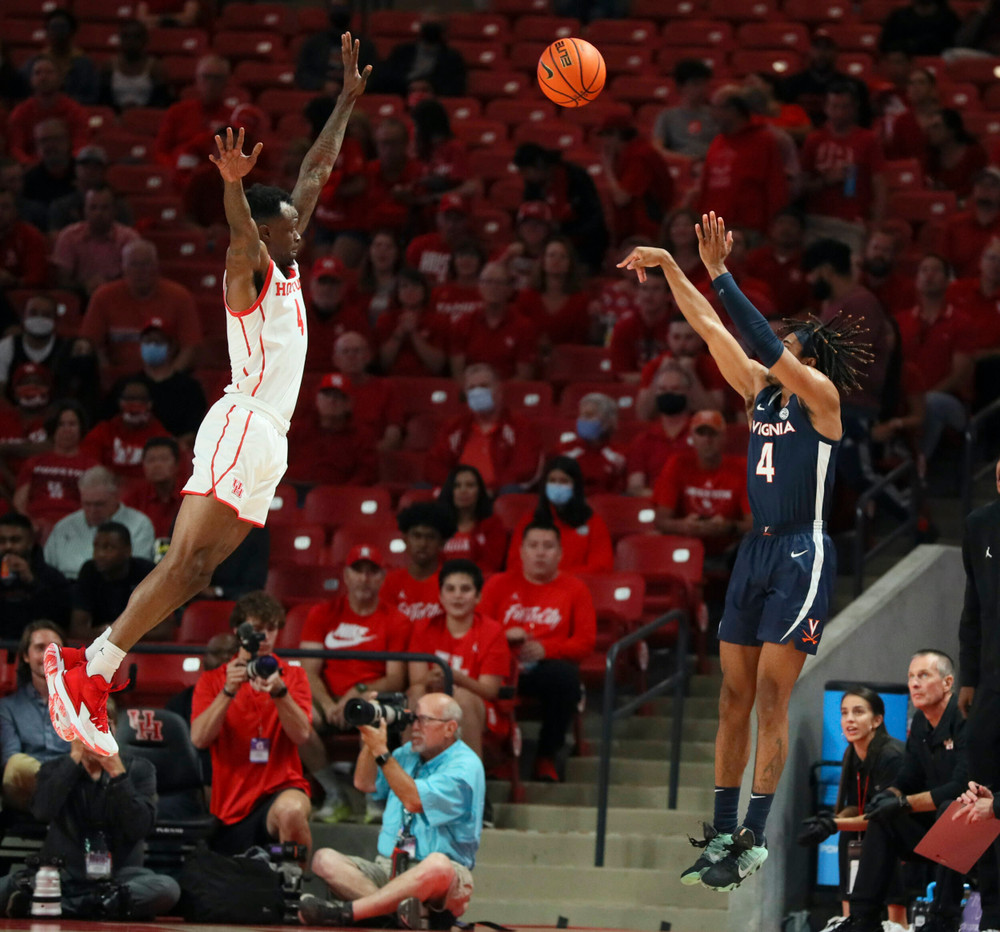 Houston has electrifying guards in Marcus Sasser and Kyler Edwards, and they combined for 37 points. Edwards hit a contested 3-pointer on the Cougars' first possession, and Sasser connected from long range on their second. Edwards finished 5 of 6 from beyond the arc, and Sasser was 4 for 7. It was that kind of night for the Cavaliers, who were also burned by 3-pointers in their loss to Navy.
UVA point guard Kihei Clark is an elite on-ball defender, but he's only 5-foot-10, and at times the Cougars' guards simply elevated and shot over him. But they were far from one-dimensional, especially Sasser, showing the ability to drive and create shots off the dribble as well.
"You could see that with Sasser in the first couple games," Bennett said. "It's ridiculous how quick he is. I thought at times we stayed in front of him well, but he could just create space and rise up, and then obviously they both could do that. And that was a problem for us."
COVID-19 protocols severely limited attendance at most college games last season, and not since 2019-20 had the Cavaliers played in such a hostile atmosphere. The home fans were in full voice from the opening tip, and the Cougars "got going really quickly, so the crowd stayed loud for most of the game," Stattmann said.
"They're a good team and they had a big crowd to go with it. So when they got rolling like that and the crowd's giving them all that energy, it is really hard to come back, and that's where our defense and looking after the ball comes in."
The victory was the Cougars' 28th straight at the Fertitta Center, where they haven't lost since Dec. 15, 2019. Houston's head coach is Kelvin Sampson, who like Bennett formerly held that position at Washington State. They caught up with each other for several minutes outside the media room at the Fertitta Center.
"I love how he prepares his team," Bennett said. "We value defense, and they're so tough and well-coached. And then those guys play with their quickness and their physicality and their maturity, you can see it, and those young men play hard, and I respect that. They're a very good team."
The Cavaliers are a team in transition. From the group that won the ACC regular-season title in 2020-21, UVA lost six of its top eight scorers. Its starters this season include Franklin and forward Jayden Gardner, who played for Indiana and East Carolina, respectively, in 2020-21.
"Look, we're a newer team," Bennett said. "We've got a ways to go, and I think it's important for us to be in this setting and now look at the areas we really have to address and hopefully move the needle and get better and better [at] taking care of the ball and handling things.
"Maybe we'll play some teams that are as good defensively [as the Cougars]. I don't know if we'll play many better than this, because they're special that way. But they're just good all around."
In his three seasons at East Carolina, Gardner faced Houston four times, averaging 18 points and 10.8 rebounds in those games. Two of them were in 2019-20, when Gardner averaged 25.0 points, 17.0 rebounds and 3.5 assists against the Cougars.
UVA could have used another big game from Gardner on Tuesday night, but he totaled only four points and two rebounds. Stattman made two treys and contributed eight points off the bench, but highlights were few and far between for the visitors. Franklin (11 points) was the only Cavalier to score in double figures.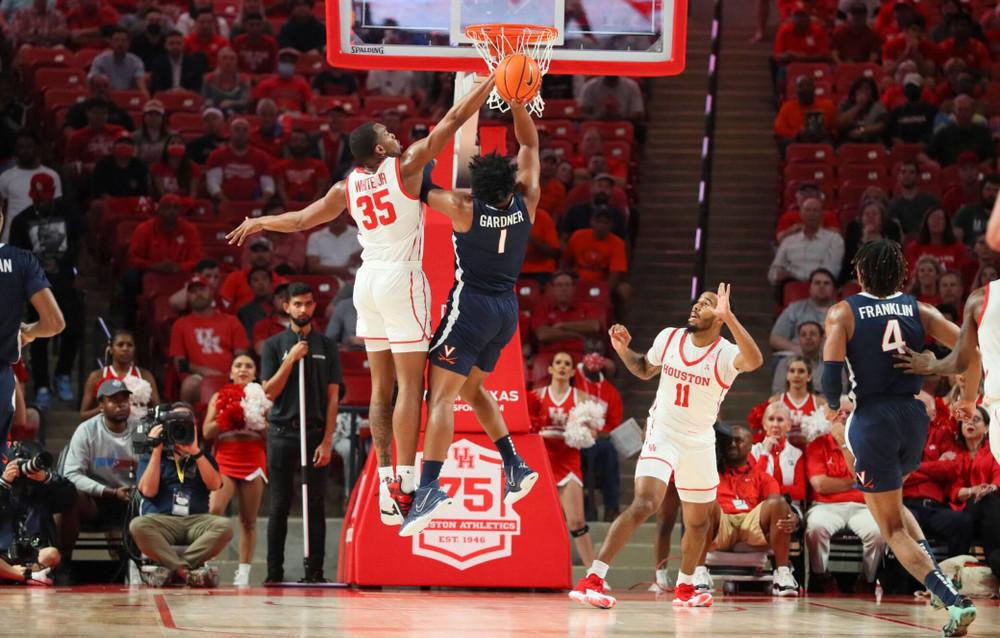 UP NEXT: The Hoos are back at John Paul Jones Arena, where they'll host Coppin State (0-5) at 7 p.m. Friday.
Coppin State, a member of the MEAC, is in its fifth season under former Maryland great Juan Dixon. The Eagles play their first home game Wednesday night when they meet Loyola (Md.) in Baltimore.
Virginia leads the series 2-0. In the teams' most recent meeting, UVA won 97-40 at JPJ on Nov. 16, 2018.
SOUND BITES: The game was the first between these programs since Dec. 9, 1989, when the Cavaliers defeated the Cougars 72-54 at University Hall. Among the postgame comments Tuesday night:
* Bennett on the Cougars: "A good team takes advantage of your breakdowns if you miss an assignment defensively or you turn it over, and I thought they capitalized pretty frequently on any breakdown we had."
* Bennett on UVA's defense: "I know we have to become a better defensive team. We've had some really good defensive teams, where you don't get many looks. We're not there yet. And I think that's built with continuity and over time, and I haven't seen the consistency one through five or all five guys connected on the floor … So that's the process that we're working on, and there's no easy button. We'll keep pushing."
* Caffaro: "Like Coach Bennett said, we have to have more sureness with the ball. We have to be more sound."
* Sampson on Houston's defense: "We take shooters away. You can't be democratic in your effort when you're guarding shooters. You have to have a purpose. You have to make shooters drivers."
To receive Jeff White's articles by email, click here and subscribe.