By Jeff White (jwhite@virginia.edu)
VirginiaSports.com
The tournaments that matter most won't take place until much later in the season, but the University of Virginia men's basketball team has an opportunity to collect a trophy Tuesday night.
In the championship game of the Legends Classic, UVA (3-2) meets Providence (5-0) at the Prudential Center in Newark, N.J. ESPN2 will televise the 7:30 game.
In the opening game of this four-team tournament, Virginia defeated Georgia 65-55 on Monday night. Providence followed with a 77-72 victory over previously undefeated Northwestern.
UVA is 4-3 all-time against Providence. In their most recent meeting, on Nov. 26, 2016, the Cavaliers defeated the Friars 63-52 in the championship game of the Emerald Coast Classic in Niceville, Fla.
Against Georgia, the Wahoos shot only 39.6 percent from the floor, but they took care of the ball and played stellar defense, two trademarks of head coach Tony Bennett's program. UVA finished with a season-low four turnovers and held the Bulldogs (2-3) to 21 second-half points.
Bennett said there were "still some errors, but that's closer to what it's going to take to be in games and hold in there."
His message to his team before the game, Bennett said on a postgame Zoom, was that "you're gonna make mistakes, you're gonna miss shots, there's gonna be things that happen, but just play with a spirit of competitiveness and a spirit of joy."
Armaan Franklin, who transferred from Indiana to UVA after the 2020-21 school year, scored a game-high 23 points. The 6-foot-4 guard made only 1 of 7 shots from 3-point range, but he was 7 for 9 inside the arc.
"I'm not worrying about the [3-pointers]," Franklin said. "Shots are going to fall, shots are not going to fall, but at the end of the day you can't just rely on now one thing. I think I'm able to get to the basket sometimes and also use the midrange as a weapon as well."
Franklin's previous high as a Cavalier was 21 points, and the 23 matched his highest output as a Hoosier. He also had six rebounds, three steals, two assists and one blocked shot Monday night.
"It's just all about helping my team," Franklin said. "Whatever they need me to do, I'll do. Some games it's not going to be like this, so you've always got to find different ways to impact the game."
First and foremost, Bennett said, he liked how Franklin "defended and rebounded … I think that was important."
Franklin said: "If you're not going to be playing defense here, you're not going to be on the court. So even though your offense is not going well sometimes, you always have to rely on the defensive end."
On offense, Franklin "got good looks and he shot the pull-up," Bennett said. "He got to the rim and he did show some completeness. And he's such a humble young man. All these guys are, and I want them to just play with freedom. He had a great look early, and he didn't take it. He said, 'I wanted to move the ball a little bit.' I said, 'That's OK, but when you're open in rhythm, green light, let it fly.' "
Bennett, who played for his father, Dick, at Green Bay, smiled. "I wish my coach would have said that to me when I was a player. My coach was really restrictive. It was really tough playing for him, and I try not to do that."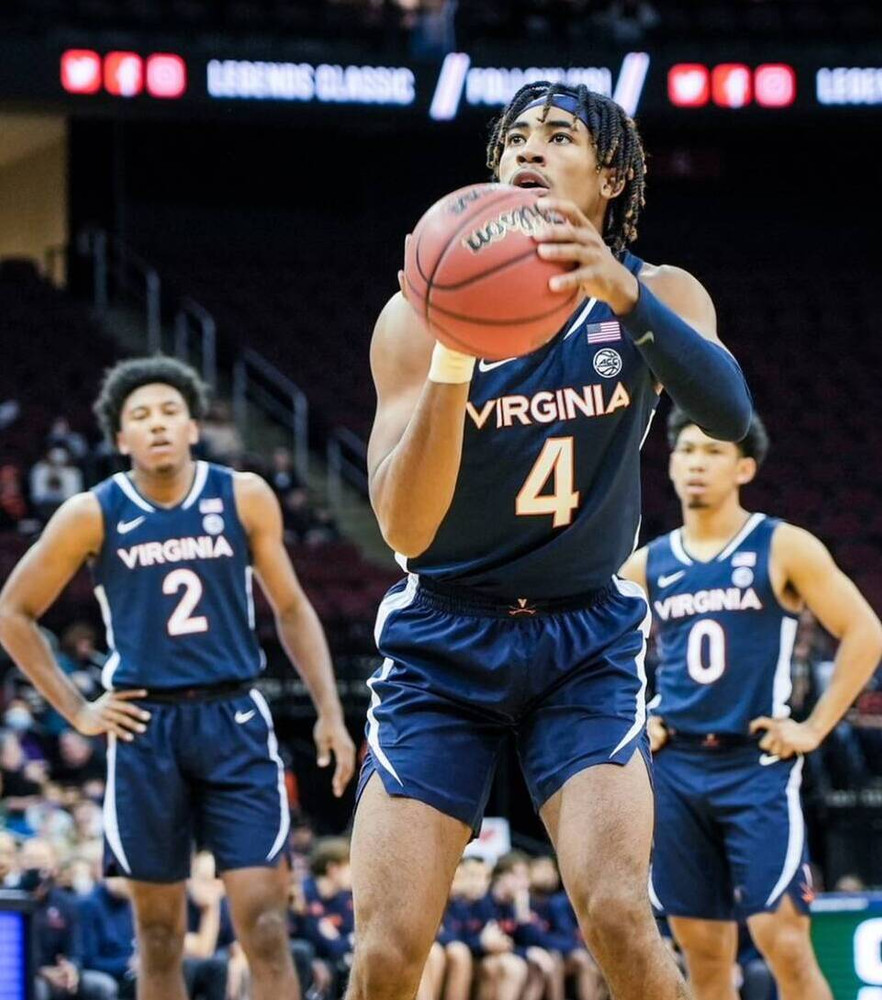 The Bulldogs are in their fourth season under Tom Crean, who previously coached at Indiana. Franklin is from Indianapolis, and Crean knows his game well.
"He's a fantastic player," said Crean, who tried to interest Franklin in Georgia after Franklin entered the transfer portal last spring.
Point guard Kihei Clark (12 points) and power forward Jayden Gardner (11) also scored in double figures for Virginia. Center Kadin Shedrick contributed only three points, but he grabbed seven rebounds and blocked four shots, both team highs.
"He's a little at times unsure when he gets [the ball]," Bennett said of the 6-foot-11 Shedrick. "We have that with some guys. They get to spots, and they're not comfortable taking a shot in rhythm and letting it come. I think that has to improve and has to come, and it will. This is just the experience you go through. but I want him to, when he has a good look at a baseline shot or a high-post jumper, in rhythm, take it. If he gets it in the lane, seven, eight feet away, rise up and, shoot that jump hook. He's got some things he can do [offensively]. It's just continuing to find himself but then not letting up in the other areas."
Virginia, which trailed 34-31 at the break, scored the first seven points of the second half. The Bulldogs, whose transfer-heavy lineup includes Jabri Abdur-Rahim, who played at UVA last season, battled back and led 44-42 with 10:20 to play. But the Cavaliers' defense tightened up and their offense started to click.
Sophomore guard Carson McCorkle provided a spark off the bench, hitting a 3-pointer with a 10:10 remaining, and Franklin scored eight points in the final six minutes to help the Hoos pull away.
"We had our ups and downs," Franklin said, "but I think all together down the stretch we kind of pulled together and got some stops."
For the Cavaliers, the victory was their second straight since a humbling road loss to unbeaten Houston, which is ranked No. 12 nationally.
"I think we have our moments, but we've still yet to put a full 40 [minutes] together," Franklin said. "We're going to have ups and downs, but just as long as we come together and make those key plays, I think we'll be all right. I think we took a big step today."
Abdur-Rahim, a 6-foot-8 forward, finished with four points. He was 1 for 6 from the floor overall and missed all three of his 3-point attempts.
"I wish Jabri was still with us," Bennett said. "I wish all the guys that transferred [after the 2020-21 school year] were still here, but that's just not the way things are. Jabri can really score and he can draw fouls, he can create, and he's a good young man, and I think he'll just get more and more comfortable and get better. And he has a mid-range game. He had so many shots that were in and out [Monday night], and he's got a scoring mentality and good size and he loves the game. I told our team two days ago, 'If Jabri has a big game, I'll be the first to shake his hand and say congratulations, and I hope it goes well for him.' "
To receive Jeff White's articles by email, click here and subscribe.