By Jeff White (jwhite@virginia.edu)
VirginiaSports.com
The names on the roster haven't changed, but the basketball team that will host Lehigh on John Paul Jones Arena on Friday night barely resembles the one that struggled through a nationally televised loss at the University of Houston on Nov. 16.
Since that 67-47 defeat, Virginia has won three straight games. The past two were in Newark, N.J., where UVA defeated Georgia and Providence to win the Legends Classic.
"I think you saw some guys grow up," head coach Tony Bennett said on a Zoom with media members Tuesday night.
The Cavaliers (4-2) opened the four-team tournament by grinding out a 65-55 win over Georgia on Monday night. Twenty-four later, UVA shut down Providence 58-40 in the championship game.
In the two games at the Prudential Center, power forward Jayden Gardner, a transfer from East Carolina, averaged 16 points and 9.5 rebounds. The 6-foot-6 Gardner was named the tournament's MVP.
Another newcomer, guard Armaan Franklin, a transfer from Indiana, averaged 18.5 points and represented UVA on the all-tournament team along with Gardner. Kadin Shedrick, a 6-foot-11 center whose sister plays softball for Providence, averaged 7.0 rebounds and 4.5 blocked shots in the two wins.
"He's so long, and his timing is good," Bennett said of Shedrick, who was limited to 11 games last season because of illness.
Those weren't the Cavaliers' only standouts Tuesday night. Sophomore guard Reece Beekman matched his career high with seven assists and added two blocks and a steal, and 7-foot-1 center Francisco Caffaro grabbed seven rebounds, equaling his career high, in 16 minutes off the bench. Senior point guard Kihei Clark, the team's most experienced player, contributed 10 points and five assists.
Gardner, a powerful 246-pounder, made 8 of 9 shots from the floor. He leads the Cavaliers in scoring this season (14.3 ppg) and is shooting 56 percent from the floor.
"I'm always trying to be assertive on the offensive end, because I know my team needs me to score," Gardner said. "But I just felt good, the looks that they were giving me, and my teammates always set me up: Reece, Kihei, Armaan, even the bigs sometimes. They were setting me up all night. I got great looks early, and it got me going."
This is Bennett's 13th season with the Cavaliers, and they've become fixtures in the NCAA tournament, which they won in 2018-19. Not often during his tenure has Bennett had to overhaul his roster, but Virginia lost six of its top eight scorers from the team that won the ACC regular-season title in 2020-21. Three of those players are NBA rookies this season.
"I've said it, and it's not an excuse, but this is probably the newest team that I've coached," Bennett said.
And that, not surprisingly, has resulted in some rough stretches for the Wahoos. They opened the season with a 66-58 loss to Navy at JPJ. Then, after collecting a home victory over Radford, UVA suffered a humbling loss to Houston at the Fertitta Center.
"I thought early in the year we were a team that could be real sound and tough defensively," Bennett said, "and then I second-guessed it maybe a little bit after the Navy game and in the Houston game, but now hopefully we can get it back on track."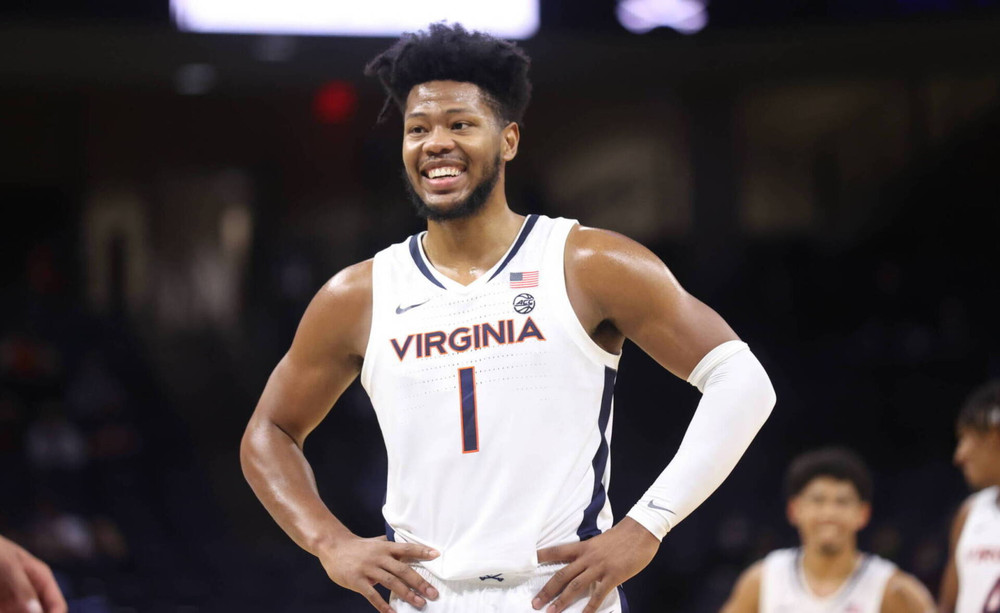 Georgia shot 37 percent from the floor against UVA's trademark Pack Line defense. Providence (5-1) didn't come close to matching that against the Cavaliers.
"They played their style, their brand, and I thought their brand wore us down early," Providence head coach Ed Cooley said.
The Friars made only 12 of 51 shots (23.5 percent) from the floor Tuesday night. Providence, 14 for 29 from 3-point range Monday night in its win over Northwestern, was 3 for 22 against Virginia.
"Honestly, that's one of the best defensive efforts I've seen in years," Cooley said.
The Cavaliers trapped when Providence had the ball in the post, they closed out well on the perimeter. The execution that was so lacking in Houston was apparent from the start Tuesday night.
"Everybody seemed like they were on point and connected," Bennett said, "and when your defense is connected like that and you got some guys who can really pressure the ball, it can be effective, and that's what I liked, especially early and really most of the game."
UVA led 30-15 at halftime. The Friars cut their deficit to 42-36 midway through the second half, after which the Cavaliers tightened up defensively. Providence made one field goal and two free throws in the final 10:40.
"Once we weathered the storm, I thought you could see it took its toll on them," Bennett said. "Even when they did get an open shot, they weren't close on those, and I hope that was because of the way we guarded and even moved them and that's a good feeling as a coach, I told the guys."
It's not easy to master the Pack Line, and Gardner, Franklin and freshmen Igor Miličić Jr. and Taine Murray have been in the program for less than six months. For every couple of steps forward, there's often a step back. Still, progress was clear in Newark.
"We're working at it every day in practice, the basics, the simple stuff and just learning how to play principles and playing in the Pack," Gardner sad, "and we're just playing together. And I thought we started out these last two games very locked in defensively and we came out to great starts. We've just got to keep that going in the second half, where we start to see a little dips."
Rare is the college basketball coach who does not stress the importance of defense. Not every team, however, devotes as much time in practice as UVA to that part of the game. Bennett is the son of the legendary coach Dick Bennett, who devised the Pack Line and who preached the defense had to be practiced every day.
"[There is] that saying: It's not what you teach, it's what you emphasize," Tony Bennett said. "We try to emphasize it and do a good job and make our deposits daily so that we get better and better. We still have improving to do. Today it looked good, but at times we get exploited. But we are coming in the right direction."
Bennett scheduled the game against Houston, which advanced to the Final Four last season, knowing it would be a challenge for his team. It was all of that and more, as the Cougars dominated from start to finish.
"They punched us in the mouth, as they say, and that was hard," Bennett said. "But we grew from it. Same thing with the Navy game, and you just keep stepping to it."
This marked the eighth straight season the Hoos have played in a November tournament. UVA has left with the championship trophy in seven of those seasons.
Now it's back to Charlottesville for the Cavaliers, who open a three-game homestand by hosting Lehigh (1-4) at 7 p.m. Friday. There's no place like JPJ for the Hoos, but the vocal contingent of fans wearing orange and blue at the Legends Classic made Bennett and Co. feel at home at the Prudential Center, too.
"Good turnout for the Virginia fans, and I love that," Bennett said. "I always appreciate that so much. Got to see some of our former players and parents of our former players. And so I just enjoyed that, and it was a good backing. And I think it was important for our guys to come out here and finish it off and play well against a solid team."
To receive Jeff White's articles by email, click here and subscribe.