By Jeff White (jwhite@virginia.edu)
VirginiaSports.com
CHARLOTTESVILLE – On the night when Tony Bennett won his 300th game as the University of Virginia's head men's basketball coach, he acknowledged his achievement when asked about it, but he was more interested in talking about Chris McGahren's milestone.
"I was so happy to get Chris in there at the end," Bennett said after UVA defeated Lehigh 61-43 at John Paul Jones Arena.
McGahren, a fourth-year student, is one of the Cavaliers' student-managers. He starred in hoops at nearby Western Albemarle High School, and each fall he's tried out for the team at UVA. He earned a uniform this season and got into a game for the first time Friday night, checking in with 1:49 to play.
"He gives and gives," Bennett said of McGahren. "He just works, and he's all about this experience in helping us. So he embodies the pillar of servanthood. We say the way to greatness is through serving others. He's one of the best."
As for his own accomplishment, Bennett said: "It always goes to the players you had and the staff that you had."
This is Bennett's 13th season at UVA, where he's compiled a 300-105 record, with numerous ACC titles and NCAA tournament appearances. In 2018-19, he led the Wahoos to the program's first NCAA championship.
"The chance to have been here as long as I have and the things that have happened and have transpired here are better than I deserve," Bennett said. "I know that and I'm grateful for just being here and getting to coach."
Only one coach has won more games with the Cavaliers. Terry Holland, who was in the crowd at JPJ on Friday night, posted a record of 326-173, with two Final Four appearances, in 16 seasons at Virginia.
"Coach Holland is a legend, and I love that man and what he's done for this institution," Bennett said.
For a half, it wasn't a given that Bennett would collect No. 300 on Friday night. At the break, the Cavaliers' lead was only four points. They blitzed the Mountain Hawks (1-5) after intermission, though, and won going away.
In the second half, Virginia (5-2) shot 59.3 percent from the floor and held Lehigh to 37-percent accuracy. For the game, the Mountains shot only 35.3 percent against the Cavaliers' Pack Line defense.
"That's their signature piece: playing defense," said Dr. Brett Reed, Lehigh's longtime head coach. "Tonight I felt like we played a little bit into their hands with some of our decision-making, because we were a little casual with the basketball. But you've got to give them credit."
In guards Kihei Clark and Reece Beekman, the Hoos have two elite on-ball defenders, and center Kadin Shedrick continues to rack up block shots. The 6-foot-11 Shedrick, who had three rejections Friday night, has had at least three in each of UVA's past six games.
"He's so long," Bennett said, "and he's starting to get a feel for timing, even better, and reading things."
Shedrick serves as something like "a safety [net]," Beekman said. "You kind of just have him in the back, just in case. You still have to do your part on the ball, but with him being back there blocking shots it helps us a lot."
The importance of rim protection can't be overstated, Bennett said, "especially in our defense, because we try to do the job on the ball, positionally. And then if there is a breakdown [but the shot gets blocked], that can be really a strong statement. That can bother an offensive team if you're right, when they don't get many opportunities. And then all of the sudden they do break [the defense] down but someone erases it. That can wear on a team's psyche."
Beekman has had at least two steals in five games this season. He had a game-high four against Lehigh and also scored a season-high 10 points. Two of those points came after the 6-foot-3 Beekman stole the ball and dribbled in for a breakaway slam that required significant hang time.
"Kihei, as good as he is with ball pressure, I knew I could get in the gap and take a gamble," Beekman said. "The ball was kind of just there, so I got the ball. I took off kind of far [from the basket], so I didn't know if it was really gonna be a layup or a dunk. I  happened to be able to just dunk it."
Beekman, who played his high school ball in Baton Rouge, La., is in his second year at UVA. Bennett knew No. 2 had the tools to become a stellar defender, but Beekman has exceeded expectations at that end of the court. When he's not coming up with steals, he's often deflecting passes.
"Some guys just have an innate ability," Bennett said. "He has that gift. Because that is a gift, you can't teach that … He's learning to use that like Kadin is learning to use his shot-blocking. Reece has that ability to just read situations and I guess anticipation is the best way to describe it, and it's at a high level."
Virginia's centers, Shedrick and 7-foot-1 Caffaro, combined for 16 points and 13 rebounds Friday night, and Clark had a game-high seven assists. Neither Jayden Gardner nor Armaan Franklin, transfers who led UVA to the Legends Classic championship in Newark, N.J., early in the week, had a big night offensively against Lehigh. But their teammates provided more than enough scoring, and Virginia's defense was locked in.
"Pack Line," Caffaro said, smiling. "That's what Tony does. That's what we do."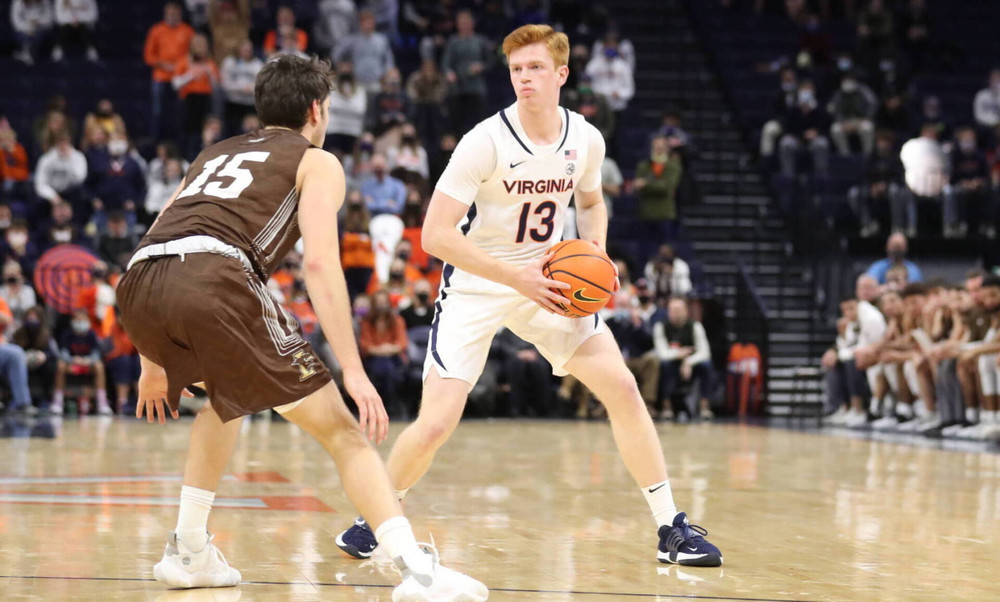 PROFESSIONAL DEVELOPMENT: Bennett, who compiled a 69-33 record in three seasons at Washington State before coming to UVA in the spring of 2009, says he's still growing as a coach.
"I told our guys, I'm hoping I'm becoming the coach I always want to be, where losses don't crush you and destroy you and wins don't consume you," Bennett said. "And I just challenged our guys, especially with this team. It's a challenge for me to coach them in the right way and celebrate when they're giving an all-out effort, when their attitude is at their best, no matter their role, because that's hard when you're not playing, and their effort is at a high level. And if they do that, and I can celebrate that, that's the culture I want."
Bennett said he wants his team to "play with great joy and great freedom and a competitive spirit that's undeniable and not be so consumed by outcome, because there are [going to be] some ups and downs."
UP NEXT: The Big Ten/ACC Challenge is coming to Charlottesville. At 7 p.m. Monday, UVA (5-2) hosts Iowa (6-0) at JPJ in a game to be shown on ESPN2.
Like the Cavaliers, Iowa won at home Friday night, routing Portland State 85-51.
The Hawkeyes lead the nation in scoring (97.2 ppg), and they're shooting 38.5 percent from 3-point range.
"Just another test for us," Beekman said. "We know that they have a very good offense, they're scoring a lot of points, and us being a defensive team, we're going to take pride in getting stops and just having an overall good game."
Asked about the Hawkeyes, Bennett said: "I know they're a very gifted offensive team and they're really good. All you can do is try to make those shots as contested as possible."
UVA is 1-2 all-time against Iowa. In the teams' most recent meeting, on Nov. 25, 2016, Virginia romped 74-41 in the semifinals of the Emerald Coast Classic in Niceville, Fla. UVA defeated Providence for the tournament title the next night.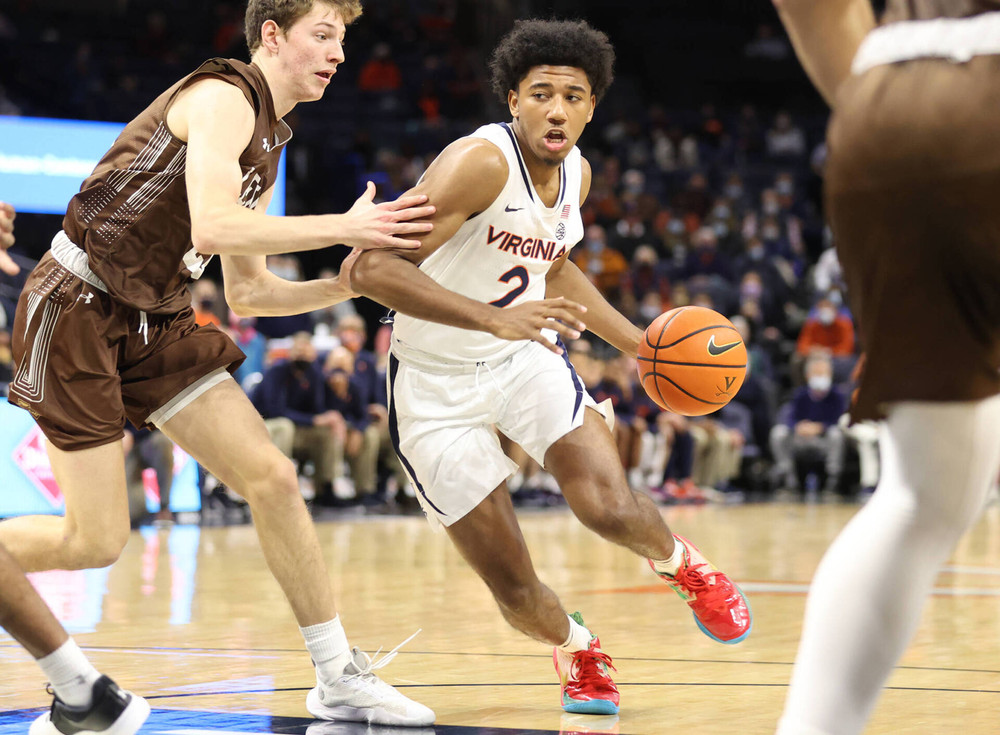 SOUND BITES: Virginia has won four straight games since losing Nov. 16 at Houston, which is ranked No. 12 in the latest Associated Press poll. Among the postgame comments Friday night:
* Reed on Bennett's 300th victory at UVA: "I'd rather see him get it against somebody else, but he's a high-character, high-class individual, and I couldn't be more happy for him. I think it's good for the game of college basketball to have somebody who's got a lot of the personal integrity and values that he seems to demonstrate. His teams seem to embody, and I think college basketball can celebrate somebody as good of a person as he is, having success on the court."
* Beekman on his defensive prowess: "Coming to UVA, it's definitely grown. I always took pride in my defense, but coming here definitely took my defense to another level. I think that's gonna help me later in basketball."
* Caffaro on his role off the bench: "I feel like my role has been what it always has been since I've been here: just provide physicality, get rebounds, just play hard, play smart, try to make the smart play. And, obviously, if I get it in the post, I can score, so I just go do that when I have the chance."
* Caffaro on the strides UVA has made defensively: "It's just getting more used to each other. We had new guys, Armaan and Jayden, that are literally pretty much our best players, and they weren't used to the system and stuff. So [it's a matter of] getting used to it and getting to know each other better."
To receive Jeff White's articles by email, click here and subscribe.