By Jeff White (jwhite@virginia.edu)
VirginiaSports.com
HARRISONBURG – When the final horn sounded, jubilant James Madison University students streamed out of the stands and flooded the court at the Atlantic Union Bank Center.
Many of those students had shown up 90 minutes before tipoff Tuesday night. They'd been in full voice throughout the game, and this celebration was their reward after JMU's first-ever victory over Virginia.
In front of the first sellout crowd at this 8,500-seat arena, which opened last season, the Cavaliers nearly pulled off a memorable comeback in a game that had six lead changes in the final four minutes. But the Dukes went ahead for good with 1:10 left, extended their lead on their next possession and, after UVA point guard Kihei Clark missed a long 3-point attempt with six seconds remaining, secured a 52-49 win.
UVA head coach Tony Bennett wasn't happy that his team lost, but he applauded the setting.
"What an atmosphere," Bennett said. "What a beautiful arena."
For the Wahoos, it was anything but a beautiful performance at the offensive end. They scored only 14 points in the first 20 minutes, their fewest in a half in 13 seasons under Bennett. Virginia went more than 12 minutes between field goals during one first-half stretch.
"It's happened to us a few times," Bennett said of his team's shooting woes.
After a first half in which they missed 13 of 14 shots from the 3-point range, the Hoos trailed by 10 points at the break, and their deficit grew to 13 early in the second half.
Virginia kept battling, though, and clawed its way back into the game. After JMU went up 44-35 with 6:39 left, the Hoos ran off 10 straight points to regain the lead they'd lost with 8:39 to play in the first half.
Urged on by its fans, JMU didn't fold. The Dukes scored on four of their last five possessions. Each of their final three field goals was well-contested.
"It stings when you take the lead and they come back and hit three tough shots," said Virginia forward Jayden Gardner, who finished with 12 points and 14 rebounds. "So it hurts … but you have to live with the outcome and you have to just keep getting better."
Virginia center Kadin Shedrick, who had eight points, five rebounds and three blocked shots, said: "I thought we played great defense in the last minute and a half, two minutes, however long it was. They made tough shots. Credit to them."
The Dukes improved to 8-2. The Cavaliers fell to 6-4 in what's been a trying season for a program accustomed to piling up victories.
"It's hard, but in a way it's good for these young men and all of us to go through," Bennett said. "You get humbled, and that's OK. You just keep coming together and keep working."
The Hoos shot only 38 percent overall Tuesday night. From 3-point range, they were much worse, making only 4 of 26 attempts (15.4 percent). Clark, a senior, hit three of those treys. His teammates were a combined 1 for 17 from beyond the arc.
"It was definitely frustrating," Shedrick said. "We'll keep shooting them, we'll keep working in practice to make sure we're knocking them down, but we're a work in progress. So as the season goes on, I expect we'll hit more shots."
JMU is in its second season under head coach Mark Byington, who was UVA's director of men's basketball operations in 2004-05. His staff includes Calvin Baker, who played for Bennett at Virginia.
The Colonial Athletic Association's coach of the year in 2020-21, Byington has a master's degree from UVA.
The Dukes are "just a good, tough team and he's got them playing hard," Bennett said. "They run good stuff, make contested shots. So I like what I see. I don't know him well, but I respect what I see. And I told him that after the game, 'You're doing a heck of a job with this program. Keep it up.' "
Few ACC teams would have scheduled this game, and Bennett joked afterward that he'd never play the Dukes again. But he knows that such match-ups are good for college basketball in this state, and he believes his players will benefit from the experience.
In pressure situations, Bennett said, "sometimes we get a little rushed and panicked at times, but you gotta be in these settings to figure it out. And, again, hopefully some of these lessons will stick, because we're going to need it as we continue to go into this competition. But to do it in this setting, it was really a special atmosphere. I've been a lot of good ones and [JMU fans] did the job. And I knew that. This was circled. This is a huge game against a good team. But I thought there was some composure down the stretch [from the Hoos], and we'll build on it."
For UVA, this was the third straight game that wasn't decided until the final minute. The Cavaliers lost 75-74 to Iowa in the Big Ten/ACC Challenge on Nov. 29 and then edged Pittsburgh 57-56 on Friday. Both of those games were at John Paul Jones Arena.
"They're all different experiences," said Gardner, who hit the game-winning shot against Pitt. "This was kind of similar to the comeback [against Iowa]. But we're a resilient group. We won't give up. Coach has instilled it in us, and we're gonna keep attacking."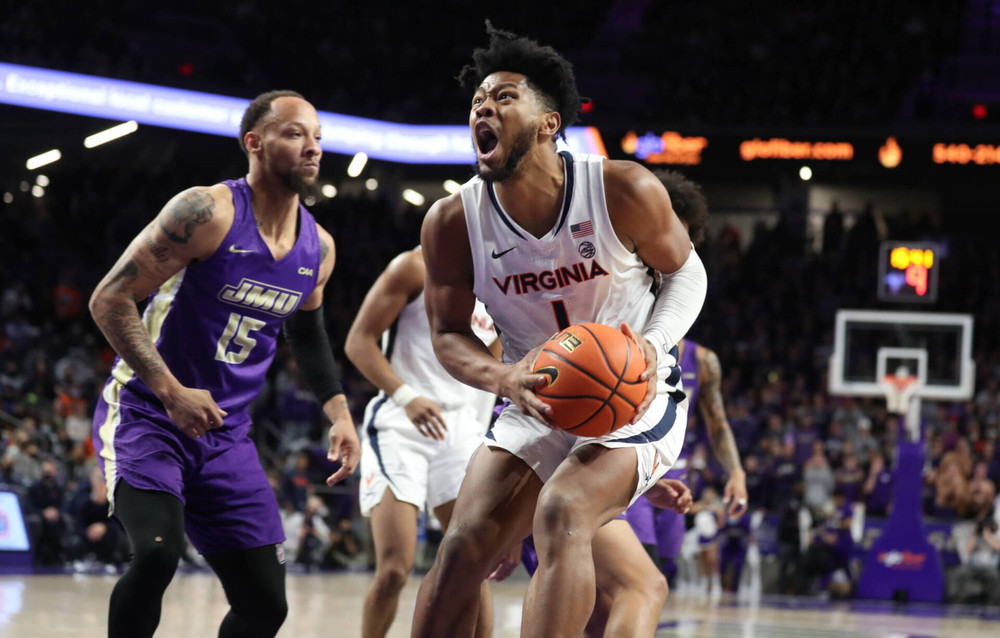 OFF THE MARK: From the team that won the ACC's regular-season title in 2020-21, Virginia lost its top three outside shooters (Sam Hauser, Jay Huff and Trey Murphy III). The Cavaliers shot 37.5 percent from 3-point range last season. They're at 30.2 percent this season.
"We knew coming in that would be a challenge," Bennett said, "and that's a concern, but all you do is you work on your shot. You make adjustments … That's something that has kind of been in the back of our mind all year, and it's kind of playing out at times when we've had hard games."
Of the Virginia players who have attempted at least 15 treys, only Clark (40.9) is shooting better than 33.3 percent this season. Sophomore guard Reece Beekman is 3 for 19 (15.8 percent), and junior guard Armaan Franklin is 11 for 54 (20.4 percent).
The 6-foot-4 Franklin is a transfer from Indiana, where he shot 40.9 percent from beyond the arc last season. Against JMU, he was 0 for 6 from 3-point range but contributed in other ways, totaling nine points, two rebounds, two assists and two steals. Twice in the final four minutes Franklin scored to put Virginia ahead by one.
"I thought he did some things besides missing some shots," Bennett said. "I thought he made a tough drive and he played as hard as he could."
STUDY BREAK: Final exams start Thursday and run through Dec. 17 at UVA. The Cavaliers don't play again until Saturday, Dec. 18, when they host Fairleigh Dickinson (0-8) at JPJ. The 2 p.m. game will air on ACC Network.
UVA and Fairleigh Dickinson have met only once in men's hoops. On Dec. 6, 1988, the Cavaliers defeated the Knights 88-61 at University Hall.
The Hoos return to ACC play on Dec. 22, when they meet Clemson in an 8 p.m. game at JPJ.
SOUND BITES: The Cavaliers were 11-0 all-time against the Dukes before Tuesday night. Among the postgame comments in Harrisonburg:
* Byington: "I'm glad our guys got the chance to experience this, and I'm glad our fans got to experience something like this, because we're trying to build something here."
* Bennett on Franklin's shooting slump: "I will encourage him, I will challenge him and the whole team, and we'll just keep staying together and be the best version of ourselves, as you hear often. That's all you can do in these spots."
* Bennett on Virginia's first-half struggles: "We were getting some open looks and couldn't make shots. We said, 'Try to touch the paint, try to throw it inside, try to be aggressive [in the second half]. If you have a shot, you take it, but be a little more attack-oriented touching it off the drive, off of post feeds and just fight like crazy defensively.' And they did that … And so we build on that and keep working to improve."
* Shedrick on the frenzied scene in JMU's arena: "I think it's probably the best atmosphere we've played on the road so far. It was a great atmosphere."
* Shedrick: "We've known since the beginning of season there's going to be ups and downs. We're a new team and haven't played together much. So we're just goning to keep working. Stay positive. And our goal is not to be our best right now, but to be our best at the end of the season. So that's definitely been the message in the locker room."
To receive Jeff White's articles by email, click here and subscribe.