By Jeff White (jwhite@virginia.edu)
VirginiaSports.com
CLEMSON, S.C. – There wasn't much of a crowd Tuesday night at Littlejohn Coliseum, but virtually all of the fans who showed up came hoping to see Clemson defeat Virginia for the second time in two weeks. The Cavaliers sent them home disappointed.
Much has changed for UVA since its 67-50 loss to Clemson on Dec. 22 at John Paul Jones Arena.  After a short holiday break, the Wahoos reconvened at JPJ and went back to work ahead of a stretch of three straight road games.
The first fell on New Year's Day, and Virginia defeated Syracuse 74-69 at the Carrier Dome. Three days later came the rematch with Clemson, and this one offered more evidence of the Wahoos' improvement.
Before an announced crowd of 5,202 at 9,000-seat Littlejohn Coliseum, Virginia prevailed 75-65 late Tuesday night.
"That's always a great feeling, especially to beat them at [their] home," said UVA forward Kody Stattmann, who contributed five points off the bench. "They probably feel a little bit more comfortable here, and it's always a great win when we beat them on the road."
The Hoos improved to 9-5 overall and 3-1 in the ACC. The Tigers (9-5, 1-2) hadn't played since winning in Charlottesville, "so perhaps they could have been rusty," Bennett said, "but that's a good second victory on the road, and we'll take it."
Bennett, who's in his 13th season at UVA, encouraged his players to embrace the opportunity to avenge a humbling defeat.
"I told them before the game, 'I know [the Tigers are] good and I know it's a challenge, but you gotta love this challenge. I think we're closer to where we need to be this time playing them than last time. We have the blueprint. Now, let's go out there and let's just see,' " Bennett said.
"And so to get the results and be a little more like a physical, sturdy Virginia team [was gratifying]. Offensively, of course, it helps when you're making shots. Defensively, we had some lapses, but you just keep knocking on that one. So I think it was closer to how we have to play to be good, and to have that result after they kind of took it to us at our place was exciting."
The game had 15 lead changes. The last one came with 6:51 remaining, when forward Jayden Gardner made two free throws to put the Hoos up 58-57.
From there, it was all Virginia. Back-to-back pullup jumpers by guard Armaan Franklin stretched the lead. Center Kadin Shedrick made both ends of a one-and-one, and then guard Kihei Clark, who'd supplied late-game heroics against Syracuse, delivered in the clutch again. Clark buried a 3-pointer that made it 67-59 with 4:04 remaining.
"No matter what the box score says, Kihei Clark is our most valuable player," said Gardner, a transfer from East Carolina who finished with a game-high 23 points.
Clark, a 5-foot-10 senior, totaled eight points, four rebounds and two assists, but, as Gardner noted, those statistics paint an incomplete picture.
In critical stages of close games, "plays need to be made, a big shot needs to be made, a big block or offensive rebound," Bennett said. "It kind of comes down to that. You try to be sound and run your system and your structured things, but it does come down to making plays, and that's in a lot of different ways. I thought [Clark] was really good against Syracuse and again tonight was very sound."
In its loss to Clemson at JPJ, UVA struggled in almost every area. Sophomore guard Reece Beekman scored a career-best 20 points, but otherwise it was a night to forget for the Hoos, who saw their 11-game winning streak in the series snapped. They turned the ball over 14 times, gave up eight offensive rebounds, and shot 21.7 percent from 3-point range. Clemson scored 24 points off turnovers, and its reserves outscored UVA's bench 17-0.
In the rematch, only one of Virginia's nine turnovers came in the second half. The Cavaliers scored 34 points in the paint, outrebounded the Tigers 28-23, and allowed only four second-chance points. Led by center Francisco Caffaro, who matched his season high with eight points, UVA's reserves outscored their Clemson counterparts 15-4.
"I feel like the first game against Clemson was a little rough all around," Caffaro said. "Reece obviously had a great game, but I feel like the rest of us didn't do a great job. But today I think we did a great job of responding to that and coming out ready. I feel like we responded against Syracuse, and we brought it back again today."
With 9:00 remaining, the 7-foot-1 Caffaro gathered in a pass from Gardner and threw down a thunderous one-handed dunk to put the Cavaliers ahead 56-54. Clemson took its final lead 53 seconds later on a 3-pointer by PJ Hall, but Caffaro's slam fueled Virginia's late-game surge.
"He can dunk the ball easy, but he never really does it," Stattmann said, "so when you see him throw down a big dunk like that, it's great to see."
Caffaro's dunk "really ignited the bench," Bennett said, "so that's important. We need it all."
On a night when Gardner was 9 for 10 from the line, Virginia made 21 of 24 free throws. Gardner, a chiseled 6-foot-6, 246-pounder, drew eight fouls on Clemson defenders.
"I'm a big, strong kid," Gardner said, "so I've got to be able to use my upper body to maneuver and get to the line.. My jump shot was falling tonight, so I'm able to keep the opposing teams at bay. So I just have to mix it up and pick my spots [as far as] when I can drive and be aggressive and when to just pull up."
Franklin, a 6-foot-4 transfer from Indiana, was 1 for 6 from 3-point range, but he shot well from inside the arc and finished with 13 points. He also had four rebounds and a game-high three steals.
"Everybody who played gave us lifts," Bennett said, "and we needed that."
Virginia's starting center, 6-foot-11 Kadin Shedrick, backed up his sterling performance against Syracuse with another strong showing. Foul trouble limited his effectiveness in the first half, but Shedrick finished with eight points and led the Hoos with six rebounds and four blocked shots Tuesday night.
Shedrick and Caffaro formed something of a "two-headed monster in that game," Bennett said. "They complemented each other well."
HEATING UP: The Cavaliers struggled offensively in many of their games in November and December, but they shot 52.6 percent from the floor against Syracuse and 54.3 percent against Clemson.
"It just comes down to defense," Clemson head coach Brad Brownell said. "Our defense wasn't good enough tonight. You can't give them 75. You're not gonna beat Virginia when they score 75. That number's gotta be in the low 60s and we just didn't do a good job. Give their kids credit. They played very well, executed very well and made shots."
For the season, Virginia is shooting 45.8 percent from the floor.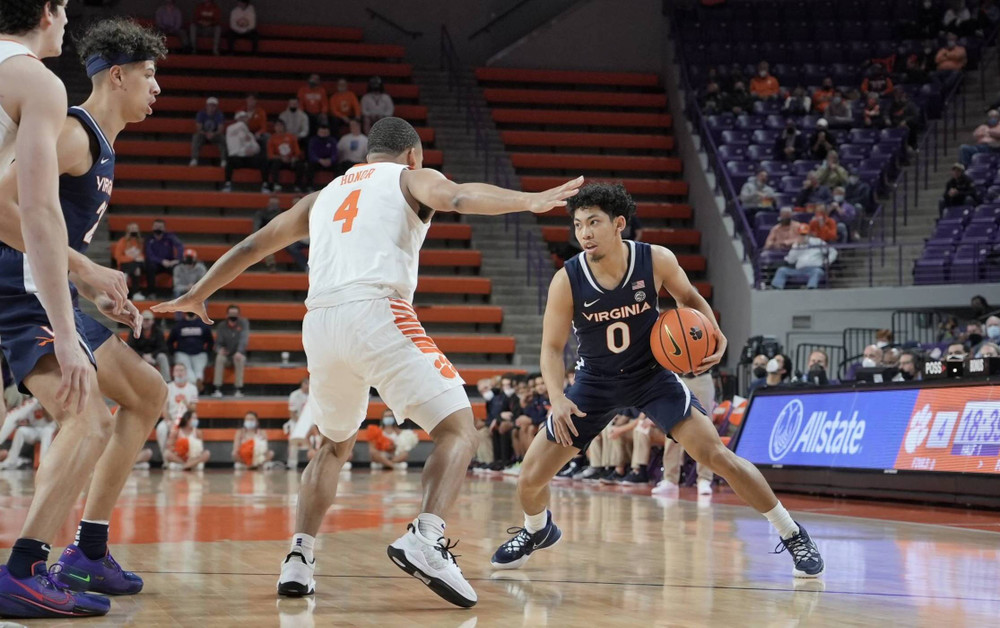 UP NEXT: The last of three straight road games for Virginia comes Saturday in Chapel Hill, N.C. At 1 p.m., in a game ESPN will televise, UVA meets North Carolina (10-3, 2-0) at the Dean E. Smith Center.
The Cavaliers have won seven straight over the Tar Heels.
UNC is in its first season under head coach Hubert Davis, one of the program's all-time greats. North Carolina plays Wednesday night at Notre Dame.
SOUND BITES: With the win, Bennett improved his all-time record against Clemson to 14-4. Among the postgame comments late Tuesday night at Littlejohn Coliseum:
* Brownell on the Cavaliers: "I thought they had tremendous juice. They run a cutting offense, motion screen stuff and I thought their kids cut extremely hard off the ball. They did a better job of executing their stuff in this game than they did the last game."
* Gardner: "Going over film from the first game, we just tried to re-evaluate everything that we didn't do as well as we could. We attacked those areas in practice, and we came out here and executed and we got the W, so that was a big win for us."
* Gardner: "Rolling off the Syracuse win, this team is starting to get some momentum heading into Chapel Hill this Saturday. We're starting to get back on track [with] the things that we do well, and we're addressing them. It's a long season, so we're going to be playing our best basketball come March. That's all that matters."
* Bennett: "We weren't perfect, but we played real hard, and it's so hard. You're fighting, the scale tips back and forth. You're trying to outlast and wear people down and play tough defensively and get good shots, and [the opponent is trying to do] the same."
* Bennett: "I shortened the rotation a little bit in the second half, and I know the guys were probably a little fatigued [late in the game] but that's just the way it goes. Who's gonna yield in that situation? I thought the guys hung tough, and it was a good balance of the offense and defense tonight."
* Bennett: "Every game is a battle for us; we're not going to overwhelm people. But at least the last two games we walked into some stuff where I think we forged a nice identity."
* Stattmann on UVA's turnaround: "We started a bit slow last year as well and the year before that. We know how good we are. We know how good we can be. It's just about doing all the things in practice and listening to what Coach has got to say and listening to the [scouting report before] every game."
* Caffaro on where his second-half dunk ranks among his all-time slams: "I watched it on film [in the locker room]. That one looked like the best one."
To receive Jeff White's articles by email, click here and subscribe.