By Jeff White (jwhite@virginia.edu)
VirginiaSports.com
CHARLOTTESVILLE – Amid the jubilation, there was also relief for the University of Virginia men's basketball team Wednesday night at John Paul Jones Arena.
Virginia Tech launched two shots from 3-point range in the final seconds. Had either one dropped, Virginia would have been staring at an excruciating loss. Both missed, however, and the Cavaliers collected a hard-earned 54-52 victory.
"That obviously could have gone either way," Virginia head coach Tony Bennett said.
It's not unusual for UVA to get the better of Tech in this sport. The Wahoos have won five of the past six games in a series they lead 96-57. Still, few would have scripted the storyline that unfolded late Wednesday night at JPJ.
Four nights earlier, in a one-sided loss to North Carolina in Chapel Hill, reserve center Francisco "Papi" Caffaro had contributed two points and zero rebounds in 19 minutes and 8 seconds. Against Virginia Tech, the 7-foot-1, 242-pound redshirt junior from Argentina played the game of his young life, totaling 16 points and nine rebounds, both career highs, in 30-plus minutes off the bench.
"I'm proud of him," said guard Armaan Franklin, who added 15 points for Virginia (10-6 overall, 4-2 ACC) in its first home game since Dec. 22.
"Papi really played well," Bennett said. "His physicality was significant, and he was on the glass and then got to the free-throw line when we needed it."
Caffaro, who came in averaging 3.2 points per game, was 5 for 7 from the floor and 6 for 10 from the line. Moreover, his rugged defense bothered the Hokies' best player, 6-foot-9 Keve Aluma, who turned the ball over twice in the final two minutes.
With starting center Kadin Shedrick in early foul trouble, Caffaro logged 15 minutes in the first half. He played so well that Bennett started him in the second half.
"The mindset is always the same," Caffaro said. "Going in, you got to play hard, you got to do your job. So that was pretty much it. You know how Coach is when somebody gets two early fouls: usually you don't play as much in the first half. So I was obviously ready. I always am ready. But today it was more minutes and I took advantage of it."
Virginia Tech head coach Mike Young acknowledged that he didn't expect such a big game from Caffaro. Young added, though, that No. 22 is "a good player. He's a big, physical young man, and take nothing away. He played really a good ball game."
This was a tense game with 13 lead changes, 10 of which came in the second half. Twice in the final five minutes the Hokies (8-7, 0-4) opened up a four-point lead, but Virginia conceded nothing. After Aluma's left-handed layup put Tech up 52-48 with 3:14 remaining, UVA didn't allow another point.
For much of the night, the Cavaliers opted not to double-team Aluma when the ball came to him down low, but they broke out their signature post-trap late in the game, and the Hokies struggled against it.
"Did Virginia stiffen up, did they play good defense?" said Young, whose team came in averaging 70.5 points per game. "They did. They really did. But I still thought we were able to do some things. I didn't think it was a matter of they just stumped us. I thought it was a matter of really good Virginia defense that just got the better of us in that particular stretch of the game."
The Hoos slowly chipped away at their deficit. With 3:01 left, Caffaro sank 1 of 2 free throws to make it 52-49. With 2:20 left, Caffaro scored inside off a nifty pass from forward Jayden Gardner to make it a one-point game, and the volume rose again inside JPJ.
Virginia went ahead to stay on Franklin's two free throws with 1:31 to play. After a Tech turnover––Aluma slipped and was called for traveling––point guard Kihei Clark went 1 for 2 from the line with 13.5 seconds to play to close out the scoring.
UVA was 3 for 13 from beyond the arc Wednesday night, with Clark, Franklin and sophomore guard Reece Beekman each making one trey. It's rare in this era for an ACC team to make only three 3-pointers and still prevail, but these Cavaliers lack the firepower of most Bennett-coached teams. They have to rely on defense and opportunistic offense.
"Though not maybe perfect or pretty, that's who we are," Bennett said. "And they took a step in the right direction to be as rugged as they could be on both ends of the floor. And both teams played their hearts out."
Aluma led all scorers with 22 points, but the Cavaliers' big men made him work for those baskets.
"He's such a difficult matchup for a number of people," Young said. "Caffaro and Shedrick did a good job with him and were very physical. I thought it was a little more physical than we're accustomed to, let's put it that way."
Guards Hunter Cattoor and Storm Murphy scored 10 points apiece for the Hokies, and each missed a 3-point attempt in the final five seconds. Murphy's shot came as time expired after an offensive rebound extended Tech's final possession. When the ball bounced off the front of the rim, the Hoos could finally exhale.
"It was such a hard-fought game," said Bennett, whose record against the Hokies is 17-7.
Against North Carolina, the Cavaliers were outrebounded 36-28 and gave up 14 second-chance points. They corrected those errors. UVA outrebounded Tech 31-29 and gave up only two second-chance points Wednesday night.
"It was so much better," Bennett said, "because that one got away from us in a couple of areas against North Carolina."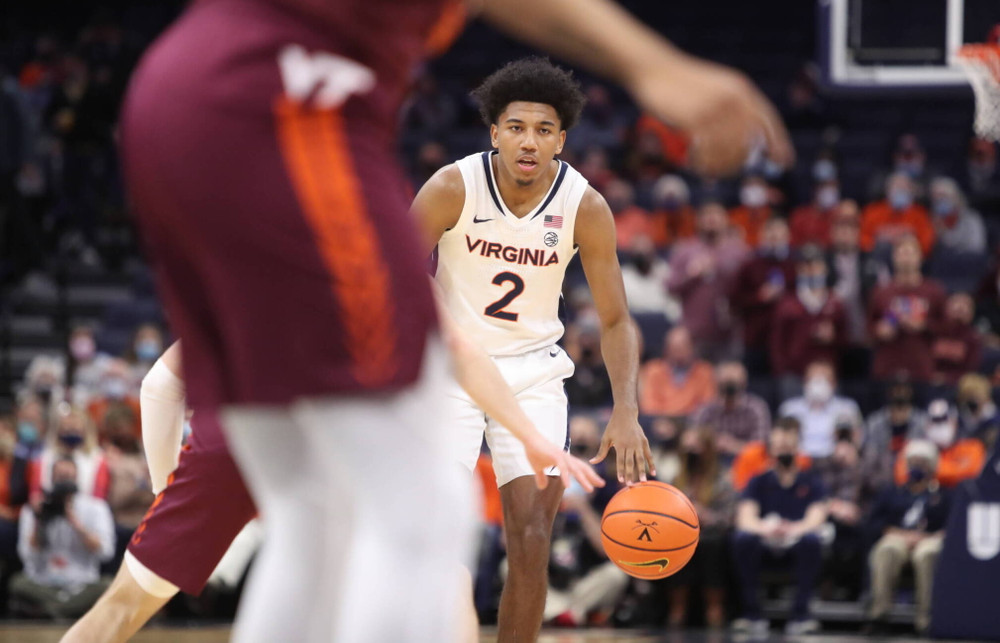 LITTLE BIT OF EVERYTHING: Beekman, a 6-foot-3 sophomore, finished with 11 points, a team-high five assists, five rebounds, two steals, one blocked shot and only one turnover in 38:10.
Against UNC, Beekman totaled 13 points, four assists, three rebounds and three steals. He leads the ACC in steals.
"I think the last handful of games Reece has really taken a step in the right direction, and I like what I'm seeing in that regard," Bennett said. "Again, he's got to just come ready to go at practice and keep doing it, but he's had some solid games."
Like Clark, Beekman excelled defensively Wednesday night, and "he's being a bit more aggressive offensively," Bennett said. "And I think his last four or five, six games, whatever, he's really trending in a good direction, and I hope he'll just keep staying assertive and keep working and knowing who he is."
MIXING IT UP: Franklin, a 6-foot-4 transfer from Indiana, was 1 for 4 from 3-point range Wednesday night. For the season, he's shooting only 22.4 percent from beyond the arc, but he's contributing in other ways.
Franklin was 4 for 7 from inside the arc and made all four of his free throws against Tech. He also had five rebounds and three assists.
"He's been attacking the elbows, getting to the lane, getting to the basket, made two big free throws," Bennett said. "He's moving hard, and you can't be defined by your shot. They were all good looks from 3. Made one, missed a couple, but I think he's improving his game too. You can see it. You say, 'Let's look at his 3-point percentage.' Forget that. He's impacting the game offensively well, and he's trying his guts out defensively."
Franklin said: "I'm trying not to be just a one-dimensional player."
UP NEXT: Virginia (10-6, 4-2) is back at JPJ on Saturday to take on Wake Forest (13-4, 3-3). Regional Sports Networks will televise the 4:30 p.m. game.
Wake lost at home to Duke on Wednesday night.
The Hoos have won nine straight over the Demon Deacons, who are in their second season under head coach Steve Forbes. Wake leads the series 70-69.
 In the teams' most recent meeting, Virginia won 70-61 at JPJ last January. Beekman scored 12 points, then a career high, and had five steals and three assists.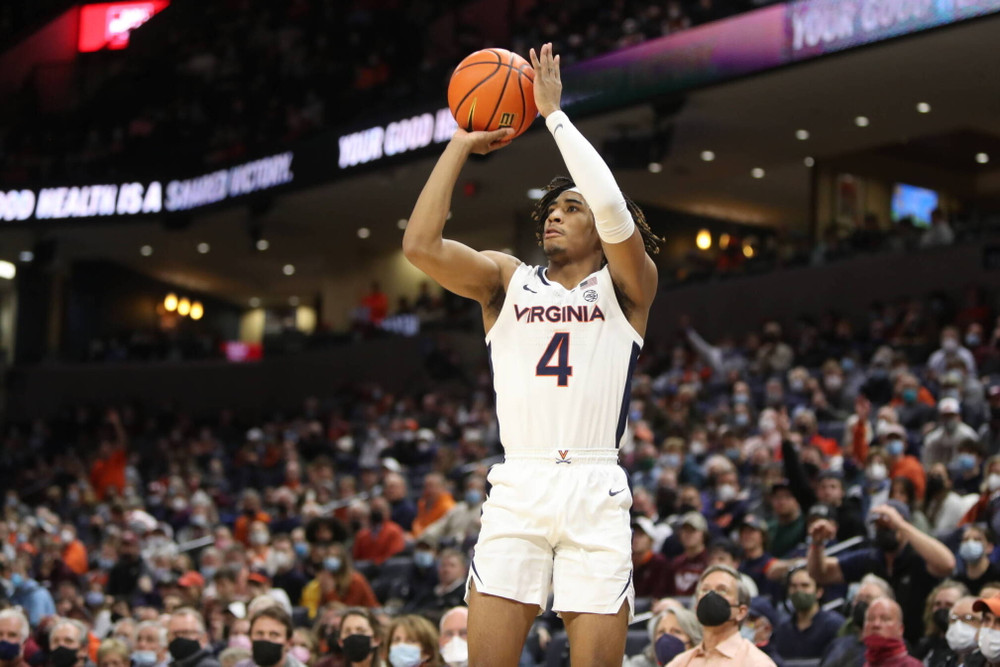 SOUND BITES: These longtime rivals will meet again Feb. 14 at Cassell Coliseum in Blacksburg. Among the postgame comments Wednesday night at JPJ:
* Bennett on his pregame message to his team: "I said, 'You guys are going to have to play as hard as you can, as long as you can, and as sound as you can tonight, the way they run their stuff.' Early, we had some breakdowns and then we tightened it up. They missed some shots and all that stuff, that's part of the game, but we played how we had to, to have a chance in this one."
* Young: "Two good teams going nose to nose."
* Bennett on the matchup: "We kind of mirrored each other."
* Bennett on Caffaro's growth as a player: "It always takes, I think, bigger guys a while, it just takes 'em longer [to get] the balance and the feel. He's had kind of an injury-prone time here. And this is really the first year that he's gotten somewhat consistent minutes. There have been some really good moments, there have been some hard moments, but I just try to keep encouraging him to stay after it. You can get after him, and he'll respond. Off the court, there's not a better guy. He's awesome that way. You've got to be able to sort of live with some of the mistakes and keep growing with these guys, because we don't have a ton of options [in the frontcourt]."
* Caffaro on his strategy against Aluma: "I tried to slide with him every time I could and just don't get lifted. He's a little shorter. So I knew I could bother him just staying down and putting my hands up."
* Young on Tech's 12 turnovers: "In such a low-possession game, to [turn it over] 12 times comes back to bite you. We didn't help ourselves there, and that's not typical of our team."
To receive Jeff White's articles by email, click here and subscribe.