By Jeff White (jwhite@virginia.edu)
VirginiaSports.com
CHARLOTTESVILLE – One or two steps forward, one step back. The pattern sometimes varies, but that's generally the way the season has gone for the University of Virginia men's basketball team.
After losing 63-55 to Wake Forest, the Cavaliers are 10-7 overall and 4-3 in the ACC.
UVA defeated Virginia Tech on Wednesday night and, for a stretch of the second half Saturday, appeared well-positioned to record a second straight win. With nine minutes to play, UVA led 47-40, and the fans at John Paul Jones Arena were in full voice.
Then came one of the extended scoring droughts that have plagued the Wahoos this season. The Demon Deacons ran off 13 straight points before UVA finally scored again with 3:38 to play.
The Hoos' defense struggled late too. The Deacons scored on 11 of their final 12 possessions before dribbling out the final seconds, and the Cavaliers' inability to secure defensive rebounds proved costly, as it had in their loss at North Carolina last weekend.
Wake (14-4, 4-3) scored eight second-chance points in the final 7:11.
After going ahead by seven, Virginia twice had opportunities to extend its lead, but "we weren't able to capitalize on the offensive end," guard Armaan Franklin said, "and at the defensive end they were getting offensive rebounds, and they ended up getting second-chance shots.
"You give a team those second-chance shots, they're going to fall. So we've just got to clean that up."
The Cavaliers have not shot well from 3-point range this season, but they were 5 for 13 from beyond the arc Saturday. Their problems arose closer to the basket, where they missed more than a dozen shots. Overall, Virginia was 16 for 45 (35.6 percent) on two-point attempts.
"I think [Wake] made some plays, and I thought we left a lot of baskets out there too," UVA head coach Tony Bennett said.
Center Francisco Caffaro, who sparkled against the Hokies on Wednesday night, was rewarded with his first start of the season Saturday. He wasn't able to replicate his heroics, going 2 of 9 from the floor against Wake. Power forward Jayden Gardner, who was 2 for 10 from the floor against Virginia Tech, was 3 for 14 against Wake.
"I think he's gotten some good looks," Bennett said of Gardner, who leads the Cavaliers in scoring (14.0 ppg) this season.
A transfer from East Carolina, the 6-foot-6 Gardner has had ups and downs in ACC play, where he's often facing taller defenders.
"We'll have to look at the film and see what if there's any adjustments we can make," Bennett said, "but it's not for a lack of effort, for sure."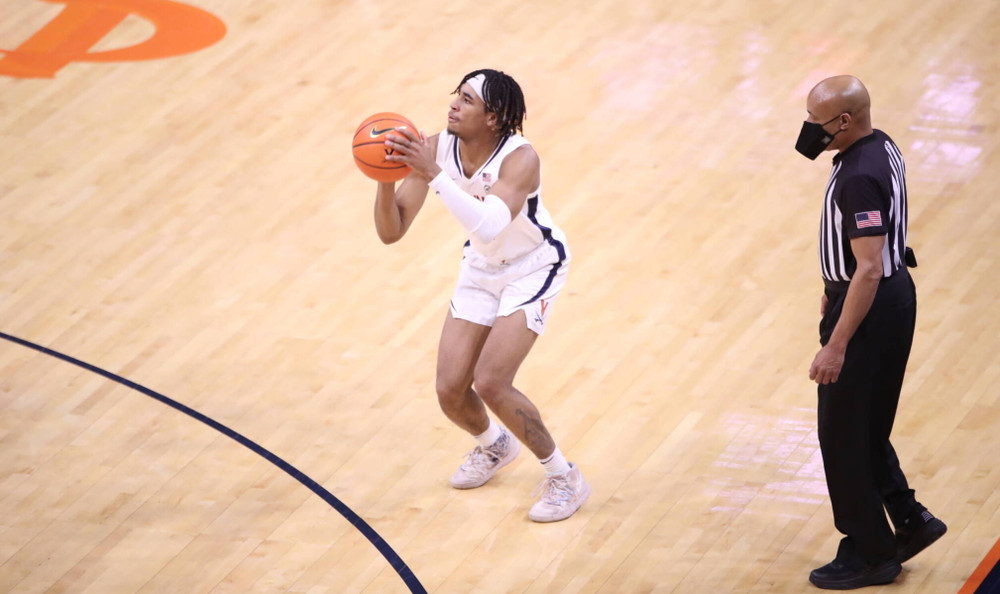 Franklin, a 6-foot-4 junior who transferred from Indiana to UVA last year, hit 3 of 5 shots from beyond the arc and finished with a game-high 18 points. Senior swingman Kody Stattmann matched his career high with 11 points. They were the only Cavaliers to score in double figures.
"I thought Armaan and Kody gave us a nice lift," Bennett said, "They did a good job moving and shooting and stretching [the defense] …  But you have to have a somewhat balanced attack."
Wake's roster is well-stocked with transfers, including Alondes Williams (Oklahoma), the ACC's leading scorer. Williams, hounded most of the game by UVA guard Reece Beekman, didn't score until the 1:39 mark of the first half. But he finished with 14 points, eight rebounds, four assists and one steal, as well as a game-high eight turnovers.
The 6-foot-5, 210-pound swingman took over late, scoring eight points in the final 5:21.
"Sometimes we trapped and sometimes we didn't," Bennett said. "We guarded him pretty well, didn't let him get his way. But then he got some key offensive rebounds. He had five offensive rebounds. And he's really explosive and quick off the floor, and then made a couple plays in the post, and that was significant … He's hard to handle one-on-one. At times we did a good job, but we didn't come up [with the rebound] when we got him to miss a shot."
Franklin said: "I feel like we did a good job of staying in front [of Williams], especially Reece, making it difficult for him to get easy looks. But I feel like at the end of the game, he really wanted to score and he's a very strong player. Getting downhill, using his body well, he was able to get some offensive boards as well."
On a night when foul trouble limited point guard Kihei Clark to 21 minutes and 55 seconds, Beekman capably directed the Cavaliers' offense. He tied his career high with seven assists and also contributed six points and five steals, with only two turnovers.
ON THE ROAD AGAIN: The Cavaliers won't play at JPJ again until Monday, Jan. 24, when they host Louisville in a 7 p.m. game ESPN will televise.
Virginia visits Pitt (7-10, 2-3) at 9 p.m. Wednesday and NC State (9-9, 2-5) at 4 p.m. next Saturday.
UVA has won seven straight over Pitt and leads the series 18-4. The Cavaliers opened ACC play last month with a 57-56 victory over the Panthers at JPJ. Virginia scored five points in the final 10 seconds––all by Gardner––to stun Pitt.
Gardner's final points came on an off-balance jumper that bounced several times after hitting the rim and then dropped through with nine-tenths of a second to play.
SOUND BITES: Virginia had won nine straight over Wake before Saturday. The Deacons, who are in their second season under head coach Steve Forbes, lead the series 71-69. Among the postgame comments Saturday:
* Forbes: "We've used this term a lot since I've come on board, but this probably has to be one of the grittiest, grimiest, toughest wins that we've had in my tenure and probably in a long time."
* Forbes on the attention Williams draws from opponents: "Alondes has seen the nickel defense, prevent defense, the 4-6, the 7-2, the 11-1. He's seen it all, and he's doing a great job."
* Bennett on the Deacons: "I thought we, for the most part, played pretty hard defensively, but they made some plays down the stretch and oftentimes, games come down [to that] … Coach Forbes does a really good job coaching them up. And again, their talent level has jumped up, for sure."
* Bennett on his approach with such an up-and-down team: "You spend a little more time and keep challenging, keep encouraging and keep knocking on that door, and hopefully, like I said, we'll get better and improve."
* Franklin on his performance: "I go into every game expecting to have a big game. I don't go in planning on missing any shot I take, but some games they fall, some games they don't. I guess today they fell."
* Franklin on Caffaro: "I thought he played hard. Like I said, some games shots are gonna fall, some games they won't."
* Stattmann, who went 2 for 4 on 3-pointers: "I've been shooting the ball a lot better at practice. I've been putting in a lot more work and I feel a lot better with my stroke. I think it just comes with more confidence I guess. Tonight, for example, I turned down a few that I probably should have shot, and I just need to keep working on my balance so I can get that shot off. But for sure, my confidence has risen a lot."
* Stattmann on Franklin, who came into the game shooting 22.4 percent from 3-point range: "We know he can shoot the ball, and he can do everything else on the court. He's a good defender, and we know he can shoot it. We just keep his head up and just keep making sure he takes those shots, and they'll fall, just like they did tonight."
To receive Jeff White's articles by email, click here and subscribe.