By Jeff White (jwhite@virginia.edu)
VirginiaSports.com
PITTSBURGH – Every time out, it seems, Reece Beekman shows us something new and expands his game a little more. A 6-foot-3 guard who played his high school ball in Baton Rouge, La., Beekman is in his second year at the University of Virginia, where his stature in head coach Tony Bennett's program continues to grow.
Eighteen games in, Beekman leads the Cavaliers in assists, steals and minutes played. He's tied for third in rebounding. He's not known as a prolific scorer––Beekman averages a modest 8.1 points per game––but he's shown growth on that front, too.
Against Pitt late Wednesday night, Beekman dazzled in Virginia's 66-61 victory. He scored 19 points––one shy of his career high––and added a career-best eight assists, three rebounds, two blocked shots and one steal. No. 2 matched his career high with three 3-pointers on a night when Virginia was 4 for 17 from beyond the arc.
That marked the third time in four games that Beekman has scored at least 11 points. For a team that lacks an abundance of offensive weapons, such contributions are especially welcome.
"It was great to see Reece step up like that," Virginia head coach Tony Bennett said.
When the Cavaliers defeated the Panthers at John Paul Jones Arena last month, Beekman recorded six assists but failed to score. He took full advantage of the opportunities Pitt gave him Wednesday night.
"He had a spectacular game," Panthers guard Jamarius Burton said. "We followed the scouting report, and he made us pay. That's what good players do at this level."
Beekman, who missed 15 of his first 17 shots from beyond the 3-point arc this season, has made 5 of his past 11 attempts.
His approach on offense hasn't changed significantly, Beekman said. "I've just been taking the shots I know I can make. My teammates believe in me, and my coaches [too], so I've just been playing. I know I've been working hard, so it's just finally showing."
As a freshman in 2020-21, Beekman started 20 games and helped the Wahoos win the ACC's regular-season title. Jayden Gardner was at East Carolina then, but it didn't take him long, after transferring to Virginia last June, to become a fan of No. 2 .
"Reece is a tremendous two-way player," said Gardner, who starts at power forward for the Cavaliers. "He's confident with his shot, he's got his 3-ball down, he can get to the paint, he's a great assist man, and he defends at an elite level at the other end … the sky's the limit for Reece, and he just continues to get better, as we see in ACC play."
For the Hoos (11-7 overall, 5-3 conference), the win was their eighth straight over the Panthers (7-11, 2-5). As was the case against Pitt last month at JPJ, however, this one did not come easily. Bennett never expected it to.
His father grew up in McKees Rocks, a few miles outside Pittsburgh, and Bennett still has relatives in the area. And so he spoke from experience when he told his team before the game what it would take to win at the Petersen Events Center.
"I said, 'We're in a blue-collar town where people, they're tough,' " Bennett recalled at his postgame press conference. "And I said, 'So you're going to have to come [ready to battle]. We always talk about that. We want to be that kind of team."
The Cavaliers needed an improbable rally in the final seconds to edge Pitt on Dec. 3. UVA has improved since that game, Bennett said, but so have the Panthers.
"So I knew they were going to try to go inside, attack off the dribble, and it was just going to be one of those games," Bennett said.
By the end of this ACC contest, both of Virginia's centers, Francisco Caffaro and Kadin Shedrick, had fouled out, and Gardner had four fouls. But the Cavaliers overcame that adversity to secure a hard-earned victory before a smattering of fans in the Panthers' 12,500-seat arena.
"It was a full game, a 40-minute game," Beekman said. "Our mindset coming in was outlasting them, and I feel like that's what we did. And it showed that we can just keep playing and playing and come out with the win."
Bennett said: "We weren't perfect, and we wobbled a little bit down the stretch, but we made enough plays, and I just thought it was a good team victory."
Gardner, the hero of UVA's win over Pitt last month, scored 14 points Wednesday night, the most he's had in a game since Jan. 1. He still leads the Cavaliers in scoring (14.0 ppg) this season.
"The ACC, you're going to have some ups and down, so I'm always up for the challenge," Gardner said.
Also in double figures for the Cavaliers was the 6-foot-11 Shedrick, who went 6 for 6 from the floor and matched his career high with 12 points.
"I thought he did a terrific job," Bennett said.
When Pitt went to a zone, Shedrick found gaps in the middle and twice made midrange jump shots. His final points come on a highlight-reel putback on which he reached out with his right hand to corral a miss by Gardner and re-directed the ball toward the basket. It dropped through to push the Cavaliers' lead to 58-49 with 5:04 remaining.
"Sometimes you just gotta try and hit it to the rim and hope it goes in," Shedrick said, laughing, "so that was one of those. I had to reach far for it. I didn't think I'd be able to tip it back or anything, so I just hit it forward and tried to put it in the best spot to go in, and it went in."
Shedrick started Virginia's first 16 games this season. But after the 7-foot-1 Caffaro had a career game Jan. 12 in UVA's win over Virginia Tech, Bennett inserted him in the starting lineup and moved Shedrick to the bench.
Regardless of which one starts, both Caffaro and Shedrick will play significant roles. "You're kind of like a two-headed monster," Bennett said he told Shedrick.
Caffaro totaled four points, five rebounds, one assist and one steal before fouling out, and Shedrick "really stepped up," Bennett said. "That tap was amazing, that putback."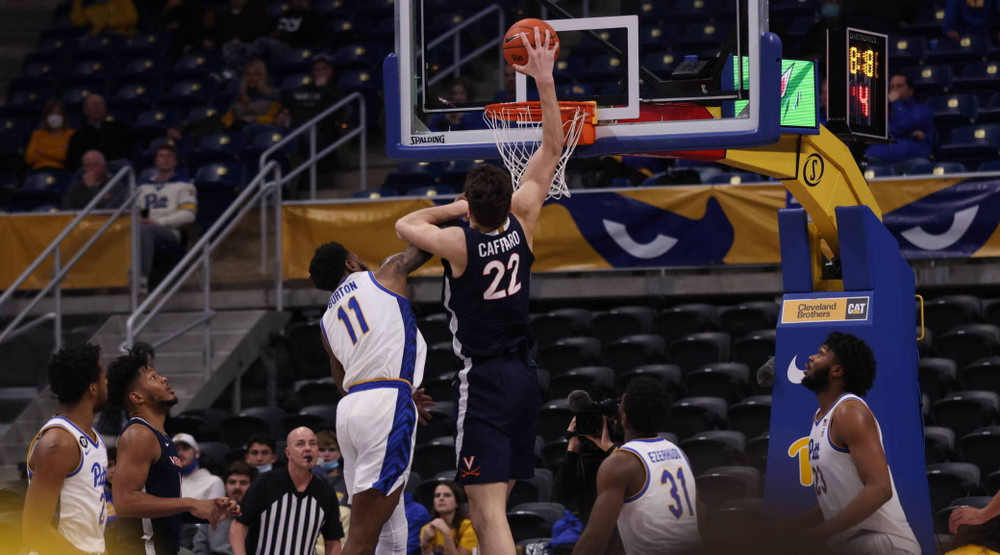 The Panthers' best player is John Hugley, a 6-foot-9, 280-pound sophomore who can overwhelm defenders down low. On a night when Virginia was called for a season-high 19 fouls, many of them came when Hugley had the ball.
"He's a very physical presence in there," Shedrick said, "so we had to bump him. We probably bumped him a bit too much. In the future we just have to play smarter, especially when we're going up against super physical guys like him."
Hugley finished with 23 points and seven rebounds, both game highs, but struggled against UVA's post traps. He turned the ball over seven times.
Caffaro is "physical too, and he did a really good job with his physicality," Bennett said. "We came at [Hugley] and trapped him when we could and tried to just take away any quality looks that he'd get."
After UVA opened up a 62-54 lead, Pitt answered with five straight points. Virginia then turned the ball over, giving the Panthers a chance to make things interesting in the final minute. Pitt's Mouhamadou Gueye missed a driving layup, however, and UVA guard Armaan Franklin pulled down the rebound.
At the other end, Beekman drove and passed to Franklin, who banked in a short shot to make it 64-59 with 26.9 seconds left. After another Pitt miss, UVA point guard Kihei Clark sank two free throws to make it 66-59 with 9.3 seconds to play.
"It was gritty," Bennett said of his team's performance. "We're not perfect, but I think guys are improving."
BACK TO TOBACCO ROAD: Virginia, which played North Carolina in Chapel Hill on Jan. 8, is scheduled to meet NC State (9-10, 2-6) in Raleigh on Saturday. The 4 p.m. game will air on ACC Network.
NC State lost 62-59 at home to Virginia Tech on Wednesday night.
UVA and NC State split their two regular-season meetings in 2020-21, each winning on the other's home court. The Wolfpack leads the series 84-68.
NC State's guards include junior Casey Morsell, who spent the 2019-20 and 2020-21 seasons at UVA. Morsell is averaging 7.3 points and 21.6 minutes per game.
Bennett's record against NC State as Virginia's head coach is 14-3.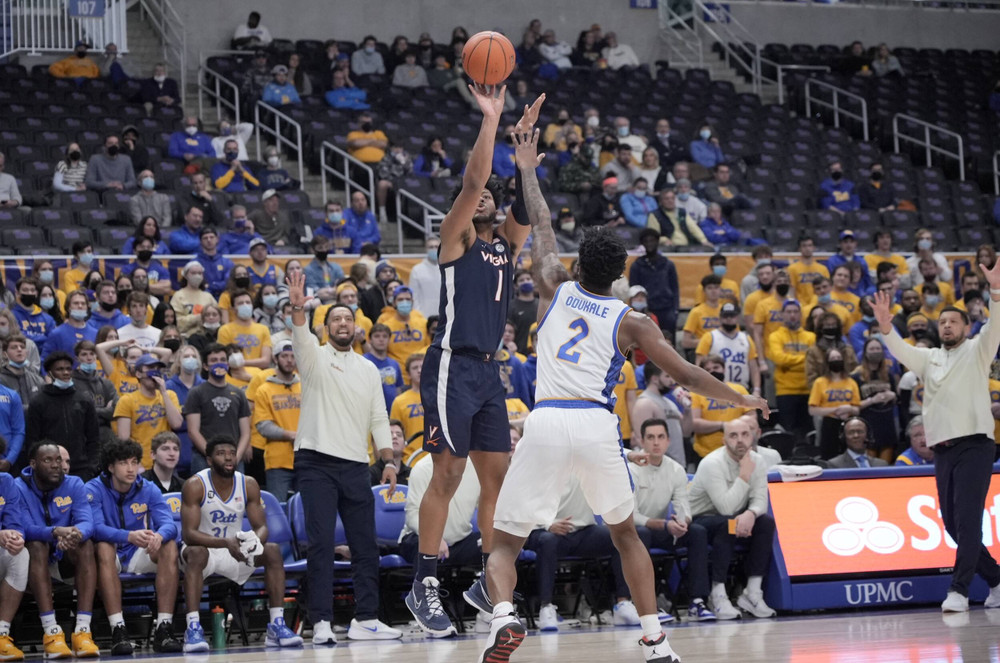 SOUND BITES: The Cavaliers extended their lead in this series to 19-4, and Bennett improved to 12-2 all-time against Pitt. Among the postgame comments late Wednesday night.
* Beekman: "[The win] just shows our toughness. It shows all the work we've been doing. I know Coach Bennett prides [his teams] on being tough and playing the whole 40 minutes, so when we do that, it shows that we're maturing and going the right way."
* Pitt's Burton: "Honestly, it just comes down to being the smarter and tougher team, and that's what [the Hoos] were today. They were smarter and they were tougher."
* Burton on UVA's Pack Line defense: "When you go against that type of defense, you're always going to see bodies. They're communicating and they're in the lane. You just gotta execute better and run your stuff with greater pace in order to get open shots, and when you get 'em, you gotta capitalize on 'em."
* Gardner on Bennett's pregame message: "He said in this type of environment and this type of game, it was gonna be a blue-collar game. So it was physical and they were putting their head down and driving, and Hugley was a load to contain tonight."
* Shedrick on his success against Pitt's zone: "I think I've always been able to shoot a little bit. It's more so about shooting at the right times, but I just felt that was the right time to be able to shoot. I've been working on the jumper right there a lot, especially on opportunistic shots. I felt like I was open, so I took it."
* Bennett on Beekman: "As he gets more comfortable, as he continues to keep improving and his shot gets stronger, his best basketball is in front of him. But he's been trending this way for the last number of games."
* Bennett: "I love that we got 11 offensive rebounds,. That's really important for us."
To receive Jeff White's articles by email, click here and subscribe.