By Jeff White (jwhite@virginia.edu)
VirginiaSports.com
CHARLOTTESVILLE – When he was about 10 years old, Armaan Franklin moved with his family to Indiana, a state whose passion for basketball has been well-documented. Franklin was already in love with the game. Before becoming a Hoosier, he'd lived with his mother and his two brothers in Houston, where his aunt Coquese Washington played for the WNBA's Comets.
"That's who I looked up to as a basketball player when I was growing up," Franklin said of his mother's younger sister.
Washington is now the associate head coach for the women's team at Notre Dame, her alma mater. She has fond memories of helping introduce Franklin to hoops.
"I would bring him to practice with me occasionally," Washington said, "and he would come to all the games. Matter of fact, he was afraid of Haley the Comet, the mascot. When Haley would come around him, he'd start crying and jumping and grabbing his mom."
Washington laughed. "He'll probably kill me if I tell you that."
Later, Franklin moved with his family to South Bend, Ind. His mother, India Franklin, worked in the women's basketball office at Notre Dame, where Washington was on the staff.
"Again, Armaan was at the gym, at the games," Washington said. "He had a love for basketball early on, and I think just being around me and being around the game so much definitely helped grow his love for the game."
Franklin, whose family settled in Indianapolis when he was 14, is in his first year at the University of Virginia, to which he transferred last spring from Indiana University. Like his roommate Jayden Gardner, a transfer from East Carolina, Franklin has started every game this season for UVA (11-7, 5-3), which plays ACC rival NC State (9-10, 2-6) at PNC Arena in Raleigh at 4 p.m. Saturday.
He has yet to duplicate the marksmanship he showed last season at Indiana, where Franklin shot 42.4 percent from 3-point range, but he's found other ways to contribute.
"You can't be defined by your shot," UVA head coach Tony Bennett said.
Franklin, who wears jersey No. 4, is second on the team in scoring (12.2 ppg), second in steals (1.2 per game), and third in assists (1.6 per game). He's shooting 59.2 percent inside the arc and 79.5 percent from the line.
Moreover, Virginia Tech head coach Mike Young said after his team's recent loss to the Cavaliers, Franklin is "really doing a nice job for them defensively."
Franklin said: "I know I'm not shooting the best [from outside] right now, but I'm glad that I've figured out other ways to get involved and be impactful for my team, even though my 3-ball is not going. Once I get that going, I'll be more of a complete player."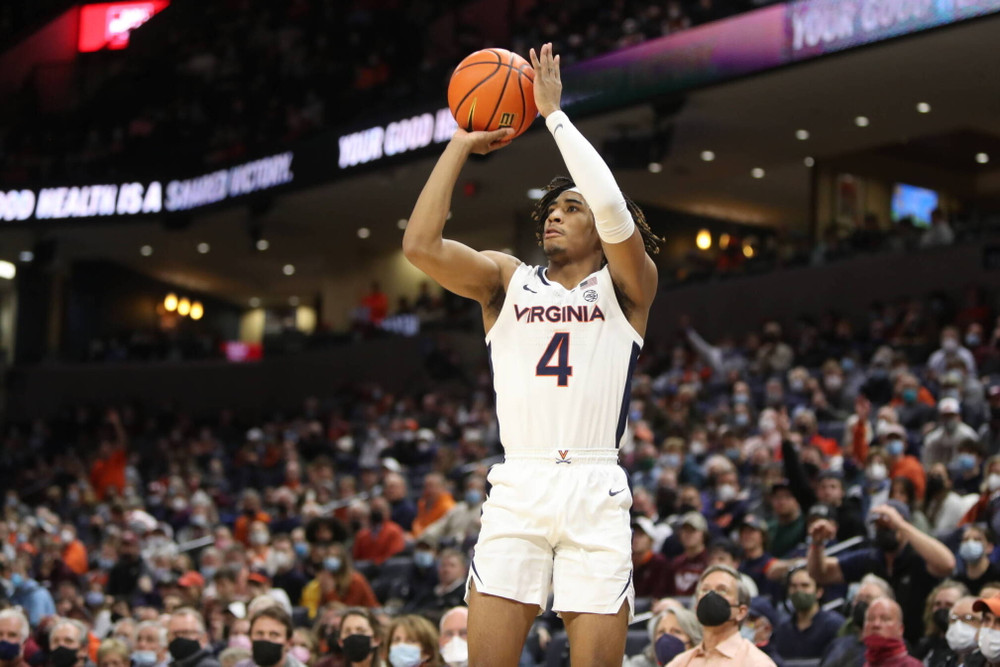 He'd scored at least 12 points in seven straight games before finishing with six Wednesday night at the Petersen Events Center in Pittsburgh. Franklin made one of the game's biggest shots, though, banking in a short jumper with 26.9 seconds left to all but seal Virginia's win over Pitt.
In his eight months at UVA, Franklin said, his game has expanded and progressed.
"I would say last year, my inside-the-arc game was probably not as efficient as it is right now," he said, "so I think that's a credit to being here and working on my game a lot. I'm just trying to improve that even more, and then my 3-ball is going to fall."
In Indianapolis, the hometown of former Virginia great Kyle Guy, Franklin attended Cathedral High, a Catholic school, and he averaged 23.8 points, 7.5 rebounds and 2.3 steals per game as a senior in 2018-19.
His brothers are former college athletes. One played football at Saint Francis (Pa.), and the other played basketball at Toledo. Franklin also played football and competed in track & field (high jump, long jump and hurdles) before deciding to concentrate on hoops.
On his way to becoming one of the state's biggest stars, Franklin learned valuable lessons. One moment sticks out to Washington.
"I want to say it was his sophomore year in high school," she said. "Early in the season, he came to me after one game and we were talking and he was kind of complaining a little bit, and he said, 'They don't throw me the ball enough, and when I'm open I don't get it.'
"He was just kind of being the typical athlete, and being the coach that I am, I just stopped him in his tracks and said, 'We're not going to do that.' I said, 'If you're on the court, you're responsible for your productivity. If they won't pass you the ball, rebound it and dribble it up yourself. Get a steal.' I said, 'You have to do something when you're out on the court. Coaches want to see you do something.' So I kind of got on him about that, and from that moment, we kind of adopted the notion of there are no excuses. You're responsible for your productivity, and he started writing DO SOMETHING on his shoes to remind him to do something during the game."
That phrase became a theme, Washington said. "Before the games I would text him, hash tag DO SOMETHING, and he'd send me a video [after the games]. He was like, 'I did something right there, Auntie.' "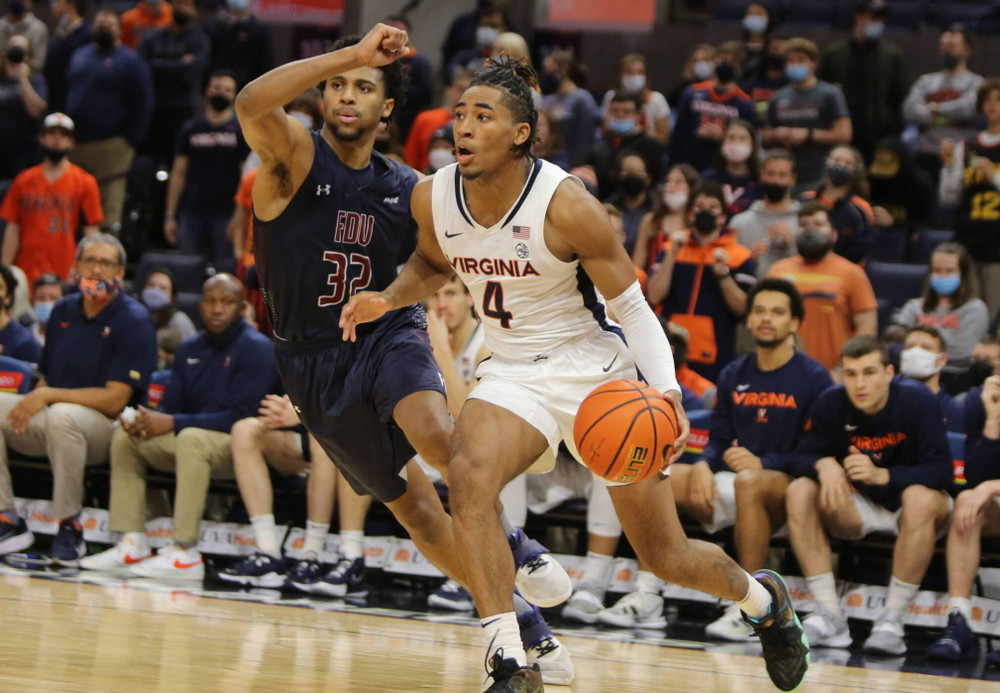 Franklin played AAU ball for MeanStreets, a Chicago-based program whose alumni include Derrick Rose, Eric Gordon and Anthony Davis. Scholarship offers from major-college programs followed for Franklin, and after his junior year at Cathedral he narrowed his college choices to Indiana and Purdue, fierce rivals in the Big Ten.
"There was a lot of pressure with that," Franklin said, and his commitment was a significant recruiting victory for the Hoosiers.
At Indiana, where he played for head coach Archie Miller, Franklin became a full-time starter last season and averaged 11.4 points, 4.1 rebounds, 2.1 assists and 1.2 steals per game. Indiana dismissed Miller on March 15, 2021, and Franklin entered the transfer portal about a week later.
He wasn't set on leaving Indiana, which hired Mike Woodson as Miller's successor in late March, but Franklin had heard from Bennett after entering the portal and was intrigued by what UVA had to offer.
"So I just went through that process," said Franklin, who committed to Virginia in early April. "I got to know them, they got to know me, and ultimately I just felt like this was the best place for me."
The Wahoos had not recruited him when he was in high school, Franklin said, but he was familiar with Guy's success in Bennett's program. A graduate of Lawrence Central High in Indianapolis, Guy helped Virginia capture the NCAA title in 2018-19. He now plays for the NBA's Miami Heat.
"Any person from Indianapolis knows what Kyle did at Virginia and how much he did for this program," Franklin said. "Seeing what he did pretty much opened up my mind to what I could do here."
His mother remains Franklin's biggest fan, but his aunt cheers hard for him too. During Notre Dame's fall break in October, Washington visited Charlottesville. She wanted to see Franklin, but she also wanted to watch a Bennett-run practice at John Paul Jones Arena.
"Tony is one of the best in the game, and certainly I wanted to pick up some nuggets, in particular on the defensive end, because they're renowned for being an extraordinary defensive team," said Washington, whose teammates on the Houston Comets included Tina Thompson, now the head women's coach at UVA.
"So it was kind of a two-for-one: I got to watch a great coach practice and then see Armaan as well and give him a little familial love while I was out there."
Franklin knew he would improve as a defender under Bennett, and that played a large role in his decision to transfer to UVA.
"That can only help you in the long run," Franklin said. "Every team needs defense at any level, so this also has made me a more complete player on both ends."
He doesn't want to be known as a one-dimensional player, but the 3-pointer has been one of Franklin's most effective weapons, and he's eager to return to form. He went 3 for 5 from beyond the arc last Saturday against Wake Forest, and he's confident more such performances are coming.
"At the end of the day, you know why they brought you here: because you can shoot the ball," Franklin said. "So you've just got to keep that back of your mind. Shots are gonna fall, shots are not gonna fall. But you know that when you're in a slump, you're not gonna get out of it by not shooting. So you just trust in your work and you trust that it's going to fall."
To receive Jeff White's articles by email, click here and subscribe.