By Jeff White (jwhite@virginia.edu)
VirginiaSports.com
CHARLOTTESVILLE – After capping a stretch of three games in six days with an emphatic victory at John Paul Jones Arena, the University of Virginia men's basketball team is getting a much-needed break.
The Cavaliers don't play again until Saturday, when they visit Notre Dame. For Virginia's coaches, the grind continues as they prepare for that road trip, but players get a couple of days off to rest and recover. When practice resumes, they'll look to build on one of their most complete performances of the season.
"There was some good Virginia basketball, I thought," head coach Tony Bennett said Monday night after his team's 64-52 win over Louisville. "Hard offense, tough defense, didn't give up easy looks, and for the most part, we were connected."
The Wahoos (12-8 overall, 6-4 ACC) were coming off a one-sided loss to NC State, which picked apart their Pack Line defense Saturday at PNC Arena in Raleigh. Bennett challenged his players to play better and play harder against Louisville (11-9, 5-5), and they responded from the opening tip Monday night.
Four minutes in, UVA was 4 for 4 from the floor and led 11-3.
"We really locked in mentally and we came and met his challenge," power forward Jayden Gardner said. "He wanted us to play hard and play with intensity and play Virginia basketball, and I think we did that tonight for 40 minutes."
For the Cardinals, who have lost five of their past six games, it was night to forget. They never led at JPJ, where they're 0-7 all-time.
"We're a team that needs to improve quickly," Louisville head coach Chris Mack said.
For the Cavaliers, who have not dropped back-to-back games this season, there was much to like. They led by 19 points with six minutes left in the first half and by 12 at intermission. When the Cardinals trimmed their deficit to four with 11:53 to play in the second half, Virginia answered with seven straight points.
The Hoos didn't shoot well from 3-point range (5 for 16), but they played with an edge defensively and kept Louisville off-balance with their ball movement.
Of Virginia's 24 field goals, 20 were assisted. Sophomore guard Reece Beekman led the Hoos with a career-high 11 assists, the most by an ACC player in a game this season. On a night when Beekman took only two shots, he also had seven rebounds and two steals.
"When you look at Reece's stat line, wow!" Bennett said.
The most experienced Cavalier, senior point guard Kihei Clark, celebrated his 23rd birthday by scoring a game-high 15 points and also had five rebounds and five assists. It was the first time since Virginia's Jan. 1 win over Syracuse that Clark has scored more than nine points.
"I think he felt a nice rhythm and was going with it," Bennett said. "He got good looks. But he needs to be assertive, find that sweet spot where he's distributing, taking good shots, but looking for good shots and aggressive. So that never changes, and I think that that just helped us a little bit."
Gardner (14 points), center Kadin Shedrick (11) and guard Armaan Franklin (10) also scored in double figures for the Cavaliers. Center Francisco "Papi" Caffaro contributed nine points and seven rebounds.
The Cards cut their deficit to five with 5:29 to play, but Virginia never buckled. Shedrick and Beekman teamed on a textbook pick-and-roll that ended with a thunderous dunk by Shedrick. On the Cavaliers' next possession, Gardner lobbed to Shedrick for another slam, and suddenly it was a nine-point game.
Louisville scored only three points in the final three minutes, and those came after Clark's third trey gave UVA a 64-49 lead.
"We really got after them," Gardner said. "They really couldn't get a really good shot off. We scrambled. We just played Virginia basketball tonight, so that was really exciting to see."
DYNAMIC DUO: For the game, Louisville shot only 37.5 percent from the floor, and its starting guards were a combined 2 for 12, in part because of the pressure applied by Beekman and Clark.
"I thought Kihei and Reece set the tone defensively for us tonight," Bennett said. "Even a couple of the shots [Louisville] hit were so well-contested."
Beekman, who leads the ACC in steals, has an "innate ability to anticipate and [deflect the] ball," Bennett said, and No. 2's command of the offense seems to grow with every passing game.
"He's continuing to improve and [he is] only a year and a half in, which is good, so he'll just keep getting better and better," Bennett said.
As with Clark, the box score doesn't always reflect Beekman's impact on the game.
"Reece is a true point guard," Gardner said. "He's always looking for his teammates and when he's able to get the shots, he takes 'em … So Reece affects the game many different ways, not just scoring the basketball."
The 5-foot-10 Clark is the only rotation player left from the UVA team that won the NCAA title in 2018-19.
"He's our guy," Shedrick said. "We go with Kihei. As he goes, we go, and he keeps us engaged and locked in, and he's our leader. He's been huge for us this season."
TWIN TOWERS: Caffaro and Shedrick have been splitting time at center, and Bennett also plays them together in stretches. He's called them the Cavaliers' "two-headed monster." Neither the 7-foot-1 Caffaro nor the 6-foot-11 Shedrick had a major role on the court before this season, and each continues to progress.
"You just keep encouraging those guys and tell them to just lay it on the line every practice, every game, "Bennett said, "and give them some tough love when it's needed and encouragement at times and have a look at the big picture."
Shedrick, one of the ACC's premier shot-blockers, bounced back from a shaky first half Monday night. In the final 20 minutes, he was 3 for 4 from the floor and scored eight points.
"The first half, he did some good things," Bennett said, "but he got a little out of sorts, and then he really responded in the second half … If you look at him, you just see youth and at times inexperience and some rawness, and then he's starting to piece it together … I thought he was one of the bright spots in the NC State game, too, the way he played."
Caffaro made his presence felt Monday night, too. Since collecting no rebounds in 19 minutes off the bench Jan. 8 against North Carolina, the 7-foot-1 Caffaro has averaged seven boards per game.
"We need his physicality," Bennett said.
A sore neck slowed Caffaro against Louisville, but "he battled through it," Bennett said.  "We need his ability to rebound in a crowd, to go up and do that, defensively and offensively. And so that's really important. Kadin's getting better at that. Sometimes it's just mass and strength and balance, and that will come again with Kadin, but I like it when guys can go up and they're strong … and they snatch [the rebound]."
UP NEXT: Virginia (12-8, 6-4) plays Saturday at Notre Dame (12-6, 5-2) at Purcell Pavilion. The 6 p.m. game will air on ACC Network.
The Cavaliers have won six straight over the Fighting Irish and lead the series 16-2.
Notre Dame, which is coming off a road win over Louisville, hosts NC State at 9 p.m. Wednesday.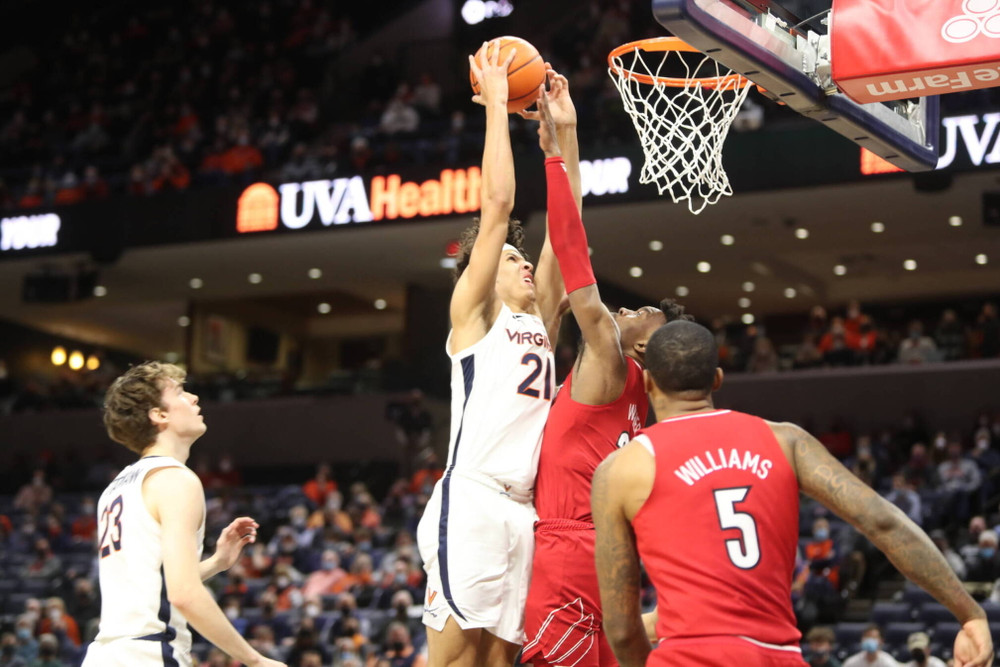 SOUND BITES: The victory was Virginia's 12th in its past 13 games with Louisville. The Hoos lead the series 18-5. Among the postgame comments Monday night:
* Bennett: "Kihei got us off to a good start, and there was a nice synergy in terms of how they played and were connected in that way. So that was good, and then they paired it with really good defense, with good ball pressure. They responded the right way from not one of our better defensive performances."
* Mack: "I'm proud of our guys for continuing to fight, but we could never get over the hump; I think we cut [UVA's lead] to four or five a few times. We had a couple open looks from guys that we want shooting open looks, and if those go down maybe it becomes a little bit more game pressure on Virginia."
* Bennett on Clark's career: "He's had a great movie. He had a great early part of his movie of his career [and] you want it to end well. You want it to end well with how your approach is, how you lead, how you encourage, regardless of wins and losses. You don't want to have a great movie to watch and then the ending is bad and you're like, 'That wasn't a very good movie.' And so I'm not gonna let him do that, nor will he. He's got to keep leading and keep being as engaged and energetic and as fiery and competitive as he's been."
* Gardner on UVA's 20 assists: "I think it's really contagious when you have that unselfishness that this team has. We don't care who scores the points; we just want to win. And then when you add that with our defense, it's really a sight to see."
* Shedrick on playing with Caffaro: "I think Papi's a fantastic player, and I think that he brings the physicality that I can't always bring. He matches up real well with the super strong guys, and even being able to play together with him, I think that's been really good for us in stretches. I've enjoyed playing with Papi, and I hope that we continue to play how we've been playing together."
* Shedrick on Beekman: "He's a phenomenal facilitator. He knows where the open guy is. He's a great passer. He can do it all. He's a special player."
To receive Jeff White's articles by email, click here and subscribe.