LOUISVILLE, Ky. — For the second straight game, the University of Virginia men's basketball team held a late lead. This time there was no last-second drama.
In the regular-season finale for both teams Saturday afternoon, UVA defeated Louisville 71-61 at the KFC Yum! Center. The victory clinched the No. 6 seed in the ACC tournament for the Cavaliers (18-12, 12-8), who'll have a first-round bye in Brooklyn, N.Y.
Virginia will meet the No. 11 or No. 14 seed in a second-round game at 9:30 p.m. Wednesday at the Barclays Center.
For the Wahoos, their game at Louisville came one week after they lost 64-63 to Florida State on a buzzer-beating 3-pointer.
Virginia led FSU by nine with 2:19 to play at John Paul Jones Arena. The Cavaliers led by 19 at the half Saturday and by 17 with seven minutes remaining. The Cardinals (12-18, 6-14) rallied, however, and trailed by only seven with three minutes to play.
UVA head coach Tony Bennett wasn't sure how his team would respond, but he liked what he saw. Sophomore Reece Beekman's third 3-pointer made it 69-59 with 2:50 to play, and the Cards didn't seriously challenge the rest of the way.
"Yes, they missed a couple easy ones, but we didn't buckle this time, Bennett said. "We stayed tough, and that's what it's about. That's the difference: making some plays."
Beekman turned in a spectacular performance Saturday, totaling 15 points, a career-high 12 rebounds, five assists, five steals and one blocked shot. The double-double was the first of his college career.
"That's quite a stat line," Bennett said.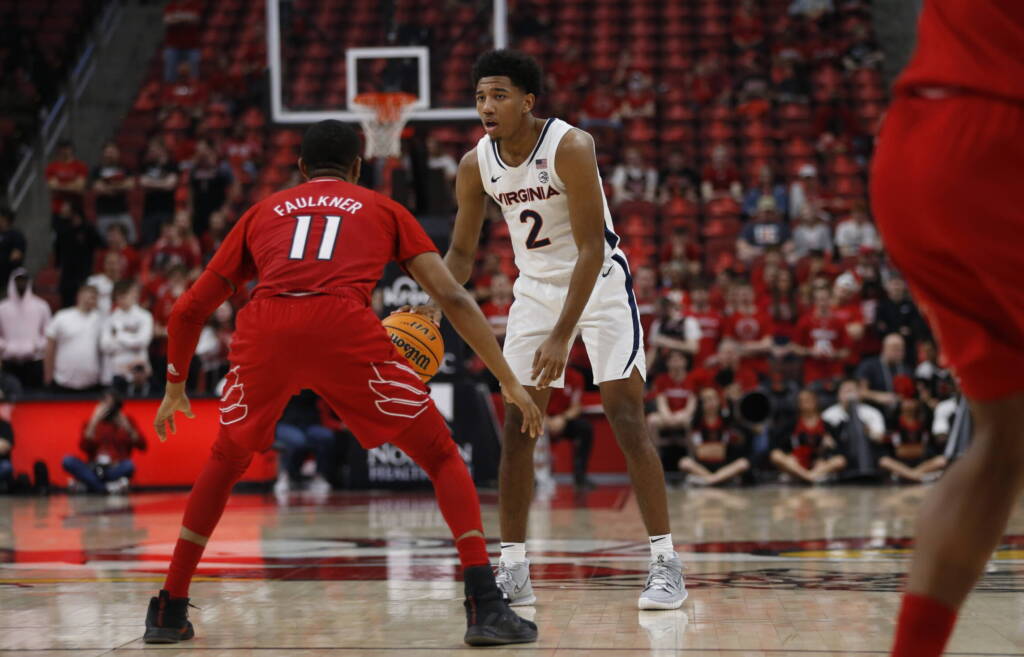 Also superb for the Cavaliers were redshirt sophomore center Kadin Shedrick and senior swingman Kody Stattmann, neither of whom started. Shedrick, who was 8 for 9 from the floor, finished with a career-best 20 points, and Stattmann matched his career high with 11 points. He also collected the assist on Beekman's final 3-pointer.
"I couldn't be happier for Kody and how he played," Bennett said, "and we're going to continue to need that."
The 6-foot-11 Shedrick's previous career high was 16 points, against Duke in UVA's Feb. 7 win at Cameron Indoor Stadium. He scored 16 in the first half Saturday.
"What I liked today in this game that was maybe even a little different than the Duke game," Bennett said, "it wasn't just that he was catching alley-oops or finishing. He made a few plays. He turned and faced. He beat a guy off the dribble. He can do some of those things. So just seeing his comfort level and maybe confidence grow, getting some points off the bench was good, and he attacked and he used his length.
"I guess this is just part of the process of a young player that has not played a lot and now is getting more and more time … To see Reece and Kadin give us that, two younger guys, was nice in this setting."
HOW IT HAPPENED
Virginia trailed 7-0 at the first TV timeout and didn't score until the 15:36 mark, when Beekman's floater cut Louisville's lead to 8-2.
Once the Hoos awoke from their slumber, however, they didn't take long to seize control of this game. Virginia went ahead for good on a jumper by Beekman with 7:32 left in the first half, and then two Stattmann free throws made it 18-14. Louisville's Sydney Curry (game-high 24 points) scored inside to make it a two-point game, but the Cavaliers closed the half on an 18-1 run.
The Cardinals heated up in the second half, but not until the final 6:07 were they able to slice their deficit to single digits.
Junior guard Armaan Franklin (13 points) went 5 for 6 from the line in the final 5:54 to help UVA keep Louisville at bay.
SOUND BITES
The Cavaliers, who lead the series 19-5, have won 13 of their past 14 games with Louisville. Among the postgame comments Saturday:
* Bennett on his players' response to the Florida State loss: "The way we started the game, I was a little bit concerned, because [Louisville] got off to a good start and we weren't quite sharp, bobbled some balls. But I really did like how they responded, with their defense first of all in the first half, and then we got some significant contributions off the bench."
* Bennett on UVA's accuracy (7 for 12) from 3-point range: "For us, when we can knock down some 3s, that takes the pressure off."
* Bennett on Beekman's development: "I love seeing guys improve and get after it and understand [what's needed], and I challenged Reece after the Florida State game. I did. I challenged him … So that's a joy for me to see, guys make steps and improve and lead, and he has a lot of ability. He's just got to keep getting after it the way he is and keep leading us."
* Beekman on heading to the ACC tournament on a high note: "I feel like gives us a lot of confidence. I feel like we felt like we gave that [Florida State] game away a little bit. So just coming out and playing a complete game today was what we wanted, and that's what kind of our intent was this whole week. So I feel we're gonna just play the rest of the season just as hard as we can. We're just gonna leave everything out there."
* Beekman on his final 3-pointer: "I feel like it was a big shot. They were making a run, we both kind of were hitting shots … and Kody made a good drive and he swung it back and I was there. It was just a repetition shot. I feel like I've worked on it more and more as the season's gone on."
* Stattmann on the victory: "I still don't think it takes away what happened against Florida State, but we're all positive, which is good."
* Stattmann on Virginia's performance: "We worked on all the things in practice that we wanted to do well, and we did them well today, and going into Brooklyn with the win gets our confidence a little bit higher, which we need."
* Stattmann on playing front of his family, which is visiting from Australia: "It's been really good. It's the first time they've been over here, and it's been amazing them watching me play in [college atmospheres]. They've never really seen that before. My time is kind of running out here, so I'm just trying to lay it all on the line for my team and my family."