By Jeff White (jwhite@virginia.edu)
VirginiaSports.com
CHARLOTTESVILLE – About this time last year, the University of Virginia women's swimming and diving team headed to Greensboro, N.C., seeking its first NCAA title.
The Cavaliers headed to Atlanta this week looking to repeat. The NCAA meet starts Wednesday night at Georgia Tech's McAuley Aquatic Center, and Virginia, which last month won its third straight ACC title, is considered the team to beat.
"We definitely have the target on our back," said junior Ella Nelson, who placed second in two individual events and swam on the winning 800-yard freestyle relay team at NCAAs last year. "So I think we all know that, but if anything that only makes us more excited and more motivated. We know that other teams want it probably just as much as we do, so we just have to find an edge anywhere we can and use it to our advantage."
Representing UVA in Atlanta will be three divers (freshman Lizzy Kaye and juniors Jennifer Bell and Charlotte Bowen) and 14 swimmers: freshmen Ella Bathurst, Gretchen Walsh and Emma Weyant; sophomores Abby Harter, Anna Keating, Reilly Tiltmann, Alex Walsh and Sophia Wilson; juniors Lexi Cuomo, Maddie Donohoe, Kate Douglass and Ella Nelson; and seniors Jessica Nava and Alexis Wenger.
"Every one of them could, and we hope will, score points for the team," head coach Todd DeSorbo said, "and even to just score one point at NCAAs is a monumental accomplishment. It's arguably one of the fastest meets in the world every year."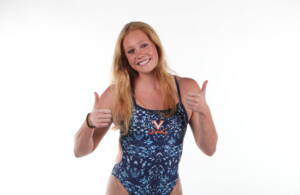 To enter NCAAs as reigning champion is something new for the Cavaliers, but DeSorbo doesn't want them to feel extra pressure.
"I just keep telling the team, if they can just be as good, if not better, than what they've done in the past, then they're going to be fine," said DeSorbo, who's in his fifth year at UVA. "If we just match what we did at ACCs, we'll challenge for a national title, and I tell the team, both men and women, things like this all the time: If you go your best time and you get beat, then more power to the person who beat you, because they probably just broke the record.
"Same thing with the overall team competition … We're gonna make it hard on people, and at the end of the day, if our girls perform at the level they're capable of and they end up not winning the meet, then the other team is definitely deserving of that."
In the build-up to NCAAs, the Wahoos' training schedule has been similar to the one they followed last season.
"I think we were able to come off of ACCs last year and be just as good at NCAAs, if not better, in a lot of instances," DeSorbo said. "I think four out of our five relays last year at NCAAs were faster than they were at ACC. We're able to look back and know that the recipe that we have between the two competitions has worked pretty well. Certainly, we tweak things and we want to do even better.
"Like I said, last year we had four out of five relays faster [at NCAAs]. So this year, can we have five out of five faster? Certainly, I think that is going to be even more of a challenge considering how fast our relays were at ACCs. Even to me they were shockingly fast. So I'll be shocked again, even more, if we're able to be faster."
In Greensboro last season, the NCAA meet opened with the 800-yard freestyle relay, and Virginia dominated the race, winning by five seconds. The meet schedule is different this year. The first race is the 200 medley relay, followed by the 800 free relay.
"So we'll have two relays on that first night, instead of just the one, this year," DeSorbo said. "I think regardless of which relay is first, relays build momentum like no other event does. The relays are the [only] events that everybody stops what they're doing and watches, no matter what."
The 200 medley relay "is certainly one of our stronger relays," DeSorbo said. "So if we're fortunate enough to win, hopefully that'll just help us build into that 800 free relay and into the next day. The 800 free relay, to be honest, is going to be a challenge this year to win. Last year we ran away with it. It wasn't even close. I was actually shocked. Our whole team was shocked. I think the girls in the relay were shocked as it was happening and how it unfolded, and we were kind of blown away that they won by so much. This year will be different. I think it'll be a challenge just to win it, let alone win it by any margin, but it will be fun. Personally, I like challenges. It makes it more interesting, it makes it more fun, it makes it more exciting. It certainly makes it more stressful, but I think that the team will definitely step up to that challenge, whatever it might be."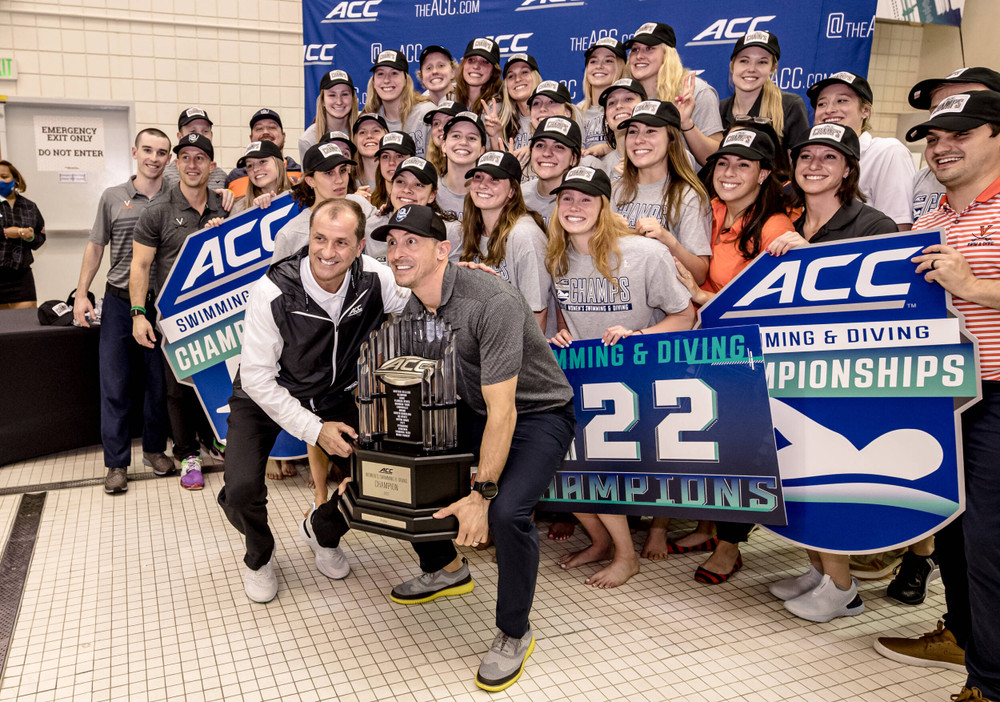 In 2017-18, the Cavaliers' first season under DeSorbo, they placed ninth at the NCAA meet. In 2018-19, they improved to sixth. In 2019-20, when Virginia would have been one of the meet's favorites, the COVID-19 pandemic forced the cancellation of NCAAs.
The meet returned last year, and the Hoos broke through in emphatic fashion, totaling 491 points to 354 for runner-up NC State. UVA became the first ACC program to win an NCAA team title in swimming and diving.
"Going into it this year being actually the target is definitely different," Wenger said, "but I think our team does a really good job at kind of quieting all the noise and just doing what we do best and not worrying about what any other team does."
NC State figures to contend for the NCAA title again this year. At last month's ACC meet, Virginia finished with 1,418.5 points, to 1,347 for the Wolfpack.
"It was a great meet," DeSorbo said. "They kept it close pretty much the entire meet, and I think that was good for our women, because last year we went into ACCs and we ran away with the meet. We went to NCAAs and ran away with that and won by over 100 points. We certainly don't think that NCAAs is going to be that way this year. So I think to have a close competition with another team just sets us up really well to be able to handle whatever challenges and whatever extra pressure and stress come with getting into a tight team battle."
Wenger, an 11-time All-American, agreed.
"I think we all are aware that it's definitely not going to be as easy as it was last year to come off with the title," she said. "NC State has always been one of our top competitors, and we were super excited to see them get second [at NCAAs] last year. So we're looking forward to a kind of similar battle with them. They always keep us on our toes. They're all super, super, super fast. I think how ACCs went will kind of set us up. The last day of ACC s, I just remember all of us were kind of honed in and making sure like we just did our best to out-touch an NC State person in one of our heats, and I think that clearly amps up the competition a little bit more and just makes it all more exciting, and we're able to get behind our teammates when one of them does that."
Two of the Cavaliers who'll compete this week won NCAA individual titles last year in Greensboro: Douglass in the 50 freestyle and Alex Walsh in the 200 individual medley. Douglass and Walsh swam for the United States at the Olympics last summer, as did Weyant, and much will be expected of them in Atlanta.
"Our Olympians certainly will boost the score, but they can't carry the team to a title," DeSorbo said, "I think last year we had 10 girls score at NCAAs, so it's going to take all of them, not just your top end, but it'll take your depth as well. And we've got some great opportunities for divers to score this year as well."
For freshmen, their first trip to the NCAA meet can be overwhelming, but DeSorbo is confident UVA'a first-years will be able to handle the pressure. Weyant and Gretchen Walsh (Alex's sister) have extensive international experience.
In those meets, DeSorbo said, it's "a lot more of an individual thing. So actually there's a little bit more pressure and a little bit more stress and anxiety when it comes to that. The team environment that we have definitely, I think, dilutes a little bit of that pressure and stress. They just get excited to be around their teammates, they get excited watching [their teammates] race and doing relays together. Swimming for each other just makes it a little bit more comforting, a little bit just, I guess I would say, less stressful.
"For example, when you look at Gretchen, take the 50 free. There's a chance that she and Kate Douglass might be right next to each other in the final. That I would think would be pretty comforting to the two of them. It's like practice, right? They've done it a million times. And Emma Weyant might be right next to Alex Walsh or Ella Nelson in the 400 IM in prelims or finals."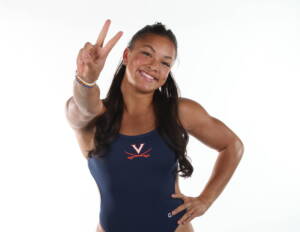 Wenger, who placed third in the 100 breaststroke and seventh in the 200 breaststroke at NCAAs last year, has another season of eligibility remaining, because of the pandemic, but this meet will be her last as a college swimmer. She's ready to move on.
After swimming for so many years, Wenger said, "I just think that I'm at a good place in my life, where this is a good time to just come to an end. I don't think that I need to stick around for my team to continue to be successful. We are full of amazing individuals, and I'm super excited for the next chapter in my life."
Last month's ACC meet also was held at the McAuley Aquatic Center, and the Cavaliers expect to benefit from their familiarity with the venue.
"We had the same situation last year, when ACCs were in Greensboro and then NCAAs were also there," Nelson said. "There's just certain things about different pools that can kind of prove to be challenging. I think a lot of us were talking about how the walls were weird at the Atlanta pool. So it's just really lucky that we had practice with that at ACCs, so now we're be able to nail it at NCAAs."
To receive Jeff White's articles by email, click the appropriate box in this link to subscribe.