By Jeff White (jwhite@virginia.edu)
VirginiaSports.com
CHARLOTTESVILLE – Tony Bennett and Ben Howland are far removed, literally and figuratively, from their days in what was then the Pac-10 Conference.
Back then, Bennett was in Pullman, Wash., coaching at Washington State, about 2,500 miles from his current post at the University of Virginia. Howland was in Los Angeles at UCLA, about 2,000 miles from Starkville, Miss., where he's in his seventh season at Mississippi State.
Much has changed in their lives since then, but the esteem Bennett and Howland had for each other as Pac-10 rivals endures as UVA and Mississippi State prepare to meet Wednesday night in the National Invitation Tournament.
"I always had great respect for his teams and how hard he got them to play and how well he got them to play," Bennett said Monday.
"I have to say I have incredible respect for Tony and the job he's done at Virginia," Howland said Tuesday, "and was so excited for them [in 2019] when they won the national championship. I was thrilled for him."
At 7 p.m., in an NIT first-round game ESPN2 will televise, Bennett's Cavaliers (19-13) take on Howland's Bulldogs (18-15) at John Paul Jones Arena. Mississippi State is one of the 32-team NIT's four No. 3 seeds, but its arena was unavailable, and so unseeded Virginia is hosting.
"Not only are we having to go on the road," Howland said, "you have to play the hardest team you could possibly play to be on the road against."
The Virginia-MSU winner will face second-seeded North Texas (25-6) in the NIT's second round, most likely in Denton, Texas. North Texas edged Texas State 67-63 in overtime Tuesday night.
Bennett spent three seasons on his father's staff at Washington State before taking over as head coach in 2006-07. Howland's first season at UCLA, 2003-04, was Dick Bennett's first at Wazzu.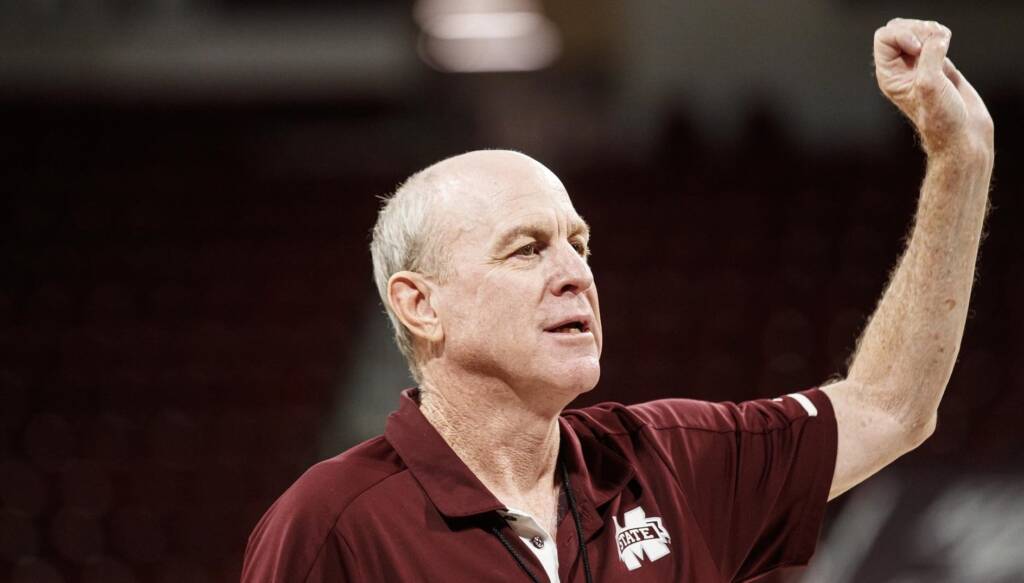 "What a great coach Dick Bennett is and was," Howland said. "It was an honor to compete against him. I would say both when you play Dick Bennett and then Tony Bennett, it's like getting a root canal. It's not fun. The way they defend, the way they execute offensively.
"We had some great games. UCLA had never lost in Pauley Pavilion to Washington State till Dick Bennett beat us there. And then Tony also beat us there. So I'm the infamous coach that allowed two Washington State losses on our home floor at UCLA."
Starting in 2005-06, the Bruins made three straight Final Four appearances under Howland. Tony Bennett, whose record against UCLA was 1-6, remembers how Howland "had his teams so ready. They were always so physical, so tough, and they had great talent. That was the gold standard of our conference back then, and any coach that can lead his team to that many Pac-10 titles and then go to three straight Final Fours and do what he did was impressive … Much respect for Coach."
Under Howland, the Bulldogs have advanced to the NCAAs only once, in 2018-19, though they might have gone in 2019-20, too, had the COVID-19 pandemic not resulted in the tournament's cancellation.
They were NIT runners-up in 2020-21 and came into this season with a goal making it back to the NCAAs. That didn't happen, but Howland wants his team to make the most of another NIT experience.
"I always think it helps kids to play in postseason," said Howland, who coached at Pittsburgh, then a member of the Big East, before taking the UCLA job.
Bennett agrees, even if his program is more accustomed to playing in the NCAA tournament. This will be the Wahoos' first NIT appearance since 2012-13, when they reached the quarterfinals.
"Of course, the ultimate goal is to play in an NCAA tournament and then advance, but when I watched the pairing show on ESPNU and our name came up, I still was very grateful," Bennett said.
"For guys in our program that haven't played in a tournament and guys that are going be back [next season], all that stuff, I think it's valuable," he said.
The Cavaliers went into last week's ACC tournament in Brooklyn, N.Y., knowing they probably needed to reach the championship game to have a chance at an at-large invitation to the NCAAs. Virginia won its first game at Barclays Center, 51-50 over Louisville, but then lost 63-43 to North Carolina in the quarterfinals.
UVA has beaten four teams that made the NCAA tournament––Providence, Virginia Tech, Miami (twice) and Duke­­––but also has several unsightly losses.
The Cavaliers, Bennett said, are a "team that when we've played tough and well, we've been able to win some really exciting, good games against tough opponents. On the road, at home, and they've usually been close. And then at times we're that team that has really struggled and we've gotten separated on, like you've seen against Carolina and just some of those games.
"I told our guys, the reality is you're both of those teams. You've just got to fight and choose and try to be the one that has shown that. And so here you get an opportunity in a one-and-done situation to play against a team that's good, and you get to grow in these experiences and then try to win and advance. So I think it's important for our guys to have this experience and to be ready. You've got to move past not getting an NCAA bid, getting beat in the [quarterfinals of] the ACC tournament the way we did, [and focus on the NIT]."
Mississippi State's starters include All-SEC guard Iverson Molinar (17.6 ppg) and two transfers from ACC schools: fifth-year senior forward Garrison Brooks (North Carolina) and sophomore guard Shakeel Moore (NC State).
The Bulldogs' players have a group chat, and when the NIT bracket was announced, "I think Garrison [told his teammates], 'It's gonna be a football game,' " Howland said, "meaning it's going to be very physical. He played against them for four years and has great respect for Virginia, how physical they are, how tough they are, how they fight you for everything."
Mississippi State is 1-9 in road games this season and shoots only 29.5 percent from 3-point range. But the Hoos are flawed, too, and Bennett expects a hard-fought game at JPJ.
The Bulldogs are experienced, he said, and they're "athletic, tough-minded, well-coached. Coach's teams [at UCLA] always defended. When we would go against each other, it was always kind of a knuckle-buster. And so that's what I've seen, and I'm certainly impressed with some of the things [the Bulldogs do]. Like us in some ways, there's been times where they're on that fine line, but still good, and it's why we both got invitations to this this tournament."
There's been speculation that Howland will be ousted at Mississippi State once his team's season ends. "I really want to be back next year," he said Tuesday, but his job security is not his primary focus this week.
"I'm not sitting there talking to our players about that at all," Howland said. "We're focused on being the very best team we can be and compete against a great program and a great team, team that just won the national championship in the last few years and has been the dominant team in the ACC over the last eight to 10 years. So it's a real thrill from my standpoint to be playing in this game."
To receive Jeff White's articles by email, click the appropriate box in this link to subscribe.