By Jeff White (jwhite@virginia.edu)
VirginiaSports.com
CHARLOTTESVILLE – The University of Virginia men's basketball team could play at John Paul Jones Arena again this season, but that will depend on what happens in the National Invitation Tournament's second round.
The Cavaliers' first-round game in the NIT might well have been their 2021-22 finale at JPJ. If so, they went out with a performance that eased some of the sting of their second-round loss in last week's ACC tournament.
"I think it was enjoyable game to watch," UVA head coach Tony Bennett said Wednesday night after his team's 60-57 victory over Mississippi State. "Guys were fighting hard."
The NIT started Tuesday with 32 teams. Mississippi State was one of the tournament's four No. 3 seeds, and Virginia was unseeded. The Bulldogs' arena was unavailable this week, however, and so UVA ended up hosting its first-round game.
"That was significant to have that," Bennett said, "and I understand we caught a break, but now you [have to] make the most of it."
In front of a boisterous crowd of 5,278, the Wahoos (20-13) took an eight-point lead into halftime. The Bulldogs (18-16) twice pulled ahead after the break, but Virginia answered each time. The Hoos went ahead for good on a Jayden Gardner jumper that was part of an 8-0 run.
"A home-court advantage is a big advantage," MSU post player Tolu Smith said. "This is a very hostile environment. Great crowd. It was a great game and great turnout for them."
The Cavaliers, who reached the 20-win mark for the 10th time in Bennett's 13 seasons as their head coach, won't have the crowd on their side in their next game. Virginia's second-round opponent is second-seeded North Texas (25-6), and they'll meet Sunday at 6 p.m. ET in Denton, about 45 miles northwest of Dallas.
Elsewhere in UVA's bracket, top-seeded Oklahoma will be at home Sunday against St. Bonaventure. If the Sooners win, they would host their quarterfinal game, too.
To Bennett, the Cavaliers' NIT opener was a "statement game for us." After edging Louisville 51-50 in the ACC tournament's second round, UVA had suffered a humbling loss to North Carolina, which romped 63-43 in the quarterfinals at Barclays Center in Brooklyn, N.Y.
"I think how we got beat by North Carolina was challenging," Bennett said. "They took it to us and we didn't play well. Again, credit to them, but we didn't play well. I think that was tough, especially as we've been playing better basketball."
And so the Hoos entered the NIT with questions to answer. "What are we made of? What kind of fight will we have? How will we approach this?" Bennett said.
This is the first time since 2012-13, when they advanced to the NIT quarterfinals, that the Cavaliers have missed the NCAA tournament. They didn't deserve a bid to the NCAAs this season, Bennett said, but they have plenty to play for anyway.
"It's not the place we wanted to be," sophomore guard Reece Beekman said, "but I feel like we're gonna make the most of it, just to finish this season the right way and [build momentum] for the start of next season, too."
The NIT field was announced Sunday at 9 p.m. The Hoos practiced Monday and Tuesday at JPJ, and Bennett pushed his players hard in those sessions.
"I really put my thumb on them," he recalled Wednesday night. "I said, 'It wasn't our best effort against Carolina for a lot of reasons, and we're gonna go after this.' And I challenged them, and when I didn't see it in practice I was on it."
Bennett wasn't sure what to expect from his team against Mississippi State, but the Cavaliers played with passion and effort. Gardner, a 6-foot-6, 246-pound forward, scored 14 of his team-high 16 points in the second half.
"In the second half he started getting hot from the midrange, he started getting a feel for the game, and then it started coming to him," said Smith, who posted a double-double (16 points, 11 rebounds) for the Bulldogs. "I think we did a good job in the first half, but he started heating up in the second half."
Senior point guard Kihei Clark scored eight points and had a game-high nine assists, and Beekman, as he's done so many times this season, showed off his stellar all-around game. He totaled 14 points, six assists and four steals and had only one turnover.
Beekman, who finished second in voting for ACC Defensive Player of the Year, drew the assignment of guarding MSU guard Iverson Molinar, a first-team All-SEC selection.
Molinar finished with 13 points, nearly four under his average, and turned the ball over five times.
"He never gives up on any play," Molinar said of Beekman. "There's really no break on the court when he's defending you, and he did a pretty good job today."
Asked about Beekman's defense on Molinar, Bennett said, "None of us played well at UNC and I thought he responded in the right way when he had to against that kind of talent."
Beekman's four steals pushed his season total to 70. That broke the program's single-season record of 69 held by Othell Wilson, who starred for the Hoos in the 1980s.
"He is phenomenal," Mississippi State head coach Ben Howland said of Beekman, "not only a great defender but a great passer. He had six assists and only one turnover. His assist-to-turnover ratio is top 10 in the country. Really, really bright, intelligent player. He's a special talent, and he and Gardner are the two difference-makers."
Virginia also received important contributions from redshirt junior center Francisco Caffaro, junior guard Armaan Franklin and freshman swingman Taine Murray. Caffaro finished with eight points and five rebounds and matched the Bulldogs' physicality inside. Franklin was the only Cavalier to hit a 3-pointer. On a night when his teammates were a combined 0 for 7 from beyond the arc, Franklin was 2 for 5, and his second trey might have been the game's biggest shot.
Mississippi State's post players include Garrison Brooks, a transfer from North Carolina who in a two-minute stretch late in the game made three 3-pointers. His third trey cut the Bulldogs' deficit to 54-53 with 2:43 remaining, and the Hoos appeared in danger of an early exit from the NIT.
On Virginia's next possession, however, Clark spotted Franklin open in the left corner. For the season, Franklin is shooting only 27 percent from 3-point range, but he buried this shot to help quell the Bulldogs' comeback.
"I was so happy for him," Bennett said, "because I know how important is to him. He just wants to be able to contribute and help the team, and he did that. And so I'll just keep challenging them and encouraging him: take the open shots, keep being a good defender. When we've won, he's given us some great lifts and I'm hopeful that he can get some confidence from this and keep it going."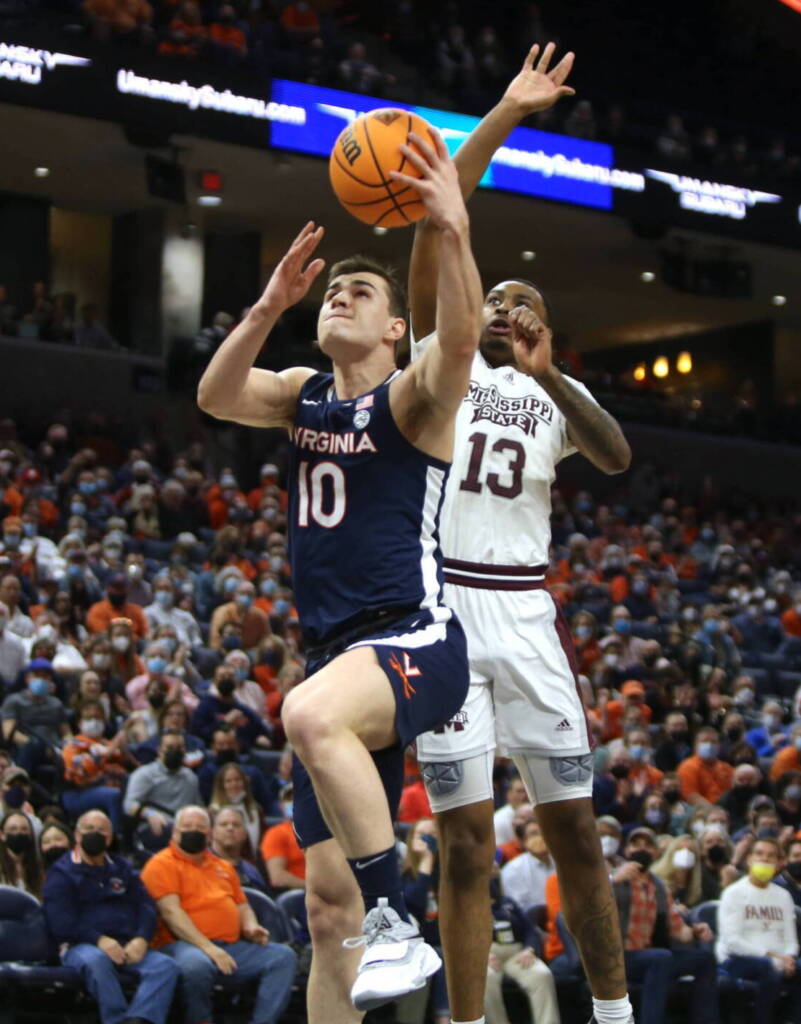 Senior forward Kody Stattmann gave the Hoos an early boost, scoring four points, but hurt his ankle late in the first half and didn't play after that. When Bennett substituted for Franklin about six minutes into the second half, he turned to Murray, a 6-foot-5 freshman from New Zealand who'd appeared in only two of Virginia's previous 11 games.
Murray had practiced well leading up to the game, and he looked comfortable and confident Wednesday night. During one sequence, he grabbed a defensive rebound and then sprinted to the other end, where Beekman passed to Murray for a fast-break layup that brought the crowd to its feet.
"I thought he brought energy," Bennett said. "He worked hard. He always works. He and Igor [Milicic] are our two first-years, and they're just relentless workers on their game. … I thought Taine came in and ran the floor, [made a] nice layup, guarded well. One time he was a little soft on the ball, but I was real happy for him to get in there."
Bennett came to UVA in the spring of 2009 after six seasons at Washington State, where he was head coach for the final three. UCLA's head coach during that stretch was Howland.
"I think Tony's one of the best three coaches in the country," Howland said Wednesday night. "I think it's been proven here. I just have so much respect for Tony and what he's accomplished at Virginia and what he accomplished at Washington State, which is a next-to-impossible place to win … He did a fantastic job, and he does it the right way."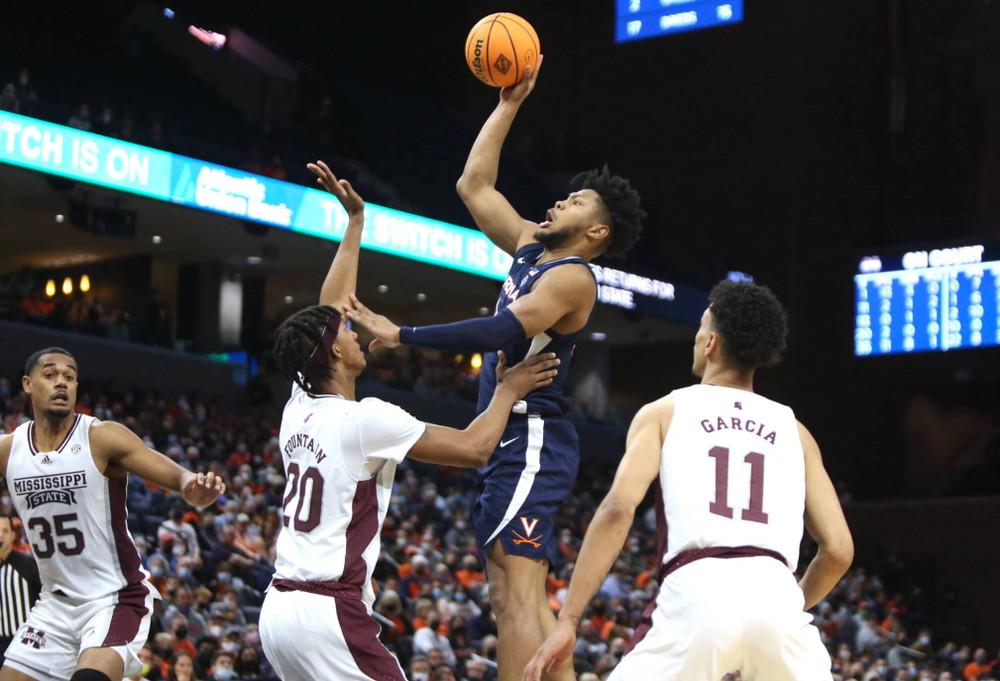 SOUND BITES: The Hoos improved to 18-11 all-time in the NIT, which they won in 1980 and 1992. Among the postgame comments Wednesday night:
* Bennett on posting another 20-win season: "It's hard. It's hard to get wins. This year, this was a newer group. I know we've had some 30-win seasons and what we've done, but what this group accomplished, with the way we started up to this point, and to fight to get 20 wins … That's what this is about. So, that's nothing to scoff at, and I don't take that for granted."
* Bennett on Gardner: "In the second half, he came alive."
* Bennett on his players' mindset: "No, it's not the NCAA tournament, but it's still the next [best thing], the NIT. So to me, I hope they're chomping at the bit to continue on and get as ready as we can for our next game."
* Howland: "At the end of the day, as I look at the stat sheet, we have 14 turnovers to their nine. That's really the difference in the game."
* Howland on JPJ: "It's a great environment. They've got great college basketball that they've been spoiled with here the last 13 years. Don't ever take it for granted."
* Beekman on playing alongside Clark: "I feel like we both see the court very well. We both just impact the game in different ways. So I feel like just both of us together is a good backcourt, because we bring different things to the table."
* Clark on bouncing back from the UNC loss: "I'm a competitor. I don't like to lose, but being able to lace 'em up and compete again [is good]. I love to play basketball, so we use it as fuel, and we're just trying to finish off the season the right way and string together some wins."
To receive Jeff White's articles by email, click the appropriate box in this link to subscribe.