By Jeff White (jwhite@virginia.edu)
VirginiaSports.com
CHARLOTTESVILLE — A taxing stretch of 10 games in 13 days started inauspiciously for the University of Virginia baseball team: with a loss to VCU in Richmond last Tuesday night. For the Cavaliers, who had dominated opponents for much of the season, the defeat was their seventh in eight games and appeared to be cause for concern.
Less than a week later, they're hot again.
Twenty-four hours after losing to VCU, Virginia rallied to defeat Georgetown at Disharoon Park. Then came a weekend series against ACC rival North Carolina, also at home. The 11th-ranked Wahoos defeated the Tar Heels 4-2 on Friday, 11-7 on Saturday, and 10-3 on Sunday.
The Hoos' first and third victories in the series lacked the drama of their win Saturday. The Cavaliers scored seven runs in the bottom of the 10th inning, the final four coming on fifth-year senior Devin Ortiz's walk-off grand slam, to stun the Heels.
"Yesterday was obviously a great win," freshman right-fielder Casey Saucke said Sunday, "but every day is a new day. We came to the stadium today knowing that we had something to prove, and we were looking for the sweep and right out of the gate we pounded it right on 'em, which was great. And that's exactly what we needed to do."
Left-fielder Alex Tappen agreed. "Especially after a crazy game like yesterday, to come out here and to jump on them quickly right out of the gates was huge."
The Cavaliers (31-10 overall, 13-8 ACC), who are 23-2 at Disharoon Park this season, scored two runs in the first inning and five in the second Sunday. Carolina (23-17, 8-13) never seriously threatened thereafter in front of an appreciative crowd of 4,559 on a steamy afternoon.
"Certainly, it was a huge weekend for us," UVA head coach Brian O'Connor said. "I thought we played great baseball all weekend."
Not since 2015, when they went on to win the College World Series, had the Hoos swept UNC.
"In a college baseball season," O'Connor said, "you're gonna go through some really great patches and some rough patches as well, and we had ours and who knows what's on the horizon? It could happen again. But what's important is that we just kind of maintain consistency and keep plugging away when the waters are rough. That's important and the guys did, and they certainly responded the last four ball games."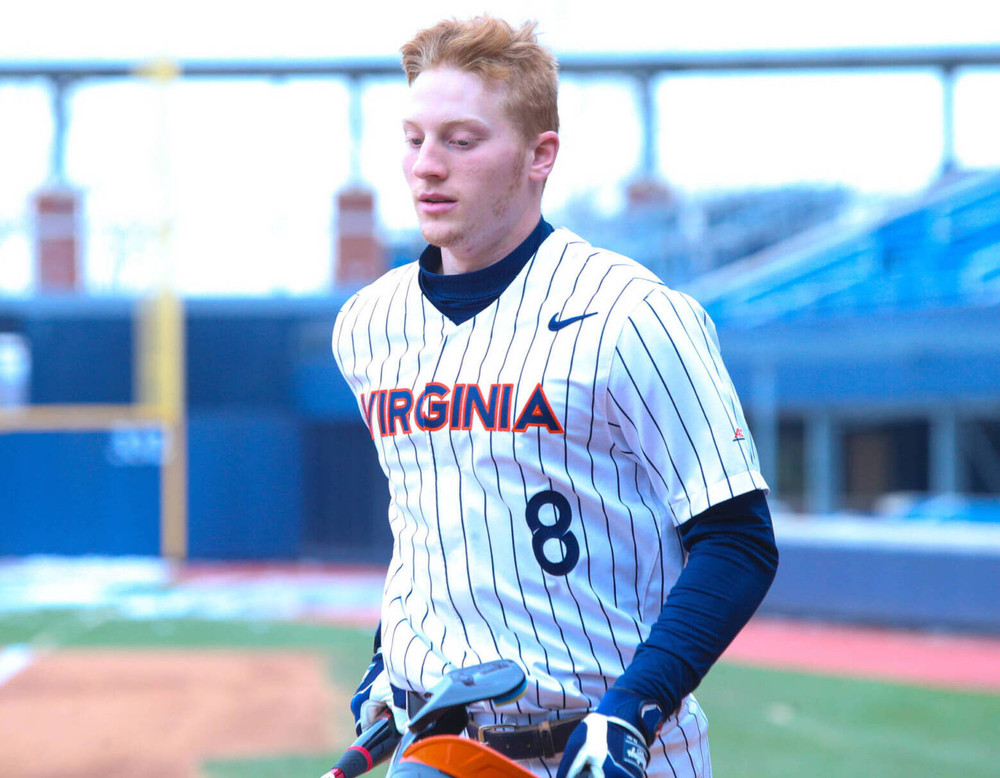 One of the teams to beat the Cavaliers during their recent rough patch was Old Dominion, which won 9-2 at Disharoon Park on April 12. The rematch is scheduled for Tuesday night at Harbor Park in Norfolk. The Monarchs are 28-10.
"We know they're a very good ball club," Tappen said, "so we know that we're gonna have to bring our best, especially in this critical stretch."
After playing ODU, Virginia will host George Mason on Wednesday night. The weekend will bring a highly anticipated series with No. 7 Virginia Tech (28-9, 12-7), which has won 18 of its past 21 games.
Saturday is Ryan Zimmerman Day at Disharoon Park, where the former UVA great's number 11 will be retired.
With five games coming so quickly, Tappen said Sunday, it will "be really important that we take what we learned from this weekend, rinse it, and kind of move on and get our eyes turned towards ODU and getting revenge in that game."
This will be the second week in a row that UVA plays on both Tuesday and Wednesday. For most of the season, the Hoos have had only one game between weekend series.
"Two midweek games are challenging just because, one, from a pitching staff standpoint, it tests your depth, which is good," O'Connor said. "You're going to need that down the stretch run and the postseason. So that's why you do it. Also, too, you have two big conference weekends and you want to play great baseball down the stretch. These guys, they're geared for the stretch run. They're conditioned and ready for it. It's a lot of games in a short period. of time, but that's what we do in this sport, and we've responded well to it."
Virginia impressed in virtually every area against UNC, especially at the plate. For the series, the Hoos hit .381. Tappen, a fifth-year senior, went 7-for-14 with a double, two home runs, and five RBI in the three games.
"Tappen has been locked in all year," O'Connor said. "You've seen it, and that starts with experience. This is his last shot, this is his last go-around, and he wants to leave it all on the field in this uniform. He's represented our program with class at all times, and he's being rewarded for it and our team has been rewarded for that as well. He has tremendous experience, and when you have that, coupled with talent, it's pretty special."
For the season, Tappen is hitting .350, and he's second on the team in home runs (10) and RBI (55). Sophomore Jake Gelof leads the Cavaliers with 15 homers and 62 RBI.
"I'm playing so loose," Tappen said. "This is my last year of [college] baseball."
The adjustments he made to his swing in the offseason are paying dividends, Tappen said, "but I think the real thing is I'm just out here having fun and enjoying it, and that looseness is just allowing me to be consistent and not press like I have in prior years and compound things. I think that's probably the biggest thing for me."
Seven Cavaliers had at least two hits each Sunday, let by freshman Ethan Anderson (3-for-4). Tappen, freshmen Griff O'Ferrall and Saucke, sophomore Kyle Teel, junior Max Cotier and Ortiz had two apiece.
"Offensively, it was just a total collective effort," O'Connor said.
Neither Saucke nor Cotier started on Friday or Saturday, but they've "been integral players for us," O'Connor said. "Other guys have stepped up, they've waited their turn, and they responded today, both with really, really big days. And that speaks to the level of the team I think that we have. I think we have a lot of versatility and depth and can go with different options and certainly that showed today."
Saucke said: "As a team, I think we struggled for a little bit and we went on a little losing streak, but we were able to bounce back, and I was able to do the same personally and help the team win today, which I was very thankful for."
In his fifth start, sophomore Jake Berry threw five strong innings for UVA. The 6-10, 245-pound left-hander scattered four hits, struck out six and walked only one.
"I felt like was mixing my speeds really well today," Berry said. "My fastball command was up and down throughout the game, but I managed to make pitches when I needed to, and I felt like that was the biggest thing I did today."
O'Connor said: "Our pitching was really good this weekend, and we're playing better defense, even though we had two errors [Sunday]. I think our pitching has been more consistent, and our defense has been more consistent. You do that, you've got a chance to win every ball game that you're in, and I'm just proud of our guys that they responded."
The leadership of such elder statesmen as Ortiz and Tappen helped. While the team was struggling, Tappen said, he focused on "keeping everyone's energy up, keeping everyone positive, because the worst thing that you can do in a stretch like that, in those seven or eight games, is to compound it with pressing. Because when you press, it just feels like everything is just collapsing on you. And it's a game. You're supposed to keep the fun in it."
To receive Jeff White's articles by email, click the appropriate box in this link to subscribe.