By Jeff White (jwhite@virginia.edu)
VirginiaSports.com
CHARLOTTESVILLE — One of the first people Andres Pedroso met at the University of Virginia was a legendary figure on Grounds. It was 2010, and Pedroso had just joined the staff of head men's tennis coach Brian Boland.
"Brian took me straight to Madison Hall and brought me into Gordon's office," Pedroso recalled this week.
Gordon Burris was, and still is, a good person for anyone associated with the University to know. In 2010, he was a special assistant to UVA's president—first John Casteen and then Teresa Sullivan that year—but that was only one of the many positions he held in the nearly 50 years he worked on Grounds.
At various times Burris also served as head men's soccer coach, head men's golf coach, head men's tennis coach, volunteer assistant coach in track & field, assistant dean of admissions, assistant director of the Alumni Association, and director of development for major gifts in the athletics department.
"He's a total legend," Pedroso, now the Cavaliers' director of tennis and head coach of the men's program. "He's the epitome of UVA. He represents everything that's right about our university."
Burris' contributions to UVA tennis will be recognized this weekend at the Boar's Head Resort, where the men's and women's programs are based. The newest court at the Virginia Tennis Facility, which opened last year, will be dedicated Saturday. It carries Burris' name.
"I'm just so proud of where the program has gone, and to be a part of it," said Burris, who officially retired in 2012 but has continued to assist the University on several fronts.
"What he's done for UVA and the relationships he's built with so many people that are a part of this program mean a lot to us, so we're thrilled we're able to do this in his honor," head women's coach Sara O'Leary said. "We're really excited about Saturday, and really grateful to have him in our lives."
Pedroso said: "He's part of the family, for sure."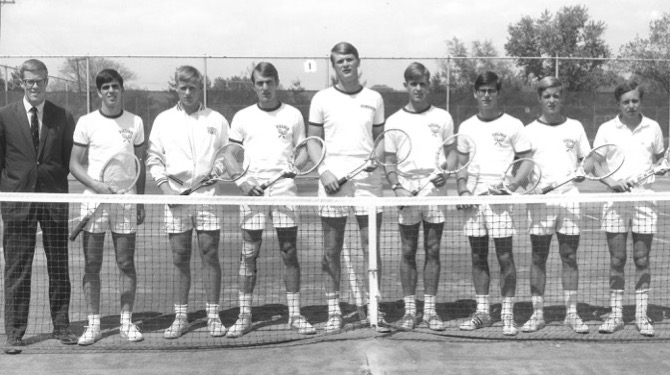 Burris, who grew up in Wilmington, Del., came to UVA in 1965 after earning a bachelor's degree from Springfield College in Massachusetts. After enrolling in a master's program in the Curry School of Education, Burris recalled this week, "I was trying to make a little money on the side, so I went over to see James O. West."
West was then Virginia's head baseball coach and director of its physical education program.
"I said, 'Hey, Coach, I'm out of Springfield College, here's my degree. Is there anything I can do to help you guys here? I'm willing to volunteer my time,' " Burris recalled. "He said, 'There's a lot you can do, and I'll even pay you to do it. Why don't you teach a full load of phys ed classes?' "
Before the University went coed in the 1970s, Burris said, first-year students were required to take PE classes. They were taught by the coaches of the varsity teams, as well as the athletic director.
After his conversation with West, Burris said, he met Lou Onesty, head coach of UVA's track & field team, "and I fell in love with the guy right away. I said, 'Coach, I see you out there coaching hard, and when track season comes around, could I be your volunteer assistant?' He said, 'Are you kidding me? No one's ever offered to be a volunteer assistant.' I said, 'Well, I would love to do that.' He said, 'You're on. You're coaching throwers and jumpers.' "
And so began Burris' coaching career. He succeeded Gene Corrigan as head coach of the men's soccer team after the 1965 season and held that post for five years. Burris had two stints as head coach of the men's tennis team. He oversaw the program in 1967, '68, '69, '70 and '71 and again in '75. Back then, the Cavaliers practiced and played home matches on the courts next to Memorial Gymnasium.
In 1972, '73 and '74, Burris coached the men's golf team. His standouts included Tom McKnight, who's now in the Virginia Golf Hall of Fame and remains one of Burris' close friends.
"Someone said to Tom one time, 'Hey, Tom, what was it like playing on a golf team where the coach couldn't break 100?' " Burris said, laughing.
Those were different times in college athletics. Student-athletes in sports other than football and men's basketball were not on scholarship at UVA, and budgets were tight.
"When you tried out for the men's tennis team, you had to bring your own tennis balls," said Burris, who earned his master's degree in physical education in 1967. "UVA couldn't provide tennis balls. You had to bring your own tennis balls, you had to bring your own racket, and if you made the team, you got to hit some UVA tennis balls, at least for the matches. Also, you had to string your own racket. You had to go down to Red Rohmann's sports shop [on the Corner] and get your racket strung, or string your own, because we had no money in the budget to do that."
Burris remembers approaching one of the athletics department's leaders, Evan "Bus" Male, about taking the tennis team on a trip for spring break.
"He said, 'What are you going to pay for it with?' I said, 'I don't know. The kids tell me they want to go on a spring trip.' Coach Male said, 'Good. Tell the kids they can pay for it.' So we did. The kids paid for it, and I paid my own way."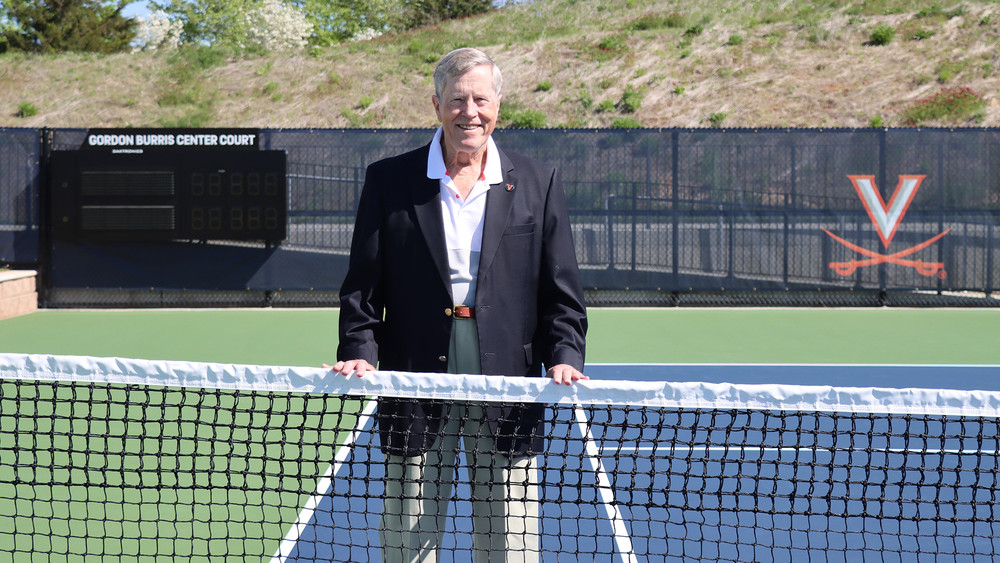 The first soccer game Burris saw was the first one in which he coached at UVA. When Steve Sebo, then Virginia's athletic director, interviewed him for the job, he "never asked me if I had seen a soccer game," Burris said. "He never asked me if I had ever kicked a soccer ball. His only question to me was: 'Can you recruit?' I said, 'Coach, I'll recruit like crazy,' and he said, 'You got the job.' "
His first soccer team finished 0-10. The Cavaliers steadily improved under Burris, however, in part because he added two volunteer assistants who were from England: graduate students Richard Lewis and Ian Falconer.
"I gave them the assignment of coaching the team, and I sat back on the bench and stayed out of everybody's way," Burris said.
The Hoos finished 9-1-2 in 1969 and 8-2-1 in 1970, winning the ACC title each season, after which Burris turned the soccer team over to Jim Stephens. Stephens, who was an exceptional athlete, later succeeded Burris as men's tennis coach, too.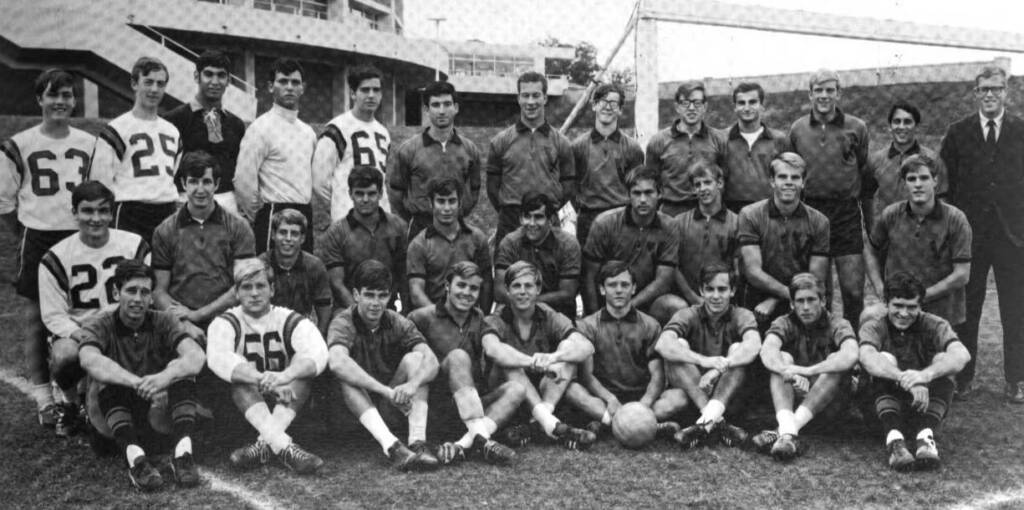 Burris returned to tennis for the 1975 season. A women's program had been started by then, and Burris was planning to coach both teams, but then he went to work for Gilly Sullivan, the longtime director of the Alumni Association, and had to give up coaching.
In his role with the Alumni Association, Burris was part of the team that started the Jefferson Scholars and legacy admissions programs. His passion for UVA athletics never waned, and he returned to the department in 1985 to raise money for capital projects that would include the McCue Center and Klöckner Stadium.
Burris left the University in 1989 to take a position at the University of Maryland, but returned to Charlottesville in January 1991 to work for Casteen in the president's office. Thirty-some years later, he's still in town.
"There wouldn't be a court in my name if John Casteen hadn't brought me back," Burris said.
The Virginia Athletics Foundation oversaw fundraising for the new court, and several volunteers helped spearhead the campaign to honor Burris in this way, VAF executive director Dirk Katstra said.
"The thing that's unique about Gordon is that his impact isn't solely in any one particular category, because he did so many different things," Katstra said. "And so his impact is across so many different groups of people and across so many generations of people.
"He obviously had a role in athletics, he had a role in admissions, he had a role in the president's office, and he went to a ton of events. He knew alums and then he got to know the alums' children if they came here. He just touched a lot of different kinds of people, but I think his heart was always in athletics. He never lost his connections to athletics, whether it be with the coaches, with the student-athletes, with the administration, or even fundraising."
Katstra laughed. "You could call Gordon and ask him a question, or if you were trying to find something out, you'd say, 'Gordon, I'm trying to figure this out. Do you know who I should talk to?' And he'd say, 'Well, you need to first talk to this person, and then you want to talk to this person.' He always knew who to put you in touch with, no matter what the challenge was."
Burris often stops by John Paul Jones Arena to watch the men's basketball team practice, and he's close friends with Dick Bennett, whose son, Tony, is the Cavaliers' head coach.
"It used to be, when all the new coaches would be hired at UVA throughout many of these years, particularly once John Casteen brought me back," Burris said, "I'd go and have a chance to meet with them and talk to them about athletics in general, give them the history and talk about culture and things maybe that we do here and certain things we don't do. And that includes the football coaches and the basketball coaches. I did that for years and years. I was 20 years with John, so that was a lot of coaches."
For Virginia's tennis programs, these are heady times. The UVA women are ranked No. 4 nationally, and sophomore Emma Navarro is the reigning NCAA singles champion. The program's alumnae include Danielle Collins, who won two NCAA singles titles at Virginia and now ranks among the world's top professionals.
The UVA men, who captured four NCAA team titles under Boland, won their second consecutive ACC championship last weekend and are ranked No. 6 nationally. Cavaliers have won four NCAA titles in singles (Somdev Devvarman in 2007 and '08, Ryan Shane in 2015, and Thai-Son Kwiatkowski in 2017) and three in doubles (Dominic Inglot and Michael Shabaz in 2009, Drew Courtney and Shabaz in 2010, and Jarmere Jenkins and Mac Styslinger in 2013).
Cheering the Hoos on, if not in person then from afar, has been Burris.
"He's been an ally of UVA tennis for a long time," Pedroso said.
"It's been a joy," Burris said. "They're going to be good for years. That's what I like about it. We built the foundation. I like to say you know coaches have a chance to be successful when they come in here and they talk not about building a winning team, but building a program that produces winning teams. That is the key."
To receive Jeff White's articles by email, click the appropriate box in this link to subscribe.