By Jeff White (jwhite@virginia.edu)
VirginiaSports.com
CHARLOTTESVILLE — Nobody said balancing a varsity sport and Darden School of Business classes would be easy, and it hasn't been for Bar Botzer. In fact, he said Friday, it's been more difficult than he expected when he enrolled at Darden and joined the University of Virginia men's tennis team last summer.
"One hundred percent," Botzer said, then corrected himself.
"One hundred and fifty percent," he said, smiling. "I think it was a big shock for me, for the coaches, for my teammates."
In the NCAA tournament's round of 16, No. 7 seed Virginia defeated No. 10 seeded South Carolina 4-0 on Friday. The match started outdoors but, after rain began falling, had to move indoors at the Boar's Head Resort. Botzer, playing No. 6 singles, clinched the victory for UVA by rallying to defeat Casey Hoole 2-6, 6-2, 6-2.
"He's a veteran, and you've got to trust him in those moments, because he's got a lot of experience," Virginia head coach Andres Pedroso said. "There's really nothing in college tennis that he hasn't experienced. So whatever comes his way, he's ready for it. He's been through it. So really happy for him. That's a well-earned win."
Botzer said: "I started really, really slow—the whole year, I guess, and this match as well—but I'm really happy I could find my mojo in the second and the third [sets], and I hope to bring the momentum for next week."
The victory was the 20th in a row for Virginia (25-5). The Cavaliers' next stop is Champaign, Ill., where they will face No. 2 seed Florida in the NCAA quarterfinals Thursday. In February, in a consolation match at the ITA National Team Indoor Championships, the Gators defeated the Hoos 4-2 in Seattle.
Virginia has played in the quarterfinals in 15 of the past 17 NCAA tournaments, most recently in 2019.
"I think all of us are excited," said senior Ryan Goetz, who won in straight sets at No. 4 singles and teamed with sophomore Inaki Montes to win at No. 2 doubles Friday. "I think all of us are in the mindset there's still a lot more work to be done, but we're just happy to get the win today."
Pedroso said: "We're taking it in stride. It's the quarterfinals. We've been here before. We're looking forward to it. We feel like we've got a real chance against anyone … Our guys are fit, we're healthy, and we're ready."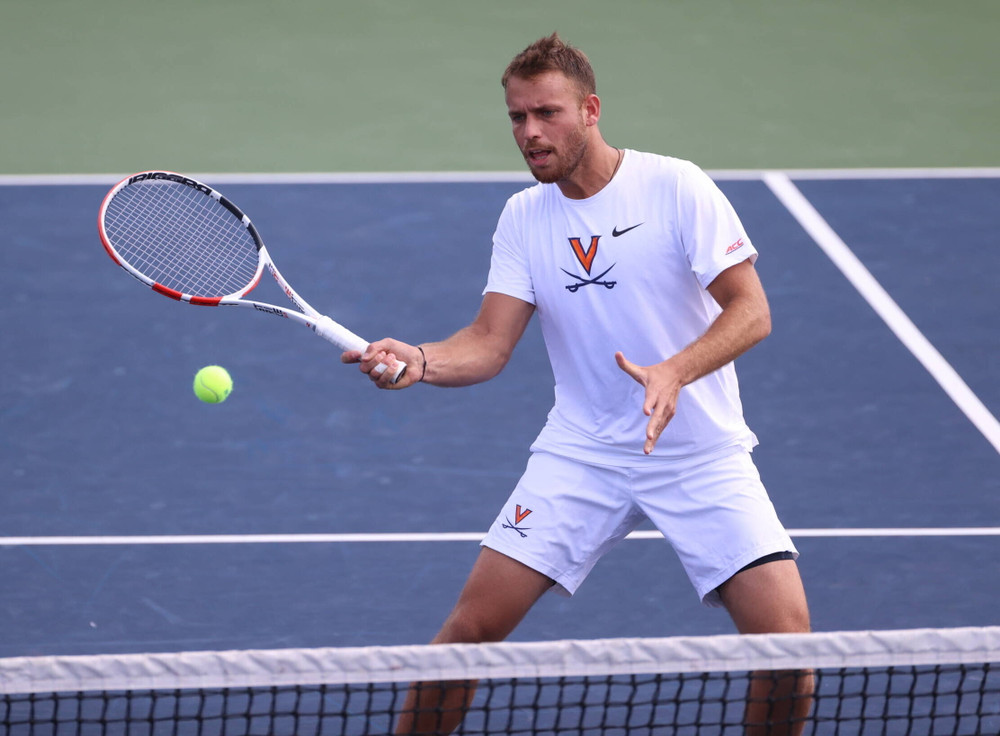 Botzer, who grew up in his native Israel, spent three years in the Israel Defense Forces after graduating from high school. He enrolled at Wake Forest in 2017 as a 23-year-old freshman and quickly established himself as one of the ACC's top players.
In 2017-18, Botzer posted a 36-7 record in singles to help Wake win the NCAA team title. In 2018-19, he advanced to the round of 16 in the NCAA singles tournament before withdrawing with an injury, and in 2019-20, playing No. 1 singles for the Demon Deacons, he was 18-8 when the COVID-19 pandemic shut down college sports.
He received a bachelor's degree in finance from Wake in December 2020. The COVID-19 waiver granted to student-athletes by the NCAA meant Botzer, who had opted out of playing in 2020-21, had two seasons of eligibility left, and he chose to use them at UVA. He began a two-year MBA program at Darden last summer and resumed his competitive tennis career.
"Based on my years at Wake, I had certain expectations for myself on how many wins I'd bring and where I would play on the lineup and how I could help this team," Botzer said Friday.
He's played at every spot in the singles lineup, posting a record of 19-9. He's yet to regain the form he showed at Wake, "but I'm actually really happy that I could help some of the guys to get better off the court, sharing some experience," said Botzer, 28, who's believed to be the first student-athlete to compete for one of UVA's varsity teams while enrolled at Darden.
"We've got really a really, really talented team," he said. "Playing at 6 and winning the point is exactly the same point as winning at 1, so I'm just happy to that I'm able to help the team finally. I felt like it was at times really difficult for me to help the team, especially with wins, but I've always been playing my best tennis in May, and I hope that for this year as well."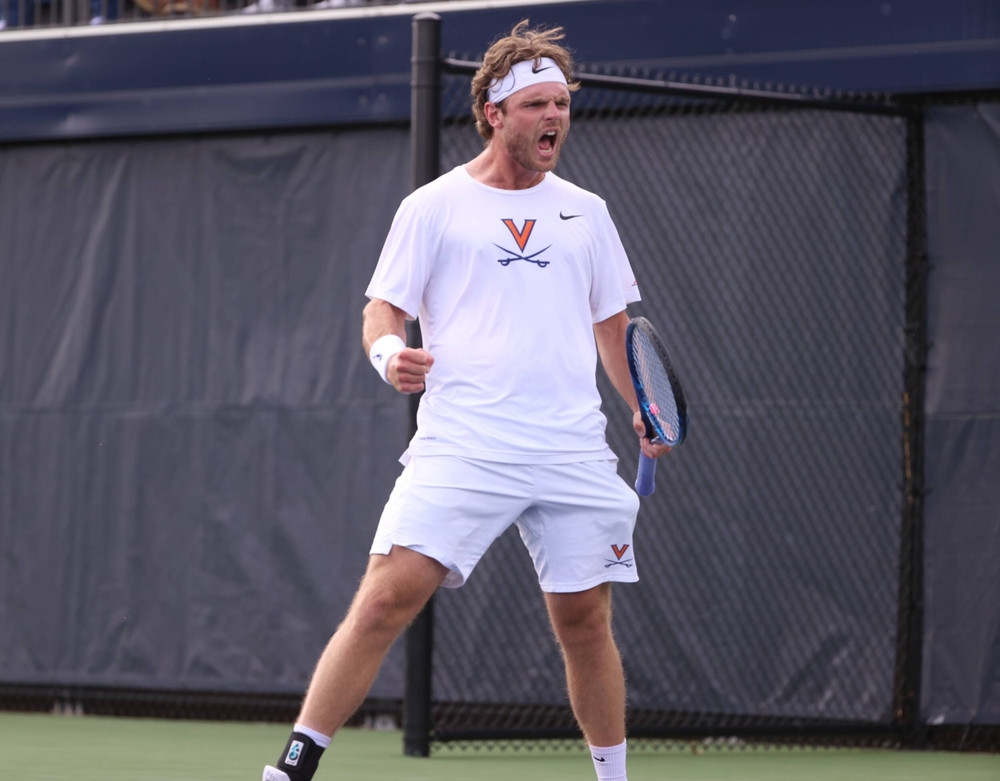 Pedroso said he's reminded Botzer to stay patient. "It's tough to balance Darden and tennis, but we're working through it. This is when he loves to play. This is when he likes to show up. I'm expecting him to play his best tennis next week."
With his first year at Darden behind him, Botzer has more time to focus on tennis. Whenever the Cavaliers' postseason run ends, he'll return to Israel to see his family, but he's in no hurry to get home.
"I want to stay here as long as long as I can," Botzer said. "I wouldn't change it for anything. This is why I play tennis all year, and we want to do as best as we can in the last tournament of the year and bring some more banners to the school."
As Botzer closed in on a victory over Hoole, fans gathered in the stands behind Court 6 and started chanting, "Let's go, Wahoos! Let's go, Wahoos!"
"It was awesome," Botzer said of the atmosphere. "It's just a lot of fun. The last tournament of the year, a lot's at stake. A lot of people came and supported us, and they played a huge role in this one as well."
Pedroso said: "Going from outdoors to indoors is always challenging. But our guys were total pros out there. So I'm proud of them. We competed till the end and played solid, and whatever came our way we were ready for."
To receive Jeff White's articles by email, click the appropriate box in this link to subscribe.