By Jeff White (jwhite@virginia.edu)
VirginiaSports.com
Before his Virginia men's tennis team took on Florida in the NCAA quarterfinals Thursday in Champaign, Ill., head coach Andres Pedroso said, he reminded his players "that we came here to play three matches, not one. And so that's the mindset. We're not just here to make a final four. We're here to go as deep as we can, and hopefully that's three matches."
The Cavaliers' win over the second-seeded Gators assures them of at least two matches. In a clash that started Thursday night and, after a weather delay, ended early Friday morning, seventh-seeded UVA knocked off Florida 4-1 at the University of Illinois' Khan Outdoor Tennis Complex.
"It just feels awesome," said Jeffrey von der Schulenburg, whose win at No. 3 singles clinched the victory for UVA. "But this is just the beginning. This was just the quarters. We still have semis and then hopefully finals."
The Gators were reigning NCAA champions and, in February, had beaten Virginia 4-2 in a consolation match at the ITA National Team Indoor Championships in Seattle. That didn't faze the Wahoos, who took the doubles point Thursday and then won in singles at No. 2 (Inaki Montes), No. 3 (von der Schulenburg) and No. 5 (Gianni Ross).
Montes defeated Sam Riffice, the reigning NCAA singles champion, 7-5, 6-4.
"It was a grind," von der Schulenburg said. "It wasn't the nicest tennis, but we were just all fighting, and I think that made that made the difference with a few points and then then we won."
The Cavaliers are in the NCAA semifinals for the first time since 2017, when they went on to win the program's fourth championship. On Saturday, at 2 p.m. Eastern, UVA (26-5) meets No. 6 seed Tennessee (26-7). In the first semifinal, No. 4 seed Ohio State takes on No. 8 seed Kentucky at 11 a.m. Eastern.
It's not often that a final four in an NCAA tournament includes none of the top three seeds, but "I think it just shows the parity that exists in college tennis right now," Pedroso said. "It's literally anyone's tournament. There are so many good teams, and there are so many coaches doing a great job and trying so hard to recruit incredible players and do amazing jobs with their programs. It's a testament to that. That's what men's college tennis is today."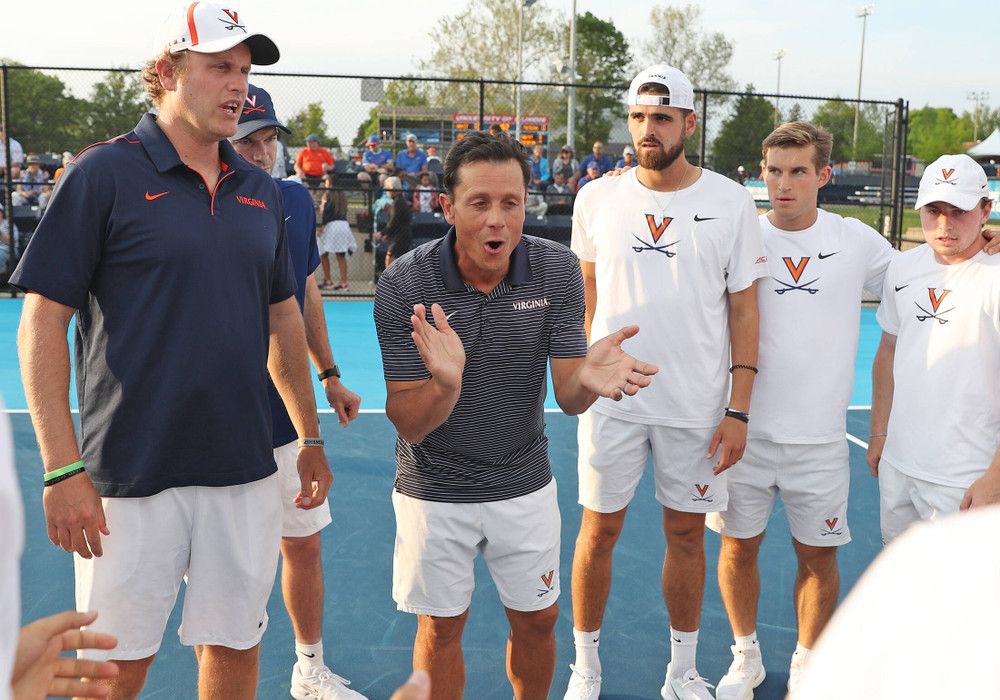 UVA was the only school to be represented in the quarterfinals of both the men's and women's NCAA tournaments, and it hoped to have two semifinalists. The fifth-seeded Virginia women, however, lost 4-2 to No. 4 seed Texas, the reigning NCAA champion, in the second quarterfinal Friday in Champaign.
Sophomore Emma Navarro and junior Natasha Subhash posted one-sided victories for the Cavaliers, who finished with a 23-6 record. Navarro crushed Texas' Peyton Stearns 6-1, 6-0. In next week's NCAA singles tournament, Navarro, the reigning champion, is seeded No. 1 and Stearns is No. 2.
Virginia was looking to advance to the NCAA semifinals for the first time in program history.
"Congrats to Texas on a well-fought match today," UVA head coach Sara O'Leary said. "My heart definitely hurts for this team in not being able to get the win today, but also because it was our last match we got to play together. This is one united group, and I couldn't be prouder of all that they accomplished this year and who they became as a team. They chose to play this season with so much passion, courage and belief and we had a blast! This was a great year and one we can definitely build on. I am very excited about the future of UVA tennis!"
O'Leary thanked departing seniors Sofia Munera and Amber O'Dell for their contributions.
"It's amazing looking back at where this program was four years ago," O'Leary said "I am so proud of the sacrifices they have made and the impact they have had on UVA tennis. I am also so proud of the growth each of them made individually over these last four years. I can't wait to see what their futures hold."
For the UVA men, the poise they showed against Florida was instrumental in that victory, Pedroso said, and that will be required against Tennessee, too.
"No matter what the score is, no matter what happens inside, outside, rain, thunder, whatever it is, wind, just have the maturity to just play each point the best you can," Pedroso said. "That how we're going to play our best."
The Volunteers "compete really well," Pedroso said, "and they're as hungry as we are, they want to win as bad as we do. But that doesn't separate us from anyone. Everyone wants to win so bad at this time. It's all about composure and believing in your game and executing."
The semifinal winners will meet for the NCAA men's title Sunday at 4 p.m. Eastern.
To receive Jeff White's articles by email, click the appropriate box in this link to subscribe.