By Jeff White (jwhite@virginia.edu)
VirginiaSports.com
CHARLOTTESVILLE — Lightning flashed, thunder crashed, and rain pounded Grounds late Thursday afternoon. The storm forced the proceedings, scheduled to begin at 5 p.m., to be relocated inside the George Welsh Indoor Practice Facility, but it didn't spoil the occasion for those in attendance.
"This is a huge, huge day," University of Virginia head football coach Tony Elliott said. "It's a big day, and it's a landmark day, actually, for the institution, for the athletic department, for the football program."
In September 2018, UVA's Board of Visitors approved a master plan that would transform the athletics precinct on North Grounds. Nearly four years later, UVA officials finally broke ground on one of the centerpieces of the project, a 90,000-square football operations center that's scheduled to open in spring of 2024.
The $80 million building will include locker rooms, strength and conditioning space, nutrition spaces, meeting rooms, coaches' offices, video operations and sports medicine areas for treatment and recovery.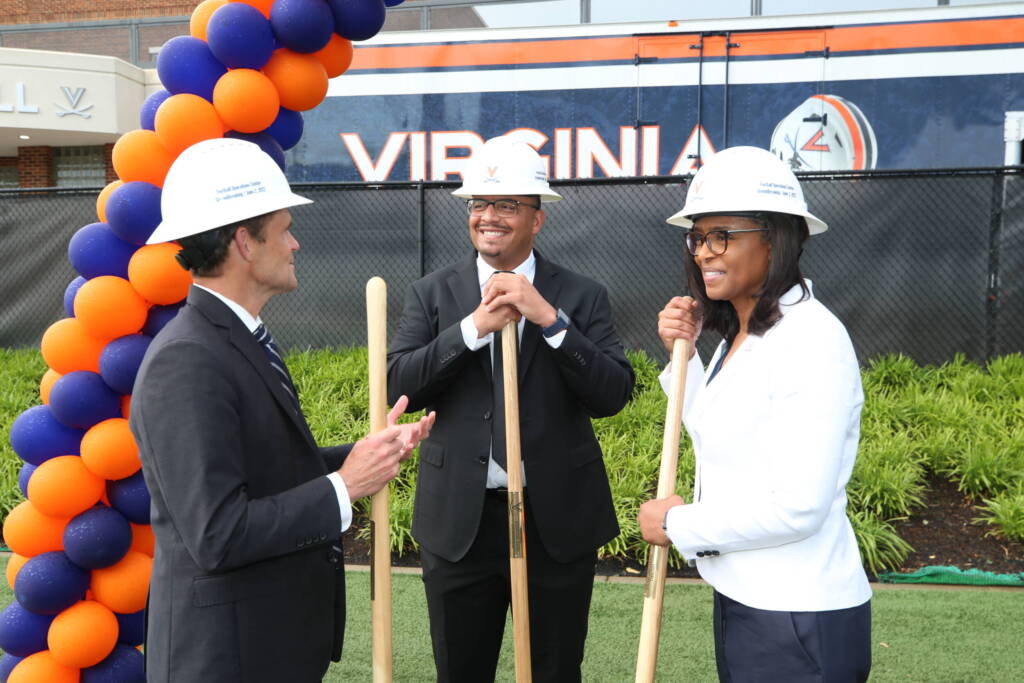 "Football has a special place at UVA, and now our football program will have a very special place to call home," said University president Jim Ryan, one of the speakers at the groundbreaking ceremony.
During Elliott's remarks, he turned to his left, where athletics director Carla Williams was standing.
"Look at that smile," Elliott said. "We all know Miss Carla, she's always cool, calm and collected. But today you deserve to smile. I know I get a lot of attention, but it's not about me today; it's about Miss Carla and the vision that's starting to become a reality."
For Williams, it was a day to savor. She came to UVA from the University of Georgia in December 2017, and upgrading the department's aging facilities became an immediate priority for Williams.
"My second day here we took a tour of the facilities and saw the need," Williams said during a press conference early Thursday afternoon at John Paul Jones Arena, "not just the need for football but the need for our Olympic sports was profound. That's when we started."
The Master Plan's first phase, two lighted natural-grass practice fields, was completed in the summer of 2020. But the COVID-19 pandemic hindered fundraising for the remaining phases, and Williams' patience was tested.
"But I believe in what we're doing," she said. "We're trying to do something at UVA that I think is really special and that can be a model for college athletics. There's no reason why a premier academic institution cannot thrive in football. No reason. It's harder. It takes more work. But we're up for that challenge. Coach Elliott is, too. That's why he was a successful candidate."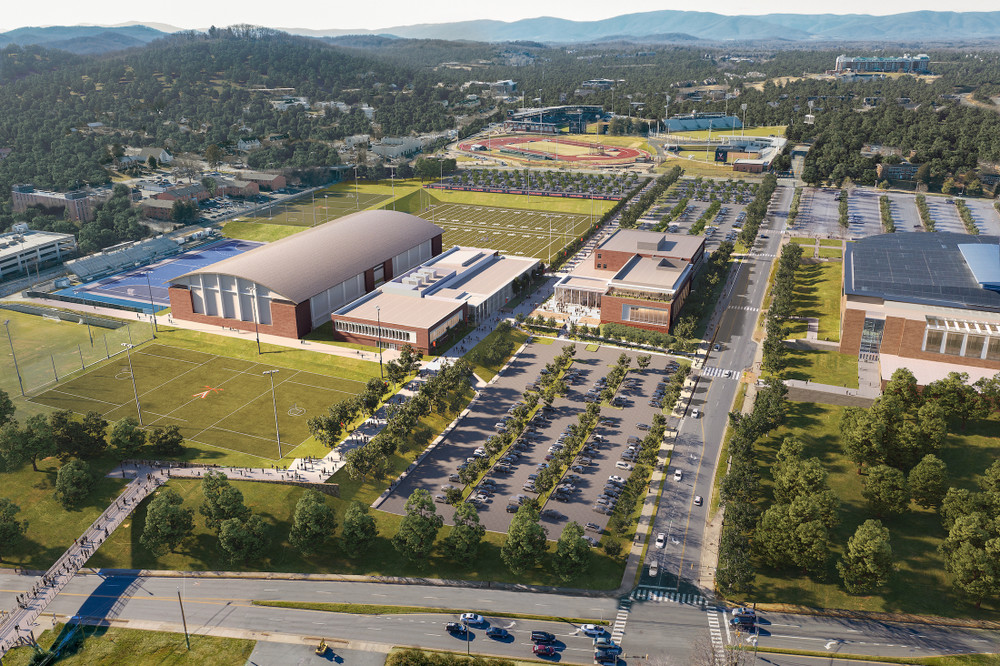 Elliott took over in December for Bronco Mendenhall, who stepped down after six seasons as the Wahoos' head coach.
"I'm very grateful that they gave me some input in the final stages [of designing the football operations center]," Elliott said, "just to make sure we had everything that we needed to make it a full-functioning facility for the football players."
Elliott came to UVA from Clemson, where he spent 11 years on head coach Dabo Swinney's staff. Elliott spoke Thursday evening about the impact a new football support facility had on the Tigers' program.
"I think back to 2016, winning the national championship and then moving into a new facility, the forever home of that football team," Elliott said. "So now we're going to have the forever home of the Cavalier football team. That's why I said it's a landmark day."
Dozens of former UVA players joined the current team at the groundbreaking ceremony. Elliott had his players, who wore coats and ties, stand up, and they received a round of applause.
"As we're challenging and pushing these young men towards leading us to become a model program, it's important that we show them that we support them fully in everything that they do," Elliott said, "and this space in the new facility is going to give us all the room that we need, plus all the resources that we need, to pour into these young men holistically to create the model program in all of college football."
Elliott said he's "really, really excited about the new facility, the bricks and mortar, but I'm more excited about being able to have time to establish the right culture, so that when we go into the building, we appreciate the building, we understand the investment that's been made in the building, and we reciprocate that in the effort that we work with every single day."
The Master Plan also includes plans for a new Olympic sports center. Fundraising for that project is ongoing, but Williams said she hopes construction will start in the spring of 2023 and be completed in the spring of 2025.
"These facilities—the football operations center and the soon-to-come Olympic sports complex—allow students to maximize their UVA experience," Williams said, "and them to continue to be that magnet that draws donors, alums, the University community and the broader community together in a way that only sports can do."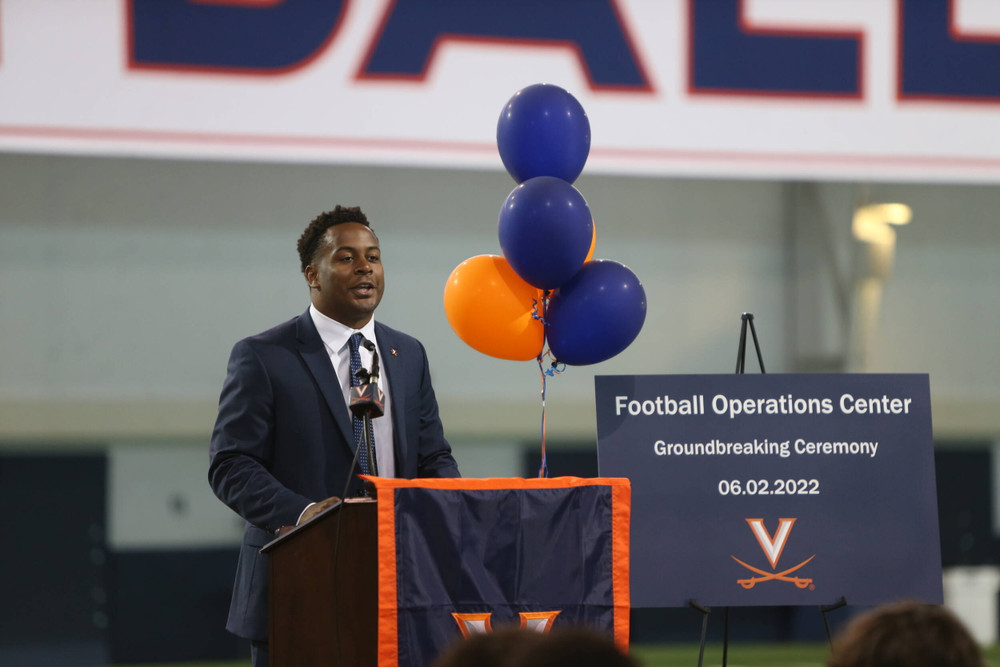 Since the McCue Center opened in 1991, it has housed UVA's football team. But the Cavaliers have outgrown that building and now must hold team meetings in the indoor practice facility.
"The best thing to say in a positive way is that we've become innovative in ways to utilize what we have," said associate head coach Marques Hagans, a former UVA standout. "But [the new operations center] will give us an opportunity to really centralize everything in one building and not have to use other parts of Grounds or other facilities. We'll have one we call our own."
Hagans, who played for head coach Al Groh at UVA, returned to his alma mater as a graduate assistant in 2011. He's worked for three head coaches at Virginia: Mike London, Mendenhall and, now, Elliott.
Did Hagans think this day would ever arrive?
"I'll be honest, I was a little skeptical," he said, smiling, "because for years we had a belief that [a new operations center] would be here, and for whatever reason things just kept getting pushed back. And so to break ground today, I'm just very fortunate to witness it and be a part of it and hopefully be a part of the success moving forward."
Garett Tujague, who took over as the Cavaliers' offensive line coach in 2016, said the new building will allow the coaches to "cultivate those relationships with players at a much higher level, because everything is right there. So I'm really looking forward to the connectivity between the coaches and the players, and being able to have a facility where it's a one-stop shop."
Blanda Wolfe has been a key member of the program's recruiting department since 2011, when London was Virginia's head coach. Wolfe believes the new operations center will have a dramatic impact—all positive—on the Cavaliers' recruiting efforts.
"Over the last 10 or 11 years that I've been here, we've lost some people because of facilities," Wolfe said. "It's come down to that. Even their high school coaches and parents have told us players would have come here, but the facilities sort of changed their mind. This is going to give us the opportunity to go to the next level."
Tujague agreed. "The age-old adage about a weight room is, 100 pounds is 100 pounds, no matter where you put it. And the quality of the food is the quality of the food, no matter where you put it. But being able to have it all in one spot, it's going to show our commitment as a university to the student-athlete football player."
Elliott hasn't been in Charlottesville for long, but he's keenly aware that rival programs have highlighted UVA's poor facilities in recruiting battles with the Cavaliers.
"They've used a lot of things [against Virginia]," Elliott said, "and I think that time's going to come to an end. It's our job as a staff to make sure that we properly educate the recruiting base and the fan base on what Virginia football is really all about.
"We know we've got work to do, but we're confident that we've got a product to sell that's better than anybody else in the country. All we've got to do is get young men on Grounds, and once they see the direction, once they realize and understand the vision that I have for this program, then we'll be able to change their perspective, and eventually people won't be able to use the things they're using against us right now."
The new operations center, which has yet to be named, will help the staff on that front. It's being designed by ZGF Architects.
"This will set the stage for the future success of Virginia football for decades to come," said Dirk Katstra, executive director of the Virginia Athletics Foundation.
"It will have everything we need to compete for championships," Williams said.
Speakers at the groundbreaking ceremony were Katstra, Ryan, Williams, Elliott, UVA rector Whitt Clement and linebacker Nick Jackson. Each thanked the donors who supported the project, and Ryan singled out the "anonymous donors whose generosity got us over the goal line."
Jackson said: "This new building provides us with another opportunity to further align with Coach Elliott's vision of the model program. We cannot thank you all enough for the opportunity you have given us. This is an amazing time to be a Hoo."
Earlier that afternoon, at JPJ, Williams had answered questions from reporters on a variety of topics, including name, image and likeness, Title IX, mental health issues in college athletics, and ACC football scheduling. On this day, though, most of the talk was about the football operations center.
"Facilities or not," Elliott said, "I'm just excited that this is the place that I found and got confirmation that it was the right place for me to come lead. And now that we have the commitment of the facilities, now we can really, really, really go to work on trying to build the model program in college football."
To receive Jeff White's articles by email, click the appropriate box in this link to subscribe.