By Jeff White (jwhite@virginia.edu)
VirginiaSports.com
ROME — In its first 30 hours in this historic city, the University of Virginia men's basketball team rarely stopped moving. There were visits to the Colosseum, Palatine Hill and the Roman Forum on Thursday, and a tour of the Vatican, including the Sistine Chapel, on Friday.
The Cavaliers even found time for some hoops.
On a 10-day tour that will also include stops in Florence, Rapallo and Portofino, UVA is scheduled to play four games. The first comes Saturday night against a team from Rome, the Stella Azzurra Basketball Academy.
The Wahoos practiced at Stella Azzurra's small but well-appointed—and non-air conditioned—gym on Friday. They'll be back there Saturday for the game.
"I know you feel a little groggy, but once you get moving you'll be fine," head coach Tony Bennett told his players at the start of practice.
The Wahoos left Charlottesville in the early afternoon on Wednesday. Not long after they made it to Dulles International Airport, thunderstorms arrived, delaying the team's departure for about four hours.
A eight-hour flight followed, and so Thursday became a marathon that included precious little sleep for the players and staff, who headed over to the Colosseum area immediately after finishing lunch.
"Yesterday was really hard," redshirt junior center Kadin Shedrick said after practice Friday. "I was struggling all day."
Even so, the Cavaliers pushed through their fatigue and absorbed as much as they could of the flood of information directed their way by tour guides Lumi Mircea and Scott Spinucci at the Colosseum and nearby sites, one of which hosted the wrestling competition at the 1960 Summer Olympics, which Rome hosted.
The traveling party split into two groups, one of which included strength and conditioning coach Mike Curtis, his wife, Rachel, and their two sons, Roman and Max.
"You're in the right city," Spinucci told Roman, 7.
From their tour guides, the Hoos learned about many of the myriad inventions for which the Roman Empire was renowned, including the arches that facilitated the construction of bridges, roads and aqueducts.
"There would be no Roman Empire without the arch," Spinucci told his group.
Near the end of a long, hot afternoon, the Cavaliers looked out from high up in the Coliseum at a nearby area, now ruins, where gladiators trained. That served as still another reminder that they were seeing something out of the norm.
"Much of what our society is," Bennett told the players Friday, "is from how Rome was."
"I've been through a lot of school in my life," said forward Ben Vander Plas, a graduate transfer who has two master's degrees from Ohio University, "and you obviously learn about the history of Europe, but to be able to see it first-hand and go on these tours and hear from the people over here is a really cool experience."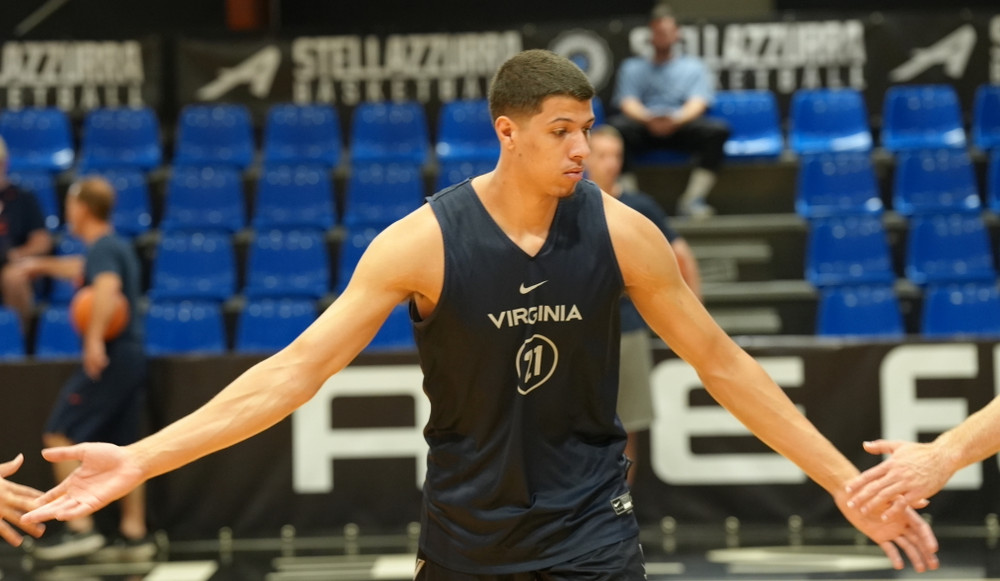 By Friday, the Hoos had shed their collective jetlag, and they went through an energetic practice. It ended with a spirited, if occasionally off-key, rendition of "Happy Birthday," in honor of Anna Williamson, who turned 22 on Friday. She's one of two student-managers on the tour, along with Jackson Selby.
The team practiced Wednesday morning before leaving for Dulles, and getting back on the court helped them acclimate to their new surroundings.
"It was good to get back out here, get a sweat in. I got a good sleep last night, so I'm feeling back to normal," said Shedrick, whose parents, like those of Vander Plas, are in Italy for the tour.
Vander Plas said: "Being able to go through a little run-through today was good, and I'm really looking forward to being able to play some games."
After a splendid lunch at a local restaurant, the Cavaliers headed to the Vatican, where they again divided into two groups for tours. The players were with Mircea, an Italian who had more knowledge to impart than time to do so.
She informed her group that St. Peter's Basilica, which is in Vatican City, is the largest church in the world and that Michelangelo designed its dome. She detailed the history of the Michelangelo's paintings in the Sistine Chapel, lauded Rafael's famed tapestries, and maintained a steady stream of commentary.
Shedrick, a student in UVA's McIntire School of Commerce, paid particularly close attention throughout the tour.
"You know what these are?" Mircea asked in one room of the museum.
"Bathtubs," Shedrick answered.
"Right," Mircea said.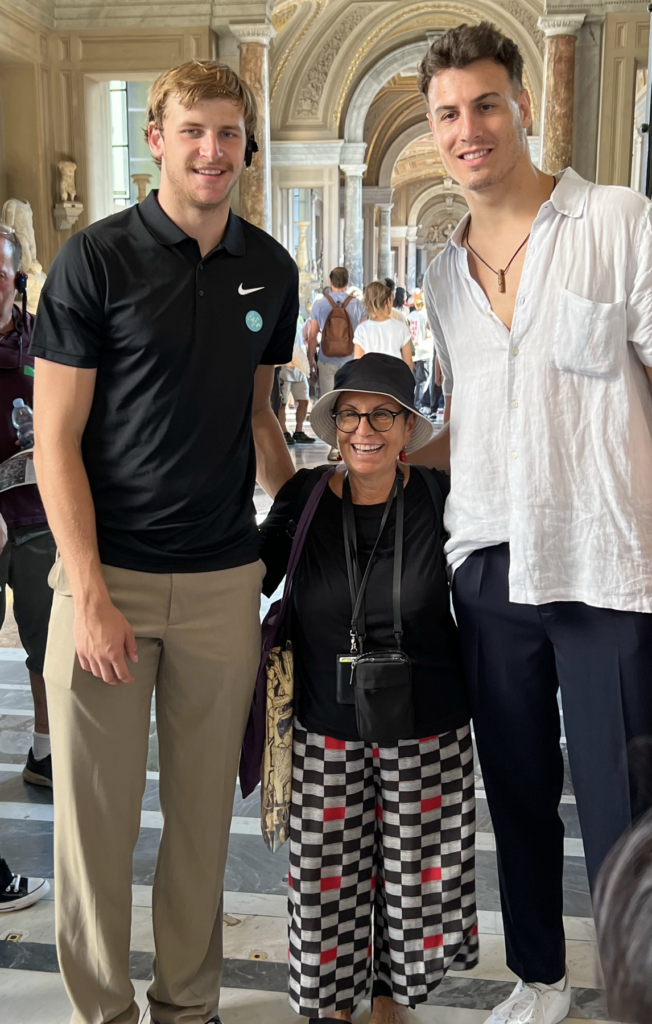 Amid thousands of visitors inside the Vatican on Friday afternoon, the Cavaliers managed to stand out, at least the taller players. One visitor—a woman who might be generously listed at 5-foot on a basketball roster—was so taken with the stature of 7-foot-1 Francisco Caffaro and 6-foot-9 Isaac Traudt that she asked them to stand side by side for a picture. Then she joined them for another photo.
For most of UVA's players, including Shedrick and Vander Plas, this is their first visit to Europe. Shedrick has been to the Bahamas, and Vander Plas to Canada and the Dominican Republic, but that was the extent of their international travel before arriving in Italy. For guard Chase Coleman, this is his first trip outside the United States.
Vander Plas spent five years at Ohio before transferring to UVA this year. The NCAA allows a Division I team to take a foreign tour every four years, and Ohio had planned a trip to Italy that was canceled after the COVID-19 pandemic hit.
"So it's nice that I finally ended up here," Vander Plas said, smiling.
After entering the transfer portal, Vander Plas considered several schools before choosing UVA. During their pursuit of the All-Mid-American Conference performer, whose father played with Bennett at Wisconsin-Green Bay, the Cavaliers' coaches made sure to mention the trip to Italy, "and when I committed, it was definitely something I was looking forward to right away," Vander Plas said.
The Hoos' second game is Monday night in Florence. Their final two games are Aug. 18 and 19 near Rapallo.
NOTE: For reports, videos and updates from the Cavaliers' tour of Italy, check VirginiaSports.com and the team's Twitter account, @UVAMensHoops.
To receive Jeff White's articles by email, click the appropriate box in this link to subscribe.