By Jeff White (jwhite@virginia.edu)
VirginiaSports.com
FLORENCE, Italy — At this historic city's most famous church, the Duomo, it's 463 steps from the bottom to the top of the Cupola Dome—all in narrow stairways that twist and turn throughout the ascent.
About halfway up the climb Monday, with his legs burning, University of Virginia freshman Leon Bond III voiced a question that undoubtedly had occurred to his teammates as well.
"They scheduled this on game day?" Bond said.
Yes, indeed. During the season, UVA men's basketball players stay off their feet as much as possible on the day of a game. On the Cavaliers' tour of Italy, however, basketball is not always the No. 1 priority. Head coach Tony Bennett wants his players to take in as many sights as possible: first in Rome, now in Florence and, later this week, in Rapallo and Portofino.
And so on their second day in Florence, under sunny skies, the Wahoos embarked on a walking tour that stretched from morning to afternoon before playing Orange1 Basket Bassano that evening. The high point, literally, was the journey to the top of the renowned dome that Filippo Brunelleschi built in the 15th century.
"Oh, my God, this is amazing," UVA freshman Ryan Dunn said as he surveyed the splendor of Florence from the observation deck.
"That's my workout for the day," graduate manager Stelios Tzoutzis said.
"That's the workout for two weeks," center Francisco Caffaro countered.
A few hours after returning to the team hotel Monday, the Cavaliers left again, this time for the second of the four games they'll play on this tour. Against host Orange1, Virginia rolled to a 71-41 victory.
It wasn't the Hoos' first sporting event in Florence. On Sunday, not long after arriving in town, most members of the traveling party attended a Serie A soccer match at Artemio Franchi Stadium, where the local club, AFC Fiorentina faced Cremonese before a boisterous crowd.
The home fans went home happy, as did the Hoos, most of whom had adopted Fiorentina as their team. In the fifth minute of stoppage time, a goal by Rolando Mandragora sparked a frenzied celebration and lifted Fiorentina to a 3-2 victory.
"That was awesome," said UVA center Kadin Shedrick, who like teammate Ben Vander Plas left the match wearing a purple Fiorentina jersey. "That was the first-ever soccer game that I've been to. That was a really cool atmosphere. The fans were in it the whole game, the away fans traveled extremely well, so it was super cool."
That was freshman forward Isaac Traudt's first soccer game, too, and "it was really cool to see the atmosphere there," he said. "Those people are so into that, and to see the game-winning goal, we were all going crazy, so that was really fun and a cool moment."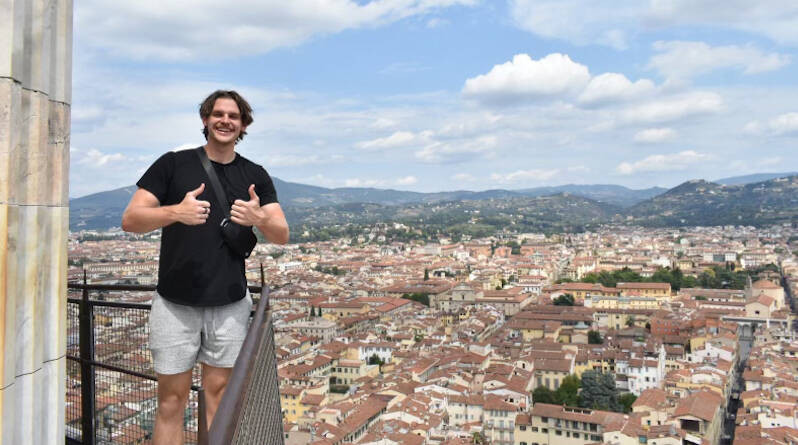 There was no such drama in the Cavaliers' second basketball game in Italy. Orange1 tested UVA more than Stella Azzurra had Saturday night, but it was still a one-sided affair.
Bennett turned things over to associate head coach Jason Williford for this game and never had to second-guess that decision. After a frenetic first quarter marked by missed shots and turnovers, the Hoos pulled away.
"I had a lot of pressure on me," Williford said with a smile afterward. "My youngest son, Cameron, said I better not lose this one. So I think I answered the bell."
On a night when Vander Plas, Reece Beekman and Isaac McKneely were rested, three other Cavaliers scored in double figures: Traudt (19 points), Shedrick (12) and Caffaro (11). Caffaro, a fifth-year senior, had sat out the first game, along with Kihei Clark and Taine Murray.
Clark, a fifth-year senior guard, contributed five points, five assists and four steals Monday, and Murray, a sophomore swingman, finished with six points and four assists. Bond, a freshman swingman, scored only two points, but he grabbed eight rebounds and came up with three steals.
"It was good to see different guys out there," Williford said. "Kihei got a chance to play, [Caffaro] got a chance to play, Taine, so it was good to see those guys.
"I thought we were good defensively. Our ball pressure was good, especially Kihei on ball, but I thought towards the end there were a few lapses, a little carelessness with the ball, some silly turnovers. Those things, you can't have those."
Orange1 "tested our vision," Williford said. "We gotta be better with our vision, our alertness off the ball, but for the most part I thought our guys were good. It's just part of the growing pains."
He had no complaints about the play of No. 23. "I thought Traudt did a tremendous job going to the offensive glass and being aggressive that way," Williford said.
A 6-foot-9 freshman from Nebraska, Traudt scored eight points against Stella Azzurra but looked out of sync at times in UVA's 76-24 romp. Not so Monday. In addition to his 19 points, he had six rebounds, three assists and two steals.
"The coaches told me before [the game that] I needed to hit the offensive boards, because I didn't do that last time," Traudt said. "Then once I started doing that, I got some boards, got some shots in the hole, and then I started getting more confidence and just felt more comfortable out there overall."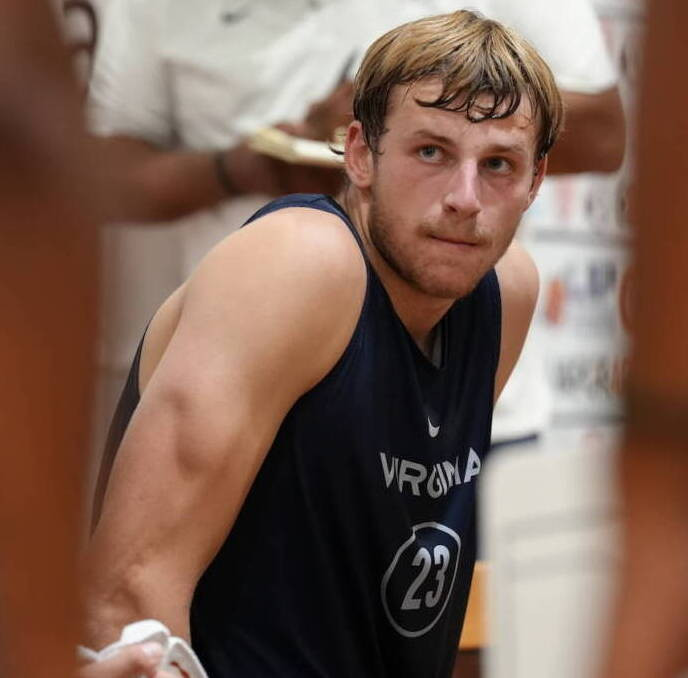 His transition to the college game, Traudt acknowledged, hasn't been seamless. At UVA, he joined a team that returns its top six scorers from last season and added a talented graduate transfer, Vander Plas, who plays the same position as Traudt.
"It's tough," Traudt said. "because in high school, everything went through me and I was used to kind of having to do everything, but there's also a positive to that. You don't have to spend a lot of time doing everything. I just gotta play my role and try to do it the best time I can.
"Defensively, it's been a big adjustment for me, because [UVA's coaches] just demand so much of you defensively, and in high school I didn't really play a whole lot of defense, so I kind of had to adjust to that. That's been the biggest adjustment."
A 6-foot-11 redshirt junior, Shedrick scored a game-high 13 points and pulled down seven rebounds Saturday. He impressed again Monday night, supplementing his points with seven boards, two steals and an assist.
Shedrick is coming off a season in which he started 19 games and averaged 6.9 points, 5.1 rebounds and 1.9 blocked shots. He shot 64.1 percent from the floor and ranked third among ACC players in blocks per game, but Shedrick hasn't come close to reaching his potential.
"He's been working his butt off," Williford said. "I think he wants to get more minutes and contribute more … He's been finishing, he's running the floor, he made a couple face-in shots today. He's been aggressive, so we like that. We challenged him before this one to go to the offensive glass more, and he did that."
His focus this offseason, Shedrick said, has been mostly "the same as it was going into last season: getting stronger, getting heavier, but trying to keep the same mobility. But also what I've been working on a lot is my jump shot. Every day pretty much since the season ended, I've been working on my jump shots, so knocking down middies consistently and maybe stepping up to the 3 every now and then."
From the time they left Stella Azzurra's gym in Rome on Saturday night until they arrived at Orange1's gym some 45 hours later, the Hoos did not go near a basketball court. That contributed to some of their lapses.
"And not only that," Williford said, "we walked to the top of the Duomo today. I know for one my legs are gone, so I knew theirs were. You factor that in: no practice, some rustiness, and timing also. The more you practice, your timing's there, your shooting's there. But all in all it's been a great trip."
Shedrick agreed. He also noted that the Hoos are performing a balancing act, as he expected "coming into it," Shedrick said. "I'm only going to be in Italy maybe once ever, so I want to experience all the tourist stuff, but we're also locked into the basketball. It's exhausting, but I think every minute is worth it, because we're never going to get this time back with each other, and it's great for our team-building and chemistry. So I've really loving it."
As for the 463 steps he climbed earlier in the day, "those were crazy," Shedrick said. "I'm still gassed from those. Getting to the top, it was cool to watch from afar. I'm afraid of heights, so that was interesting. I was definitely terrified. My heart was beating pretty fast. It was cool, though."
Virginia                  15 20 23 13 — 71
Orange1 Basket     11   5 13 12 — 41
          Virginia — Franklin 7, Murray 6, Caffaro 11, Gardner 7, Clark 5, Traudt 19, Shedrick 12, Bond III 2, Dunn 2, Coleman 0.
NOTE: UVA's next game is Thursday night in Rapallo. For reports, videos and updates from the Cavaliers' tour of Italy, be sure to check VirginiaSports.com and the team's Twitter account, @UVAMensHoops.
To receive Jeff White's articles by email, click the appropriate box in this link to subscribe.