By Jeff White (jwhite@virginia.edu)
VirginiaSports.com
CHARLOTTESVILLE — The landscape of college sports continues to change, and the advent of Name, Image and Likeness (NIL) possibilities for student-athletes has been part of that evolution.
At the University of Virginia, the athletics department has been working with Altius Sports Partners since January to educate student-athletes about NIL options. As part of its relationship with Altius, UVA is adding a full-time general manager who'll be on Grounds to assist student-athletes.
"NIL is part of the student-athlete experience now, and we're going to embrace it," said Jim Booz, UVA's deputy athletics director for administration. "If it weren't for our student-athletes, we wouldn't be here, we wouldn't have jobs. We want to embrace it and help them maximize it."
That's why UVA was among the schools that sent student-athletes to the inaugural INFLCR NIL Summit. Held over three days in June at the College Football Hall of Fame in Atlanta, the event was launched to further educate student-athletes about NIL possibilities.
"For a variety of reasons, we wanted some of our students-athletes to be able to learn and to see what opportunities might develop for them out of that," Booz said, "and for us to learn from them about what that experience was like. And so it was another step of trying to provide opportunities for student-athletes in this evolving significant space."
Representing UVA were fourth-year students Alahna Sabbakhan and Nigal Davis, kinesiology majors who are members of the track & field program. They said they were intrigued when heard about the summit, wanted to learn more about NIL, and decided to apply.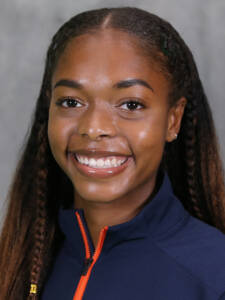 Davis, who's from Martinsville, is minoring in entrepreneurship. One of his classes, he said, discussed "creating a platform to help student-athletes be mentors or connect with younger athletes. I thought if I was selected to go to the summit, with the knowledge I would gain from that, I could help my teammates and other athletes when I get back to Charlottesville."
Several hundred student-athletes from around the country attended the summit, and they formed a diverse group.
"Of course, there were a lot of Power Five schools," said Sabbakhan, who's from Washington, D.C., "but I met people who were not from Power Five schools."
One of those, Sabbakhan said, was a volleyball player "who was interested in DIY stuff and creating content online. It wasn't limited to people who are only at big schools. All athletes, regardless, could have the opportunity."
Student-athletes at the summit spent time together at meals and receptions, participated in breakout sessions on a variety of topics, and heard from speakers, including former football stars Tim Tebow and Jerome Bettis, ESPN basketball analyst LaChina Robinson, the NFL Players Association's Sophie Gage, and leaders of NIL-related companies like INFLCR and Student Athlete NIL.
"There were some athletes, but a lot of the speakers were either people who were part of businesses or people that created their own presence online," Sabbakhan said. "There were college student-athlete speakers, too, so it a pretty good mix of people from different kinds of backgrounds."
Davis said: "You could pick and choose what sessions you attended and sat in."
Thanks to UVA's initiatives for educating its student-athletes, Davis and Sabbakhan headed to Atlanta with a solid understanding of NIL.
The summit, Sabbakhan said, discussed how NIL works but focused more on "how to really use it to make the most of it. Just how to use it to your advantage and the best ways to build your brand. It was a mix of all it, really."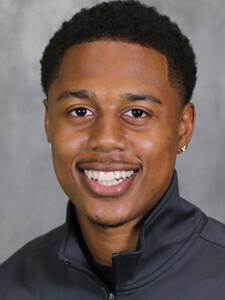 Davis said he believed that "what [summit organizers] really wanted us to hone in on was building your own brand and staying authentic to yourself. It was something that Tim Tebow talked about. He doesn't personally drink soda, so he wasn't going to sign a brand deal with Coca-Cola. It was a whole bunch of teaching and being smart about the brands that you decide to work with. Only choose brands that are authentic to who you really are."
The summit, Sabbakhan said, "was a really good experience, and not just for NIL, not just for college. A lot of it was just life lessons and about dealing with money, which is obviously really important in the future. Of course it did inspire me a lot to use the [NIL] opportunities there are now and do a lot with that, but just in general, I feel like it was really helpful things to help me in my own life."
Davis noted that he also formed valuable relationships at the summit, "connections that you make at places like this. I know Alahna connected with a whole bunch of different athletes, and I did too. We probably wouldn't see people from the PAC-12 or the Big Ten or [other conferences ordinarily], so with all of us being unified at this place together we could connect, talk to them, get different viewpoints on how stuff is going at their schools, how stuff is going with NIL for them."
Moreover, Davis said, the student-athletes in Atlanta connected "with small businesses that had a couple of different brands. We were able to talk with them and see what the brands wanted to do with us in the future. Networking is huge in every aspect, and [at the summit] it was definitely a good thing."
Not only did Davis and Sabbakhan learn more about NIL in Atlanta, but they befriended  student-athletes who played sports with which they weren't always familiar. Davis met a couple of water polo players from a school in New York, and Sabbakhan met several gymnasts.
"If it wasn't for this opportunity," said Sabbakhan, who like Davis has opted in to working with the Cavalier Futures collective, "I probably wouldn't have been able to meet that many gymnasts, and it's funny, now I'm following them on Instagram and stuff. You're used to just seeing track all the time, so it's really nice to have been able to make those connections and see different things."
A new school year is about to begin at UVA, and Sabbakhan and Davis look forward to sharing information about the NIL Summit with fellow student-athletes.
Through the athletics department's partnership with Altius, Booz said, "we can do exactly things like that: take all the different experiences that our student-athletes are having, learn from them and figure out how we can best position ourselves at UVA to maximize this opportunity. So we'll have them talk to us about their experience, about what they learned, about what they'd like to see in the future, how they think we can better help them, in the short term and long term, take advantage of their name, image and likeness."
In May, UVA Athletics and The Brandr Group established a licensing agreement that allows student-athletes from all 27 of Virginia's varsity teams to use the school's official trademark and logos to profit off NIL. Late last month, the athletics department announced that custom fan jerseys, personalized with participating Cavalier student-athletes' last names and numbers or with the fan's own name and number combination, are available through the UVA Bookstore.
"We've talked about education and helping student-athletes learn how to do these things and to take advantage of the opportunities that they have, which is really important," Booz said, "but we also want to be very active in helping our student-athletes facilitate opportunities for themselves, so they can take advantage of it while they're here. They're here for a short period of time, and we want to help them maximize that."
To receive Jeff White's articles by email, click the appropriate box in this link to subscribe.