By Jeff White (jwhite@virginia.edu)
VirginiaSports.com
SANTA MARGHERITA LIGURE, Italy — When the University of Virginia men's basketball team arrived for practice Wednesday in this coastal town on the Italian Riviera, head coach Tony Bennett was delighted to see a familiar face waiting outside the gym: that of Nikola Koprivica.
"I love Nik," Bennett said.
Koprivica, who's from Belgrade, Serbia, traveled to the Rapallo area with his wife, Vedrana Grbovic, to see Bennett and Ronnie Wideman, UVA's associate athletic director for basketball administration/operations at UVA.
Koprivica is now the director of international scouting for the NBA's Detroit Pistons. In 2006-07, he was a freshman forward for Washington State and its first-year head coach, Bennett, who had succeeded his father, Dick, in that position.
Wideman was the Cougars' director of operations. Like Bennett, Wideman couldn't stop smiling Wednesday when he was around Koprivica.
"He and I go so far back," said Wideman, who shook his head when recounting some of Koprivica's quirks.
"If you don't hit this guy right in the shooting pocket with a pass, everything is 'unfriendly.' Every missed shot was my fault," Wideman said.
"Not many missed shots, though," Koprivica responded.
That he ended up playing for Bennett was something of a miracle. Not until the summer of 2006 did Koprivica decide he wanted to attend college in the United States, and he committed to Northeastern University, with plans to enroll in 2006-07.
Then other schools became interested, including Wazzu. One of the Cougars' assistant coaches, Matt Woodley, "had a friend who saw me play at the European [under-18] championship that summer," Koprivica recalled, "and he said, 'This kid is very good.' "
Early that August, Bennett called Koprivica and offered him a scholarship. "I'm like, 'Yeah, Coach, that's great, but I already committed to this school, and I want to honor my commitment, and he's like, 'OK, if something changes, just let me know.' "
Koprivica hadn't heard much from Northeastern, and a week later, when he wasn't able to reach the head coach, he headed off in a new direction. "I called Tony and said, 'I'm coming.' We got paperwork and everything done within three or four days."
It took Koprivica, who'd never been to the U.S., a while to realize that Washington State was not on the East Coast. "I thought it was D.C.," he said, smiling.
He flew from Belgrade to London to Seattle to the small town of Pullman, Wash., where Wazzu's campus is located, arriving about two weeks after the start of the 2006-07 school year.
There was immediate culture shock for "a kid from Serbia who doesn't really speak good English at the time," Koprivica said. "I remember it like yesterday. Tony and the rest of the staff are picking me up. I don't know if you've ever been to Pullman, but the airport in Pullman is half of this gym. That's how big it is. So I walk out and I'm like, 'OK, where is the baggage claim?' And they just come out and bring your bags and hand them to you. That's how small it is. It was a big transition, but I loved it there. We had a special group."
In 2006-07, the Cougars, picked to finish last in the Pac-10, matched a school record with 26 wins and advanced to the NCAA tournament for the first time in 13 years. Koprivica missed much of that season with a torn ACL, but he returned in 2007-08 and helped Washington State reach the NCAA tournament's Sweet Sixteen for the first time.
"Great mind and great love for the game," Bennett said of the 6-foot-6 Koprivica.
Bennett's teams at Wazzu played the same rugged Pack Line defense for which Virginia has become known during his tenure.
"I never liked to play defense, I'll tell you that much, when I grew up," Koprivica said. "Coming from Serbia, I loved to shoot, loved to run, and then I come here, with these guys, in an hour-and-a-half practice, we do an hour and 15 minutes of defense every day.
"I'm like, 'Wow, what are we doing here?' But I bought in, because I knew that was the only way to get on the court, and that's the point: I wanted to get on the court. Then I was locking in on defense, and there's no better feeling than when you see in opponents' eyes how much they hate playing against [Bennett's teams]. Like I talk to guys now around the [NBA] that played against him, and they hated it."
Bennett, who compiled a 69-33 record at Washington State, left for UVA after the 2008-09 season, as did Wideman, but Koprivica has stayed connected with them.
"Me and Tony text each other every year a few times," Koprivica said. "I watch some games and in the big moments give him support and stuff, and he always texts back. We keep in touch a bit, but I know he's got so much going on. I talk to Ronnie much more."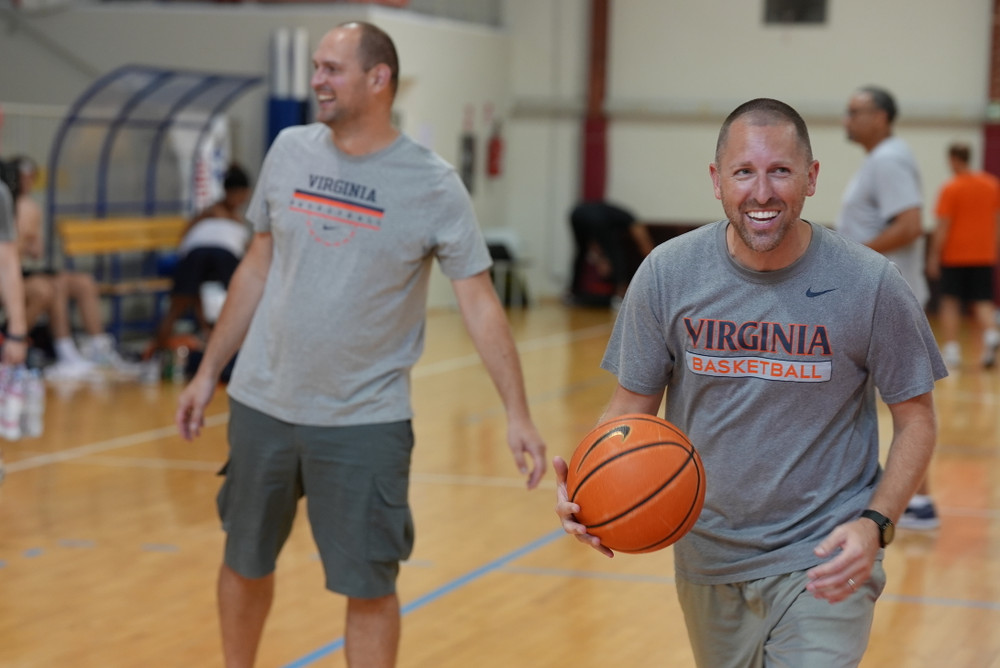 That Bennett has been so successful at UVA did not surprise Koprivica. "I knew it was coming. I just hoped that he could keep the team together. Kids are leaving right away. As soon as they have a chance to go to the NBA, they're out. So I was just hoping he'd have the chance to keep a team for two or three years, but it worked out like a lucky charm, with the championship and everything."
In 2019, the Wahoos won the NCAA title in Minneapolis. Several of Bennett's former Washington State players were in the stands at U.S. Bank Stadium. Koprivica would have joined them, but he was on the road scouting.
"I think I was in Germany," he said. "The [NCAA championship] game was late night, I think it was 3 a.m., so I stayed up and watched the game, and I've never seen myself cheering so much for somebody, other than myself and a team I played for. I never played for Virginia, but I feel like a part of a family, because he makes people feel that way. And when I come [to Italy], I feel like I'm home, almost like Washington State, because he welcomes me, Ronnie welcomes me."
After the 2019 championship game, Koprivica texted Bennett. "Everything I had on my heart, I told him. I was there when he started. So when [UVA] ended up winning it, I really felt like I was part of it in a sense. I was the roots, basically, where it started."
Koprivica still keeps up with many of his Wazzu teammates. "We're friends for life, and the great thing about Tony is, he always welcomes everybody, so I feel like we're really one, big family. I can see him once in, like, 10 years, and we pick up right where we stopped."
Bennett said he's grateful for his time with Koprivica and the other Cougars in Pullman. "They showed me so much, taught me so much, because I was a young head coach," he said.
After graduating from Washington State, Koprivica played professionally in Greece before injuries cut short his career. He tried coaching but decided that wasn't his passion. He scouted in Europe for the Minnesota Timberwolves before moving to the Pistons about three years ago.
"For me, the dream was to come back home and still be connected to basketball in the USA," Koprivica said, "and working in the NBA was an ideal situation for me."
He's been to Charlottesville once, about a decade ago. Bennett's staff then included Ron Sanchez and Marlon Stewart, who were also at Washington State when Koprivica played there. "I had to go," Koprivica said.
At UVA, Bennett has continued to recruit internationally, largely because of his positive experiences with Koprivica and Aron Baynes (Australia) and other imports at Washington State. "You see a thankfulness and a humility," Bennett said.
His latest team is nearing the end of its 10-day tour of Italy. The trip includes four games. The first two, in Rome and Florence, were blowout wins for Virginia. The final two, against the Serbian team KK Mega Basket, figure to be much more competitive.
UVA will play Basketball Club Mega MIS on Thursday and Friday nights in Santa Margherita Ligure. "They call them the Kentucky of Europe," Koprivica said, "and they will have some good prospects."
As always, he'll be rooting for Bennett and Wideman. Koprivica arrived at the gym Wednesday in a blue polo shirt. He left wearing a Virginia Basketball T-shirt.
To receive Jeff White's articles by email, click the appropriate box in this link to subscribe.