By Jeff White (jwhite@virginia.edu)
VirginiaSports.com
SANTA MARGHERITA LIGURE, Italy — In the second overtime of his team's final game on its tour of this country, University of Virginia head coach Tony Bennett broke with convention. Bennett went with a lineup that comprised four of his least experienced players—sophomore Taine Murray and freshmen Isaac Traudt, Leon Bond III and Ryan Dunn—and fifth-year senior Kihei Clark.
His faith in them was rewarded. Clark, a 5-foot-10 point guard, dominated the final five minutes, scoring 10 of his game-high 23 points, but each of the freshmen also contributed a highlight. Bond opened the second OT with a three-point play, and with 27 seconds left Dunn fed Traudt for a dunk that pushed Virginia's lead over Basketball Club Mega MIS to 92-85. The final was 94-87.
"When you're being recruited," Bond said, "that's all you look for, and all you can ask for is a coach to trust you and your abilities when you come. And for him to trust us young guys in the last overtime in a close game that we really wanted to win, it felt amazing."
Bennett said: "It was great to see them make some plays."
The Cavaliers finished the tour—their third trip to Europe in Bennett's 14 years as their head coach—with a 3-1 record. The first two games, in Rome and Florence, were one-sided victories for UVA. The third, however, was a humbling loss to Mega MIS, which romped 92-73 on Thursday in Santa Margherita Ligure, a town on the Italian Riviera.
The rematch with Mega MIS, a professional team from Serbia, came less than 24 hours later, and the Hoos were ready.
"Obviously, nobody likes to lose, and they got us good yesterday," said guard Isaac McKneely, the fourth member of UVA's first-year class. "They punched us in the mouth, so we just knew we had to get revenge on them."
Junior guard Reece Beekman scored 21 points and added four assists, four rebounds, one steal and one blocked shot for Virginia. He was supposed to sub in for Clark midway through the second extra period, but Bennett decided the lineup on the floor was working so well that no changes were needed.
That was fine with No. 2.
"It was fun, actually, seeing them do their thing, Kihei rocking out," said Beekman, who scored eight points in the third quarter. "Having this be the last game, it was just a fun experience to go out with a win like that."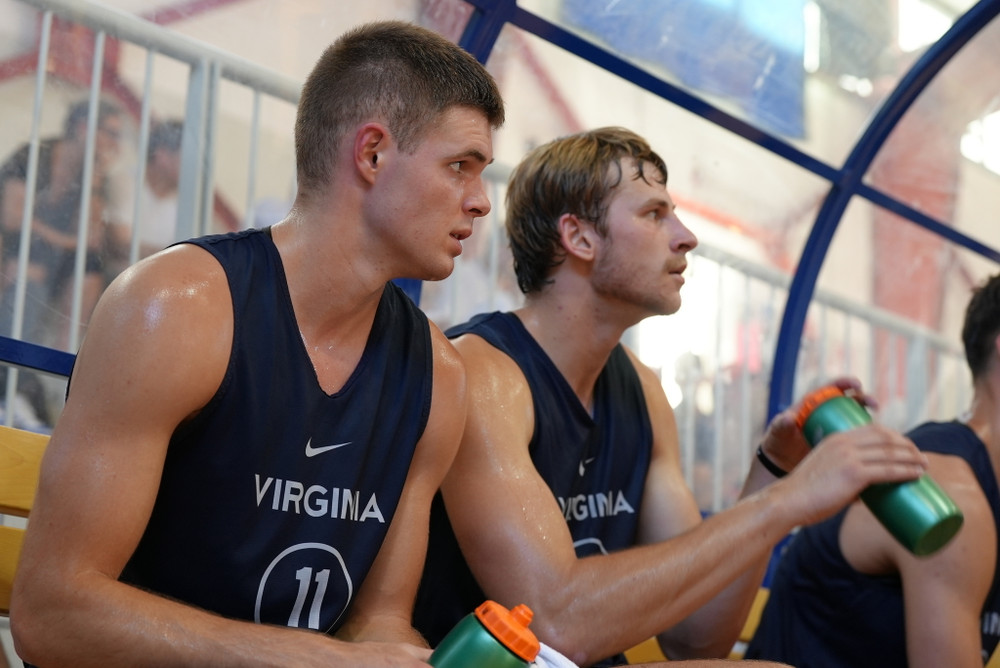 The day started for the Wahoos with a boat tour that included a stop at the Bay of San Fruttuoso, where the players swam in a breath-taking setting. Back at the team hotel, UVA reviewed videotape of Thursday's game and made several strategic adjustments. Those changes paid dividends that evening.
Mega MIS, which rarely missed Thursday, turned the ball over 25 times Friday and shot only 17.9 percent from 3-point range.
"I thought we responded well," Bennett said. "I thought we defended better. We were just better in all areas. Reece was so tough most of the game, and then Kihei took over late. But everybody had their moments. Again, nothing perfect, but everybody had their moments, there was good stuff and it was a good opportunity for all the guys."
Mega MIS led only once in regulation Friday: at 3-0. In the first OT, though, the Serbian team led 74-73, 76-75 and 79-78. Each time the Cavaliers responded.
Beekman's steal and layup put Virginia up 75-74, graduate student Ben Vander Plas' NBA-length 3-pointer gave UVA a 78-76 lead, and Beekman's free throw tied the game at 79-79 and forced another OT.
"We're just a team full of warriors, and we refused to lose," McKneely said. "We just kept our faith throughout it all and came out with a win, so I'm really happy."
In each game on the tour, Bennett chose to rest three players. In street clothes Friday were redshirt junior center Kadin Shedrick, fifth-year senior forward Jayden Gardner and senior guard Armaan Franklin.
With Franklin out, the 6-foot-4 McKneely started, and he turned in a stellar performance. He made 3 of 5 shots from beyond the arc and finished with 15 points and three assists.
"I thought McKneely showed some really good stuff," Bennett said. "He banged some shots and we need that. When we can stretch the floor a little bit, that changes everything. So he showed his strengths, his ability."
Dunn, who's 6-foot-8, didn't score but grabbed four rebounds and had a key assist in the second overtime. The 6-foot-5 Bond contributed five points, and the 6-foot-10 Traudt finished with eight points and three rebounds.
"We've been working hard in practice," McKneely said, "putting in extra work and stuff like that, so the fact that [Bennett] trusts us to be in the game in a situation like that, it really means a lot, and I think our freshman class should have a big impact and be able to work in some minutes this year."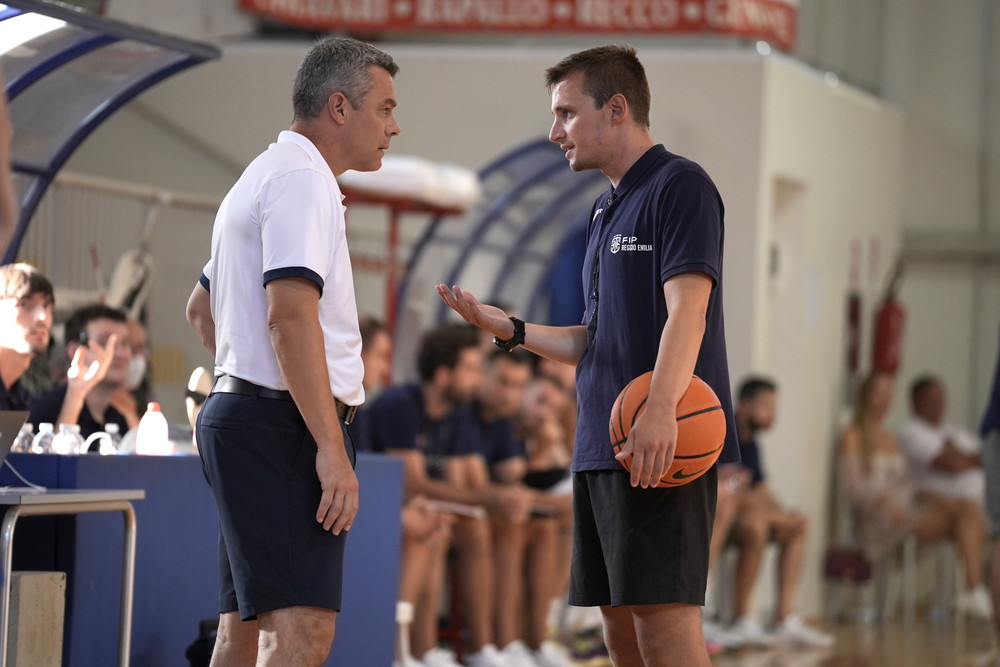 The officiating crew made several questionable calls that drew the ire of UVA coaches on the sideline and UVA fans in the stands. The Cavaliers were whistled for a bench technical with 1:52 left in the first overtime.
"You had to overcome a lot of unique calls, a lot of unique situations," Bennett said, and that made the victory more gratifying. "We would have been fine either way, but it's just a quality team, and I just felt like there was some things out of our control that were really troubling."
Bennett smiled. "I lost my mind … Everyone's a competitor. They are, we are, the officials are, and I think my Italian bloodlines got the best me in this place at times, because I let the officials know a few things that I probably shouldn't have, but again to have those young guys go through that and us to finish and handle adversity, that's stuff you're gonna see when [the season begins]."
McKneely said: "This is what you work for. The first two games, we won by like 50 and 30. I don't like those games. I'd rather be in a game like this where it's close and we have to work."
That work paid off with a memorable win on the final night of an unforgettable visit to Italy.
"I think we took a big step," Beekman said, "just to show the fight we have, to bounce back and win after a tough loss. I feel like this is going to help us toward the season."
When the final buzzer sounded, the teams shook hands, and then the Hoos headed to their locker room for a quick turnaround. One last night in nearby Rapallo awaited them Friday, to be followed by a long day of travel Saturday.
"Let's go home," Clark said.
BC Mega MIS   11 13 23 22 10   8 — 87
Virginia            18 16 18 17 10 15 — 94
       UVA — Clark 23, Beekman 21, Vander Plas 7, Murray 6, McKneely 15, Dunn 0, Caffaro 9, Traudt 8, Bond 5.
NOTE: For coverage of the Cavaliers' tour of Italy, including videos, check VirginiaSports.com and the team's Twitter account, @UVAMensHoops.
To receive Jeff White's articles by email, click the appropriate box in this link to subscribe.