By Jeff White (jwhite@virginia.edu)
VirginiaSports.com
CHARLOTTESVILLE — On his cool-down run, Justin Wachtel passed a group of University of Virginia teammates in a post-race meeting with their coaches.
"Great job, girls!" Wachtel yelled.
The ACC Cross Country Championships were held Friday at Panorama Farms in Earlysville, and the Cavaliers competed in both races on their home course. One went considerably better than the other for UVA, which nonetheless finished ahead of Virginia Tech in both and thus earned two points in the Smithfield Commonwealth Clash competition.
In the women's race, a 6k, Virginia placed third with 98 points, finishing behind reigning NCAA champion NC State (34) and Notre Dame (38). The Wolfpack came in ranked No. 1 nationally, and the Fighting Irish were No. 6. The 25th-ranked Wahoos finished ahead of No. 8 North Carolina and No. 15 Syracuse, among others.
"It's awesome," said sophomore Margot Appleton, who finished ninth to pace the Hoos. "We knew we had a shot at that, but it wasn't a given. The ACC is probably the most competitive conference, so coming in third is huge."
Also earning all-conference honors for UVA were sophomores Camryn Menninger and Mia Barnett, who placed 12th and 17th, respectively.
"On the women's side, what can you say?" said Vin Lananna, director of track & field and cross country at Virginia. "They were 10th last year and third this year. I don't think I could have asked for a better performance from the women. I think they put aside their own individual needs and worked for the team. So they did a marvelous job."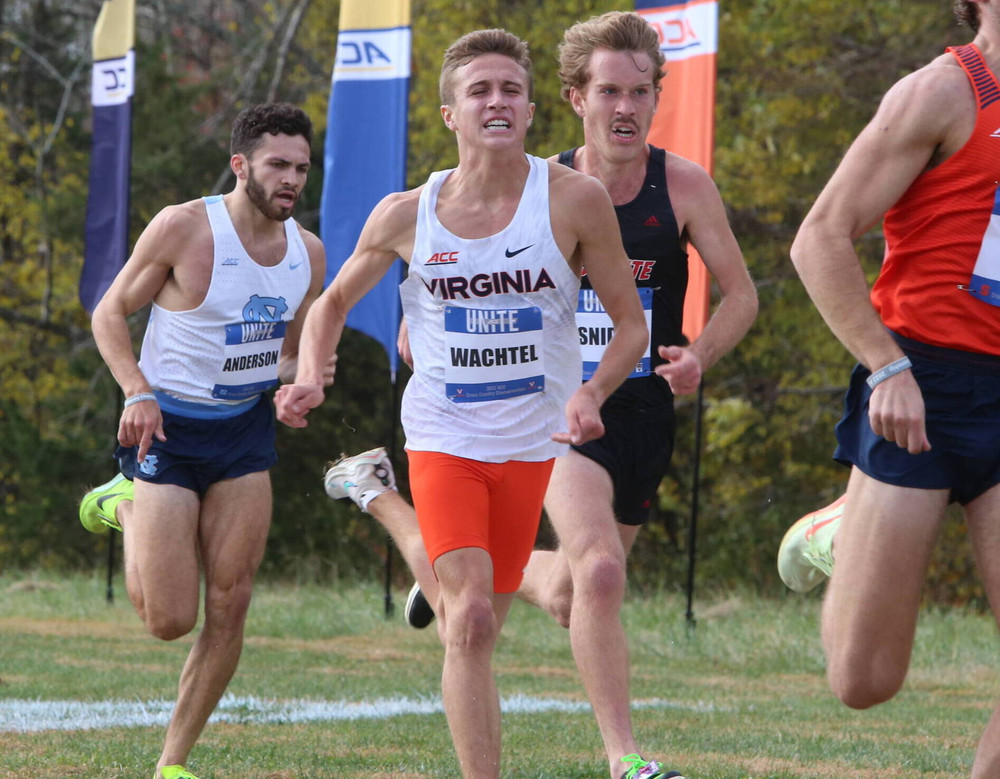 The men's race was an 8k, and No. 13 Virginia was one of seven nationally ranked teams in the field, along with No. 6 Notre Dame, No. 8 Wake Forest, No. 12 NC State, No. 16 Syracuse, No. 18 North Carolina and No. 29 Duke. UVA totaled 125 points to finish sixth, behind Wake (44), Syracuse (86), UNC (87), Notre Dame (92) and NC State (118).
The Cavaliers placed eighth at the ACC men's meet last year.
A redshirt freshman, Wachtel led Virginia with a 13th-place finish Friday. Two other Cavaliers also earned All-ACC status: sophomores Yasin Sado and Wes Porter, who placed 17th and 20th, respectively.
The race did not unfold as planned for Wachtel. "I got out pretty hot," he said. "I anticipated getting out towards the front but not too far and then kind of staying patient till late, but I feel like I got a little too antsy early on, and I kind of paid for it late in the race. Early on I exerted too much energy, I felt like, in the first half, so by the time I had to 2k to go, where a lot of the top dogs started to push and make the big moves, I felt like I wasn't in as good a position as I should have been, and I kind of paid for it.
"I felt like I did a good job hanging and staying tough and still placing 13th, but I could have done a little more today if I'd stayed a little more patient. But I feel like that's an experience I can bring with me next year."
Wachtel wasn't the only Cavalier to struggle in that regard.
"On the men's side, I think we went out way too hard," Lananna said, "but I do think that it's a very young team that needs an opportunity to kind of see what it feels to race in a championship portion of the season."
As a team, Wachtel said, "I think we're all very underwhelmed with how we did. There were a lot of tactical errors on all of our parts. I feel like a lot of us got a little too antsy and didn't follow our race plan as well as we should have, and I think some of that is just having a young group out there. It was my first ACCs, so it's just new challenges."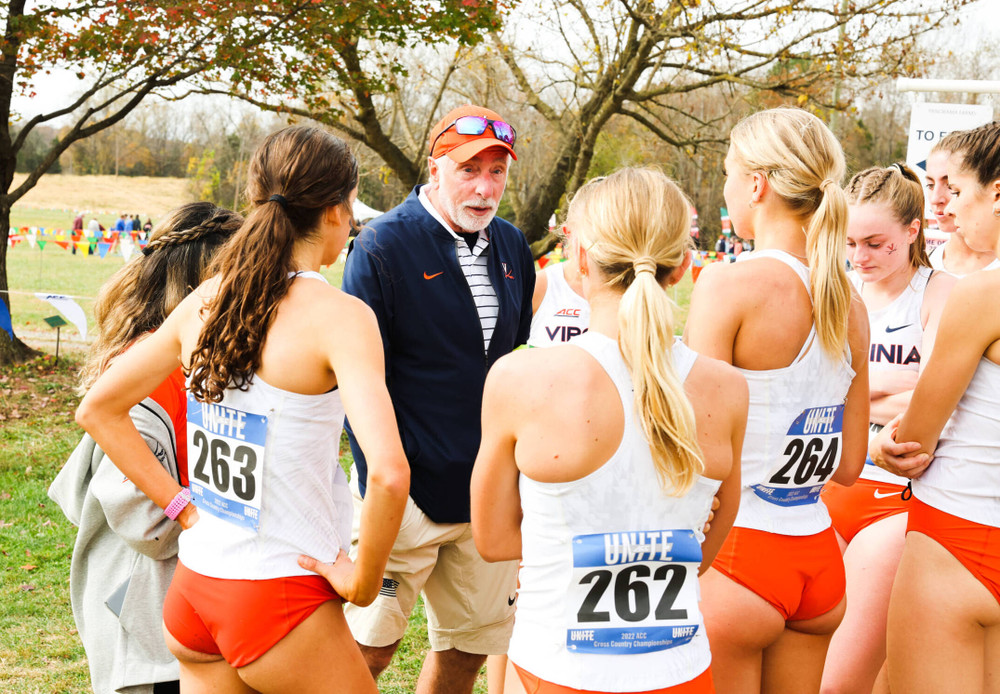 It's one thing to warn inexperienced runners about going out too fast, Lananna said, but until they compete on this stage they may not "understand what that means. We can explain it all day long, but you have to feel it, and I'm very impressed with the way the women handled that."
Appleton ran with Menninger and Barnett for much of the race, "and that's always helpful," she said, "having your teammates around. We always know we're going to be racing near each other, especially at the beginning, just trying to relax and find each other. Camryn was there with me for basically all the race. She definitely pulled me through, and that was really helpful."
This marked the first time since 2014 that Panorama Farms hosted ACCs. The NCAA Championships will be held there next year, and "that's added to the excitement of it," Appleton said.
For the men, Wachtel said, this season "is a building block. We're making big gains as a group, learning how to race better as a pack on this course."
On a crisp fall morning, the ACCs drew a large and appreciative crowd, including many UVA fans.
"It was amazing," Wachtel said. "Charlottesville is a great venue for this time of year. It's gorgeous out here. I think having the spectators, the huge home crowd was great. Late in the race, whenever you start to hurt, it was great having tons of familiar faces building you up and helping you stay tough in those hard moments. So it was a great experience, and I can't wait to have nationals here next year."
Appleton agreed. "It was awesome. Hearing all the cheering during the race distracts you from the pain. It was so helpful."
To receive Jeff White's articles by email, click the appropriate box in this link to subscribe.